This post may contains affiliate links for your convenience. If you make a purchase after clicking a link we may earn a small commission but it won't cost you a penny more! Read our full disclosure policy here.
On Pandora the Ground Glows Beneath Your Feet
Day or night, the Valley of Mo'ara and its floating mountains are the focal point of Pandora: The World of Avatar. Waterfalls cascade down the 156-foot-tall mountains that appear larger than they physically are, and the landscaping is amazing, even mysterious.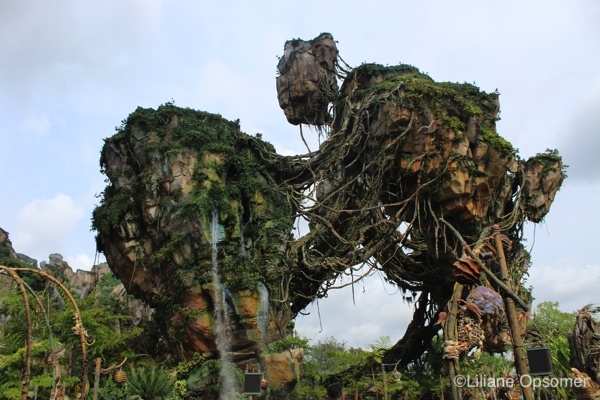 Guests are invited to play instruments at the Na'vi-built drum circle, and several times during the day a show combining tribal drum beating and chanting in the Na'vi language takes place. I love this show, it is high energy and offers guest participation.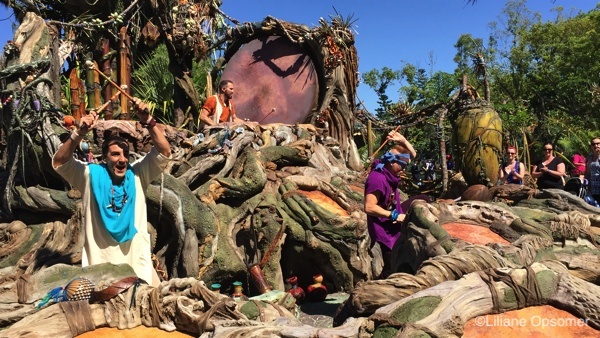 Inspired by James Cameron's movie Avatar, the land offers two rides, a fast-casual restaurant (Satu'li Canteen), a beverage and snack bar (Pongu Pongu), as well as the obligatory gift shop (Windtraders). Today however I want to focus on the scenic beauty of the land and the new rides.  I will discuss food and merchandise in a future post.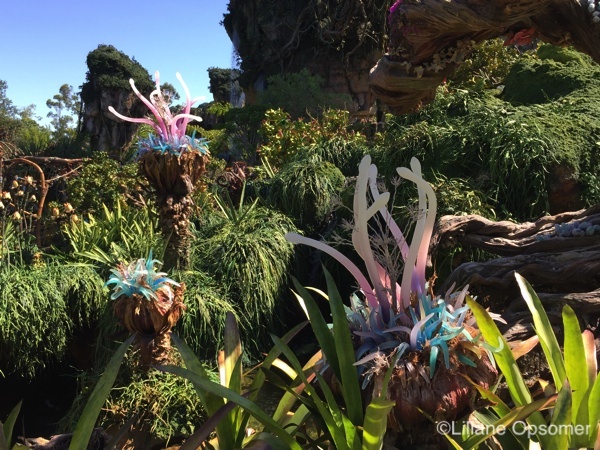 The Rides of Pandora: The World of Avatar
Flight of Passage is a simulation ride similar to Soarin'. Wearing 3D glasses, you straddle what looks a bit like a set of linked bikes, and off you go for a wild ride over Pandora. Throughout the very visual ride you'll experience sprays of water, wind on your face, and scents. You must be 48″ tall to ride, and the experience is more intense than Epcot's Soarin', but it's hardly scary. It actually think it is the best simulated ride I have ever experienced.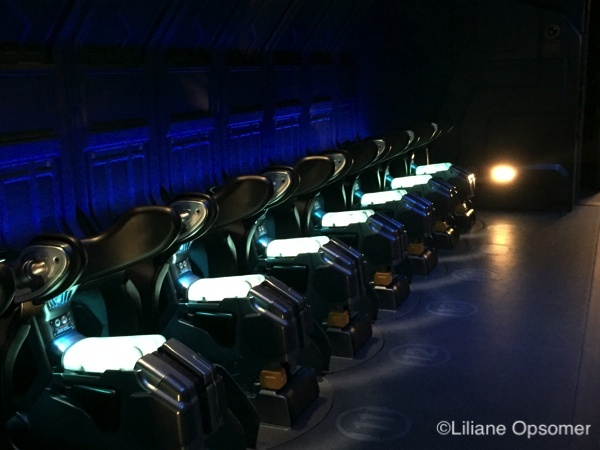 Riding a Banshee over Pandora is pretty cool, but the theming of the queue will make you marvel too. The attention to detail is absolutely fabulous, and the floating Na'vi animatronic is mesmerizing.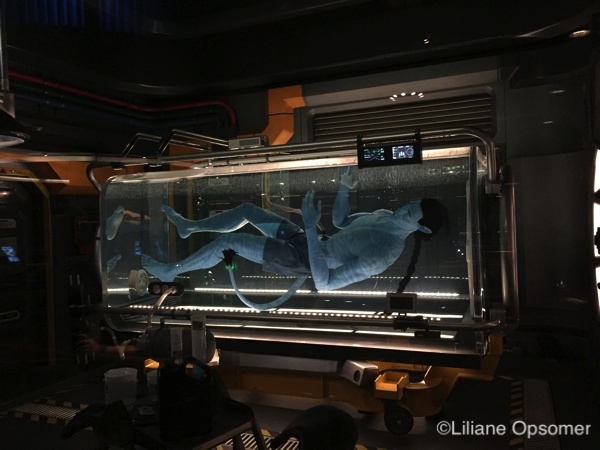 The queue is very long; for a moment, I panicked about getting stuck inside this beautiful queue that, according to Cast Members, can hold up to five hours' worth of guests!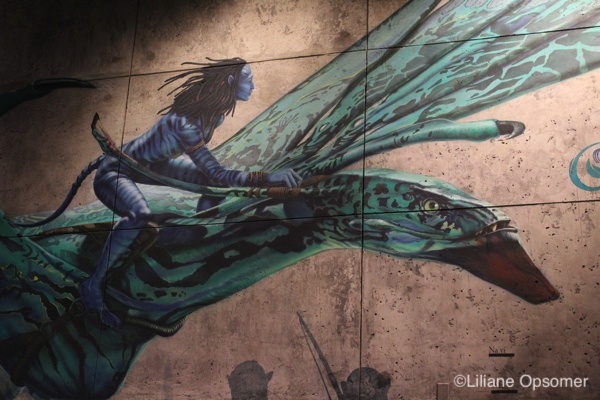 The Na'vi River Journey boat ride gives you a good idea what the land will look like at night.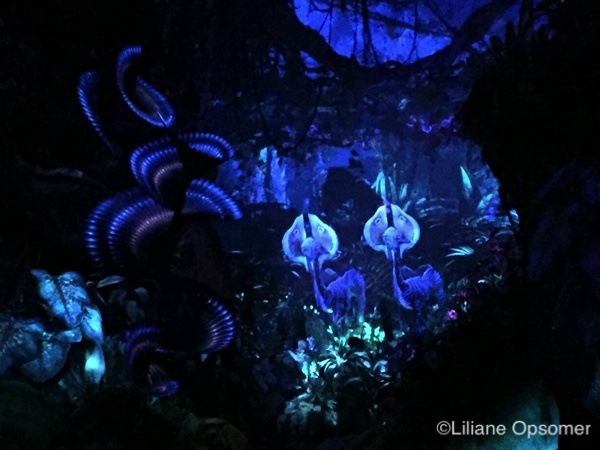 For about 4 minutes your boat journey takes you through a bioluminescent rainforest and culminates when you encounter the Na'vi Shaman of Songs.
It is a wonderful, albeit very short, ride. While it is a dark ride, it is not scary in any way.  The emphasis on details on both rides is impressive, and it takes more than a few rides to take them all in.
Day and Night at Pandora: The World of Avatar
Creating a 12-acre land with the ecosystem of an imaginary land and merging it with the natural world isn't a small feat. During the day one can really appreciate the many details of the created alien plants.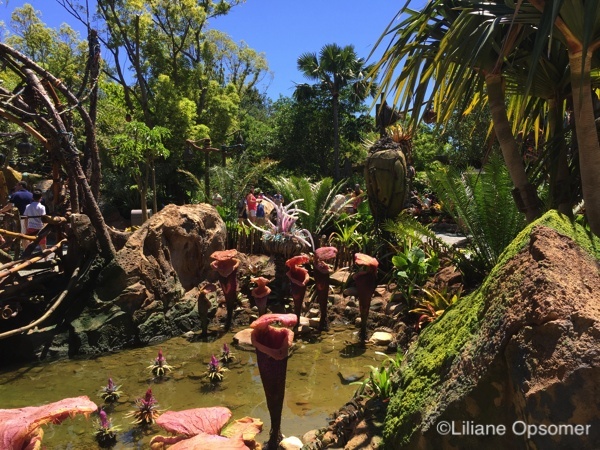 Real plants and trees intermingle effortless with the artificial creations, some of which remind me of the glass sculptures of Dale Chihuly. It is a testament to the genius of the Imagineers that, at times, it is difficult to distinguish what is real and what is not.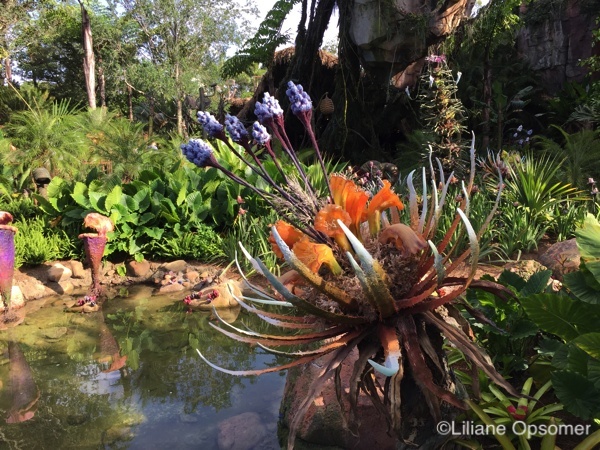 Walking around Pandora during the day is certainly rewarding, but when the sun goes down below the horizon, Pandora becomes mysterious. As night falls, the land comes to life with bioluminescent flora, and I highly recommend you make time to return for a stroll through this amazing landscape.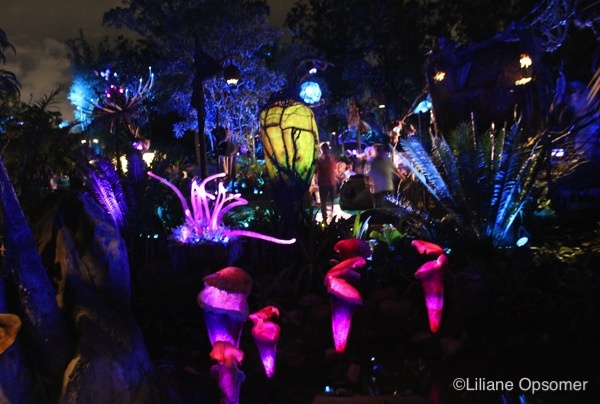 New sights are everywhere, the sound of drums intermingles with the cries of birds and other animals, steam emanates from plants, and the ground beneath your feet glows.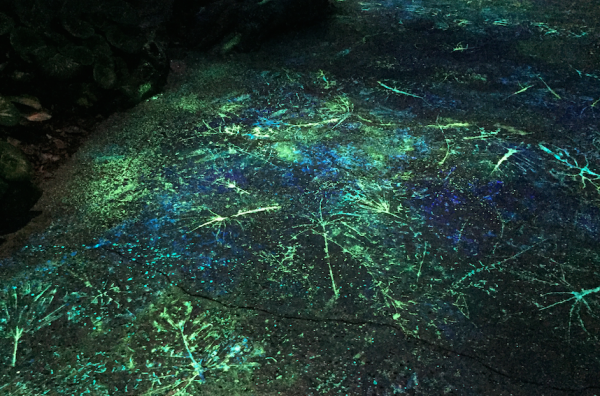 Even if you are not able to ride any of the two attractions again, it is totally worth your time to get a glimpse of this fascinating world in a total new light.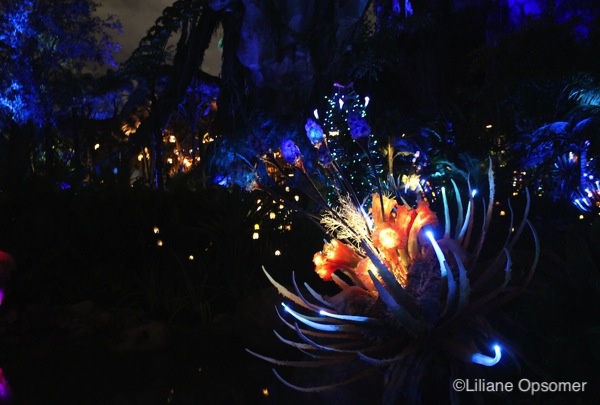 Disney, for the first time, delivers an immersive world where Mickey Mouse merchandise is not for sale in Pandora's store. The land beckons to be discover and explored. If shop you must, you may want to connect to your very own banshee pet. They sure flew off the shelves when I visited.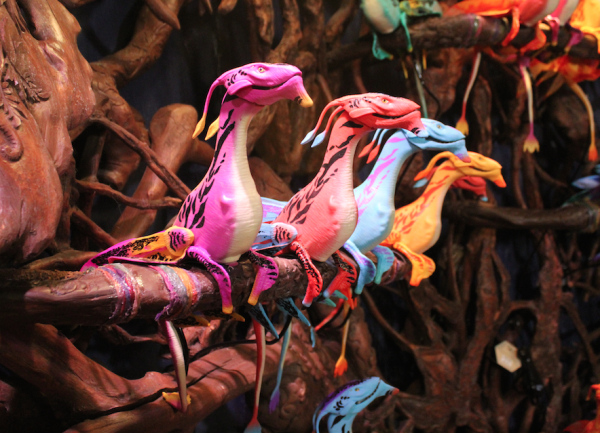 Pandora: The World of Avatar opened May 27th, and like with any new attraction, lines for the rides will be long for quite a while. If you did not manage to get a FastPass+ for one of the rides get there as soon as the park opens (if you do not stay on property avoid Extra Magic Hours). Either way, I think you should set aside some time to visit the land by day and by night, even if you are not riding any of the new attractions.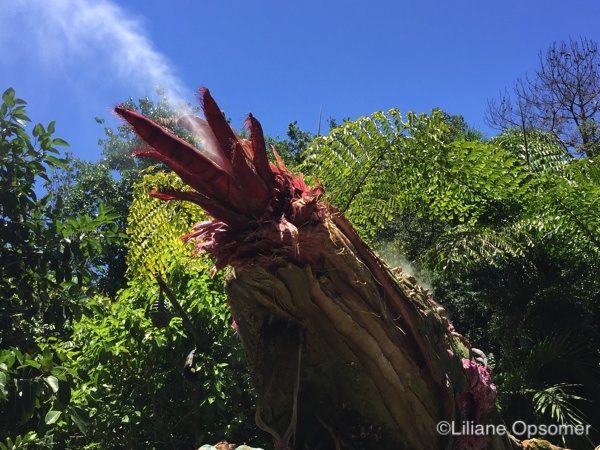 In the future I hope Disney will consider adding a Na'vi meet-and-greet. Maybe one that is less traditional. I am thinking of a Na'vi joining a Wilderness Explorers to explain the flora of Pandora for example. What do you think? Would you like to see Na'vi on Pandora?
For more information on family travel to Walt Disney World, check out The Unofficial Guide to Walt Disney World with Kids.
Did you like this article? Make sure to share it with your friends! Check below for easy ways to share!