This post may contains affiliate links for your convenience. If you make a purchase after clicking a link we may earn a small commission but it won't cost you a penny more! Read our full disclosure policy here.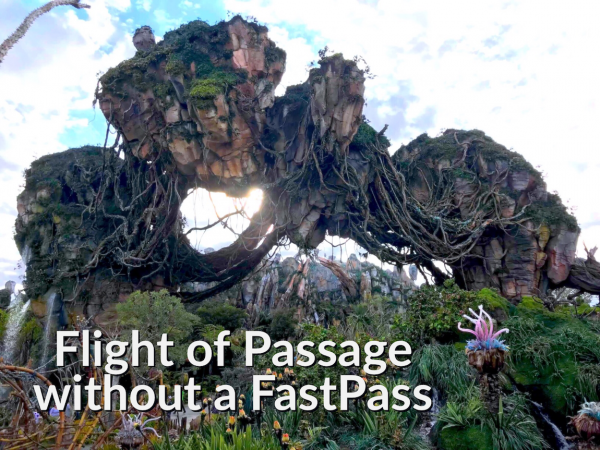 A Pandora Strategy
Pandora – The World of Avatar turned 1 at the end of May and the attractions are still very popular. Flight of Passage is still a hard to get FastPass at 60 days out and almost impossible at the 30 day mark. Na'vi River Journey FastPasses can usually be found at the 30 day mark, but the attraction still garners very long wait times without a FastPass. So what do you do if you don't have a FastPass, but want to ride these attractions?
Many Walt Disney World visitors know the best bet for any popular ride is to get there early. But if you don't get there at the right time you might be stuck in the 180 minute + wait with the rest of the early visitors to Animal Kingdom. Animal Kingdom's normal park opening time is 9:00 a.m. (with some 8:00 a.m. openings during busy times). With the popularity of Pandora, Animal Kingdom has been letting guests through the tapstiles and into Pandora earlier than the published 9:00 a.m. park opening.
At the end of April I was staying offsite with a rental car. I was not dependent upon Disney bus transportation. But, my strategy can easily be used with an Uber, Lyft or Minnie Van. Also, Disney busses have been running fairly early to Animal Kingdom, but this can not always be counted upon if wanting to arrive as early as I did.
A VERY early arrival
I arrived to the parking lot at 7:30 a.m. for the 9:00 a.m. park opening. Parking attendants guided me to a parking spot and I was up to security about 10 minutes later. Security was very easy at this time, no lines or any waits. The visitors without an early breakfast reservation were held by the ticket booths until 7:58 a.m. At that time we were allowed up to the tapstiles. Cast Members began letting us through at 8:17 a.m.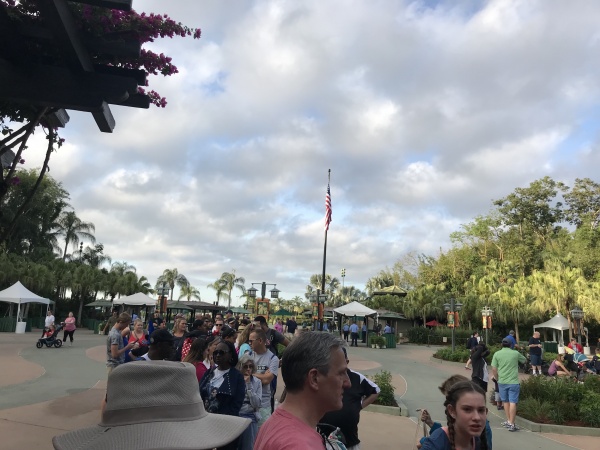 Line of Guests outside Disney's Animal Kingdom at 7:55 am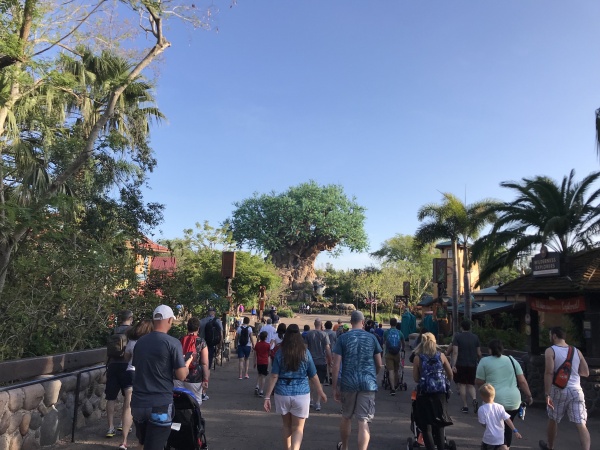 Beautiful morning view on the mad dash to Pandora
I walked quickly (guests are encouraged not to run) around the Oasis (hint you can go to the left or right, both paths lead to the same place in the same amount of time) and over the bridge to Discovery Island. This is where everyone wants to go left and over the bridge to Pandora. We were then held at the end of the bridge just past Tiffins. By this time the crowds were fairly large in front of me, and even crazier behind me.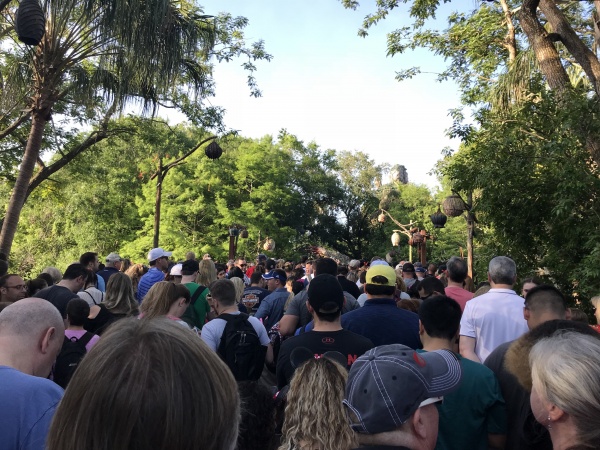 Crowd of guests in front of me at 8:20 am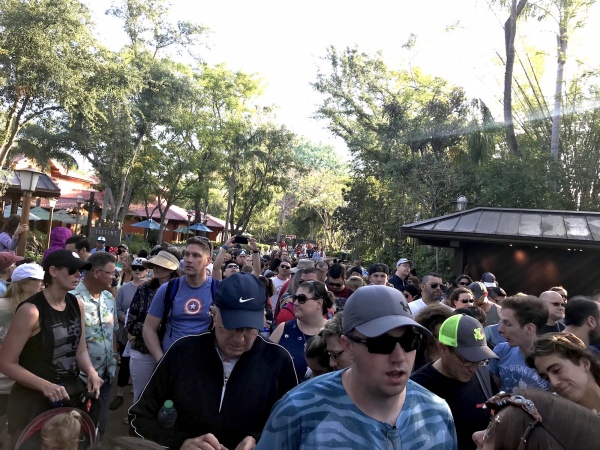 Crowd of guests behind me at 8:20 am for a 9:00 park opening
The Flight of Passage Funnel
At 8:25 a.m. we were led to Flight of Passage in a slow walk/shuffle. The large group of people on the bridge were funneled into a small path on the right. This is where is can get a little dicey with all the people and strollers jockeying for position. I stayed near the right half of the bridge, but not all the way over, as there is a pinch point at the right hand turn.
As the crowd slowly walked to the right, with the floating mountains on the left, Cast Members were available to help with strollers and keep the crowd orderly. The path rounded to the left and back to the right, before finally entering the official beginning of the queue.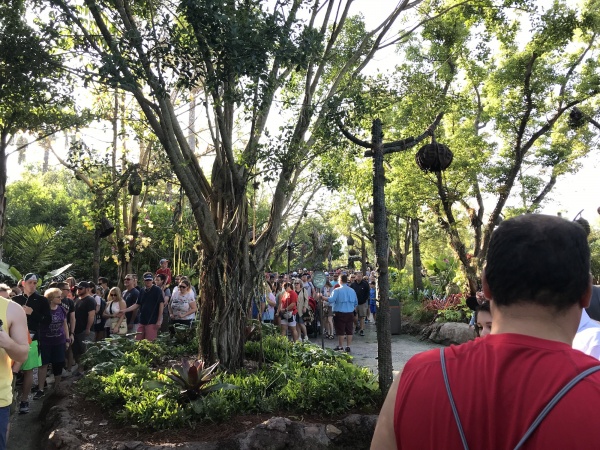 Line behind me on the pathways leading to Flight of Passage at 8:30ish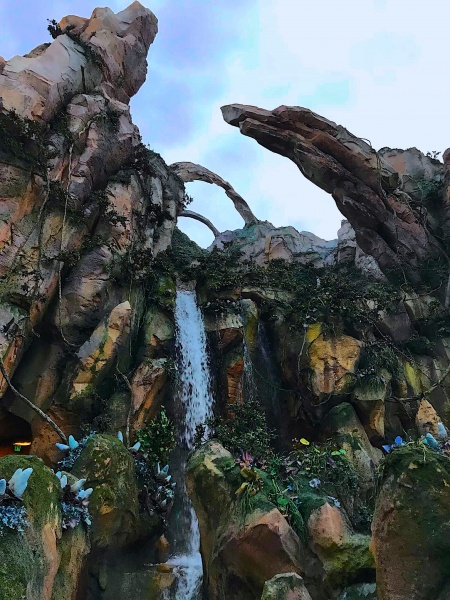 Beautiful morning sight just before entering the official queue
The posted wait time was already 180 minutes but I knew it would not be quite so long…
Matching up to my Avatar (#8) around 8:45 a.m.
The pathway through the queue followed part of the main line, but most of it was blocked off. I only got a quick glimpse, through a lot of glass, of the Avatar animatronic that people talk so much about. I had a majestic ride on my banshee and I was out of the attraction by 8:58 a.m.!! If you followed the advertised park opening time of 9:00 a.m. and arrived at the park around 8:30 p.m. or 9:00 a.m., you wold be behind hundreds of people already waiting for Flight of Passage, facing a several hour long wait.
Na'vi River Journey
On any normal day I would then be able to head over to Na'vi River Journey for a very short wait, but the attraction was closed on this day. Back in early December, my family and I got to Animal Kingdom around 8:15 a.m. and were able to ride Na'vi  2 times with no wait. Our second ride on Na'vi was was right after 9:00 a.m. with a 5 minute wait. If you are off Flight of Passage just after 9:00 a.m. you should have no problem getting a ride (or 2) down the river to visit the shaman.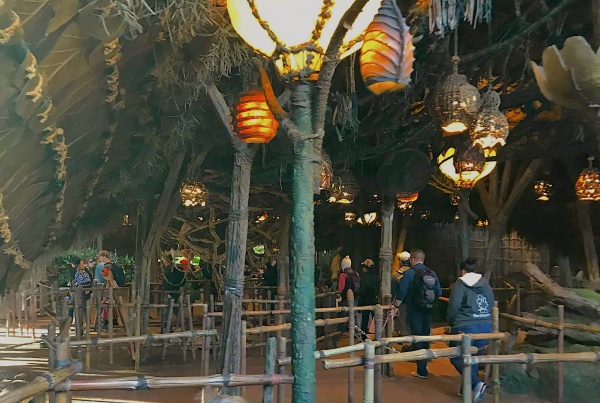 9 am empty queue for Na'vi River Journey
After your quick waits on the two Pandora attractions you can grab a Lumpia and Night Blossom (or Rum Blossom, yes at 9:00 a.m.) at Pongu Pongu and walk around Pandora enjoying the views. There are many places to take pictures, but some of the Photopass Photographers will not be out yet due to the angle of the sun. Then, make sure to get out and enjoy the short waits in the rest of the park. Everyone else will be waiting in the lines in Pandora.
Breakfast of champions!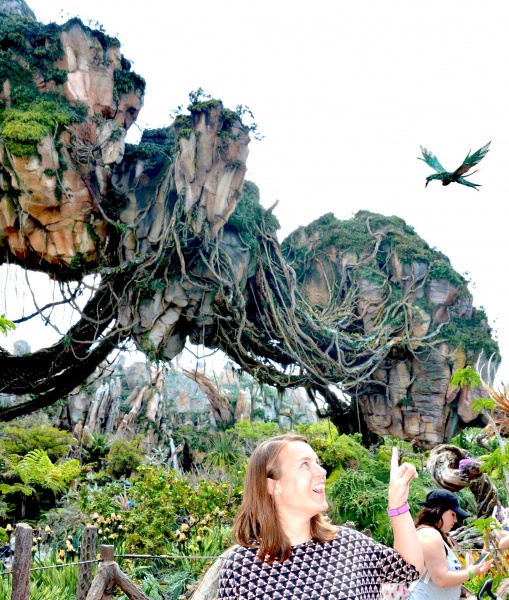 My banshee was looking for me!
This strategy also works well for the early 8:00 a.m. park openings. You don't really need to get to the parking lot an hour an a half early, as less people are usually able to make it on time to these early openings. I would still try and be to the park at least an hour early.
This strategy will not work with Extra Magic Hours if you are an offsite guest. In this case your best bet is to keep searching on the My Disney Experience app for FastPasses (you would be surprised how often you can find them last minute) or wait until right before park closing to hop in line.
If you are unable to score that coveted Flight of Passage FastPass don't fret, get there early…really early and you will able to visit the attraction with a minimum wait. This will save you tons of time once the park opens and you will still be able to visit all the other attractions in the park with lower wait times.
What tips do you have for riding the two Pandora – The World of Avatar attractions? Share in the comments or on Facebook or Twitter.
Did you like this article? Make sure to share it with your friends! Check below for easy ways to share!
Incoming search terms:
pandora flight of passage
avatar flight of passage fast pass
best way to ride flight of passage without fast pass