This post may contains affiliate links for your convenience. If you make a purchase after clicking a link we may earn a small commission but it won't cost you a penny more! Read our full disclosure policy here.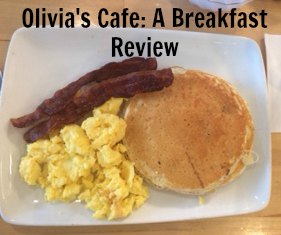 I recently took a trip to The World to celebrate my birthday. Being a self-proclaimed foodie, my favorite part of a Disney vacation is definitely the food! Our family typically goes to the Kona Café for our special occasion breakfasts, but with the recent menu changes at Kona, we decided to branch out and try birthday breakfast at Olivia's Cafe. Today I'll bring you my review of our experience!
THE ATMOSPHERE
Located at Disney's Old Key West Resort, this restaurant has the eclectic feel of a local eatery you might find down in the Keys. Hundreds of framed photographs fill the walls at the restaurant entrance, and nautical themed décor hangs in the main dining room. The restaurant is small and cozy; the vibe is very informal, and guests were wearing park attire. Olivia's Cafe really gave off an "island vibe," and we relaxed instantly upon sitting down at our table.
Of note, we were able to find a breakfast reservation for 4 adults just days before our trip. We made the reservation for 10:20 a.m., but woke up early and arrived at around 9:30 a.m., where we were immediately seated with no difficulty.
THE MENU
When we decided to do my birthday breakfast somewhere other than Kona, I had to ask around for other restaurant recommendations; Olivia's Cafe came highly recommended by many people, and after checking out the menu, I could see why! The breakfast menu has food that would please the pickiest eater and those looking for something unique. Our party consisted of 3 fairly adventurous eaters and 1 self-proclaimed picky adult; we all found something we were excited to try!
Olivia's Cafe offers your classic pancakes and eggs, waffles, omelets, and breakfast meats for those who enjoy a classic breakfast. What really caught my eye was the Banana Bread French Toast (topped with banana-rum syrup and coconut whipped cream!). The Crab Cake Eggs Benedict is another standout option: poached eggs, crab cakes, and key lime hollandaise. I could've also made a meal out of side dishes, alone. Grits, biscuits and sausage gravy, pastries with fresh fruit, berries with whipped cream, and more are available a la carte!
The kids' meals were fantastic, as well! Though we had no children in tow on this trip, I took a look at the children's offerings. Scrambled eggs with potatoes and a biscuit, pancakes with a side of bacon, sausage, or fresh fruit, Mickey waffles, and more are available for kids 9 or younger.
OUR ORDER
After a lot of difficulty deciding (the menu is really fantastic!), we finally placed our order. I split the banana bread French toast (with bacon) and a side of biscuits and sausage gravy with my mom. We got the banana-rum syrup and coconut whipped cream on the side, and were glad that we did! The French toast was outrageous; 3 generous slices of banana bread were browned up on the griddle and served with 2 slices of bacon. The banana bread French toast was sweet, fresh, and had a bit of a crispy crust on the outside; it was perfection, and we found that it really didn't require any syrup (though my mom really enjoyed the whipped cream on top!).
The sausage gravy and biscuits were the best value of our breakfast; for $5.00, this gigantic portion would've been more than enough for breakfast. Two huge biscuits were topped with a hearty sausage gravy; we didn't finish our biscuits or French toast because we were so stuffed.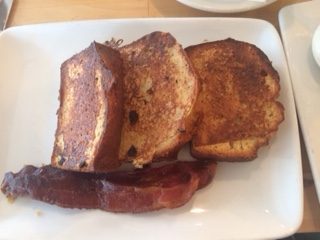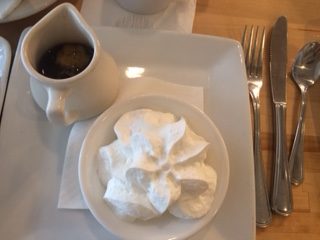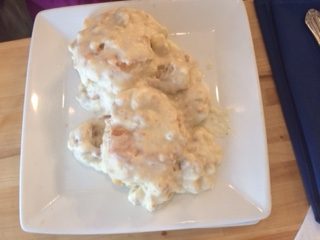 My dad went for the crab cake eggs benedict (pictured above). At first, he wasn't a fan of the key lime hollandaise (which came highly recommended by a friend, saying it was the highlight of her breakfast!), but he eventually came to really enjoy the tanginess that the key lime offered. He raved about the size of the crab cakes, and loved the potatoes that came as a side dish. He also ordered a side of biscuits and gravy, and was unable to finish them!
My boyfriend was thrilled to see that pancakes and eggs were served as an entrée. He requested chocolate chips be added to his pancakes, and they happily accommodated him. Being a big eater, he finished the meal with no problem, and probably would've had room for another pancake.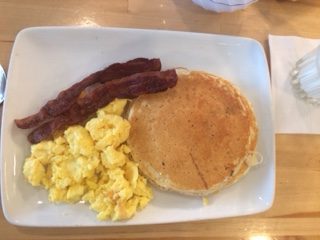 As far as beverages were concerned, the offerings were fairly typical. I ordered tea and was given my own pot of hot water and tea bags, which was nice. My dad got a coffee and they offered him a to go cup with a fresh pour before hitting the road. Stuart got a glass of skim milk (and was pleased to see that skim milk was an offering).
FINAL THOUGHTS
We were very happy with our breakfast experience at Olivia's. Our server was incredibly attentive and thoughtful; she accommodated our many requests (whipped cream on the side, chocolate chips in the pancakes, coffee to go), and served up our food quickly. The highlights of the meal were definitely the banana bread French toast and the crab cakes eggs benedict, both being unique offerings that we'd never seen elsewhere. The French toast was flavorful, filling, and felt like we were eating dessert for breakfast (it was my birthday, so we felt less guilty about that!), and the eggs benny came with large crab cakes and a heaping portion of breakfast potatoes.
All together, we agreed that Olivia's Cafe was a fun experience, but still preferred Kona Café for its ambience and tropical flavors (we love the pineapple macadamia nut pancakes and Tonga toast!). We left breakfast feeling full and ready for a day at the Magic Kingdom!
Have you ever had breakfast at Olivia's Cafe? What did you order and think of the experience? Share in the comments.
Did you like this article? Make sure to share it with your friends! Check below for easy ways to share!
Incoming search terms:
olivias cafe breakfast
olivias cafe eggs benedict wdw