This post may contains affiliate links for your convenience. If you make a purchase after clicking a link we may earn a small commission but it won't cost you a penny more! Read our full disclosure policy here.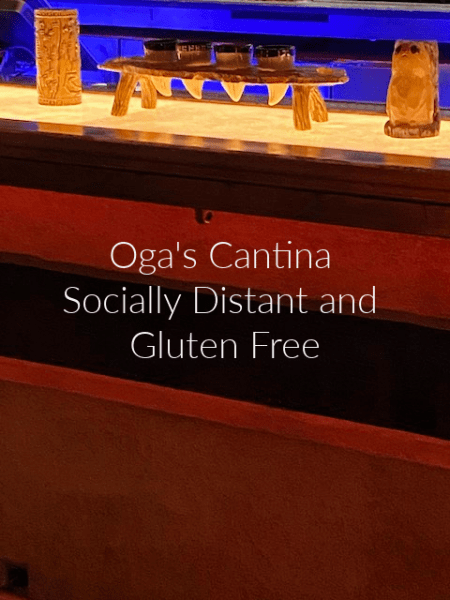 I'm happy to be able to share my experience at Oga's Cantina socially distant and gluten free! When I  visited Walt Disney World in February 2020 for Princess Weekend, I could not keep the Oga's Cantina reservation that I had for that trip and was really disappointed. I did get on Rise of the Resistance so that had to be enough. I knew I had another trip booked at the end of May and I was able to rebook the Oga's reservation for then. Well, then the pandemic hit and Walt Disney World was closed down! So once I could accept the fact that my I would have to move my trip until September, I was able to make a reservation for 10:20 am.
In the back of my head, I honestly didn't think we would make the trip down in September either. I live in a state that has been very strict about the Covid-19 restrictions, and I was honestly still a bit worried about traveling. September came and we went back and forth a million times about going or not going. Finally we decided to go! It was a short four day trip, and we are so glad we went. We took extra precautions in the airports and on the planes. We wore N95 masks during travel and washed our hands until they were chapped by the end. Then we got tested for Covid when we returned just to ease our minds and thankfully we were negative!
Disney was wonderful with all the precautions and we felt very safe there. It was more the travel to and from that was our main concern. We barely left the house for the past six months.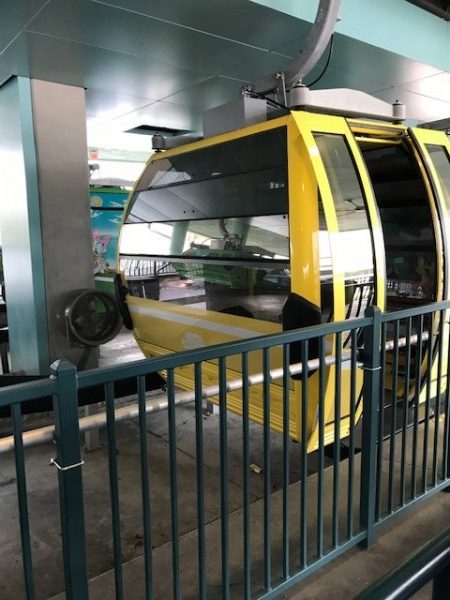 Our Hollywood Studios day was the day were had to leave to return home. We only had a few hours for this park and our main goal was to get on Mickey and Minnie's Runaway Railway. We were fortunate enough to have done both rides in Star Wars Land during previous trips. Due to the pandemic, the parks had more limited hours. The park would open at 10 a.m. and we had to be back at Pop Century by 1:15 p.m. for our Magical Express ride back to the airport.
So we got into the Skyliner line at 8:45 am and we are not too far back but there was still quite a line. With the social distancing, there was a line back to the 50's at the back side of Pop by 9:00 am! We were fairly up close to the station, not quite on the bridge but we weren't too far back. When they began to board around 9 am things moved fairly quickly.
We finally got inside Hollywood Studios by around 9:20 and made our way directly to Mickey's and Minnie's Runaway Railway. There was a line already snaked around that whole courtyard. They had distancing markers in place and they said the ride was having some problems during testing that morning but to hang in there, it should be back on line shortly. So, we waited. Finally we got to experience the attraction at 10:10 and around that same time we had received the message from Oga's that we could check in anytime.
Once we exited the ride we hightailed it over there to Galaxy's Edge and clicked the application to tell them we were in the area. We got to walk right past several people in line. It was perfect timing!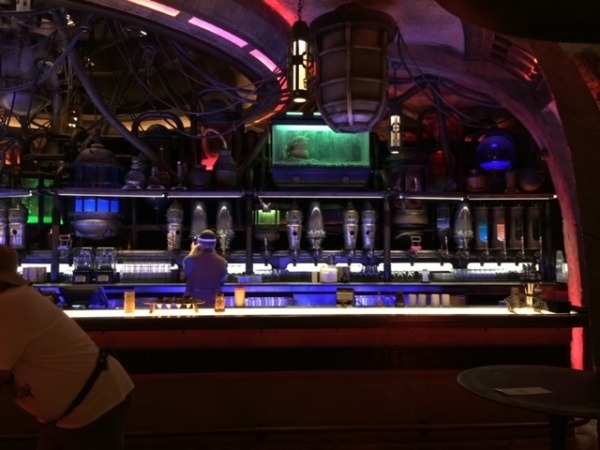 Finally, time to enjoy Oga's Cantina socially distant and gluten free! Once inside we were brought to our very own corner! They did an awesome job of keeping us socially distant. We were told we could have the whole corner for the "next 45 minutes".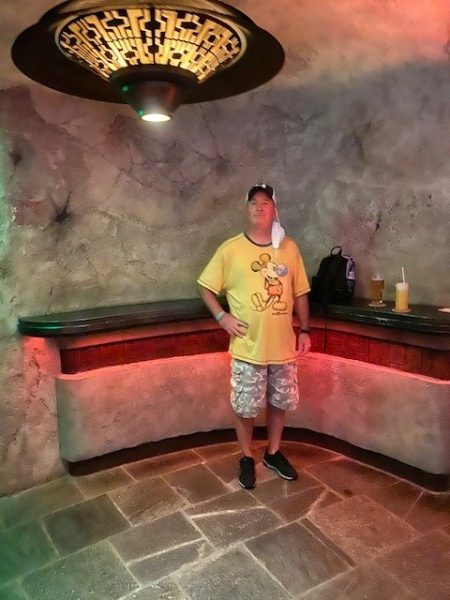 Now, it was pretty early to have alcohol but we figured since we were on a different planet it really wouldn't matter. So I ordered the:
Fuzzy Tauntaun with Cîroc Peach Vodka, Bols Peach Schnapps, Simply® Orange with Tangerine, Pure Cane Sugar, and "Buzz Button Tingling" Foam
This drink was absolutely delicious. It was sweet but not too sweet and that foam on top was spectacular. 
My Husband ordered: Gold Squadron Lager – Blue Point Brewing Co. A Golden Lager with Lavender and Plum Flavors | ABV 5.0% – IBU 18
He is a pretty basic guy when it comes to beer, but he liked it enough to enjoy.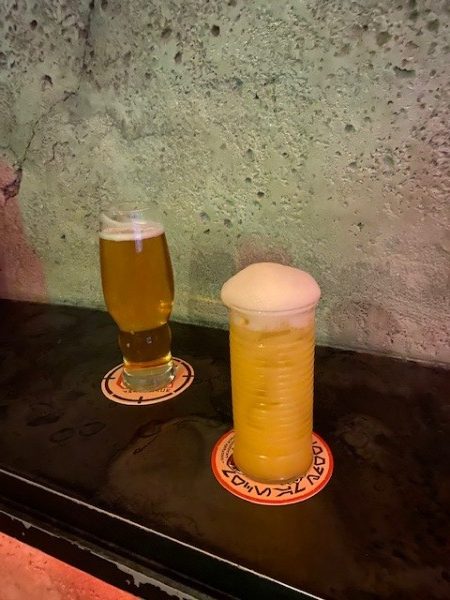 In our haste to get to the park, we hadn't eaten breakfast. We were starved. We ordered:
Happabore Sampler which is Cured and Roasted Meats, Cheese, Pork Cracklings
It was delicious. The cured meats were very tasty and the hummus was yummy. The pork cracklings – essentially pork rinds were ok for a crunch.  A good amount of food to go with drinks. Our wonderful cast member was very helpful in telling me what was gluten free or not. Turns out that with the exception of pita bread, I could eat everything on it. They did still bring the pita bread out, but kept it on a separate plate so my husband could eat it. Our cast member verified the drink I to ensure it was safe for me, gluten free as well.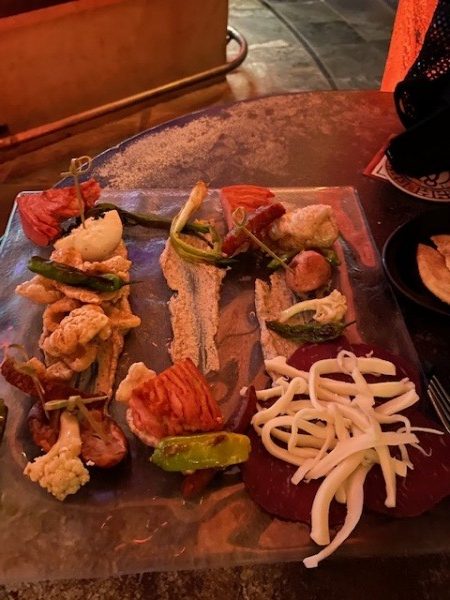 Overall it was a blast visiting Oga's Cantina socially distant and gluten free! I highly recommend it!
Have you dined at Oga's Cantina yet? What did you think? Share with us in the comments or on Facebook or Twitter!
Did you like this article? Make sure to share it with your friends! Check below for easy ways to share!  
Want to visit a Disney Destination? Contact The Magic for Less Travel for more information and a free, no-obligation quote.

Incoming search terms:
https://www themouseforless com/blog_world/ogas-cantina-socially-distant-and-gluten-free/
gluten free oha's cantina
ogas cantina covid
ogas cantina find me gluten free
olgas cantina gluten free