This post may contains affiliate links for your convenience. If you make a purchase after clicking a link we may earn a small commission but it won't cost you a penny more! Read our full disclosure policy here.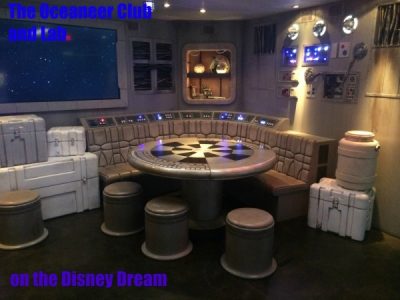 The Kids Only Oceaneer Club
The Oceaneer Club and the Oceaneer Lab are two sections of the supervised children's activity center on Deck 5 of the Disney Dream. These are meant for children ages 3 – 12. The Club is aimed towards younger children and the Lab is aimed towards older children, however, children are welcome to go back and forth between the two sections as long as they fall in the 3 – 12 range.
Lunch and dinner are both served here in case the grown ups in your party would like to enjoy a kid-free meal. In addition, cruisers who choose the later dinner seating can have the kids receive the meals quicker than the adults. Then their kids can be escorted to the kids club while the adults enjoy their dinner at a more leisurely pace.
You can register your child for the kids club online before you leave, at the Cruise Terminal, or onboard the ship. Kids will be presented with a wristband much like a MagicBand. There is a $12 deposit for this band, and you are welcome to keep it as a souvenir if you don't want to return it on the last full night of your cruise. (Ed. note: And for those who have Disney Infinity, there is something special that happens when you place your Disney Cruise Line wristband on your gaming console!)
When you register your child, you will be asked who can sign your child in and out of the club. Parents or guardians then provide a password which must be said before they can sign the child out. Note: the first time I signed my daughter's out of the club I was NOT asked for a password, but the second time, I was.
You can check in your child at the entrance to either the Lab or the Club; the areas are also connected once you are inside, making moving between the two areas easy for children. We checked in at the Club. The first thing you'll find are automatic hand washing stations, which everyone found mesmerizing. They take health and hygiene very seriously on the Disney Cruise ships.
When you enter the area, you will find a large interactive dance floor. Here, games are organized throughout the day. During the Open House (the only time grown-ups crusiers are allowed to hang out here) there was nothing going on in this area, but my daughter reported that there were games being played while she was here.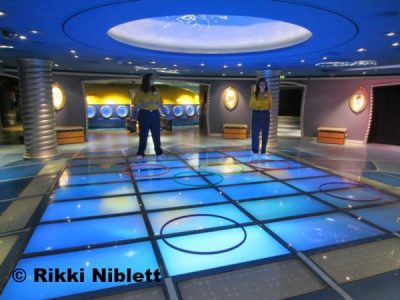 Interactive Dance Floor with Counselors
To the left you'll find a room dedicated to Disney Infinity. Here, children can request to play as a Disney character, and the youth counselor will find the corresponding figure. As a huge Star Wars and Marvel fan, I was thrilled to find those figures as choices. (And even more thrilled that Black Widow was one of them!)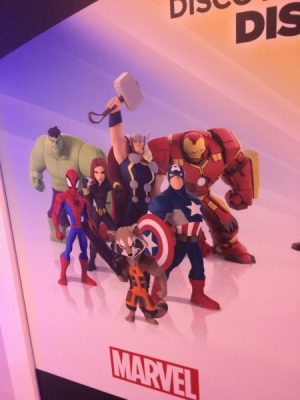 Some of the playable characters in the Disney Infinity Room
Moving clockwise, the next area you'll find is Pixie Hollow. Designed to look like Tinker Bell's home, there are coloring sheets with crayons and tablets on which kids can play a variety of Disney interactive games.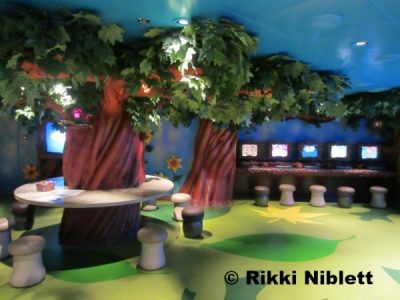 Pixie Hollow
The next area was definitely my favorite. The interior of the Millenium Falcon has been lovingly recreated. I loved sitting in the cockpit. I turned to my husband and said, "Hang on, we'll going to hyperspace," and pulled at a lever. To my astonishment and glee, the screen lit up with blue streaks! Afterwards, the Hoth scene from Star Tours played on the screen. (At this point, pulling levers and pushing buttons did nothing to change the scene, but boy, that was cool.) I'm guessing that a huge part of the counselors' job is to make sure all kids get a turn here.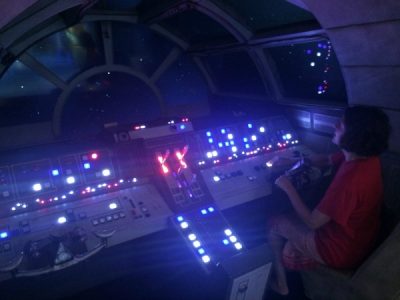 I've got a bad feeling about this…
One day, when I went to pick up my daughter, I arrived at the same time as a hooded Jedi Master, ready to give lessons to his young Padawans. There is also a cool place to sit and pretend to play 3-D chess. And everyone's favorite droid is there, as well.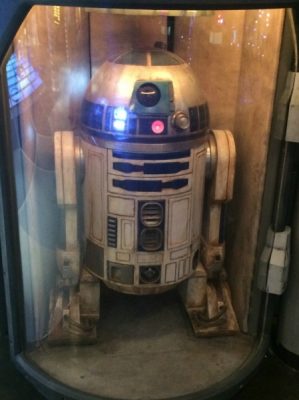 Everyone's favorite astromech droid
Next you'll come to Andy's room, which is full of oversized props related to Toy Story. Kids can crawl through a huge Slinky Dog, toss oversized monkeys from a barrel, and open Andy's dresser, which is full of board games.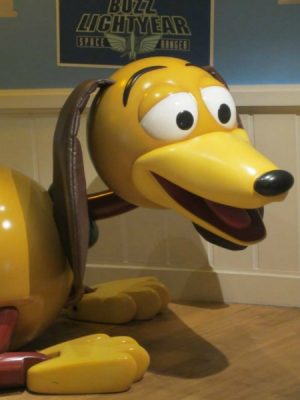 ©Rikki Niblett
Down a small hallway you'll find the brightly colored boys and girls restrooms, along with water fountains. Next there is a large area which connects the Club to the Lab. This area can be used as a crafts center, and also is where lunch and dinner are served.
Restroom
Once you are through to the Lab, you'll find another large interactive dance floor and a stage where kids can put on their own shows. This part of the kids club is decorated with a pirate theme.
There is a media room where kids can sit and relax in comfy seating, watch a movie, or play video games. (During the Open House, The Princess Diaries was shown.) In a room dedicated to learning to draw Disney characters, sketch paper and pencils are available. Kids can draw to their heart's content, and at certain times lessons are taught so they can learn to draw their favorites. This room was decorated with Marvel character figures behind glass, and I caught my favorite!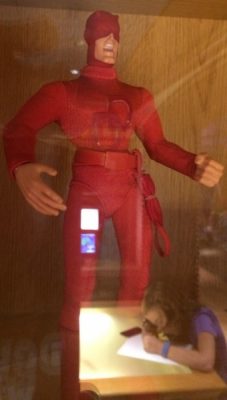 The Man Without Fear in the drawing room
In The Wheelhouse, kids can play Tides of Fortune, a multiplayer video game exclusive to the Disney Cruise Line. There is also a station where you can virtually steer a pirate ship through the dangerous Caribbean waters!
All in all, the Club and Lab are highly interactive, and once your kid has seen it, it's going to be hard to get them to leave. (I know that was our experience!) It's good to know that your kids are being well looked after and entertained while you can get some precious adults only time.
The area is so popular that during one evening's stage show, "Villains Tonight," the evil host, Hades, commented on it. "All you adults had better start laughing at my jokes," he warned, "or else I'll cancel the Oceaneer Club! And then we're ALL gonna suffer!"
NOOOOOOO, Hades, don't do it!
Have your children ever experienced the Oceaneer Club or Oceaneer Lab onboard Disney Cruise Line? What did they like best about the experience? Share your thoughts in the comments!
Incoming search terms:
https://www themouseforless com/blog_world/oceaneer-club-and-lab-disney-dream/#:~:text=These are meant for children in the 3 – 12 range
disney dream oceaneer club
https://www themouseforless com/blog_world/oceaneer-club-and-lab-disney-dream/
https://www themouseforless com/blog_world/oceaneer-club-and-lab-disney-dream/#:~:text=The Club is aimed towards in the 3 – 12 range