This post may contains affiliate links for your convenience. If you make a purchase after clicking a link we may earn a small commission but it won't cost you a penny more! Read our full disclosure policy here.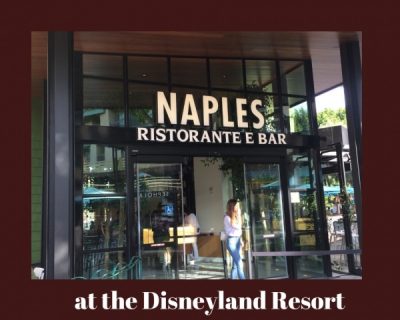 The new exterior of Naples Ristorante e Bar
Naples Ristorante e Bar, at Downtown Disney in the Disneyland Resort, just had their grand reveal after a renovation. I was lucky enough to be at the media event and got to take a good look at the changes.
There are three major areas to this restaurant, which is run by the Patina Restaurant Group, which also runs other restaurants in Disneyland and Walt Disney World. There is the small Napolini Pizzeria, which features build-your-own pizzas.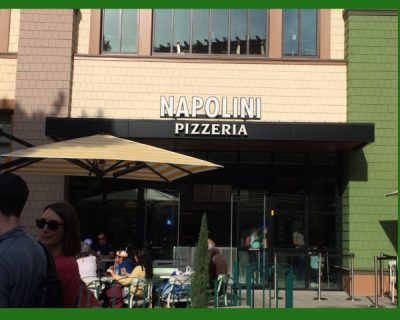 Napolini Pizzeria
There is the new bar area, where you can enjoy an adult beverage, order items from the menu, and recharge your phone at the same time. I'm always up for recharging my weary theme park legs AND my phone at the same time!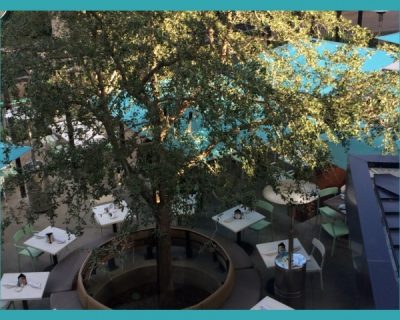 Bar as seen from the second story of the restaurant
Then there is Naples Ristorante, the two story full service restaurant located across the way from the Grand Californian Resort's entrance into Downtown Disney. This restaurant specializes in Italian fare.
The grand reopening began with introductions from representatives of both Disneyland and the Patina Group. Chef Mickey and Chef Goofy were soon on hand to cut the red ribbon with…what else? A pizza cutter!
Chefs Goofy and Mickey join representatives from Disneyland and the Patina Restaurant Group
After the confetti fell (in the colors of the Italian flag!), we were invited inside Naples. The first floor seating area is bright and open, with large windows giving you a view of the action outside. Dramatic light fixtures dominate the space.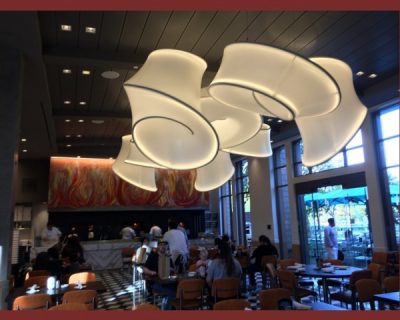 first floor dining room
We were then ushered upstairs to a reception. A string trio played as we got a chance to explore the space. Comfortable, cozy seating is available in this room. Delicate lighting fixtures decorated the ceiling, and an impressive sculpture of hands making traditional Italian gestures demands your attention.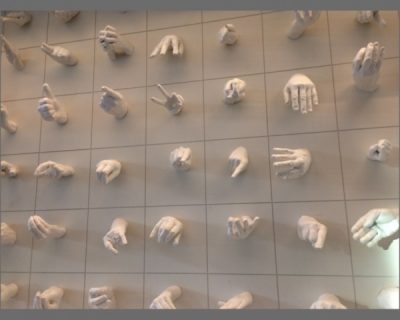 eye-catching sculpture
But my favorite seating area is outside, on the terazza. It was a beautiful Southern California day, and nothing could be more appealing than sitting out here, enjoying a drink and a meal while people watching. In fact, I got a peek at some Cast Members cleaning up that confetti!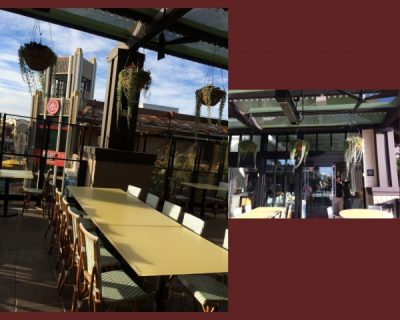 outdoor terrace seating area
After I had a chance to explore the space, I started sampling the food that was offered. Servers offered bite sized hors d'oeuvres, champagne and prosecco. Many other delights were laid out, buffet style, for us to sample.
My favorite of the hors d'oeuvres was definitely the fried cheese. Creamy on the inside, perfectly crispy on the outside, these were so good that I had to stop myself from grabbing more.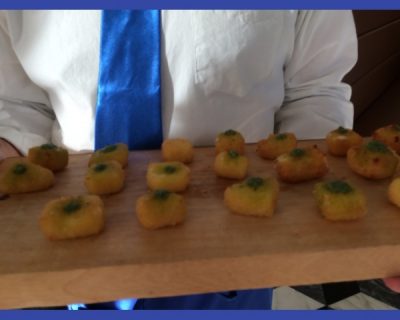 fried cheese
Finocchiona Salami and prosciutto, marinated vegetables, and two different breads tempted from another table. Of the two breads, I preferred the crusty white variety, with bits of cranberry baked in.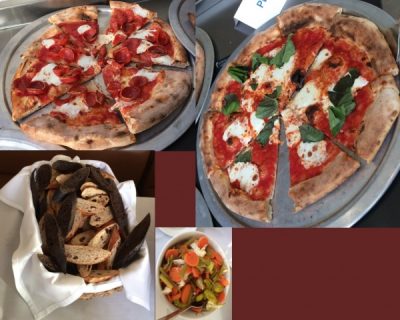 pepperoni pizza, Margherita pizza, breads and marinated vegetables
Another table featured Cesare salad, Mixta Salad with Italian vinaigrette, a pesto pasta salad, a tomato and mozzarella salad, and some truly delicious Grana Padano cheese. Of the salads, the tomato and mozzarella was my favorite. The mozzarella was fresh and creamy, and the tomatoes perfectly ripe.  I snagged a meatball from a passing waiter. He told me that they were all beef.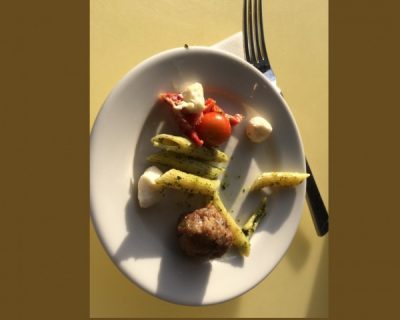 fresh mozzarella salad, pesto pasta salad and meatball
In case you were hankering for some more cheese, different varieties, along with bread and grapes, beckoned from another table.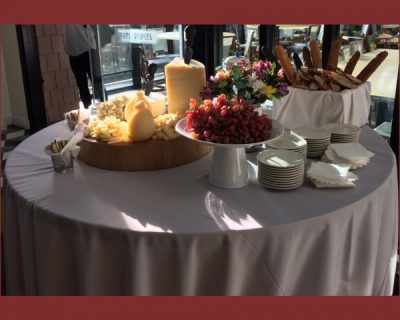 cheese table
Two different flavors of pizza were offered: Margherita and pepperoni. The Margherita was fantastic. The crust was thin and super crisp. When I bit into the crust, it sounded like I was eating a cracker.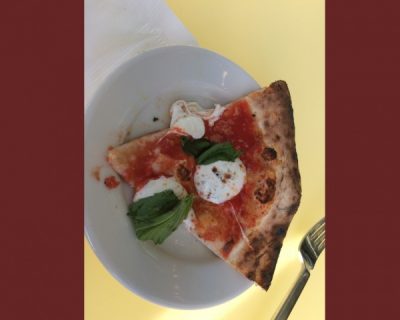 Margherita pizza
After all this, you might wonder how I found room for dessert, but somehow I managed it. I tried everything that they offered: a lemon meringue tart, chocolate mousse cake, éclair, fruit tart and Italian cheesecake. My least favorite was the éclair, which simply did not stand out. The best of these was definitely the lemon meringue tart. It was light and airy, not overly sweet, and the toasted meringue on top was perfect. A close second is the cheesecake. I've always preferred Italian cheesecake to New York style, so I'm biased on this one.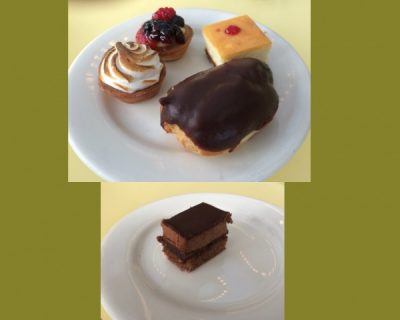 lemon meringue tart, fruit tart, Italian cheesecake, eclair and chocolate mousse cake
All in all, the renovation of Naples Ristorante e Bar looks great, and the food served at the reception was tasty and fresh. Whether you're looking forward to a customized pizza, an Italian meal in a beautiful setting, or a place to recharge yourself and your phone with a frosty drink, Naples Ristorante e Bar deserves your serious consideration.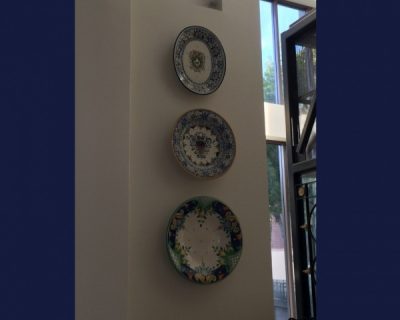 Have you had the opportunity to try Naples Ristorante e Bar following its refurbishment? Let us know your thoughts in the comments, or on Facebook or Twitter!
Did you like this article? Make sure to share it with your friends! Check below for easy ways to share!
Want to visit Disneyland? Contact The Magic for Less Travel for more information and a free, no-obligation quote.