This post may contains affiliate links for your convenience. If you make a purchase after clicking a link we may earn a small commission but it won't cost you a penny more! Read our full disclosure policy here.
Inside Disney's Animal Kingdom park, in the country of Asia, you will find Yak & Yeti restaurant. Yak & Yeti has a full sit down restaurant and a quick service eatery that both serve delicious Pan-Asian cuisine. The restaurant is not only rich with food and spirits, but its story is rich with history and culture.
As the story was told to me, The Yak & Yeti Hotel and Restaurant is at the foot of Mt. Everest in a town called Anandapur. It used to be the home of a rich merchant family, but the house has since been enclosed as the owner's financial situation has changed. Arjun, the owner, has posted signs on the outside of the building letting us know that we can stay and eat in the hotel. Standing outside the restaurant, you can see that people have taken Arjun up on his offer and are residing in the hotel because there is clothing hanging from the balcony.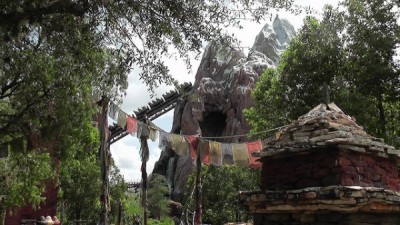 Is that a yeti in the background??
The restaurant is 2 floors and as you walk through to your table, you can see that each room is decorated differently. It was clear to me that pieces of the house were re-purposed to make the restaurant comfortable to patrons. For example, the bamboo trees that were on the outside of the house have been cut down and are now part of the ceiling on the patio. My suggestion is to take a few minutes to walk around and appreciate the family photos and worldly artifacts that adorn the restaurant. In true Disney fashion, the attention to detail is superb.
After climbing the majestic staircase in the middle of the restaurant to the second floor, my friends and I were seated at our table and began to peruse the menu. I'm still not sure how we decided what we were going to eat. Everything on the menu sounded delicious and, having been at this restaurant twice before, there was 1 or 2 dishes (or 10!) that I was dying to have again.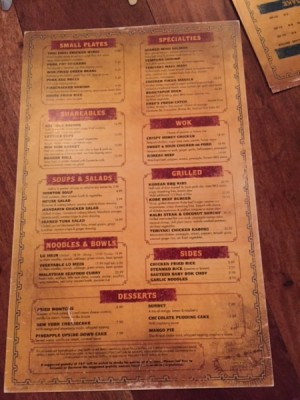 Seriously, how did we choose?!
For appetizers we ordered a Dragon Roll, Ahi Tuna Nachos, and Pork Egg Rolls. I'd never had raw tuna before and my good friend basically said, "Too bad. You're trying it!" Well. Thank goodness he made me. I am still dreaming about that Dragon Roll! It is spicy tuna and avocado topped with crab and served with a sweet soy glaze. It was like heaven on a plate! It was fresh, spicy (but not overpoweringly so), and smooth. The sweet soy glaze was a perfect accompaniment.
The Ahi Tuna Nachos were unbelievable as well! Tuna, Asian slaw, wonton chips, wasabi aioli, and that same sweet soy glaze. The presentation was beautiful. The dish was piled high and filled the whole plate. There were 5 of us and we still didn't finish it all!
The Pork Egg Rolls were the best egg rolls I've ever had (and believe me, I've done some egg roll comparison shopping). Plus, they were huge! They're called a "small plate" on the menu, but that certainly doesn't apply to the size of the actual egg rolls! Believe me when I tell you by the time we were done with the appetizers and the entrees came, we were stuffed!
For my entree I ordered the Korean Beef which is wok fried beef, peppers, onions, and pineapple with a Korean BBQ sauce with your choice of jasmine or brown rice (I chose jasmine). Holy cow was this dish amazing. The beef was so tender and fried to perfection. The peppers and onions were cooked just right without being too hard or too soft. Sometimes when a dish is cooked with the sauce it can affect the consistency of the vegetables, but not with this dish. The pineapple and the BBQ sauce from this dish were meant to be best friends. The plating was stunning and even though I was so full from my first Ahi Tuna experience, I managed to eat the entire meal. It was way too good to leave any behind!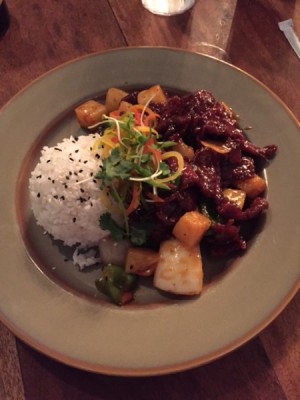 You would've eaten the whole thing too, trust me!
My husband ordered the Combo Lo Mein (chicken and shrimp) and, just as I have done my comparison shopping for egg rolls, he has done his shopping for lo mein. I am here to tell you, ladies and gentlemen, that not all lo mein dishes are created equal. This lo mein dish, found at Walt Disney World, is the best lo mein dish we've ever had. The noodles are a perfect width and grab just the right amount of sauce without dripping all over and making a mess (as lo mein can do sometimes). What's really incredible about this dish is how much food you get. I had quite a few forkfuls (more than my husband probably wanted me to!) as did our friends. And by the time my husband waved his white flag, it still looked like he had barely touched his meal.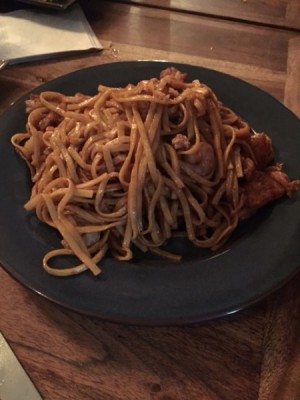 Look at the size of this Lo Mein dish!
We ate inside the restaurant, but as I mentioned earlier there is a quick service eatery outside. It's called Local Food Cafe and the menu holds entrees (like the Teriyaki Beef Bowl) and side items (like a huge side of Chicken Fried Rice). I've never personally eaten from the Local Food Cafe, but I know many people who have and they rave about it. Plus you can use a snack from your Disney Dining Plan on some of the items!
I can't say enough positive things about Yak & Yeti. The ambiance is warming and welcome, the food and drink are fantastic, and the service is impeccable. Next time you're looking for someplace different to eat, with fantastic mind blowing food, this is the place you need to be; right in Anandapur.
Have you been to Yak & Yeti? Where do you go for fantastic mind blowing food while on property? Leave your comments below!