This post may contains affiliate links for your convenience. If you make a purchase after clicking a link we may earn a small commission but it won't cost you a penny more! Read our full disclosure policy here.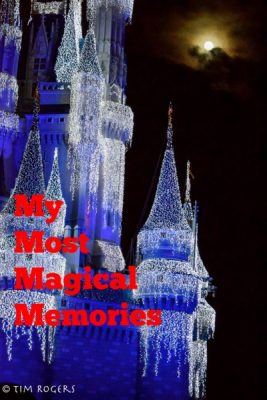 Disney vacations are full of magic, and as a community we love to share that magic with others. As I am looking forward to my next trip, I wanted to take a moment to look back at some of my favorite Disney magical memories. Since that list could go on to infinity (and beyond), I'll narrow it down to a top 5.
1.) First Time at Crystal Palace
All of our "must-dos" have to start somewhere. For me and my wife, that was on our first trip together to Walt Disney World, which was also with my parents. To say my wife is a fan of Eeyore would be an incredible understatement. Before I infected her with my Disney obsession, she already had a room of Eeyore decorations and couldn't get enough of that lovable donkey.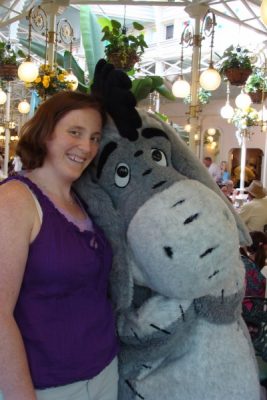 As we started planning this trip, which happened to fall on my wife's birthday, the only thing she wanted was to have breakfast with Eeyore, which led us to the Crystal Palace.
Breakfast at Crystal Palace is one of my favorites (and judging by my experience making ADRs each trip, I'm not alone), and that all started with this trip. Yes the food was good, but it was really being able to see my wife meet Eeyore for the first time, and see in her that child-like joy that I myself feel many times at Disney, that made the Crystal Palace our must do for every trip.
2.) The Claw
Sometimes, the most enduring magical memories from Disney happen because of happy accidents, this is one of those situations. On one trip, we got to Disney's Hollywood Studios just before opening time to try to get to Toy Story Midway Mania right at rope drop. Well, even though we were back to the queue about 3 minutes after the park opened, the standby wait was already over an hour.
We didn't really want to wait that long, and at that moment happened to look across the way and see that basically no one was in line for the meet with Buzz and Woody. While we weren't planning on meeting them, we were there and had some time before our first FastPass so we went for it.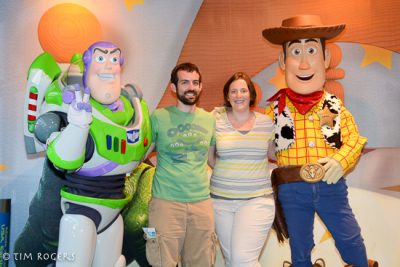 As it turned out, only one group was in line ahead of us, so we got to the meet very fast. Now, I want to point out two things about this meet that will be important soon. First, since we were among the first in line, Buzz and Woody were taking a lot of time with each of the first few groups until a line really started forming. Also, I have a ton of Disney t-shirts and happened to be wearing one that day featuring the Aliens from Toy Story. Let's just say, Buzz and Woody noticed.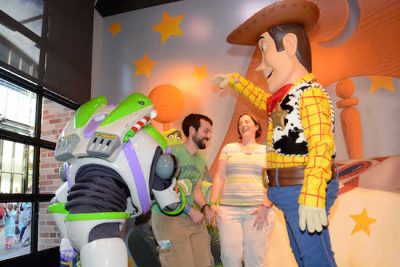 As you probably know, a major part of the identity of the Toy Story Aliens is "The Claw" (Oooooooooo). What you might not know is that I am incredibly ticklish, and after Woody did "The Claw" on my stomach, I almost fell over from ticklishness. Naturally, this encouraged Buzz to join in and they took turns being the claw while my wife almost passed out by laughing so hard at me.
Eventually, they did stop, but this is still one of my wife's favorite Disney stories and one of the reasons I make it a point to pick out shirts for planned meet and greets to have more fun while interacting with the characters.
3.) Bread Service
Walt Disney World has hundreds of restaurants serving a great variety of foods. And yet, some of them hold such a special place that we can't help but keep going back over and over again. Sometimes that is for the characters (see above), the environment, the location, or the service, but seeing as these are restaurants sometimes it is the food.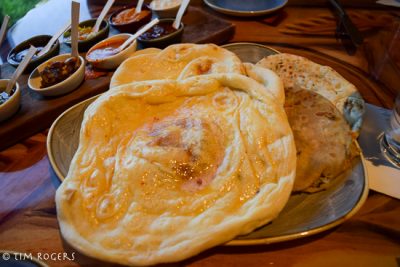 Sanaa has a great location and fun environment, but is a fan favorite because of the food. And by the food I mean the bread service.
Yes, the other food there is great, but excellent samosas aren't the thing that caused me to book a reservation on a bus to go back a second time during the same trip – that was my (and my wife's) reaction the first time we had bread service.
I've written before about the specifics, but when I think about what makes Disney World special for me, an excellent and unique food dish that I can go back to time and time again is one of the things that comes to my mind.
4.) The Osborne Lights
Some of the greatest draw for us with Disney is the nostalgia – the ability to revisit our favorites. However, with the constant drive for growth and change (and Star Wars) not even some of the most beloved attractions can last forever.
Thus is the case with the Osborne Lights.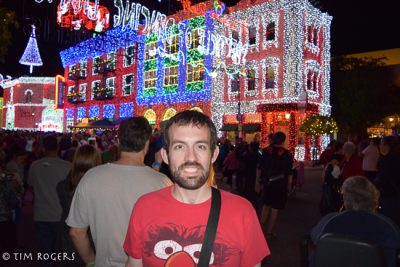 I am personally a Christmas light fanatic (well, Christmas in general, but lights especially). I always love finding big displays and never miss an episode of the Great Christmas Light Fight. Basically, the Osborne Lights were the perfect version of this for me, and I fortunately got to experience them for the first time the year before they went on hiatus.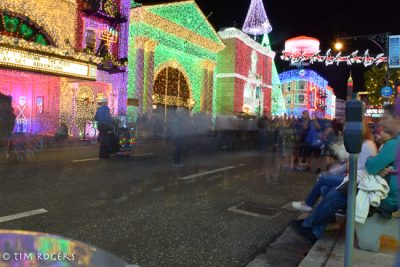 The sort of sensory experience here is hard to describe, but the idea is multistory buildings completely covered in computer controlled led lights that dance to Christmas music. And on that trip I went back at least 3 different nights to keep seeing them.
While the Osborne Lights were ended as the Streets of America gave way to Galaxy's Edge construction, I still have hope that some version of what they provided will come back to Disney World.
5.) Birthday with the Dapper Dans
When I was trying to narrow this down to five favorite magical memories, I knew it was going to be hard but I also knew I had to include something music related. As a person working in the arts with multiple music degrees, I am continually drawn to the great variety and quality of the live musical performances throughout Disney. For today's purposes, however, I'm going to focus on one moment with one of the most legendary.
The Dapper Dans have been a staple of Main Street since before Disney World even existed, and continue to entertain millions with their exquisite mix of barber shop harmonies and horrible puns (both of which remind me of my father, as an aside).
Every trip I also make it a point to catch the Dapper Dans at least once (especially if I can also see their alter ego, the Cadaver Dans at the Halloween party). During my last trip, which happened to be on my birthday, I used the knowledge mentioned in "The Claw" story above and wore my "Main Street Barber Shop Quartet" shirt from one of the March Magic competitions to see the Dans.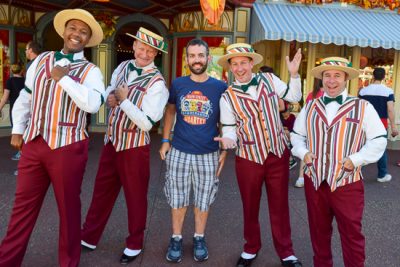 They noticed both my birthday button and my shirt, and seeing as Dapper Dan fan shirts probably aren't as common as Mickey ones, they invited me up to sing happy birthday. It is this sort of little special touches that I love about Disney World, and every trip seems to have more of them.
So there we have it, I somehow narrowed down my Disney experience to 5 favorite Magical Memories, well at least until my next trip.