This post may contains affiliate links for your convenience. If you make a purchase after clicking a link we may earn a small commission but it won't cost you a penny more! Read our full disclosure policy here.
Pixar Pier just opened this summer at Disney California Adventure and with it came rides, characters, decorations and mostly importantly: snacks. Because I'm such a big sweet tooth, I had to try all the treats I could get my hands on. I'm going to share my top 3 Pixar Pier desserts/treats with you.
All three of these are available year round and were not just a part of Pixar Fest. And without further ado, let's get hungry!
Jack-Jack Cookie Num Num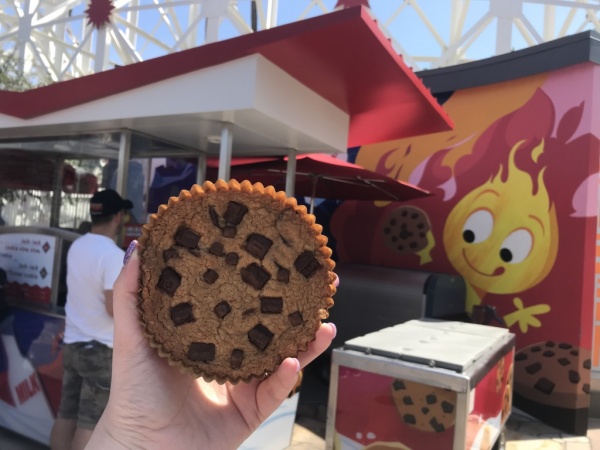 Location: Jack-Jack Cookie Num Nums, near Incredicoaster
Why it's wonderful: They serve it warm! It wasn't the best chocolate chip cookie I've ever had, but it was definitely an upgrade from standard Disney cookies. It's a good size and it should be, since it's $6. Definitely splittable. But also could definitely be a snack for one if you believe in yourself.
The downside: When we were there, the weather was in the upper 80s. So a warm, fresh-from-the-oven cookie was almost too hot to enjoy. Almost.
Pixar Pier Parfait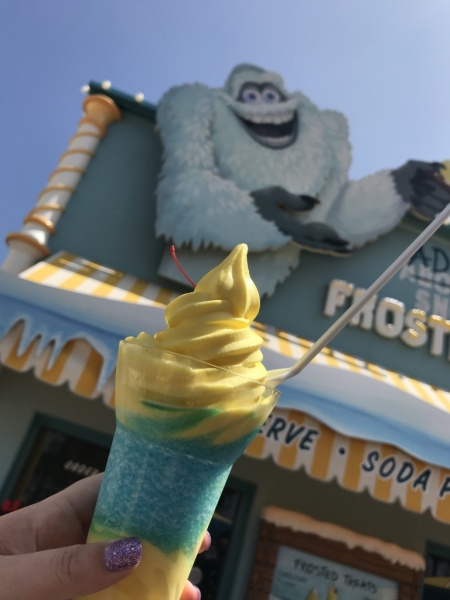 Location: Adorable Snowman's Frozen Treats, behind the souvenir shop, near Pixar Pier billboards
Why it's wonderful: Lemon is my all-time favorite flavor. Lucky for me, lemon is Adorable Snowman's signature flavor. Could it be the new Dole Whip? At least for me, lemon > pineapple. Much like Dole Whip, the lemon ice cream is also dairy free. For 5.99, you can get the Pixar Pier Parfait. It's 3 layers. Lemon soft serve, blue slush, lemon soft serve. All with a cherry on top! This was really good. The texture of the slush and ice cream actually went really well together. I was surprised at how much I enjoyed it! Whenever I get back to Disney California Adventure, this is going to be my first treat. The stand also offers vanilla and chocolate ice cream.
The downside: Your tongue will be blue for the rest of the day.
Grape Soda Cake Pop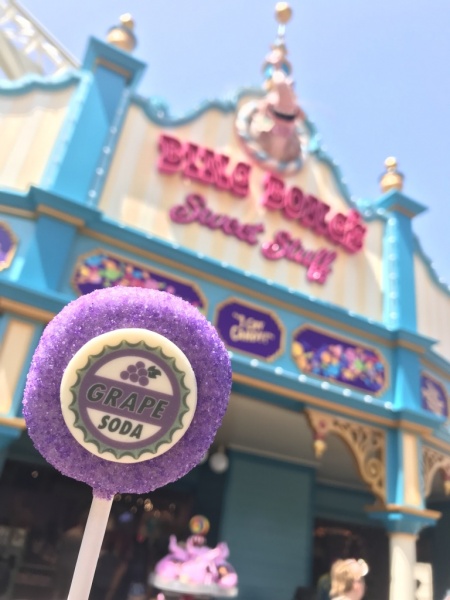 Location: Bing Bong's Sweet Stuff, across from Pixar Pal Around
Why it's wonderful: First of all, I love anything Up themed. And I also love food on a stick. This cake pop was appropriately grape flavored and even purple on the inside! It was covered in a tasty chocolate coating. Honestly, it was almost too cute to eat. The shop also has a cake pop for each Inside Out emotion. Joy was lemon-flavored and Disgust was watermelon.
The downside: The texture is a bit play doh-ish. But worth it, I promise.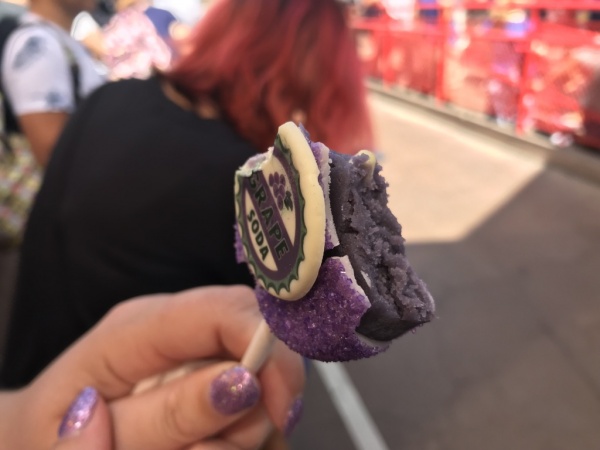 Pixar Pier was both fun to play at and fun to eat at! It's a great addition to Disneyland Resort!   And the new snacks are defintely fun and delicious!
Have you tried any snacks for Pixar Pier yet? What was your favorite? Share in a comment below or on Facebook or Twitter.
Did you like this article? Make sure to share it with your friends! Check below for easy ways to share!
Want to visit Pixar Pier at Disney California Adventure? Contact The Magic for Less Travel for more information and a free, no-obligation quote.