This post may contains affiliate links for your convenience. If you make a purchase after clicking a link we may earn a small commission but it won't cost you a penny more! Read our full disclosure policy here.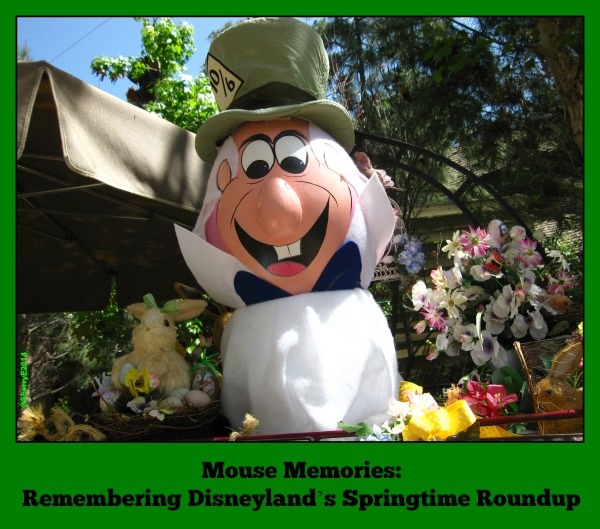 This is the first entry in an ongoing series I am calling "Mouse Memories," in which I will look back at specific momentous occasions that took place at Disneyland Resort in years past, as well as extinct events, decorations, attractions, merchandise and beyond.  I will also share personal stories, recollections and photos from some of my more noteworthy trips to the Happiest Place on Earth.   Today's subject is the gone-too-soon Springtime Roundup.
As most avid followers of Disneyland-related news are aware, construction is currently underway on an elaborate new Star Wars-themed land, slated to open in 2019.  (Disney's Hollywood Studios in Orlando will also receive its own version of the new land.)   To prepare for such a massive addition to the beloved Anaheim park means that certain operations will be disrupted, while some activities will become distant memories.
One such casualty of the Star Wars project was the Big Thunder Ranch area of Frontierland, which permanently closed its barn doors in January 2016.   The Ranch was home to a petting farm and a popular barbecue restaurant.  Also notable — and yet often overlooked by Disneyland visitors — were the themed celebrations that took place there over the years, focusing on Halloween, Christmas, the patriotic holidays of summer, beloved characters and a general Western hoedown.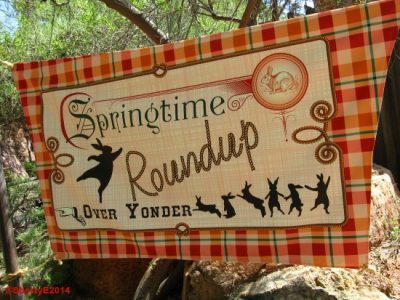 Tucked away from much of the cheerful chaos that guests often encounter throughout the park, Big Thunder Ranch became a surprising hub of seasonal revelry.   One of the more recent manifestations of the Ranch, albeit a short-lived one, was the whimsical Springtime Roundup, which spanned the vernal months of 2014 and 2015.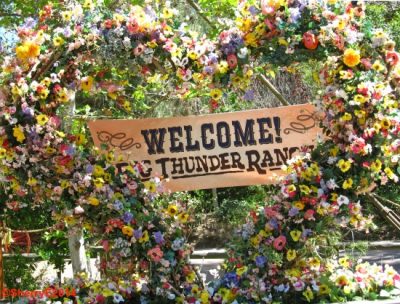 Near the entrance, a large heart-shaped wreath presented the perfect spot for photos.   I had to wonder if it was originally destined to be part of a possible "Valentine Roundup" that never came to fruition.
Like its autumn and winter counterparts (each of which I will explore in future Mouse Memories installments), the Springtime Roundup showcased the wonders of the season in splendidly rustic fashion.  All around the Festival Arena space were crisp colors, faux flowers, gardening accoutrements, painted eggs…and bunnies.  Lots and lots of bunnies.  Leaping bunny graphics.  Stuffed bunnies.  Disney character bunnies.  A bounty o' bunnies.  I suppose the rabbit is the official mascot of spring by way of Easter, but I have to believe there must be a baby chick or two chirping in protest, somewhere out there.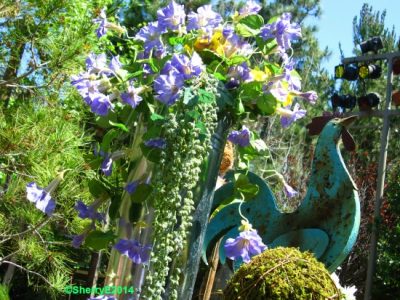 The attention to detail is always something to behold at Disney parks.  Notice the appropriately weathered and worn look of this rooster.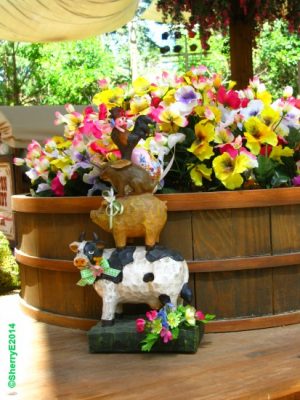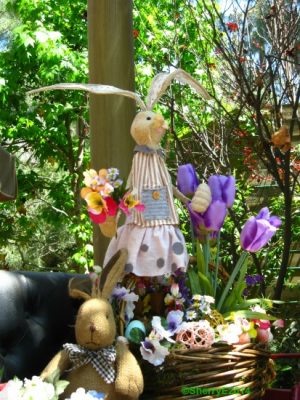 Bunnies!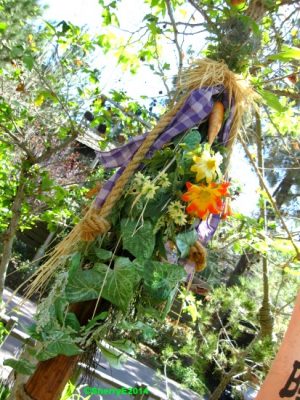 Garland festooned with carrots…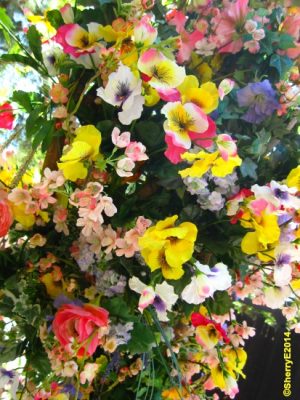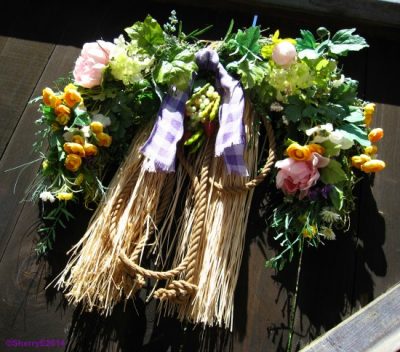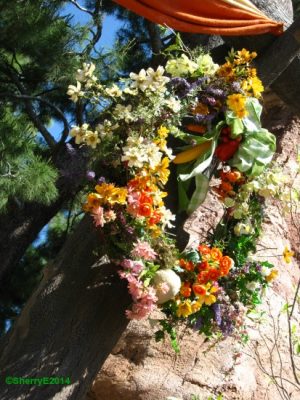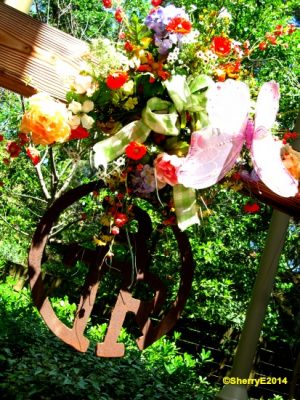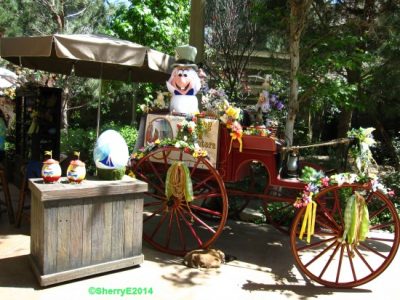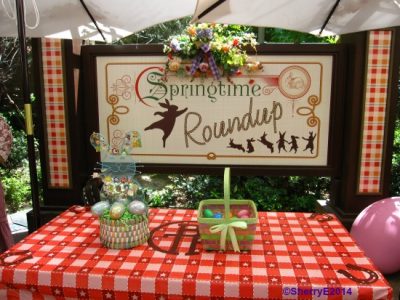 The purpose of this location was rather unclear, but I enjoyed the adorable bunny basket on the left.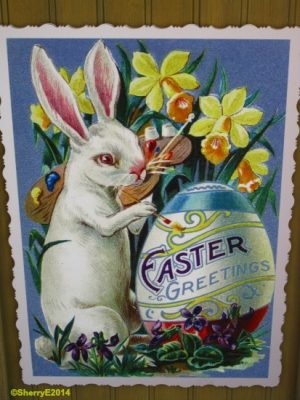 It's an artistic bunny, channeling his inner Picasso!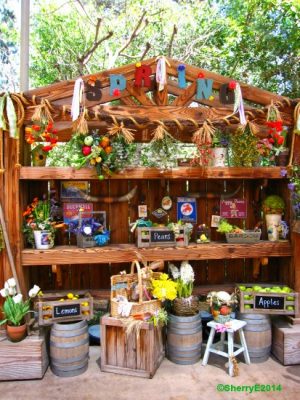 This shelf featured gardening accessories and crates of artificial apples, lemons and pears.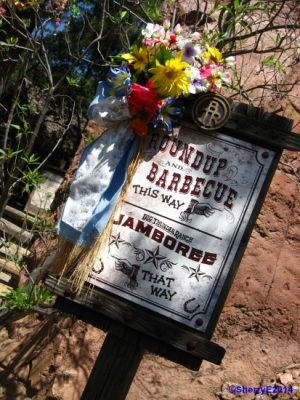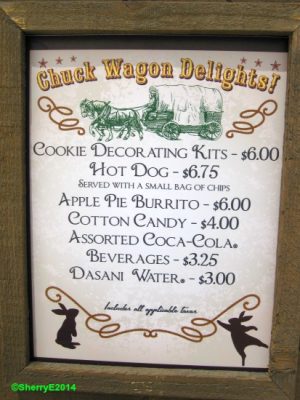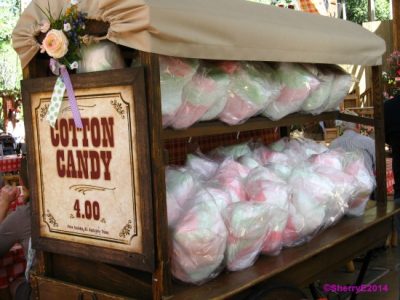 The soft green and pink cotton candy was a nice complement to the spring color scheme.
Every version of the Roundup, for any holiday or season, offered a handful of themed food items, of which cotton candy was a staple.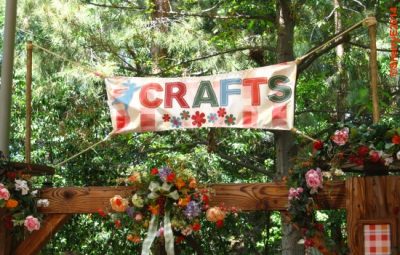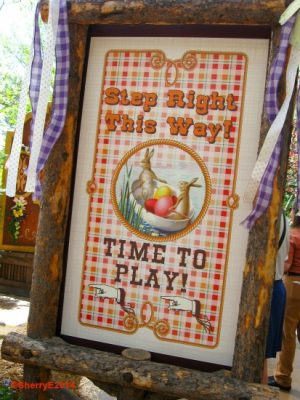 Guests created their own bunny-emblazoned keepsakes at the Crafts station, and played games at the game stations.
Pluto sported his best rabbit ears…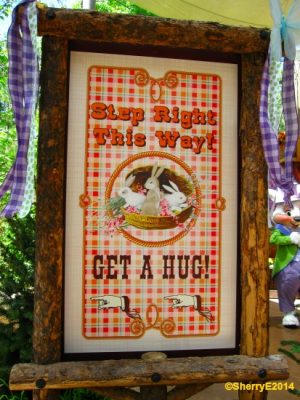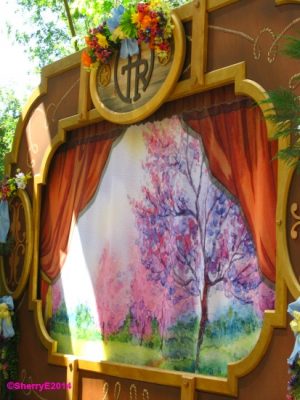 The Easter Bunny's photo backdrop…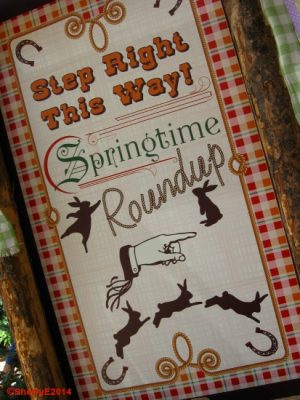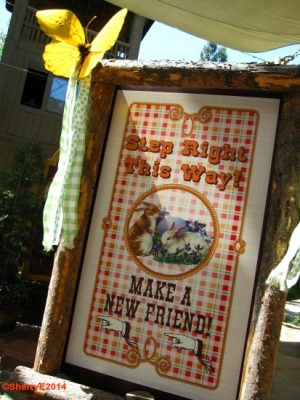 While characters dressed in theme-appropriate attire can usually be found around Main Street's Town Square during the major seasons at Disneyland Resort such as Halloween Time or the Holidays, sometimes they wore different outfits exclusive to the Roundup.    Not only were Mickey and Minnie looking quite dapper in their spring pastels, but Pluto donned special rabbit ears and the Easter Bunny held court and posed for pictures.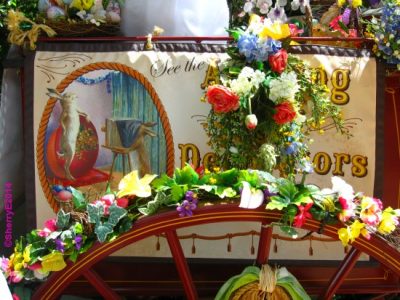 Flowers conceal the banner advertising the Amazing Egg Decorators…
In a recent article I listed 10 tips to help finesse the Egg-stravaganza egg hunt at Disneyland Resort.  Oddly enough, when the Springtime Roundup was in existence it was one of the only places where there were no eggs hidden for the hunt, which seemed to be quite deliberate on Disney's part but was never explained.   That is not to say that there was an egg shortage — in fact, quite the opposite was the case.  There were eggs aplenty at the Roundup, but they were the mini-masterpieces of The Amazing Egg Decorators, including "egg artisan" extraordinaire Ray Brown, one of the talented folks who created equally amazing character pumpkin art at the Halloween Roundup and Carnival every year.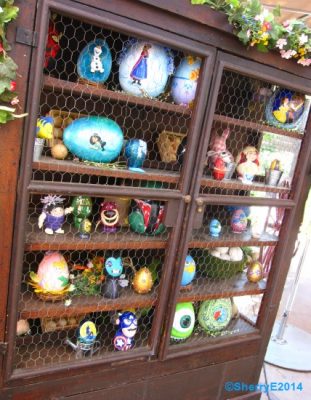 Many of the decorated eggs were safely displayed in a case protected by — what else? — chicken wire…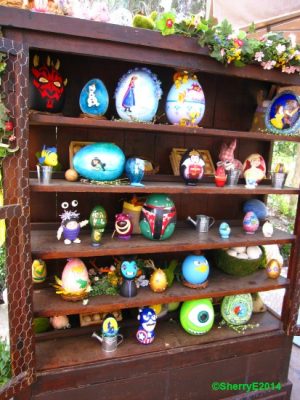 But helpful Cast Members were happy to open the doors to the case so egg observers could get a better look.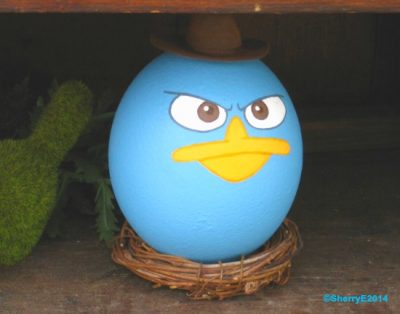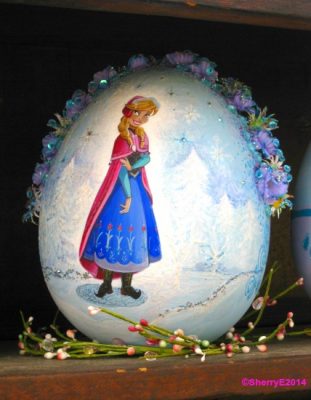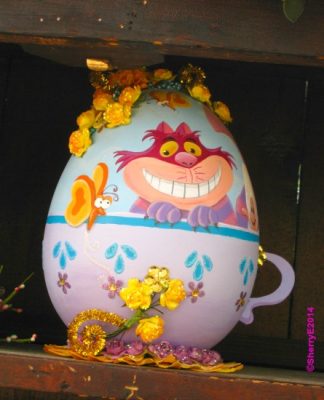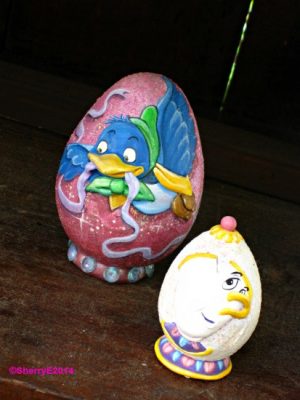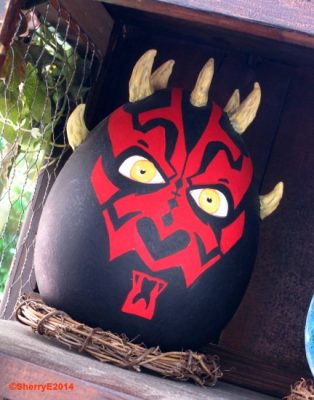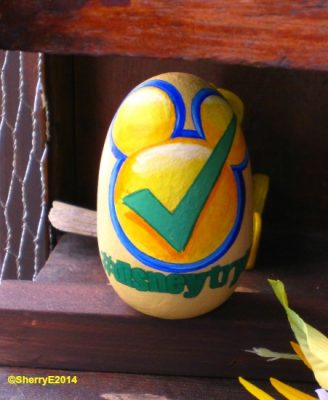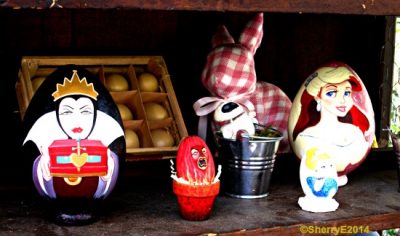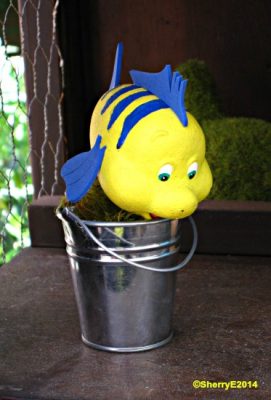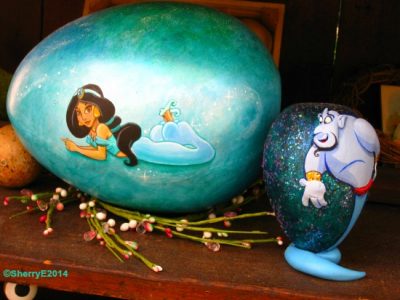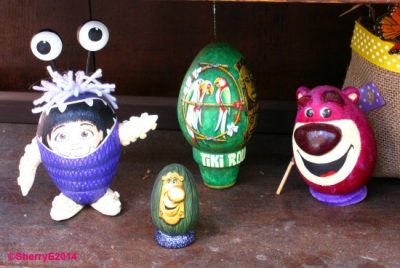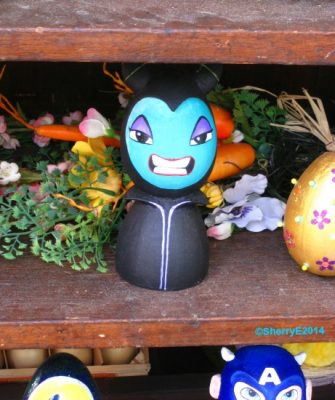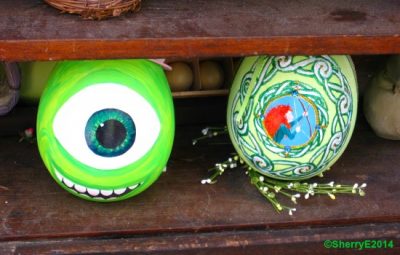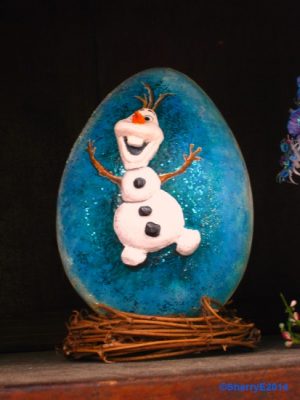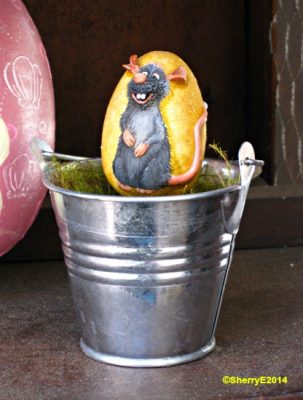 Mercifully, the intricately crafted, mostly oval, objects used for the art were not real, as the Southern California heat can be quite punishing on humans and eggs alike – but they were no less effective as a canvas than their gourd equivalents in the fall.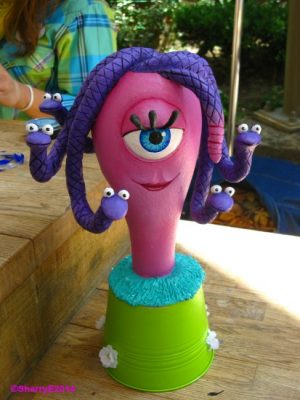 Not exactly what I would call an "egg," but close enough…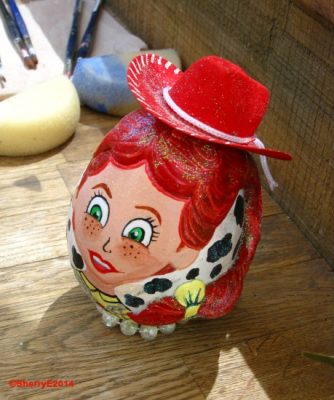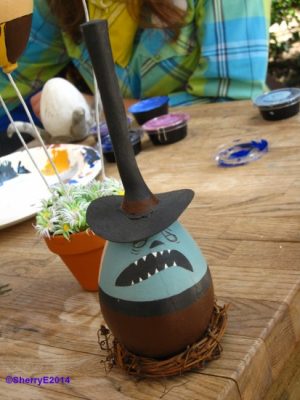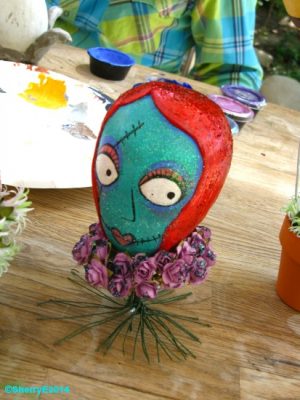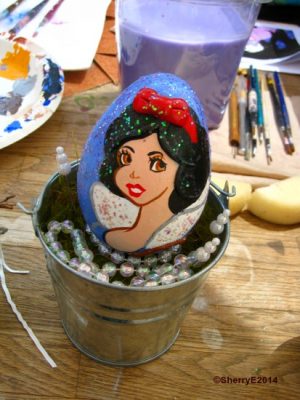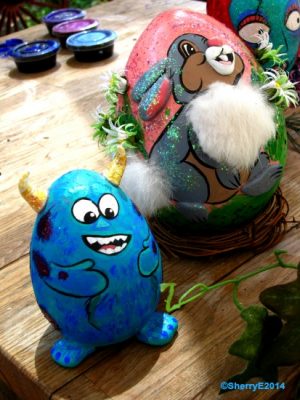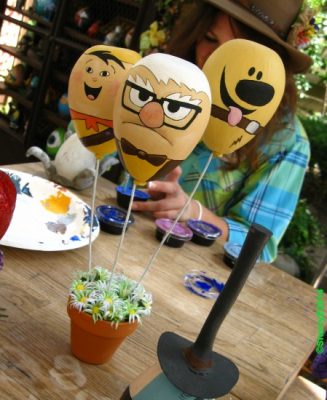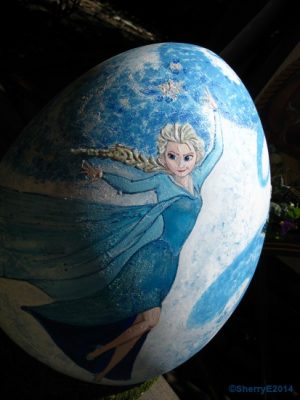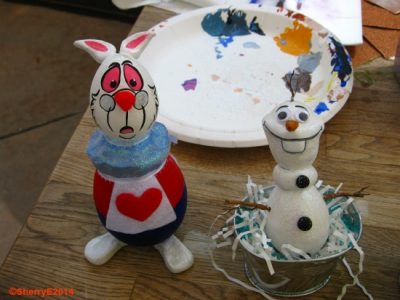 A pair of unlikely friends…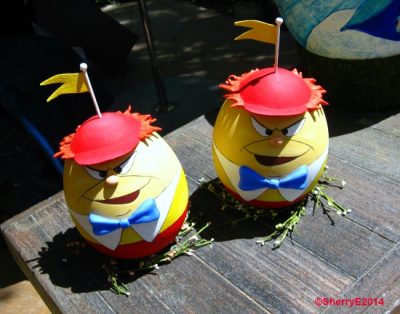 The promise of meeting famous Disney bunnies and basking in spring's delights is always appealing, but my absolute favorite part of the Springtime Roundup was, indeed, the skillful work of The Amazing Egg Decorators, just as I was partial to The Incredible Pumpkin Carvers during Halloween Time.   Since 2015, I have been hoping that the Disneyland Resort powers that be would find another place for the Egg Decorators (and Pumpkin Carvers) to set up shop — even if they relocated to Disney California Adventure or Downtown Disney — but, alas, it is not to be.   Rumor has it that there were discussions with Disney about bringing back the Carvers (and, presumably, the Decorators too), with alternate stations suggested as possibilities, but that nothing could be worked out.   Maybe someday we will see not only a return of the egg art, but also a return or re-imagining of the Roundup, in any iteration.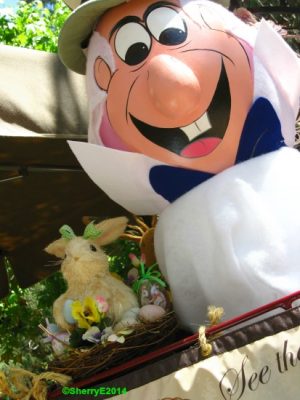 Do you remember the Roundup?   Were you able to visit the Springtime Roundup in 2014 or 2015?  Do you agree that it should make a comeback?   Do you think that Disneyland Resort should do more as far as Easter- and spring-specific activities, or is the Egg-stravaganza enough? Share your thoughts in the comments.
Did you like this article? Make sure to share it with your friends! Check below for easy ways to share!