This post may contains affiliate links for your convenience. If you make a purchase after clicking a link we may earn a small commission but it won't cost you a penny more! Read our full disclosure policy here.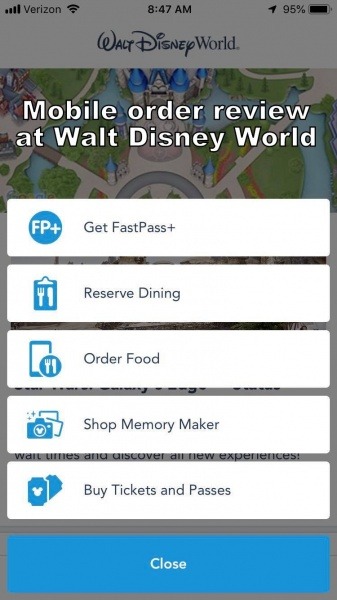 Mobile ordering at Walt Disney World is da bomb!
I might have said that a time or two during my most recent visit to Walt Disney World.
Mobile ordering wasn't an option on the dining plan during my last visit in 2017, so I was happy to see it was for the trip I took in August.
I spent time prior to my trip playing around on the MyDisneyExperience app before my trip. I recommend you do the same. See what restaurants are mobile order locations, check out the menus, and just get used to the app.
The first time I used mobile ordering on our trip was actually our very first day. My daughter and I were exploring Toy Story Land in Disney's Hollywood Studios. Lunchtime was fast approaching, it was hot, and it was crowded. It was the perfect time to give mobile ordering a try!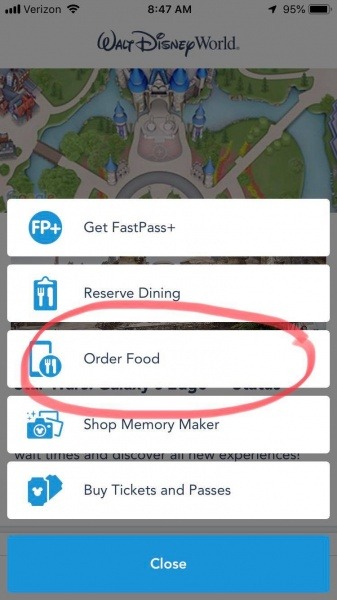 My daughter and I stopped under one of the conveniently located umbrellas along the walkway. I pulled up the app, clicked the option to order food. I chose Woody's Lunch Box and selected the entrees my daughter and I wanted. At this location where they fill your drinks for you, I had to order each drink separately as we like different sodas. However, the process was still fast and easy.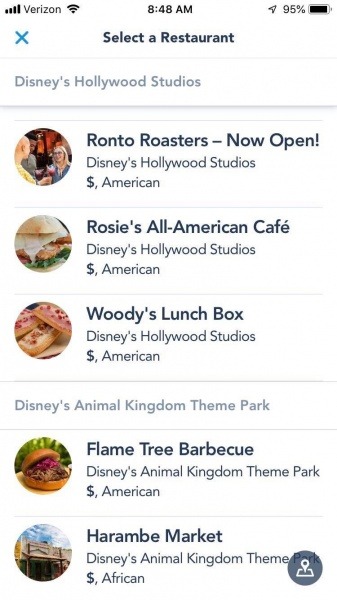 I reviewed the order, hit submit and clicked the button to let them know we were ready for them to start preparing our order. Then, we finished the short walk to the quick service location. My daughter sat at a just vacated table in the crowded area, while I walked on to the mobile order pick-up window.
By the time I got there, our food was ready and waiting. I was impressed with the speed our order was ready – but learned this wouldn't be the case every time.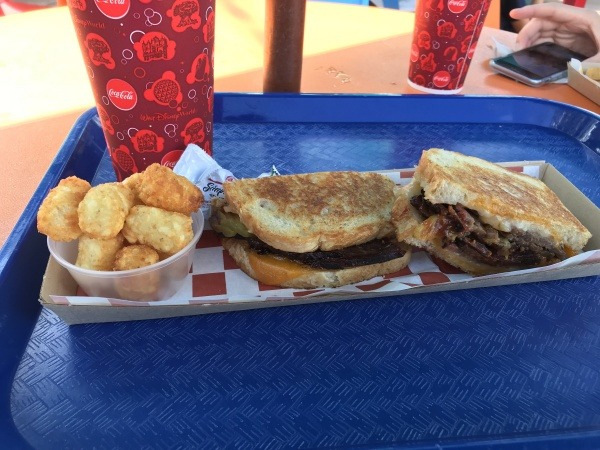 Later that same day, I would use mobile ordering at Pecos Bill Tall Tale Inn & Café during Mickey's Not-So-Scary Halloween Party at Magic Kingdom. This time around, we waited longer for our food than people ordering at the counter did!
On the whole, mobile ordering proved to be faster and less hassle than waiting in line to order. It was a super fast way to get a Dole Whip float in my hand at Aloha Isle, while others were still waiting in line to order.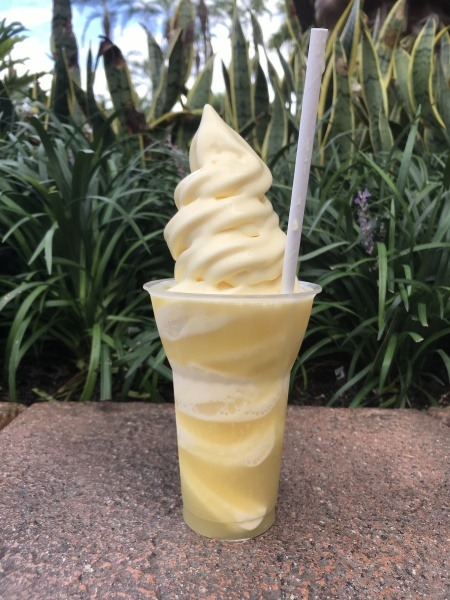 During a stop at Pizzafari in Animal Kingdom, there was only one line open and the group in front of us was large and undecided. I actually mobile ordered from in line behind them, and then just stepped over to the mobile order pick-up window to wait for our food. I was also able to make a special request at that pick-up window that I wasn't able to make on the app. My daughter doesn't like Caesar salad, so we asked if we could swap for Italian dressing. Cast emMbers were super accommodating.
I'm pretty sure we had our food before the other group finished ordering.
We stayed at Pop Century during our trip. That was the one place where mobile ordering wasn't always our best option. That's because the entire menu at Everything POP Shopping & Dining is not available through mobile ordering.
For one dinner at the resort, neither option my daughter and I wanted was available through mobile ordering. We both had to wait in line to order our pot roast and turkey dinners. However, I  mobile ordered breakfast one day, and that worked out great. I had planned to bring breakfast back to the room, and our mobile order came already packed to go.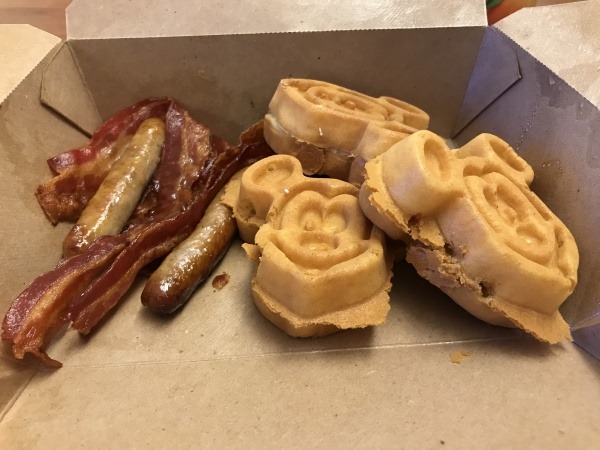 At many of the places we ate, the mobile order pick-up window was empty while ordering stations had lines. Mobile ordering allowed us to divide and conquer with me picking up the food while my daughter found a table. The only con we really found is that full menus are not available at all restaurants for mobile ordering. In some cases, you will still need to order the traditional way if the item you want is not on the mobile menu.
Overall, I found mobile order an easy time saver. In most cases, your order is ready and waiting when you arrive to pick it up – sparing you the wait in line.
With the every expanding list of places that offer mobile ordering at Walt Disney World, consider giving it a try on your next trip.
Have you used mobile ordering? What are your thoughts? Share in the comments or on Facebook or Twitter!
Did you like this article? Make sure to share it with your friends! Check below for easy ways to share!
Want to visit the Walt Disney World Resort? Contact The Magic for Less Travel for more information and a free, no-obligation quote.