This post may contains affiliate links for your convenience. If you make a purchase after clicking a link we may earn a small commission but it won't cost you a penny more! Read our full disclosure policy here.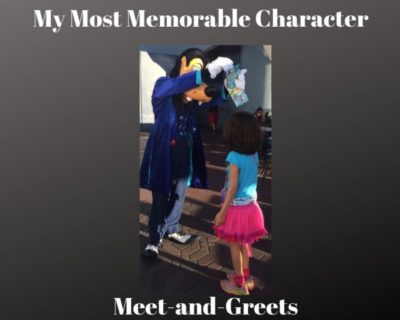 Goofy meets a young fan in Disneyland
When I was a kid going to Walt Disney World, meeting characters was never a big priority for my family. Shaking hands with a character would be a fun thing to do, but we certainly didn't wait in any lines to do it.
When my daughter was born, however, that all changed. That kid has met more characters than I could possibly count, at Walt Disney World, Disneyland and also on board the Disney Dream.
I have so many memories of our character interactions, but here are a few of my favorites:
FINALLY MEETING DIVINE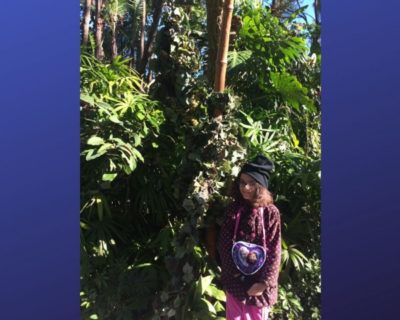 My daughter had been to Walt Disney World twice and still hadn't seen DiVine, the mysterious plant character who blends in perfectly with her surroundings at Animal Kingdom. It seemed like as soon as we got home, people asked us, "Did you see DiVine?"
On her third trip, it finally happened. And, like most of my favorite Disney memories, it wasn't planned at all. We were walking along on our last day, bundled up against the cold. (It was January during a freak cold snap. Lows were in the 40's and highs barely touched 60.) Suddenly we saw a rustle behind us, and my daughter gasped as she caught a face in the foliage.
MEETING STAR-LORD AND BABY GROOT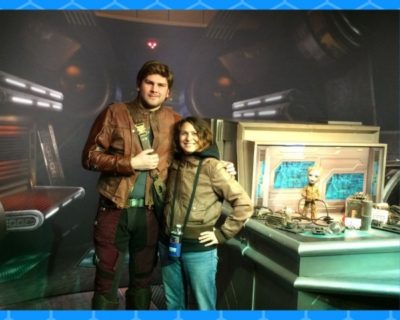 Our last Walt Disney World trip happened shortly after Guardians of the Galaxy Volume 2 was released, so we jumped at the chance to meet Star-Lord and Baby Groot. Mind you, my daughter pretty much completely ignored Star-Lord and just smiled and stared at Baby Groot, who imparted his wisdom upon us: "I am Groot."
But I had fun with both of them, asking Peter Quill how Drax was. (He told me Drax was keeping an eye on Rocket to make sure he was behaving himself.) I'd seen Star-Lord, Gamora and Groot (the adult version) at California Adventure, but never got a chance to do a meet-and-greet, so this was a lot of fun!
ANNA AND ELSA ON THE DISNEY DREAM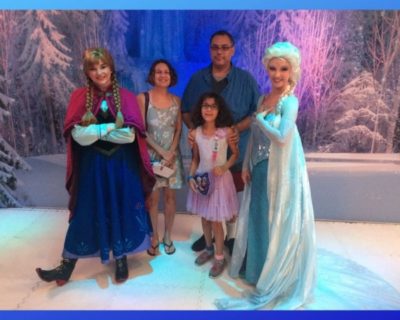 Sure, we'd met Anna and Elsa at both Walt Disney World and California Adventure (where we also met Olaf) but the meet-and-greet on board the Disney Dream was something really special. The Animator's Palate restaurant was completely transformed into the wintry kingdom of Arendelle, and children were encouraged to color pictures of the characters at tables while they waited for their turn to meet the sisters.
The only way to meet them was to go online prior to the cruise and request free tickets. Because of this, the wait was very orderly and organized, and we knew exactly what time to show up and meet them. It was the most relaxed way we'd ever met Anna and Elsa!
MEETING MARY POPPINS IN DISNEYLAND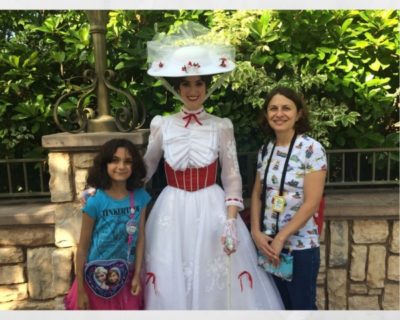 Mary Poppins is my favorite Disney film. Period. It's Walt Disney's masterpiece. Fight me on that one, I dare you. Anyway, as a child I was mesmerized by Mary's Jolly Holiday outfit. Although I'd met Mary previously at Walt Disney World (where my daughter informed Mary I was her favorite) this was the first time I'd met her in her beautiful white costume.
Once again, my daughter spoke to Mary. "It's my birthday," she said, "but you're my Mom's favorite. She always says so." Mary smiled brightly and replied, in her crisp English accent, "Why, thank you. After all, I'm practically perfect in every way."
What are some of your most memorable character interactions? Let us know your thoughts in the comments, or on Facebook or Twitter!
Did you like this article? Make sure to share it with your friends! Check below for easy ways to share!
Want to visit a Disney Destination? Contact The Magic for Less Travel for more information and a free, no-obligation quote.