This post may contains affiliate links for your convenience. If you make a purchase after clicking a link we may earn a small commission but it won't cost you a penny more! Read our full disclosure policy here.
After a busy day at Universal's theme parks, eating at the beach sounds like fun. While the beach isn't exactly right around the corner, there is a beach-themed restaurant—with tropical sounds—outside Islands of Adventure!
At Margaritaville, one can relax with a drink, listen to Jimmy Buffett covers, and enjoy great fare that combines the flavors of Key West and the Caribbean. Yes, the portions are a dieter's disaster, but, after all that walking in the park, who isn't hungry?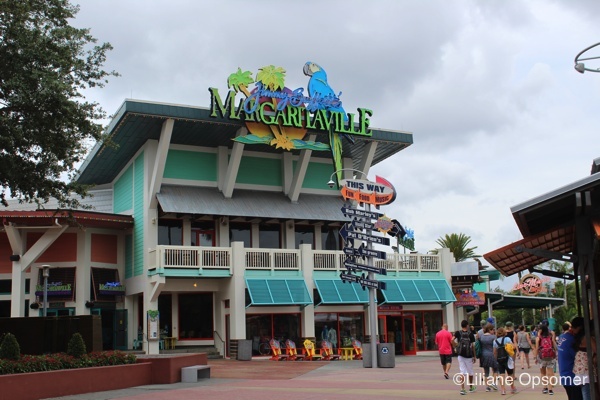 If you enjoy being outdoors and it is beach weather, request a table on the outside deck. I really liked the atmosphere of this porch setting, where there is also live music throughout the evening.
If you prefer eating in an air-conditioned dining room, the next best seat in the house is in a seating area shaped like a boat.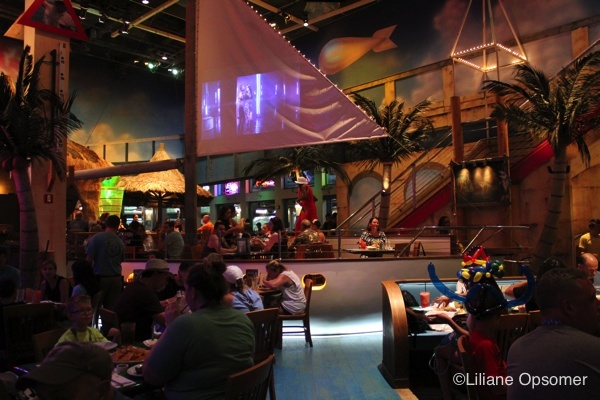 Live performances take place on a stage nearby, and one can still keep an eye on The Volcano Bar for signs of eminent eruptions.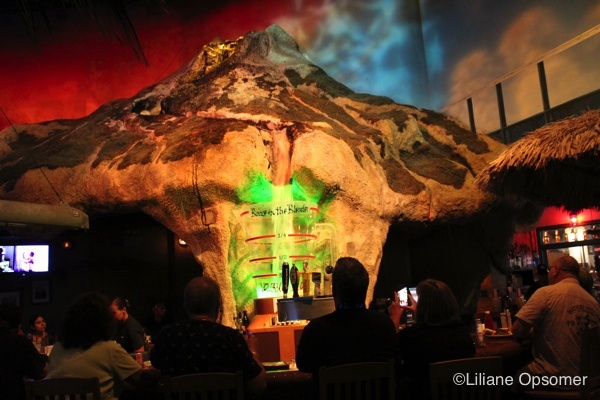 The entire restaurant is decorated with surfboards, tiki-totems, as well as pictures and quotes reminding guests that this is Jimmy Buffett's place. But even if you are not into watching Jimmy Buffett music videos on large TV screens, the place exudes a sense of being on vacation.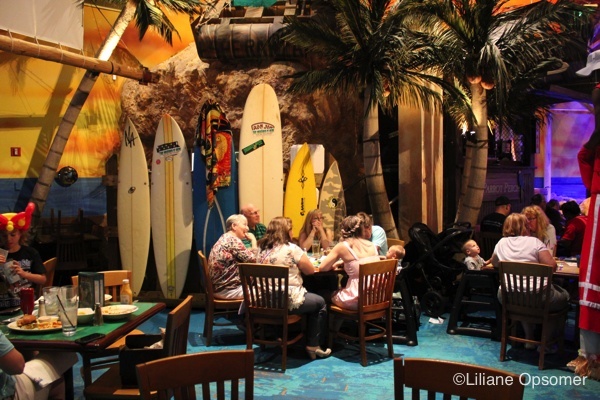 Now, let's talk margaritas! Ten variations of margaritas (and a host of other frozen drinks) will soon make you forget about those aching feet. Next thing you know, you are Livin' It Up ($13) at Margaritaville with this namesake drink, a combination of Sauza Tres Generaciones, Anejo Tequila, Grand Mariner, and the house-made agave margarita mix.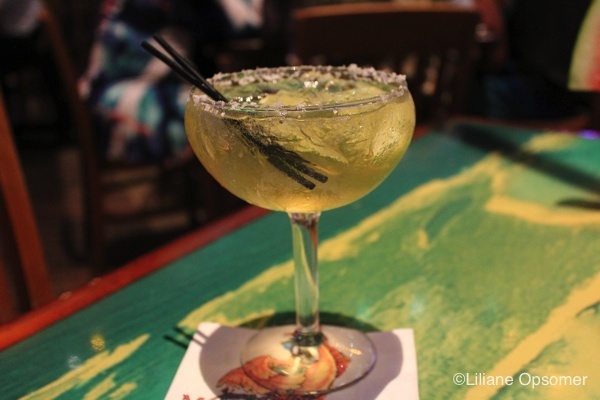 The Watermelon Margarita ($11) includes tequila, Triple Sec, watermelon puree, and a house-made agave margarita mix. It is a refreshing drink on a hot summer day.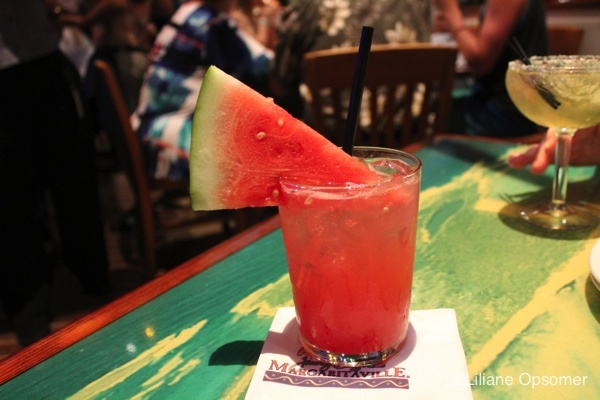 For a sweeter libation, try the 5 O'Clock Somewhere ($10.75) margarita made with rum and passion fruit tequila, orange and pineapple juices, sweet & sour, and a splash of grenadine. Want to be in awe? Try the Mood Ring Margarita made with Maestro Dobel tequila infused with magic tea, fresh squeezed lime juice, and simple syrup.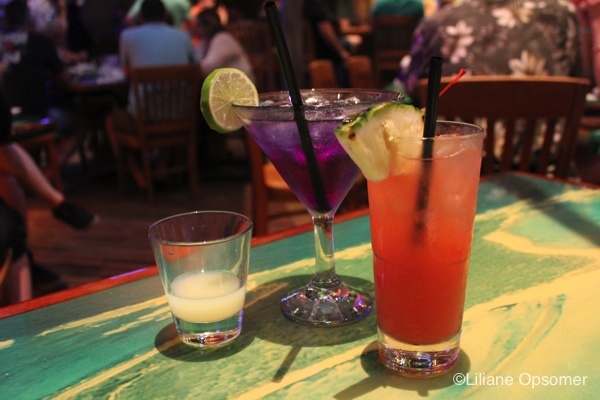 The food, a mix of Floridian and Caribbean dishes, is plenty and good. If you like seafood and Jamaican seasoning, this place is right for you.
The amazing, totally over-the-top Volcano Nachos ($15.99) are out of this world. The tortilla chips are house-made, topped with chili, cheese, fresh guacamole, sour cream, jalapeños, tomatoes, and scallions. This dish is huge and made to be enjoyed among a group of friends. For an appetizer, this dish is expensive, but it easily serves six people.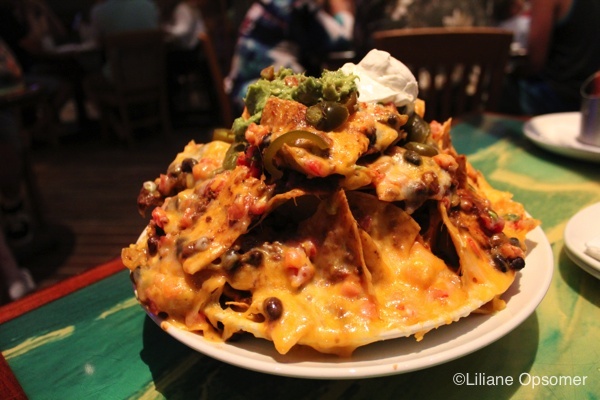 My favorite entrée is Jimmy's Jammin' Jambalaya ($18.99), a Cajun rice dish loaded with shrimp, chicken, and Andouille sausage in a spicy broth. If you care for burgers, the Cheeseburger in Paradise ($13.99) is just what the doctor ordered.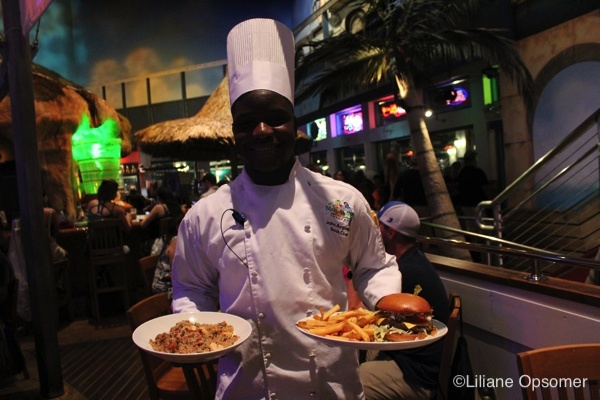 Some of the vegetarian offerings are Key West Quesadilla ($13.99) with Oaxaca and Monterey Jack cheese, lime crema, guacamole, and pico de gallo, and a really great Chimichurri Veggie Burger ($12.99) topped with lettuce and tomatoes on a toasted brioche bun served with a side of chimichurri and your choice of French fries, sweet potato fries, or mixed green salad.
If you have a sweet tooth, and you are still hungry, go for the Chocolate Hurricane ($16.50). This vanilla bean ice-cream desert is served with brownies, Kit Kat and Heath bars, pirouette and mini shortbread cookies, sliced banana, whipped cream, and chopped macadamia nuts. It is swirled tableside with chocolate and caramel sauces, and—like the starter nacho dish—it's best enjoyed with a group of friends.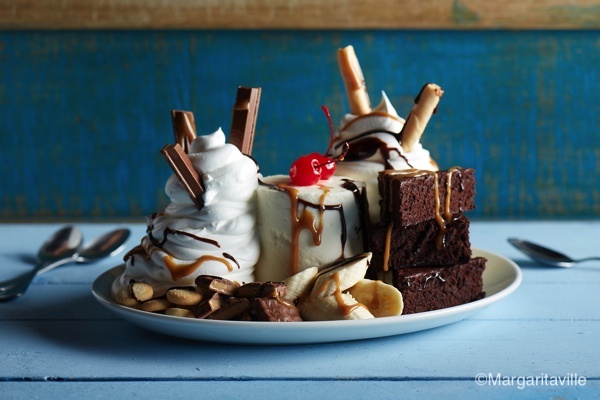 When visiting Margaritaville you'll be impressed with the quality of the food, swift service, and a very professional and friendly staff, guaranteed!
Margaritaville Resort Coming to Orlando
Jimmy Buffett's song "Margaritaville" is celebrating its 40th anniversary this year; in 1987, the brand opened its first Margaritaville Restaurant in Key West. Since then, it has expanded, adding hotels and resorts, casinos, vacation ownership properties, consumer products, retail shops, and even a national radio station on SiriusXM.
In late 2018, the Margaritaville Resort will open on US Highway 192 in Kissimmee, Florida. The complex will include a 175-room Margaritaville hotel, 1,000 Margaritaville-inspired vacation homes, 300 timeshare units, 30,000 square feet of function space, 200,000 square feet of festive retail space, a dining and entertainment district, a 12-acre water park, wellness center, miles of wooded fitness trails, a water taxi system, and the most unique feature of all—a 3-acre swimmable freshwater lagoon.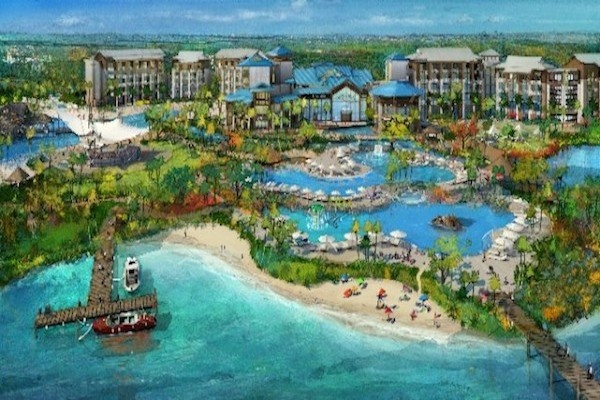 Margaritaville Resort Orlando will open in phases, with the first phase, the retail component, slated to be completed by the end of 2017.
Seth Kubersky in his book The Unofficial Guide to Universal Orlando covers all there is to see and do at Universal Studios, Islands of Adventure, and Volcano Bay.
Have you ever dined at Margaritaville in Universal? What was your impression? Share in the comments!
Did you like this article? Make sure to share it with your friends! Check below for easy ways to share!