This post may contains affiliate links for your convenience. If you make a purchase after clicking a link we may earn a small commission but it won't cost you a penny more! Read our full disclosure policy here.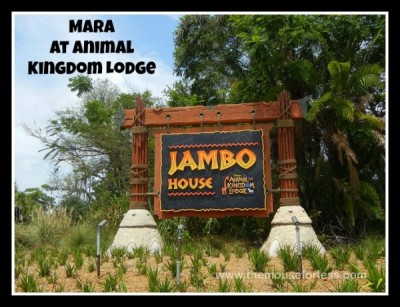 Mara, located in Walt Disney World's Animal Kingdom Lodge, is a satisfying place to enjoy a quick service meal.  The good news is that you don't have to be a guest at Animal Kingdom Lodge to dine there, and you don't need reservations.  Because it's a quick service location, anyone can drop in to eat.
Getting There
Animal Kingdom Lodge can be reached by bus from any Walt Disney World Park.  If you're coming from another resort, you may want to take a bus to a park (Disney's Animal Kingdom being the most convenient) and then transfer on another bus to get to Animal Kingdom Lodge.  An alternative would be taking a taxi or Uber, or driving your own car if you have one.
We like to visit Animal Kingdom Lodge on a day we are at Animal Kingdom.  It's a nice air conditioned break from the park, and the resort is well worth seeing.  On our last trip, we decided to have dinner at Mara after Animal Kingdom closed and it was a perfect way to extend our enjoyment of an Animal Kingdom day.
Animal Kingdom Lodge and Mara
Animal Kingdom Lodge is a place we love to visit to soak in the magnificent atmosphere!  The whole lobby area is worth exploring because there are many details to savor.  There are often cast members from Africa who can tell you about the details of the lobby and their home country.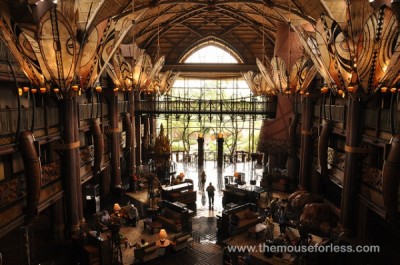 If you visit Animal Kingdom Lodge to eat at Mara, don't miss out on visiting the public viewing areas of the Savannah.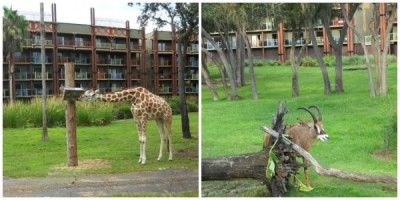 Mara is on the lower level of the building.  The inside of the dining area has painted murals on the walls, but overall we found it a dark place to eat.  After exploring the wonders of the lobby and Savannah,  the surroundings of Mara itself did not "wow" us but as an indoor dining location it had air conditioning and there were plenty of seats.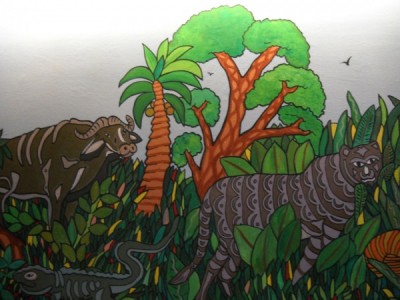 Food
Mara has standard food court fare such as burgers and fries, but also includes some multicultural offerings with African stew and falafel pizza.  I ordered a Chicken Pita.  The pita bread was folded in half taco-style, and the filling had chicken, sun-dried tomato hummus, diced cucumbers, diced tomatoes, mixed greens, and a mint yogurt sauce.  It was tasty, but messy to eat!  I tried picking it up as I would a gyro or taco, and quickly abandoned that idea in favor of a fork and knife.  To be honest, I'm not sure how would have been best to eat this, but it was flavorful.  The choice of side dishes was French fries or couscous.  I picked the couscous, which was light and refreshing.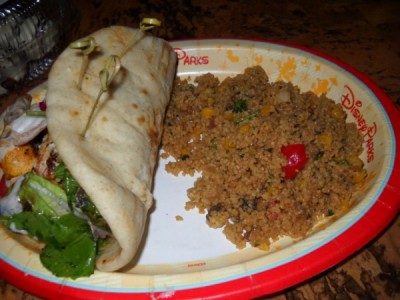 My daughter ordered the chicken tender kid's meal and picked French fries, a cookie, and chocolate milk to go with it.  I was pleased to see that the chicken was a better quality that the average chicken nugget.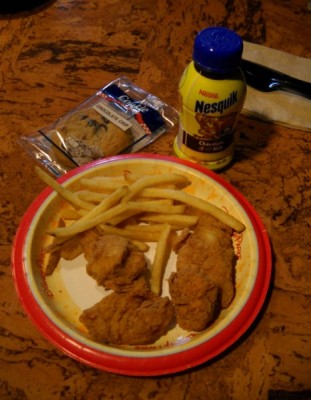 For dessert, I had Zebra Domes!  Zebra Domes are a specialty of Animal Kingdom Lodge, with Mara and Boma being the only two places at Walt Disney World where you can try this treat.  They are savory bites of a creamy coffee-kahlua flavored happiness!  The texture reminds me a little bit of tiramisu, and this dessert is an Animal Kingdom Lodge classic that is a favorite to many.  They are the perfect dessert to share because four come in a box.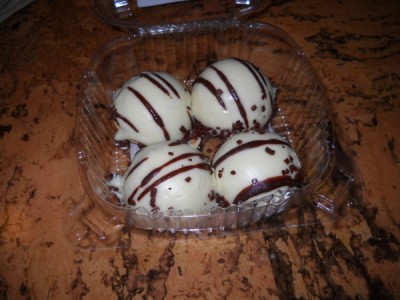 Have you dined at Mara?  Which food items were your favorite?  Tell us in a comment below.  
Incoming search terms:
https://www themouseforless com/blog_world/mara-animal-kingdom-lodge/
https://www themouseforless com/blog_world/mara-animal-kingdom-lodge/#:~:text=The good news is that can drop in to eat