This post may contains affiliate links for your convenience. If you make a purchase after clicking a link we may earn a small commission but it won't cost you a penny more! Read our full disclosure policy here.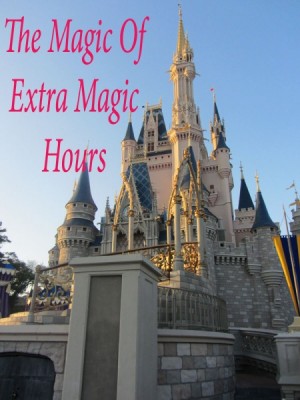 One of the advantages of staying at a Walt Disney World resort is the opportunity to use the Extra Magic Hours (EMH) that are offered at the four Disney theme parks.  These are exactly what they sound like.  They are extra hours of operation either in the mornings prior to official park openings or evenings after the park closes to regular guests.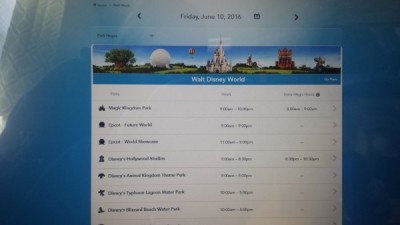 Extra Magic Hours Listed on Disney's Website
You are able to learn when these hours are going to be provided by using the Disney's website for more official information.  They are normally listed either on top of the normal hours, for early Extra Magic Hours, or below, for evening Extra Magic Hours.  Typically these hours are constant for each park throughout a month.  For example, Magic Kingdom in June will have morning EMH on Fridays whereas Hollywood Studios will have evening EMH on Fridays.  These hours, along with general park hours are usually posted around six months ahead of time.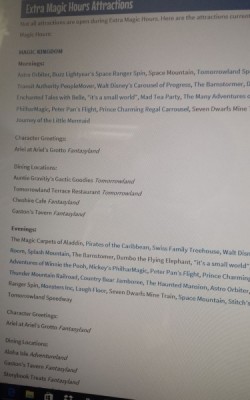 List of Rides Opened for Extra Magic Hours
How do Extra Magic Hours work?  Each park has a specific list of rides that typically run during these hours.  They often can be different for morning and evening hours but you can again find this list online from a variety sites.  Always remember that these can be adjusted and changed without notice.  The Mouse for Less has a great page to use.  For example, in Magic Kingdom, a variety of rides in Tomorrowland and Fantasyland are normally opened for morning Extra Magic Hours. For morning Extra Magic Hours, guests will be allowed to line up for a small rope drop just like normal.  Although there isn't usually a big production, sometimes they will surprise guests with some extra early magic.  Then the parks open up like normal.  Although you are able to walk around the parks, those areas not opened yet will be blocked off or have cast members present to let guests know when the attraction will open for the day.  For evening Extra Magic Hours,  guests MagicBands will be checked periodically to make sure they are resort guests but beyond that evening Extra Magic Hours will seem like a less crowded evening at the park.  Extra Magic Hours are a little extra magic given to those staying on Disney property.  Knowing this information can help you plan your parks days.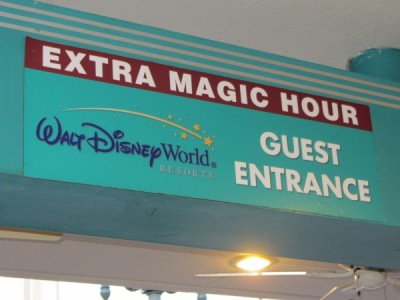 Extra Magic Hours Sign
There are two sets of beliefs on extra magic hours.  The first is that you should avoid them as much as possible as those parks with EMH seem to be busier.  The second thought is to make hitting up these hours as much as possible.  I personally am in the later group; however, you have to know your traveling party.  Are they going to be able to be at the park early?  Can the little one really make it until midnight?  If these hours don't work with your group, then don't try to make them fit.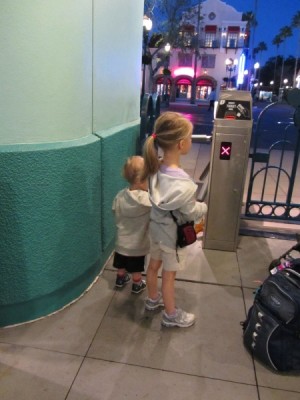 Kids Waiting for the Park to Open
We personally love morning Extra Magic Hours in our family but we are morning people so taking advantage of these bright and early hours aren't too much of a struggle for us.  There are a few reasons that I love these magical mornings.
First is the calmness that you normally can experience when you are at the parks this early.  Not everyone is a fan of pulling themselves out of bed early on vacation making it slightly less busy giving time to just see the castle without a lot of distractions.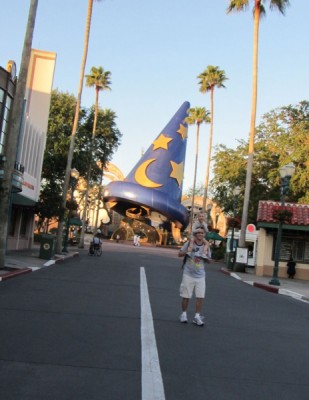 First on the Street at Hollywood Studios
The other main reason I love taking advantage of early Extra Magic Hours is how much you can truly get done in that short hour.  In Magic Kingdom we were able to ride Peter Pan, Winnie the Pooh, Small World, Haunted Mansion all before a potty break at 8:45.  When visiting Hollywood Studios, we were the first ones down the road and first to ride Toy Story Mania.  These moments make this extra hour well worth it to us.  
Evening Extra Magic Hours many find even better.  Evening hours are usually offered for at least two hours making it more worth the time for many.  Sometimes Magic Kingdom has been know to stay open until 2:00 a.m.  Another reason many people enjoy the evening Extra Magic Hours is they do tend to be a little less crowded than the morning hours as those with little ones have gone to bed.  Just like morning Extra Magic Hours, evening hours give you the chance to take that awesome evening photo with the castle and an empty main street.
Extra Magic Hours provide resort guests with the opportunity to get some extra magic added to their vacation.  If you are a traveling party that can get up early or stay up late I would highly recommend taking advantage of this added bonus.