This post may contains affiliate links for your convenience. If you make a purchase after clicking a link we may earn a small commission but it won't cost you a penny more! Read our full disclosure policy here.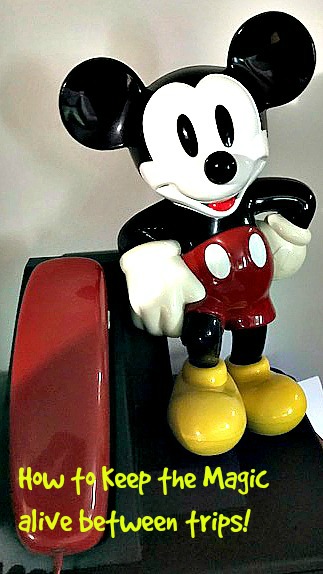 As many frequent travelers to a Disney destination will tell you, the time between trips can seem like forever. Even if you go to a Disney destination multiple times a year, you still feel like you need your Disney fix more often.
Here are some ways I have found to keep that magic alive between trips.
Using merchandise purchased at a park in your everyday life
I start my day with coffee. Unless all my mugs all happen to be in the dishwasher at the same time, I always start my day drinking my coffee from a Disney mug. Inevitably, whichever mug I choose to drink from will cause my mind to wander on where I bought it and the occasion.
One of my very favorites is the Halloween mug I purchased during a Mickey's Not So Scary Halloween Party in 2013. I bought this at the Emporium on Main Street USA in the Magic Kingdom. As an added bonus, the mug is purple which is my favorite color. It is starting to get a bit worn now and I have tickets to this year's Mickey's Not So Scary Halloween Party this year, so I may just have to get a new one!
My husband gave me plates and bowls with Mickey for Christmas one year and I cherish those.  Then, a friend of my was cleaning out her parents basement and gifted me with a 1990's era Mickey telephone. I love it and while I don't have a home phone line anymore, it looks just lovely adorning my desk area. I also picked up a My Pal Mickey Interactive at some point and he adorns my mantle. His technology is clearly outdone by the MagicBands, but I still love him.  My Bambi 75th anniversary MagicBand is another item I cherish!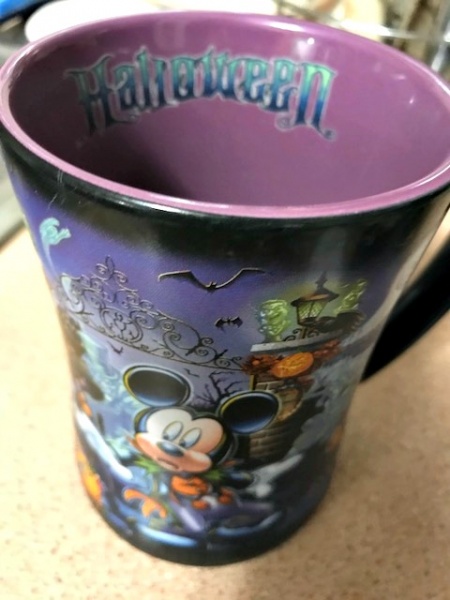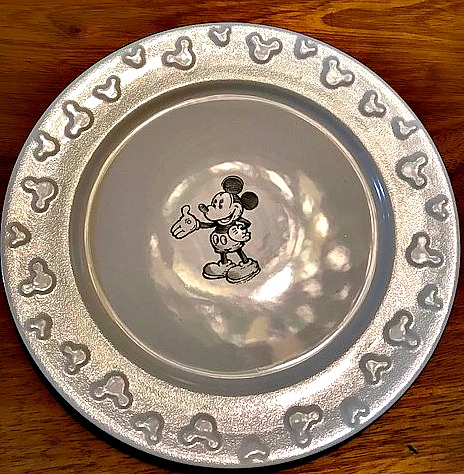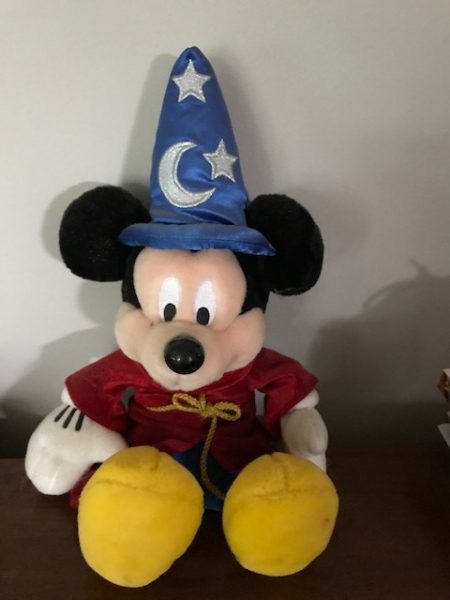 Wearing Disney related jewelry
I have several Chamila beads I bought while shopping in Disney Springs. I have a bracelet which has a combination of themes that demonstrate the loves of my life – Mickey and Minnie beads, a Cinderella's Coach bead, a Mickey Head bead in my birthstone, a Dalmatian bead to signify my dog even though he's not a Dalmatian, as well as some non-Disney beads from my son and his birth stone etc.
On a more recent trip, my husband bought me an Alex and Ani in brass with a Mickey Head in my birthstone color from the World of Disney Store in Disney Springs.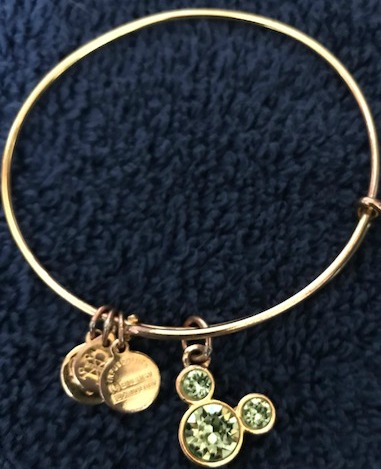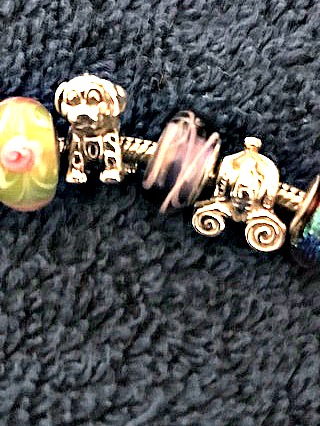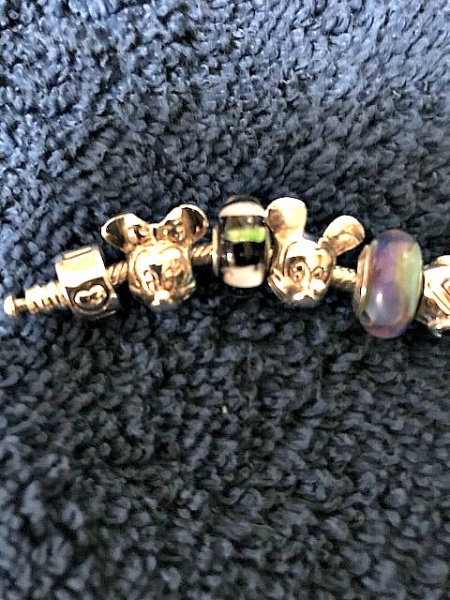 Of course, there are the Disney themed clothes
Wearing a Mickey shirt here and there always remind me of past trips and the occasion in which I got them. Once, on a trip with my son in July of 2008, we got soaked on Splash Mountain and actually had to buy shirts. He grew out of his eventually so I lucked out and have both of them as part of my wardrobe now!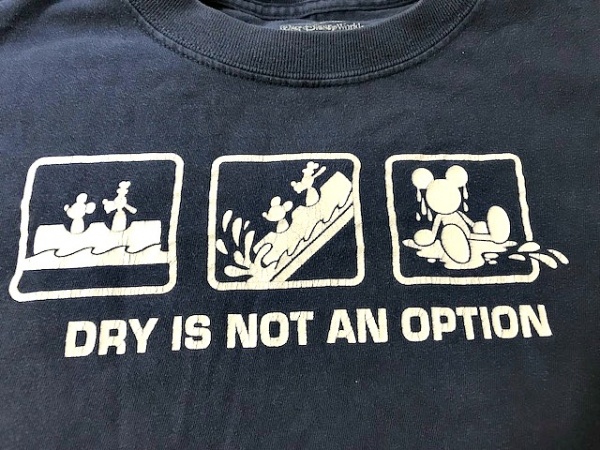 Listening to Disney Podcasts
My favorite Disney Podcast is the Be Our Guest Podcast. There are three shows a week and I enjoy listening to them as I exercise, commute to work and do chores around the house. There are other great podcasts too, but this one is my favorite. Look for it on iTunes, Stitcher or anywhere you listen to Podcasts.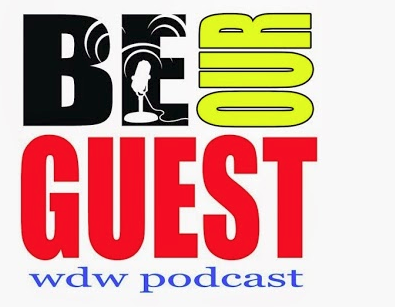 Reading Disney Blogs
Similar to the Podcasts, I like to read and write blog articles about my favorite Disney subjects. The Mouse For Less website has a wide variety of blogs articles on so many subjects that can help you with the planning of an upcoming trip, or other items you wish to know about!
I'm beginning to consider trying to do some 5K races so I am looking through past articles to read up on what I need to know about Disney Races! Check out our blog here at The Mouse For Less for topics that will speak to you!
Listening to Disney music
I am currently enjoying the updated version of the Beauty and The Beast Soundtrack from the recent live action movie. I also have purchased and downloaded the 2013 Walt Disney World Official Album. Also listening to Magical Mouse Radio is a perfect balance of Disney music.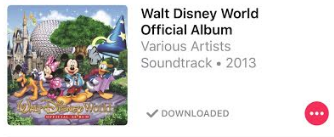 Watching Disney movies
When my son was young, I was always current with the latest movies from Disney. I am not as current now, but do catch up as I go along. I just watched Moana in the last few months which was AMAZING, as well as Ratatouille! Ratatouille was so awesome and now I am so excited to see the attraction with this theme being built in the France Pavilion at Epcot!
Looking at online menus and determining where next you want to eat
As I listen to podcasts and read blogs about the restaurants on site at Disney, I get an idea of where I'd like to try and eat on my next trip. Then I take a look at the menus. Sometimes my husband and I will discuss our itinerary and we look at menus of where we're thinking about dining at.  Then when my 180 day arrives, I can book the restaurants with an idea of how it will fit in with the trip's overall purpose and theme.
I have to eat gluten free due to having Celiac Disease, so I'm always on the lookout for some new foods I can try. Disney does make it very easy for me to have variety and not worry about getting sick from accidentally eating gluten on vacation. It is a very big reason why I am a repeat visitor because I know I can come here and enjoy; not worry constantly about eating something with gluten inadvertently. Take a look at the Mouse For Less Website, there is an entire section on menus! 
I always have a trip planned. It may be year or more away, but I always have one waiting. I try to do some new things each trip so that I can have a new angle to research. This is alongside the new things that Disney will have going on, which is always something to research!
On my upcoming trip in October 2018, my husband and I are going to try Foot Golf at Oak Trail Golf Course. This gives me a new activity to plan and research. I hope to try a 5 and 10K for the trip after that.
What are some of the things you do to help keep the magic alive? Share in the comments, or on Facebook or Twitter.
Did you like this article? Make sure to share it with your friends! Check below for easy ways to share!