This post may contains affiliate links for your convenience. If you make a purchase after clicking a link we may earn a small commission but it won't cost you a penny more! Read our full disclosure policy here.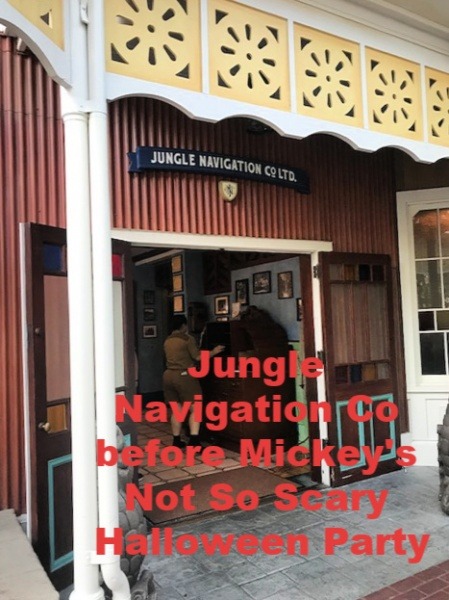 When attending the Mickey's Not So Scary Halloween Party, you know you are in for a wonderful night of candy and other not so frightful treats. It's a good idea to attend the party AFTER you have eaten a good meal. Going to the party hungry will probably have you eating way more sweets than you normally do and ending up not feeling great the next day. This may be okay if you are going home the next day, but if you have additional Disney plans you want to be able to keep up that stamina to get the most out of your vacation. This year, we booked Jungle Navigation Co prior to the Party. Our dinner was scheduled at 3:45 p.m. That is a bit early for dinner so we adjusted our morning to only have a light breakfast and lunch so we would be ready to eat a solid meal before the Mickey's No So Scary Halloween Party.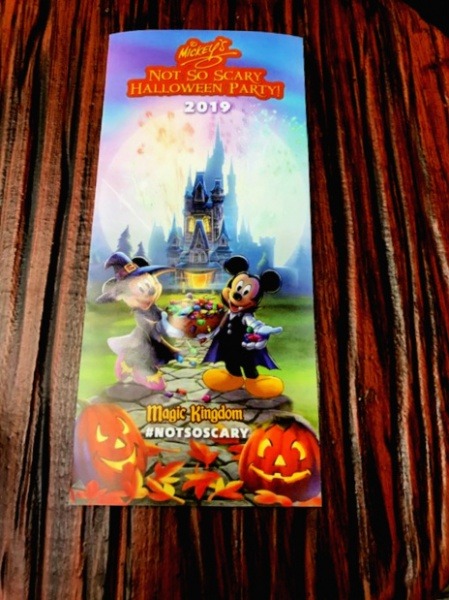 We made sure we had our party bracelets before we entered the restaurant. They were already handing them out when we entered The Magic Kingdom at 3:15 p.m. or so. I did see the waiter ask the table next to us what their plans were so they could ensure they had bracelets or not and warned them that they would likely be led out once they left.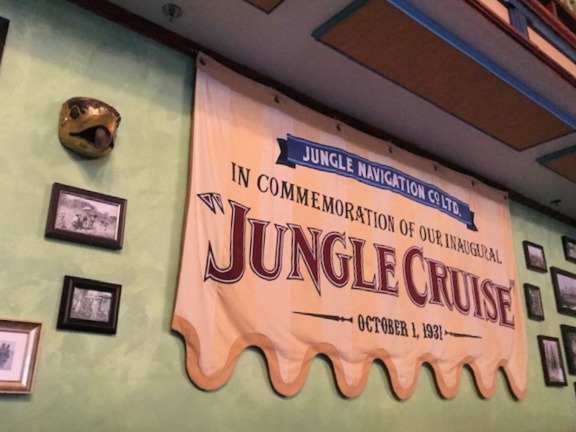 If you love classic Disney and the Jungle Cruise attraction, give this restaurant a try. Somehow it has not gotten the best attention, but it really is a great theme based on the attraction and its right in the heart of Adventureland.
They have changed the menu a few times since it opened and it currently seems to be in a good place. I have to eat gluten free and I had several choices here. Plus you can have some adult beverages with your dinner (wine and beer) while in the Magic Kingdom. You can only enjoy alcoholic beverages at the sit down restaurants in Magic Kingdom (unlike the other parks where alcohol flows freely at many counter service restaurants and kiosks). These are a few reasons why I recommend Jungle Navigation Co before Mickey's Not-So-Scary Halloween Party.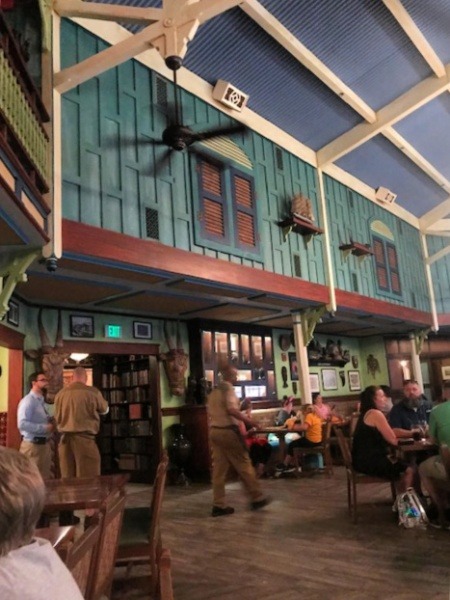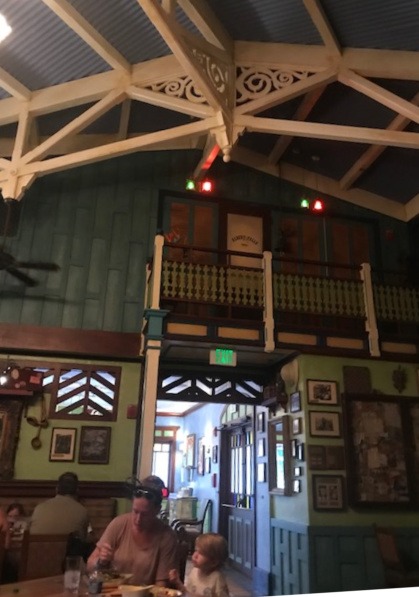 We started our meal with:
Falls Family Falafel – Allergy Friendly  $10.00
A Secret Recipe of Chickpeas, Garlic, Onions, Lemon Juice, and Herbs, Served with House-Made Edamame Hummus, and Toasted Pumpkin Seeds (For Gluten/Wheat, Egg, Fish/Shellfish, Milk, Peanut/Tree Nut Allergies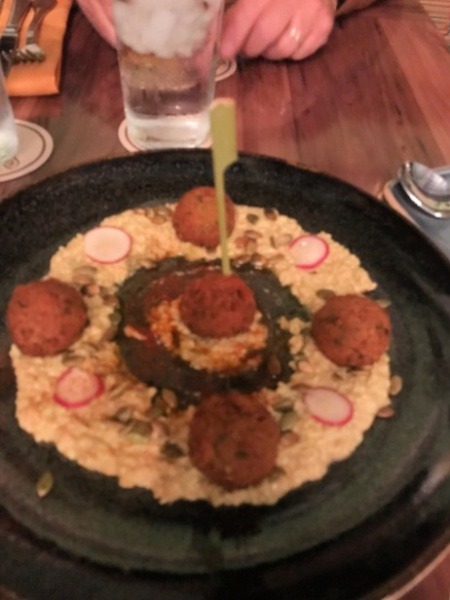 I loved this! As a person with Celiac Disease, I love to find things that feel bread-like but aren't and have a nice dough-like consistency. Not easy without gluten, for sure! The falafel met these requirements. They are fried in a dedicated fryer, so no cross-contamination worries (always ask, things change). They were flavorful and plentiful. It was large as an appetizer!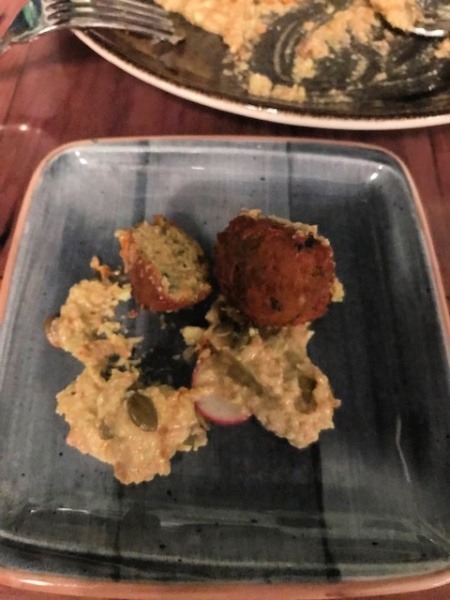 For my dinner I ordered the:
A Lot at Steak" Salad – Allergy Friendly   $19.00
Grilled Steak, Romaine Lettuce, Spring Mix, Pickled Jalapenos, Red Onions, Queso Fresco, and Pumpkin Seeds, Tossed in a Chimichurri Vinaigrette (For Egg, Fish/Shellfish, and Peanut/Tree Nut Allergies)
I also enjoyed this very much. They cooked the steak to my liking. Notice both of these items had Pumpkin Seeds which added texture and crunch them. It must be the newest touch at Walt Disney World because I had a salad at Docking Bay 7 during this trip in Star Wars Galaxy's edge which also contained Pumpkin Seeds. There was woman next to me who had the same salad and didn't care for the Chimichurri Vinaigrette, but i thought it added flavor to the beef.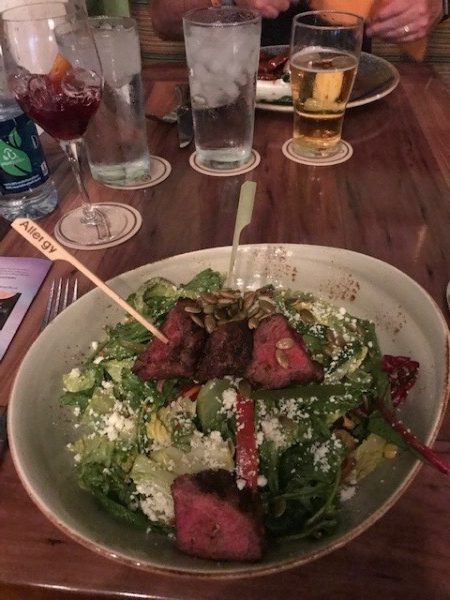 My husband had the (not gluten free) :
"Hardy Har Char" Siu Pork     $25.00
Char Siu-marinated Pork served with Seasonal Vegetables and Jasmine Rice.  Char Siu is a Cantonese style barbecue flavor. He enjoyed it very much. He loves anything rice related and enjoyed the pork which was very tender and said the sauce was delicious. He does not love vegetables in general so he couldn't comment on them in any detail.
I think the price was a bit high for the portion size of this particular entree, but other than that it was a solid choice.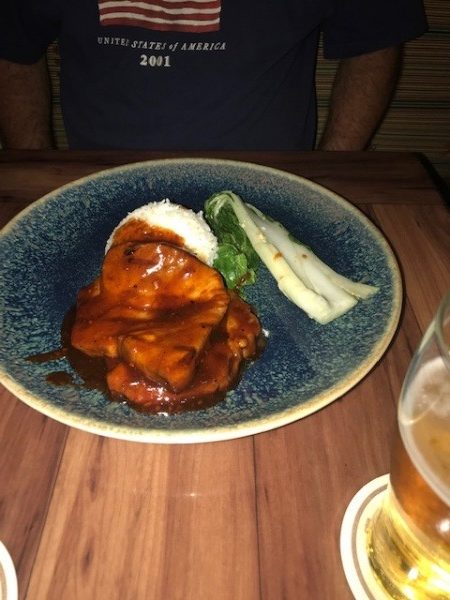 For my beverage I enjoyed the Red Sangria:
House-made Sangria   $10.50
Choice of Red or White Wine blended with Spices and Juice with a trio of fruit. I thought it was a bit dilute. I'd love a stronger red wine to part of the mix.
My husband had a basic Mic Ultra with his meal for $8.00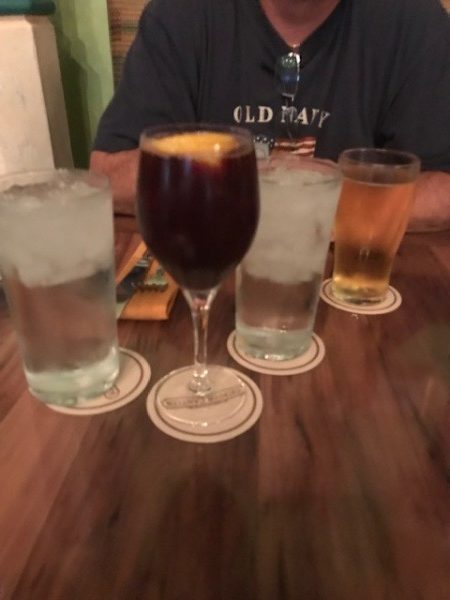 You have to love campy old-school Disney to really appreciate this atmosphere. Otherwise it may seem like an overpriced place that you could skip. I thought it was decent pre-party meal where one could have a drink and enjoy some safe gluten free options. Even the allergy menu is humorous.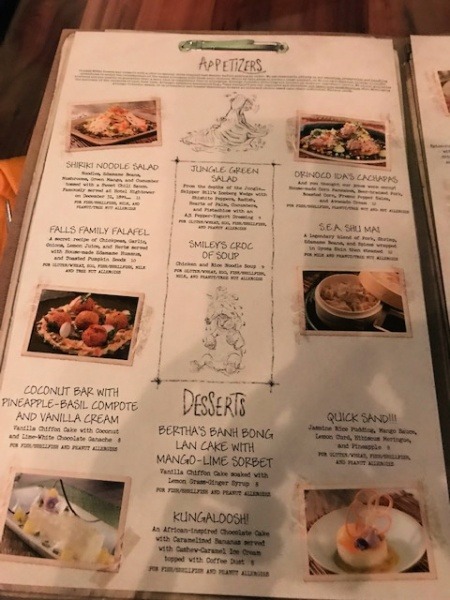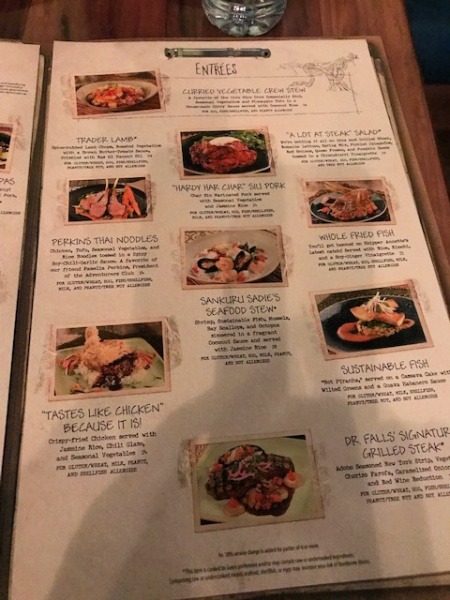 Typically, I would go to
Liberty Tree in Frontierland
for a pre-party meal, but it was August and very hot and humid. The thought of getting the Thanksgiving style fare wasn't as appealing as it is in October and later winter months. I am happy to have tried this and do recommend going to Jungle Navigation Co before Mickey's Not-So-Scary Halloween Party. It is worth having a nice place to go into out of the heat, sit down to enjoy a sangria and an appetizer for sure.
Have you tried Jungle Skipper Canteen before? What were your thoughts?Share your thoughts in the comments or on Facebook or Twitter!
Did you like this article? Make sure to share it with your friends! Check below for easy ways to share!
Want to visit the Walt Disney World Resort? Contact The Magic for Less Travel for more information and a free, no-obligation quote.