This post may contains affiliate links for your convenience. If you make a purchase after clicking a link we may earn a small commission but it won't cost you a penny more! Read our full disclosure policy here.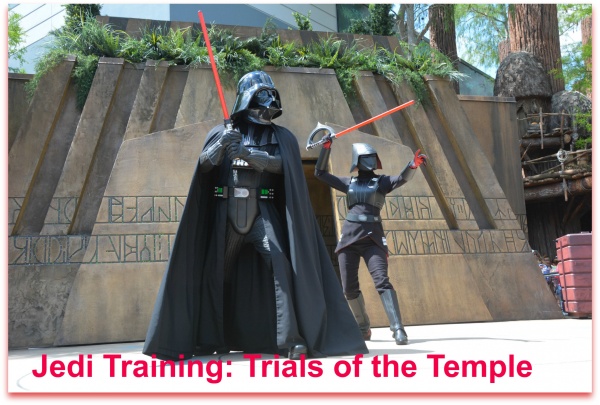 Star Wars: Galaxy's Edge may be one of the most awaited for lands to open with Star Wars fans on the edge of their seats waiting for more details!  In the meantime though, one of the most popular events for young Star Wars fans is offered daily right now at Disney's Hollywood Studios,  Jedi Training: Trials of the Temple.
There are some key points to know when considering participation in Jedi Training.
Jedi Training is only open to children between the ages of 4-12.
You must sign up for Jedi Training that morning and the child must be present when signing up.
There is no additional cost to participate but there are limited spots.
For the best selection of shows, plan to arrive at Hollywood Studios at least 30-60 minutes prior to park opening.   Have your FastPass and dining schedules available so that you know which shows would work best around your other plans.  Padawans and their parents will begin lining up prior to the park opening.  Cast Members will have signs directing you and you'll move towards the left as you enter the park. The area to sign up is at the Indiana Jones Adventurers Outpost store, just past the 50's Prime Time Cafe. Tip: If you are traveling with a stroller, note that you will need to park the stroller in a stroller parking area prior to lining up to select your show time. Knowing this can help save you precious minutes so that you don't have to backtrack to find stroller parking. Remember, all children participating must be present – parents cannot sign a child up unless they are with them!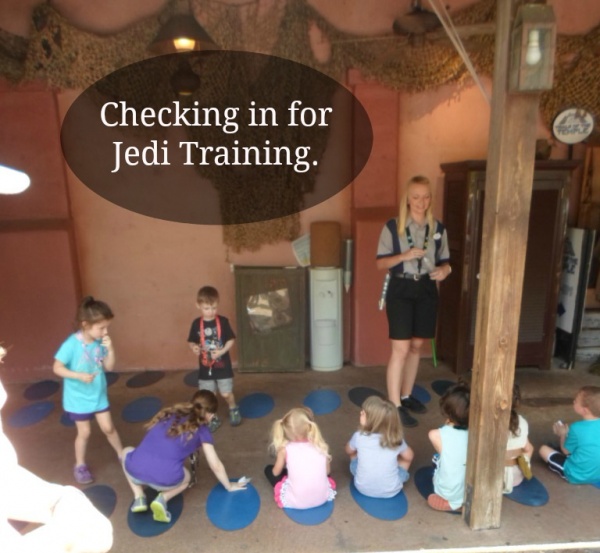 Jedi Training spots are often filled during the first hour the park is open so if this is a must do for your family, plan to be at the park prior to opening. Once you arrive at the Indiana Jones Adventurers Outpost, you will speak with a Cast Member who will let you know which show times still have openings. Show times are posted on the Disney's Hollywood Studios Time Guide which you can pick up at the entrance of the park. You can select the one that will best fit your schedule. Keep in mind that you and your young Padawan will need to return 30 minutes before your show time for their preparation and training. The Cast Member who assists with signing up your child will give you a ticket with the show time printed and you will need to return with that ticket.
When you return for Jedi Training, a Cast Member will check in your child and give him or her a robe to borrow during training. While your child finds his/her spot, parents can stand just outside of the sectioned off area to watch. While it's tempting to wear Star Wars costumes and outfits during this portion of the trip, I would suggest choosing light weight and cool clothing. The warm temperatures and hot Florida sun along with the lightweight training robes can make it a bit hot so light cool clothing will be the most comfortable option.  Tip: I overheard one Padawan asking his Jedi Master how often the robes are cleaned – after every show was his answer!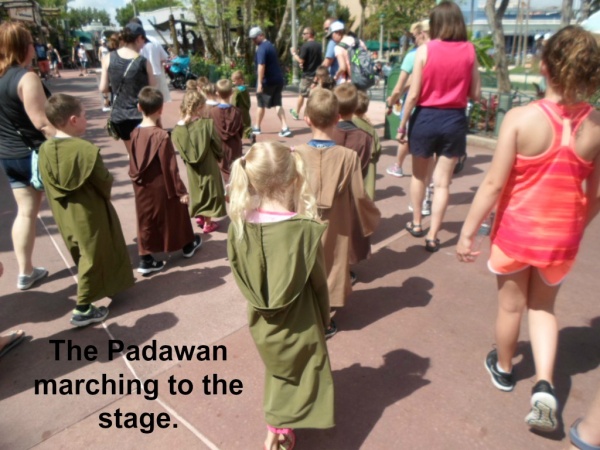 The training part of this experience is an entertaining and fun part of the adventure. The children may be asked some important questions. Does anyone have a parent who sounds like Chewbacca? How many of you have seen the Star Wars Movies? I won't spoil the fun in this but it will be entertaining for parents and kids! Children are fitted with robes and grouped together by height before being marched to the stage for their training and show!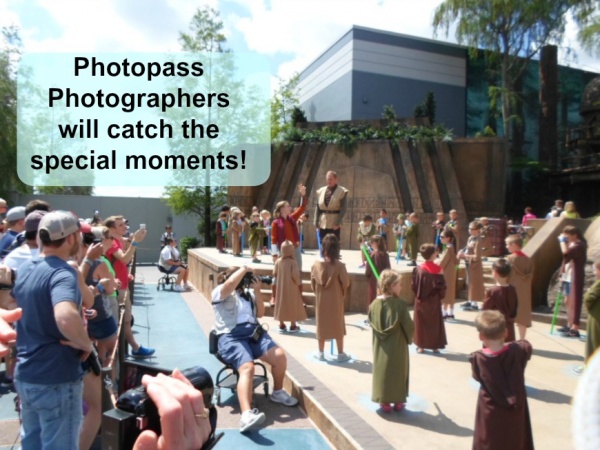 Photopass Photographers will be onsite and will provide parents with a card to scan into your Memory Maker account. This will allow you to have access to all of the images taken during your show by the photographers.
Parents can line up behind and the parade of Padawans and follow them right to the stage where you can secure a great place to watch and take pictures.
Training begins upon arrival on the stage as the children begin to learn how to hold and use their light sabers. The children are taught a series of moves and encouraged to overcome and face their fears. Suddenly the Jedi Master will sense a disturbance and move the children off to the side of the stage. Darth Vader and the Seventh Sister (or another character from the Dark Side) will appear with the intent of turning the children to join the Dark Side. The Jedi Master and the assistants are standing by to remind the children that they are not real but they must still face their fears and battle the dark side.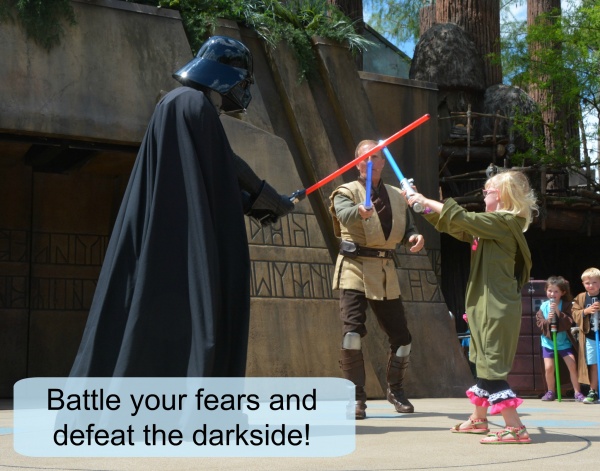 Each child is given an opportunity to use the moves they were just taught against the Dark Side to try to overcome their fears and defeat Darth Vader. Once every child has been given a chance at battle, Darth Vader and the Seventh Sister are forced to admit defeat. As all Jedi forces join together and push them back to darkness, the children are recognized for their strength and commitment. They pose for images and then return their robes and light sabers.
Once exiting, they are given a pin recognizing their participation in Jedi Training and a small bottle of water. This is a memorable experience that all Star Wars fans will enjoy!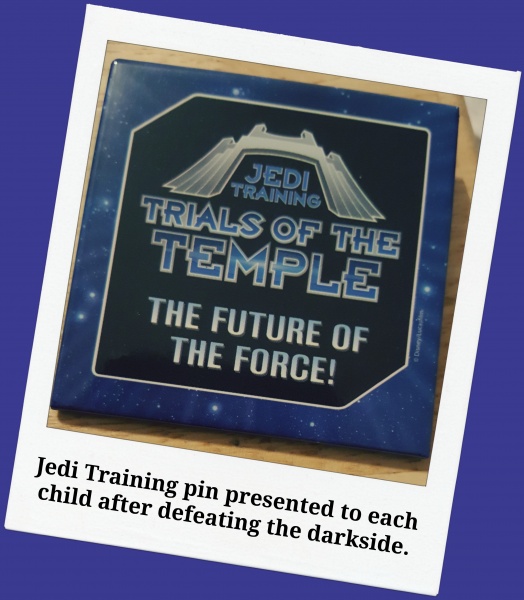 We had watched the show a previous year but my daughter was younger and had not developed her love of Star Wars. Once she fell in love with the newest Star Wars movies, she was excited to participate in this adventure. She was not disappointed and loves watching the videos we took along with looking at all of the incredible pictures from the Photopass Photographers. She often relays the jokes and one liners from her training and loves to talk about the whole experience.
When at Walt Disney World, time is money and with so many options for spending your time, each opportunity is weighed by it's worth. One of the concerns I often hear is the fear of losing so much time signing up for the training.  The lines moved quickly when signing up in the morning and we never felt like we missed anything due to having to go there first.  The show is just about 30 minutes but plan for about an hour of your time. Children are asked to check in about ten minutes early. The time of exiting and just regrouping before heading to your next stop can add another ten minutes to your time.
If you are Star Wars fans, this is definitely an experience to remember and will be an hour of unforgettable memories.  Enjoy this experience and May the Force be with you!
Has your  child participated in the Jedi Training experience? What did they think? Share your tips and suggestions for participating in the comments.
Did you like this article? Make sure to share it with your friends! Check below for easy ways to share!
Incoming search terms:
https://www themouseforless com/blog_world/jedi-training-an-experience-to-remember-for-your-padawan/