This post may contains affiliate links for your convenience. If you make a purchase after clicking a link we may earn a small commission but it won't cost you a penny more! Read our full disclosure policy here.
Note: This review is largely spoiler free, but you might learn some details about the film.
Fourteen years ago, we were introduced to the Parr family, a group of underground superheroes just trying to get by. With its 20th feature film, Pixar heads back to Brad Bird (of the original and Ratatouille) for both writing and directing duties, and picks up the story right where we left it.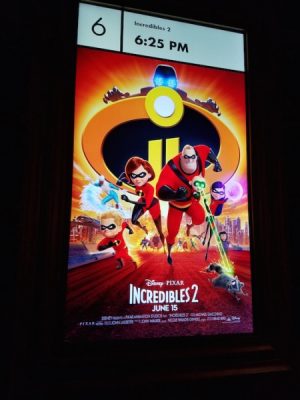 Incredibles 2 is probably one of the most highly anticipated sequels in recent memory. As Pixar moved through sequels for Monsters, Inc, Cars, Finding Nemo, and even the creation of multiple trilogies, we still didn't have a follow-up to The Incredibles. Even after Bob Iger confirmed that a sequel was on the way, there was still over four years before this film was released.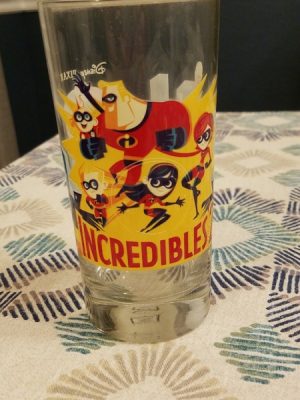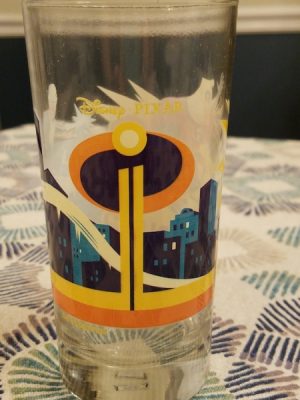 This anticipation has led to a few things. First, on opening night (when I saw it) the theater was about evenly split between people with kids, and adult couples there alone – everyone wanted to be there. They also made one of their special glasses to celebrate the film (the first one of these I can remember that wasn't specifically a pint glass, because, you know, kids, I guess). Disney has transformed Tomorrowland in the Magic Kingdom to a whole celebration of the Incredibles (complete with character dance party), and made them the centerpiece of summer advertising for the parks.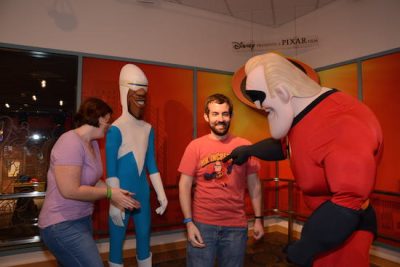 But what about the actual film? First, this movie is preceded by the short Bao, which is a pristine example of how many feelings well made Pixar films can cause you to experience in a short amount of time. It is a simple and beautiful story told with creativity and car. For the feature itself, like I said, it picks up directly where the first film ended, with the appearance of the Underminer (voiced again by permanent Pixar feature John Ratzenberger) and dives into the action. The themes are largely the same: the balance of personal life and life as a super, and existence as a super in a world that has rejected them.
The main story arc features Elastigirl heavily, in a sort of role reversal from the first story, but we still get to spend plenty of time with the rest of our favorites. You have lots of Frozone throughout, a hilarious sequence with Edna, plenty of family drama with Bob, Dash, and Violet, and Jack-Jack. Oh boy do you get some Jack-Jack.
NPR writer Glen Weldon has stated on multiple occasions that The Incredibles is the best super hero film that has ever (and will ever) be created, and he has a definite point. The originality, balance, and execution of that film was superb, and even an excellent film that takes that pre-existing world as a starting point still has to rely on some of the work put into creating the original film, and I can't say if Incredibles 2 is markedly better or worse than its predecessor.
What I can say is that from the moment you see the Disney castle animation at the beginning and hear Michael Giacchino's score come in, you will feel at home right away, and it will be hard for you to stop smiling for the next two hours.
A last note – while you won't find any Marvel-style post credit scenes here, you should still stay until the end to experience the wonderful theme songs for Mr. Incredible, Elastigril, and Frozone. You'll be glad you did.
Have you seen Incredibles 2? What were your thoughts? Share in the comments, or on Facebook or Twitter.
Did you like this article? Make sure to share it with your friends! Check below for easy ways to share!