This post may contains affiliate links for your convenience. If you make a purchase after clicking a link we may earn a small commission but it won't cost you a penny more! Read our full disclosure policy here.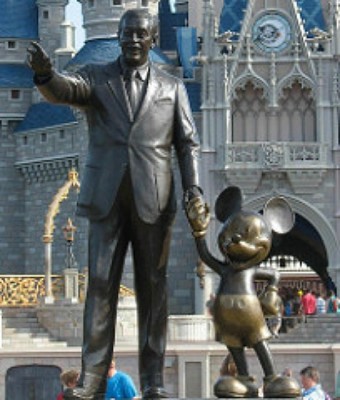 "I only hope we never lose sight of one thing…that it was all started by a mouse." ~ Walt Disney
You've weighed your options on where to take a vacation. You've done the research; you've read blogs and reviews. You've made a pros/cons list and taken your #1 "wants" into account. You have taken this decision very seriously, as well you should! You work hard and deserve a break! All of this research and consideration has brought you to the conclusion that you're going to take a trip to The World! Congratulations! Best decision ever! And because you've read those blogs and reviews, and done that research, the "panic" sets in. Planning a trip to Walt Disney World is a big task. Where do you start?!
Do You Want Help?
One of the first things you need to think about is do you want to do all the booking and arranging for this trip yourself, or do you have a friend in a travel agent? Of course you'll do the planning for your trip, but a travel agent is there to do the actual booking for you. They can also help you with additional questions you may have along the way such as, "Do I want to have breakfast at Be Our Guest or Crystal Palace?", "Is the Keys to the Kingdom Tour worth it?", and "Hey! Can I take advantage of that free dining offer Disney just released?" (The answer is yes, you can!) You ain't never had a friend like a Magic For Less travel agent! The Magic For Less (an Authorized Disney Vacation Planner) are more than happy to help you book (for no fee!) the most magical vacation you've ever had! Request a no-obligation quote today!
When Are You Going?
Next thing to consider is when you're going to take this vacation. Maybe you can only go during a certain week, or month, or few months; that will make your decision significantly easier. But if you have a schedule that allows you to travel at any point during the year, deciding when to visit Walt Disney World can be difficult as there are many factors to consider. You have to think about crowd levels, festivals, marathons, weather, school recess… You know what? Head on over to this article. It has tons of information on how to choose the right time of year for you to take your trip.
Not only do you need to choose what time of year you'll be visiting, but also how many days of admissions tickets (or passes) you'll need. I'll give you an example from my upcoming trip. We are arriving on a Sunday morning and leaving on Saturday morning. My husband and I have Annual Passes, but my sister and her boyfriend have to buy park tickets. They don't have plans to go to a park on Sunday (our arrival day), so they anticipate needing park tickets for Monday – Friday which is a 5 day pass (for each of them). That 5 day pass will allow them admission to one of the 4 major parks each day.
Now they need to decide if they want to add the hopper option to their 5 day pass. What's the hopper option do, you ask? I'll tell you! Adding the hopper option to your pass allows you to "hop" from park to park, each day, as many times as you want. So if you want to go to Magic Kingdom in the morning, but finish your day at Epcot, you need the hopper option. Take a look at Disney's tickets page for more information and assistance.
Personally, my favorite time of year to visit is early November. The temperatures aren't so hot during the day (I am not a 94 degree kind of girl), the crowds are fairly low, and Epcot's Food & Wine Festival is still taking place. My second favorite time of year is during the Christmas season. To me it's a different level of Disney magic. The lights, the decorations (Hello Grand Floridian lobby!), Mickey's Very Merry Christmas Party; you'll never forget it.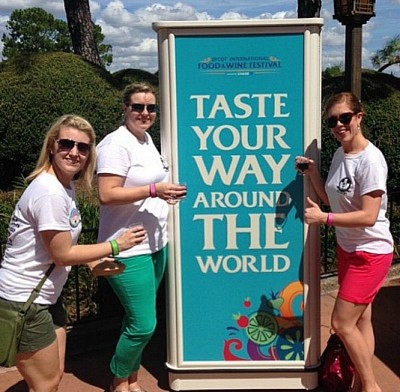 Seriously. Food & Wine Festival is second to none. 
Where Will You Stay?
Now you need to decide where you want to stay during your trip. Did you know that Disney World has over 20 resorts on property that are owned and operated by Disney? They all have their own themes and there is something for everyone. But what's the advantage to staying on property? Check out this article to read about the benefits that come along with staying on property.
What about staying off property at a non Disney owned hotel? Orlando, especially right around Disney World, is a busy place with lots of hotels to choose from! You can read about some of the benefits of staying at an off property hotel here. Want a resort that's close to the Disney magic, but you feel like off property is best for you? There are hotels located on Disney property that aren't owned and operated by Disney. They're called the Disney Springs Hotels. Check them out!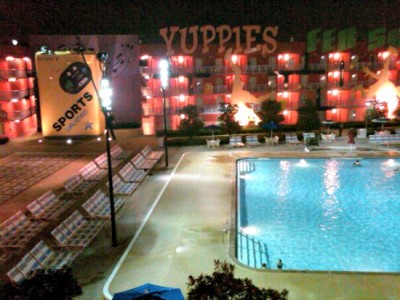 Staying at Pop Century is a groovy choice!
The All Important Itinerary
Ok, so you've figured out if you're using a travel agent or not, when you're taking your vacation, how many days you'll need park tickets for, and where you're staying. Good job! Now comes one of the hardest parts of planning your trip; actually planning your trip! You have to figure out your itinerary! There are many things to consider here so let's take them one by one.
What Parks on What Days
When I plan my trips, the first thing I do is figure out what parks I want to go to on what days. This of course depends on my arrival day, my departure day, and crowd levels (remember I mentioned crowd levels earlier? Super important!) You can find crowd calendars on the internet to help you decide!
You'll also want to pay attention to the park hours for each day. Approximately 6 months out, Disney releases the schedule for all the parks. That schedule includes park operating hours, the park schedule, and any special events. Keep in mind the posted hours are always subject to change. Looking at the schedules and crowd calendar will help you figure out when it's best for you to go to Magic Kingdom (probably not Monday!) or what night will be the most convenient for you to go to Epcot and watch Illuminations. And what about the new Star Wars Spectacular Fireworks Show at Hollywood Studios?! Sorry, I'm getting carried away.
To help me keep myself organized, I always make a chart so I can visualize what my vacation week(s) will look like. For each day I include the park I intend to go to, the operating hours, the show times (I.E. Fantasmic, Illuminations, etc.), and my dining option for the day. Oh, Dining!
 Where Will You Eat?
Oh my gosh, where WILL you eat?! This is a very important decision; don't take it lightly! Ha, I'm just kidding. This is the fun part! Walt Disney World has over 300 eateries! Holy cannoli! Remember how I said each Disney resort has its own theme and there's something for everyone? Well double that for dining! There is so much to choose from! Character dining, dining with a show, counter service, quick service…the list goes on! Checking out The Mouse For Less' menus will help you do some dining research. You may want to have a snack near by because there will definitely be a rumbly in your tumbly! There are also hundreds of reviews on the internet about Disney restaurants and eateries. I suggest really taking your time, getting opinions from your friends (and travel agent if you've hired one), and reading about all your different options. The Mouse for Less has plenty of reviews on restaurants and eateries (including this one on Yak & Yeti by yours truly!).
Advanced Dining Reservations (ADRs) can be made 180 days from your check in date. There's a lot to know about ADRs so here's a guide to that will be extremely helpful to you.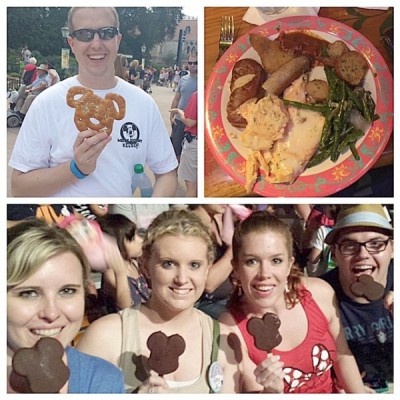 Mickey shaped food is KING
What The Heck is a FastPass+?
Disney's FastPass service allows you to reserve a time to go on a ride, or meet a character, or view a parade from a certain area. The FastPass+ service allows you to make these reservations ahead of time, before you arrive for your vacation.
There are many popular rides (Toy Story Mania!), attractions, and characters (those girls from that Frozen movie) that people wait a lifetime for. Deciding what rides or characters are an absolute must for you and/or your travel companions will help you figure out how to best use your FastPass+ reservations. Tim's article on tips and tricks for FastPass+ will help you a lot in the planning process.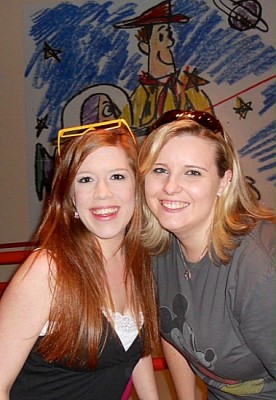 Toy Story Mania is always FastPass+ worthy!
Is That Everything?
Whew! Ok, so let's go down your checklist. You've figured out if you're flying solo or with a travel agent, when you're going to Disney, for how many days, where you're staying, your park schedule, your dining reservations, and your FastPass+ decisions. You've been busy and are doing a great job! So what else is there to think about?
Disney Springs
Disney Springs is an area on Disney property made up of restaurants, shops (including the world's largest Disney Store!), and other entertainment that, depending on the length of your stay and how into (or not into) the park life you are, may be something you want to consider. The area is a ton of fun and there's so much to do! A Disney trip, for me, isn't complete until I've gone to Disney Springs and walked around. And shopped. And ate. Usually we go to Disney Springs at night after a long day in the park or on our last day before heading to the airport. It's a great time to pick up those last minute souvenirs and relax after an exciting trip.
Fantasia Gardens and Fairways Miniature Golf
Fantasia Gardens and Fairway Miniature Golf is another great non-park option at Disney World in the Epcot area. There is a separate fee from park admission to play golf, but the reviews make it clear that it's well worth it!
Well, do you feel prepared for your Walt Disney World vacation? I hope you do! We've talked about the essential basics, but there's still much more for you to read and decide and dream about! The Mouse for Less is a fantastic Disney resource and don't forget Mickey Mouse's own website over at disneyworld.com. See ya real soon!
What tips do you have for planning your Walt Disney World vacation? How did you handle booking  your first trip? Tell us in the comments below!