This post may contains affiliate links for your convenience. If you make a purchase after clicking a link we may earn a small commission but it won't cost you a penny more! Read our full disclosure policy here.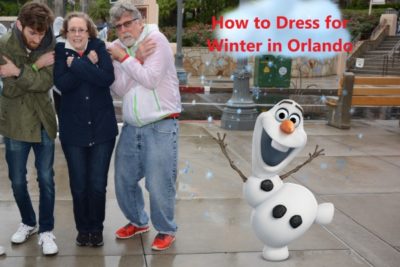 How you dress for winter in Orlando is important. Nothing can ruin a vacation day by being too cold, too wet or cold and wet. While Orlando has some of the best weather conditions in the United States it pays to be prepared.
What's weather like in Orlando?
On average, Orlando winter weather is remarkably stable. The average monthly highs range from 71 to 73°F and lows from 49 to 52°F. There's about four days of rain each month.   That sounds pretty idyllic.
But, Orlando weather was not put together by mathematicians and often temperatures can drop into the upper 30s overnight. This can happen quickly. On January 17 at 2:00 PM it was 72°F and sunny. Sixteen hours later it was 28°F; just in time for folks to start heading to the park. That was an extreme but I would hate to be in the family that planned to wear shorts and tee shirts that morning.
Always check the weather online before you go to take a look at the temperature range and the likelihood of precipitation. Remember, the further out the forecast is the less precise it will be. If you are taking a long vacation you need to be prepared.
Layering is the best way to dress for winter in Orlando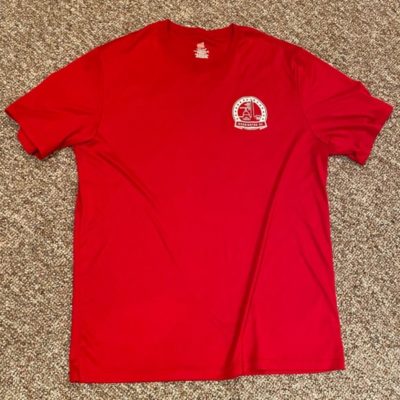 Wearing layers of clothes is a quick and convenient way to dress for winter in Orlando. Most people have the right materials at home. There are a couple of principles that apply to dressing in layers:
Layers are meant to be removable when the weather calls for it. Therefore, the outer layers should be easier to remove (zippers work best).
Remember the extremities (hands, feet and head). Much of the body's heat can be lost by uncovered extremities.
Basic layering comes in three levels: A wicking level close to the skin, A loose layer to trap heat and a blocking level on the exterior
Each Layer explained
Wicking: If you ever left a pool on a hot day you notice that the water will continue to keep you cooler.   Water against the skin, such as perspiration, can do that and on a cold day in Orlando this can really cool you down. The layer closest your skin should be made of a wicking fabric such as polyester or microfiber. Fortunately, Microfiber t-shirts are much less expensive these days.
Heat Trapping Layer: A slightly loose clothing layer will trap air close to the skin. This will help retain heat while allowing the material to breathe. You can use two loose layers. I have a fleece, zippered jacket I wear over a loose shirt.
Layer to Block: On top you should wear a breathable jacket that us wind-blocking and water resistant. This can hold in the warmth while blocking out the cold air and wind. See Cag in a Bag below.
The Feet Hands and Head should dress for winter in Orlando too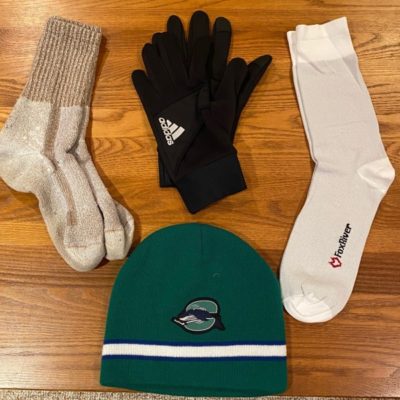 Nothing's worse than cold, wet feet while you accumulate the miles in Orlando. I prefer my ultra-light sneakers year round but they are well ventilated and can easily get wet. During winter I wear walking shoes that are heavier but less prone to flooding. In addition you should look at wearing a combination of hiking socks and wicking liner socks. Hiking socks have more cushioning to keep your feet happy and will keep your feet warm as well. Liner socks are a nice to have but they can prevent your feet from feeling damp and wet. An extra pair of socks in your bag can be a life saver on a rainy day.
Gloves can be a bit problematic as you use your Disney apps in the park. To dress for success on a cold winter day look for waterproof driving gloves that are touch screen sensitive. You can also get half finger gloves that expose your fingertips but I worry how warm these could be.
A knit cap can keep your head warm. Make sure that these fit into your rain hood or umbrella.
How to deal with rain: Get yourself a Cag in a Bag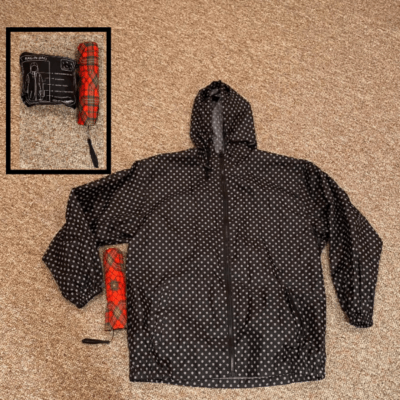 A rain coat that can fold up into a pocket is a great Disney accessory. This can come in and out of your bag as needed. They provide a great outer layer. In Scotland they are called "Cag in a Bag"* while in England they are called "Mack in a Sack"** and are easy to search for. In America there are no nice terms for this so they can be harder to find.   The better ones have breathable panels. * Cag is Scottish and short for Caghoule. **Mack is English and short for Makintosh. Both mean raincoat.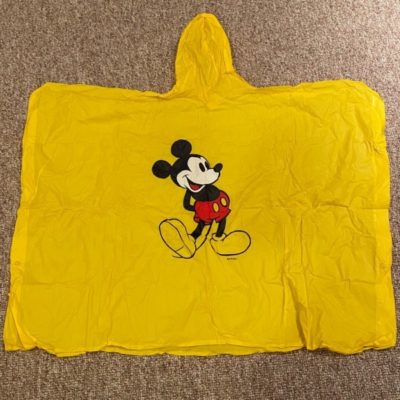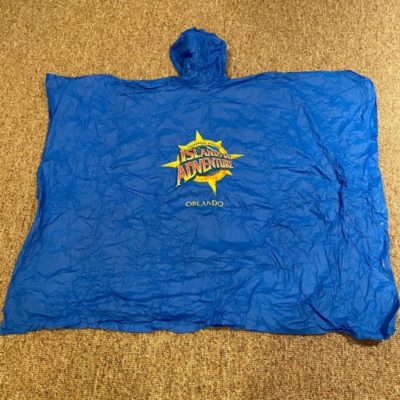 Ponchos are another option. Ponchos, generally, are not breathable. I know one podcaster who likens then to steam rooms. This is less of an issue when you dress for winter in Orlando. Ponchos have one great benefit; they can be used to sit on and cover your body on wet rides.
An umbrella is a great tool when used in combination with a water resistant shell. Water resistant shell can keep you dry in a light mist or rain but can eventually become sodden. An umbrella can extend their life and your happiness.
Other gear that help you dress for winter in Orlando
Hand, foot and back warmers are nice to have if there is a chance that there is really cold weather coming. These are safe pads loaded with chemicals that are air activated when you open the package. As such they are single use. Beware, there is no off switch. If you have one under several layers of clothes and you start over heating they can become uncomfortable. That said, large back warmers can be found in pharmacies.
When you wear layers you also shed layers. A good, small back pack can be brought into the park to hold any layers you take off. Make sure there is room in the back before you leave for the park.
Include a couple of plastic bags to collect any wet layers that you have. 2 ½ gallon freezer bags can hold a lot. 33 gallon trash bags can also be used. In an emergency you can cut a hole in the top and use it as a poncho.
What tips do you have to dress for winter in Orlando? Let us know in the comments or on Facebook or Twitter!
Did you like this article? Make sure to share it with your friends! Check below for easy ways to share!
Want to visit the Walt Disney World Resort? Contact The Magic for Less Travel for more information and a free, no-obligation quote.

Incoming search terms:
https://www themouseforless com/blog_world/how-to-dress-for-winter-in-orlando/
https://www themouseforless com/blog_world/how-to-dress-for-winter-in-orlando/#:~:text=You can use two loose the cold air and wind
https://www themouseforless com/blog_world/how-to-dress-for-winter-in-orlando/#:~:text=Layering is the best way to dress for winter in Orlando&text=Layers are meant to be be lost by uncovered extremities
outfits for women for orlando in the winte
photos of people wearing coats in orlando
universal studios outfit winter