This post may contains affiliate links for your convenience. If you make a purchase after clicking a link we may earn a small commission but it won't cost you a penny more! Read our full disclosure policy here.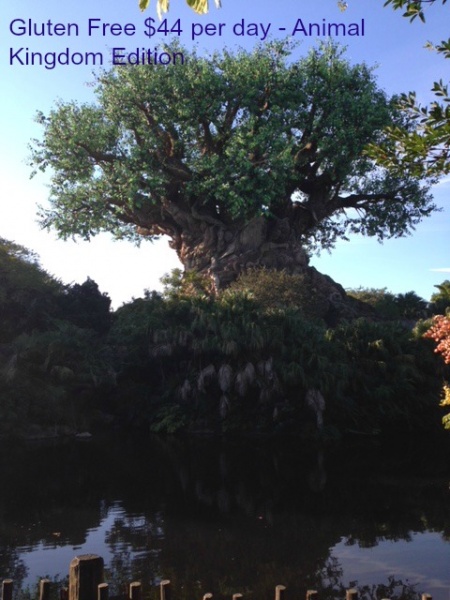 Lets continue our series on Gluten Free Dining for $44 per day- Animal Kingdom Edition!
We have the Gluten Free for $44 per day Magic Kingdom Edition for you to enjoy here. Also there is a series of non Gluten Free dining for $37 per day for you to enjoy here and a series about dining vegetarian that can be found here.
For my explanation on what Celiac Disease is and why cross contamination can be an issue see the info later in the the blog.
Lets start our trek for Gluten Free Dining for $44 per day – Animal Kingdom Edition in the beautiful Animal Kingdom theme park. Finding counter service breakfast at Animal Kingdom park can be a challenge. Throw in the gluten free aspect and you may want to start by eating in your room or resort food court that morning.
If I eat breakfast at the resort, its typically a table service meal or buffet that I have planned my fast passes around and can savor and enjoy. I personally really love getting up early and getting a jump start in the parks so having options in the theme park of my choice is important. In the Magic Kingdom edition of this blog I recommended starting your day at the Main Street Bakery AKA Starbucks and getting the gluten free breakfast sandwich there. I'm tempted to say the exact same thing here, but that would be a cop out. I DO want you to go to the same place in Animal Kingdom though and that's in Africa at Creature Comforts AKA Starbucks. Instead of the Gluten-Free Smoked Canadian Bacon & Egg Sandwich, this time I will recommend you get:
Hard Boiled Eggs      $2.59
Whole Fruit                $1.69
Coffee                            $2.49
Total                              $6.77
Remaining                $37.23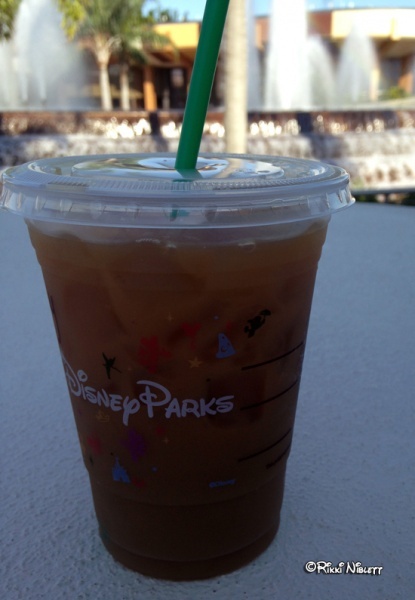 Once you are ready for lunch head over to Discovery Island. Not too far from the beautiful Tree of Life, is Flame Tree Barbecue.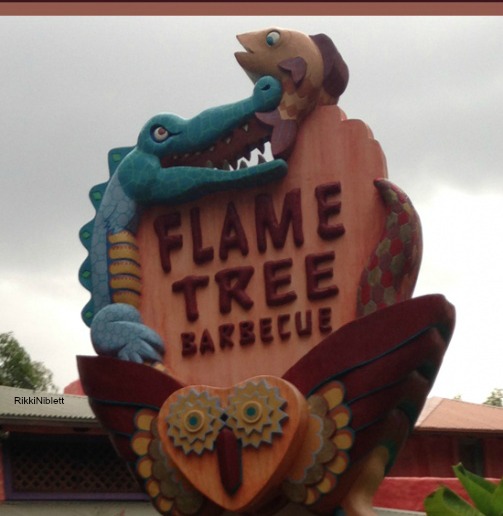 This restaurant has so many unique options. I really enjoy that I can have multiple choices that are gluten free. For Lunch I recommend that you choose:
Pulled Pork Sandwich               $10.99
(served on an Allergy Friendly Bun with Beans and Fruit.)
Mandarin Orange Lemonade $4.29
Total                                                $15.28
Remaining                                    $21.95
The nice thing about Flame Tree Barbecue besides the food options is the seating. You can overlook the beautiful water and even see Everest from afar. In the picture below from the opposite vantage point, you can see some of the seating in the distance (blue structure).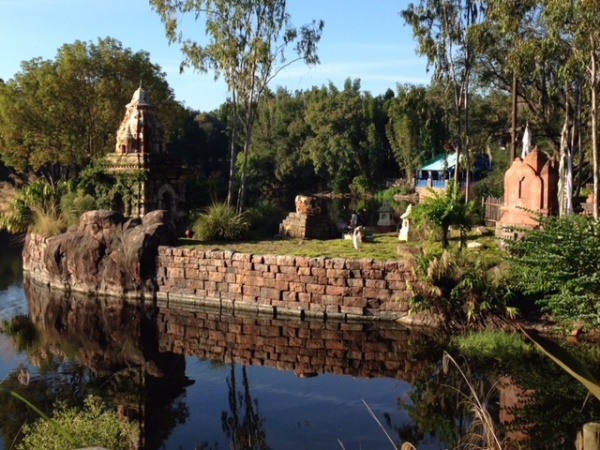 For Dinner in our continued quest for Gluten Fee Dining for $44 per day – Animal Kingdom Edition, lets be sure we go to Pandora. You need to try Satu'li Canteen. This new quick service restaurant has many options for those of us eating gluten free. Unfortunately we cannot eat the coveted Cheeseburger Pods, but we can 'Build Our Own' Protein Bowl.
Here you choose your protein, and I loved the Chopped Wood-Grilled Chicken, then you pick your base. There are a couple of base options, Red and White Potato Hash, Rice and Black Beans, Mixed Whole Grain and Rice, or Hearty Salad. I loved the hash and it was something I would not have at home normally so I will say choose the hash here. All of these options are currently gluten free. For the dressing they have two options that are gluten free- the creamy herb and the charred green onion vinaigrette. I enjoyed the creamy herb. They also have wine and beer here too! For gluten free dining, the beer is out for us, but Sangria is in!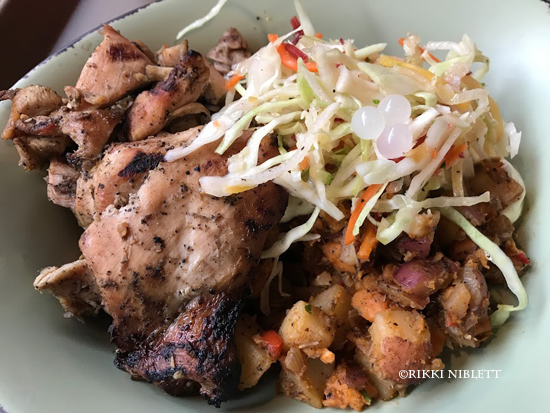 Chicken Bowl                        $11.49
Dreamwalker Sangria        $9.50
Total                                      $20.99
Total for all: $43.04- cutting it pretty close to our $44 dollar goal and we were able to sneak in one alcoholic drink. Not too shabby!
My Gluten free explanation and some cautions about mobile ordering when you have food allergies:
As a person who suffers from Celiac disease, following a strict Gluten Free diet is non-negotiable and not a fad I would ever subscribe to if I had a choice. Many people think of it as a food allergy, but it is not really an allergy, it is an autoimmune disorder where your body tries to fight Gluten as if it were a virus in your system and it causes damage internally. Gluten itself is a protein that is found in Wheat, Barley and Rye. It is found in a surprising number of foods and often added as an additive where you would not expect it.
Many Celiac suffers are sensitive enough where cross contamination (from fryers, food surfaces, a crumb here or there) actually makes us ill. This can make it very difficult to dine out and is risky particularly on vacation. Those with a sensitivity to gluten also have to be careful and ask questions. This blog is intended to be make suggestions only; please remember to talk with the staff at each dining location to ensure the items are still gluten free when you order, and what the risk of cross contamination is so you can make the decision for yourself.
Some locations have dedicated fryers where they only fry gluten free items in with gluten free items, others share fryers for all food. The same goes for toasters, grills and so on. Ingredients and kitchen practices can frequently change, so please ask each time you go to a location.
Many of the location also have Mobile Ordering which is a huge convenience. You order the food via the My Disney Experience app, pay via the app, and then just go to the window when you are alerted that your order is ready. With a food sensitivity or allergy, you must be cautious of using the app since some ingredients have changed or if their kitchen practices have changed. Use discretion when / if you decide mobile ordering is for you.
What are your tips for Gluten Free Dining at Disney's Animal Kingdom? Let us know in the comments, or on Facebook or Twitter.
Did you like this article? Make sure to share it with your friends! Check below for easy ways to share!
Want to visit Walt Disney World? Contact The Magic for Less Travel for more information and a free, no-obligation quote.