This post may contains affiliate links for your convenience. If you make a purchase after clicking a link we may earn a small commission but it won't cost you a penny more! Read our full disclosure policy here.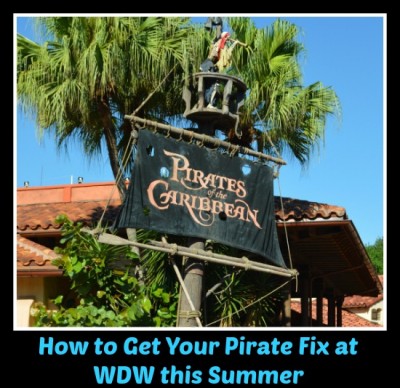 Ahoy there, pirate loving readers! If you're planning a Walt Disney World getaway this summer – beware – the quintessential pirate-themed attraction, Pirates of the Caribbean, will be undergoing a scheduled refurbishment.  The popular attraction closed on June 8 and will be closed through September 28. "Blimey," you say, "how am I supposed to go an entire summer without a dose of pirate fun?" Well have no fear, matey. Continue reading for a run-down of our top ways to get your pirate fix at WDW this summer – or walk the plank!
The Pirate's League – Magic Kingdom

There's no better way to get into the pirate spirit than by getting a pirate makeover at The Pirate's League in Adventureland. Get ready for some swashbuckling fun and spend your Magic Kingdom day in (pirate) style by getting transformed into a Pirate (including your very own Pirate name). There are several packages available for adults and children, with prices ranging from $34.95 – $79.95.
A Pirates Adventure – Magic Kingdom

Embark on an interactive treasure hunt throughout Adventureland with A Pirates Adventure: Treasures of the Seven Seas. Enlist at the outpost between Frontierland and Adventureland, grab a treasure map, and set out to solve all of the clues! Once you've successfully completed your adventure, you can set "sail" back to the outpost and begin your next pirate adventure – if you dare! There are 5 unique adventures in all.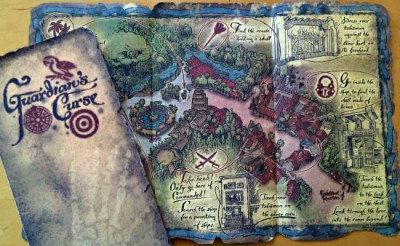 Captain Jack Sparrow's Pirate Tutorial – Magic Kingdom

If it's Pirate adventure ye seek, be sure to catch one of the daily performances of "Captain Jack Sparrow's Pirate Tutorial" in Adventureland. During this entertaining 25-minute show, learn the "art" of pirating from the master, Jack Sparrow, himself.
Pirates and Pals Fireworks Voyage – Seven Seas Lagoon

Set sail from Disney's Contemporary Resort on a nighttime Pirates and Pals Fireworks Voyage cruise across Seven Seas Lagoon to experience the Magic Kingdom's nightly fireworks show – "Wishes" – from a vantage point like none other. Before embarking on the voyage, enjoy snacks, ice cream treats, and beverages and mingle with Pirate pals, Captain Hook and Mr. Smee. But be warned, ye land lubbers, this experience will set you back a few gold doubloons (prices are currently $41 for children and $69 for adults).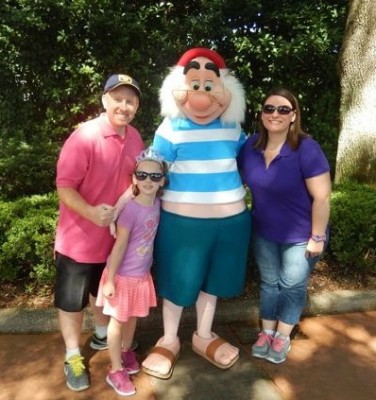 Dine at Tortuga Tavern – Magic Kingdom

A pirate's life can make ye hungry, so take a break and grab some grub at this counter-service restaurant in Adventureland, which serves Mexican cuisine in a pirate-themed setting. One word of caution – be sure to check your times guide to confirm that the tavern is open before setting course, as this spot has a tendency to be closed on slower park days.
Meet Jake – Disney's Hollywood Studios

Set course for Disney's Hollywood Studios to visit a Disney Junior pirate pal – Jake (from "Jake and the Neverland Pirates")! There are three opportunities to see Jake at Hollywood Studios, so you should have no trouble getting your pirate fix here! You can visit with Jake at the character meet and greet in Animation Courtyard, or skip the lines and let Jake come to you by making a breakfast or lunch reservation at Hollywood and Vine. You can also catch Jake in the "Disney Junior Live on Stage" show, which is also located in Animation Courtyard.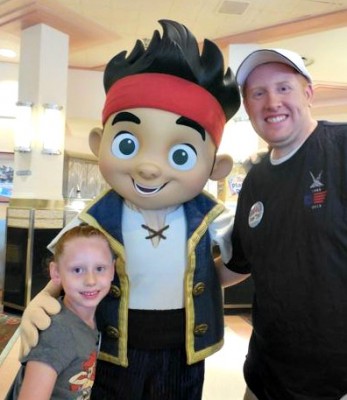 Pirate Guest Rooms – Disney's Caribbean Beach Resort

If ye scallywags truly seek to immerse yourselves in the Pirate experience, then the Pirate guest rooms at Disney's Caribbean Beach Resort are the place to stay! These rooms are brimming with pirate details – from the pirate ship beds to the Jolly Roger curtain separating the sleeping quarters from the latrine – if you love all things pirate, it doesn't get much better than this!
Or, if you're feeling particularly adventurous… consider making your Walt Disney World getaway a "Land and Sea" voyage by booking a cruise on Disney Cruise Line either before or immediately following your Walt Disney World resort stay!
On Disney Cruise Line, your family can enjoy an entire night of Pirate fun. On Pirate's night, ye buccaneers can savor a pirate-themed dinner (complete with complementary pirate bandanas), the chance to meet your Disney favorites decked out in their pirate best, and cap off the excitement with a pirate deck party – including fireworks at sea!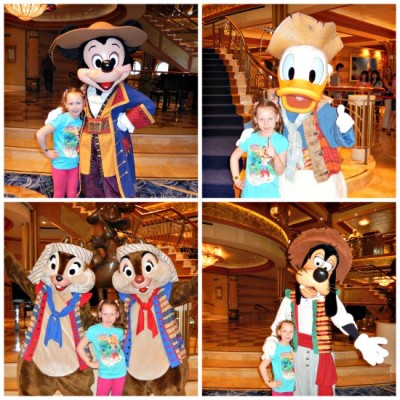 With all of these other great pirate experiences to tide us over, we should have no problem getting our pirate fix this summer, even without our favorite pirate classic, Pirates of the Caribbean. And the completion of the Pirates of the Caribbean refurbishment gives us something to look forward to this fall!
Are you planning a trip to Walt Disney World this summer? What are your favorite pirate experiences at Disney? We'd love to hear from you in the comments!