This post may contains affiliate links for your convenience. If you make a purchase after clicking a link we may earn a small commission but it won't cost you a penny more! Read our full disclosure policy here.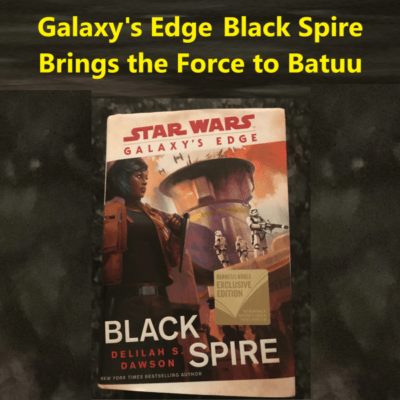 Galaxy's Edge: Black Spire by Delilah S. Dawson provides the back story details to Disney World's new land. A prior book, Galaxy's Edge: A Crash of Fate, introduces the reader to the Black Spire Outpost. Galaxy's Edge: Black Spire lays out the actions that took place just prior to guests arriving in the park. The bonus is that the book does so while telling a well written story.
Both Star Wars and Disney made their mark on rich story telling abilities that feature clear examples of good fighting evil. Galaxy's Edge: Black Spire is no exception. The books flirts with the spiritual goodness of the Force while painting vivid pictures of this distant outpost. As such the book can stand alone but as a method to excite the interest in the theme park land it excels. Whether you plan to visit Galaxy's Edge in the near future or not at all the book is a fun and exciting read.
The Galaxy's Edge: Black Spire Story
When the story opens General Leia Organa tasks her chief spy, Vi Moradi, with establishing an emergency resistance base. The distant, strategically unimportant planet of Batuu is selected as someplace the First Order would never look into. Vi Moradi, who was previously captured and tortured by the First Order's Captain Cardinal is assigned a ship, cargo and an Assistant. The Assistant is none other than the reformed Captain Cardinal (now called Archex).
While attempting to land in Batuu their ship interrupts two smuggler's ships fighting and is shot and has to crash land. While unconscious in their ship their cargo and most supplies are stolen by Oga Garra's crew leaving Moradi and Archex desperate but determined to regain their supplies and set up the resistance base.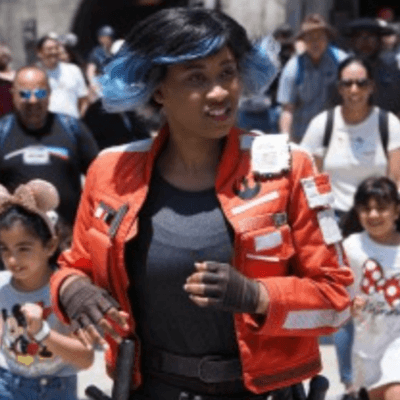 How Galaxy's Edge: Black Spire Fits into Disney's Galaxy's Edge
The Galaxy's Edge: Black Spire story is the set up to the activities within the theme park's land. The book outlines Vi Moradi's role as well as the arrival of Kylo Ren and the 709th. It seems like the last page of the book is followed by the first page of the theme park's script. Knowing how the books story develops gives the reader a deeper understanding and appreciation of the theme park.
Along the way, Delilah S. Dawson provides a deeper understanding of the history and the characters of Batuu. Oga Garra, proprietor of Oga's Cantina is revealed to be the crime boss who rules Batuu with an iron first. In the book you discover that Savi, of Savi's Workshop, is a deeply spiritual individual. Savi is dedicated to preserving the artifacts of the ancients. Dok Ondor is Savi's direct competition and cares little for preserving the past.
Throughout the book the role of the force and the Jedi is referenced and alluded to. A logical conclusion is that Batuu is an ancient center of the force and will be central to the future of Star Wars.
How Galaxy's Edge: Black Spire Fits Into Star Wars
Galaxy's Edge: Black Spire is part of the Star Wars "canon". That is to say it officially becomes part of the official Star Wars story line. As such, the in Galaxy's Edge: Black Spire can be referenced in future Star Wars episodes and the characters can become characters in future books and films. As such, incredible care has been spent in the story and character development. This level of care is apparent throughout the book.
Like Galaxy's Edge, the theme park land, the book takes place between Episode VIII (The Last Jedi) and Episode IX (The Rise of Skywalker). This raises the obvious question; Do you pronounce VI Moradi's first name as Vee or "Six"? Sorry.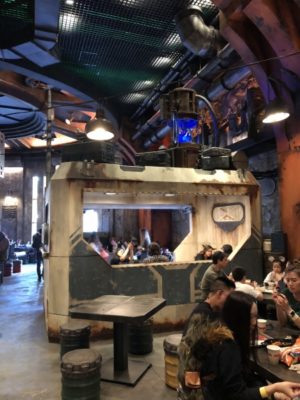 Part of the Galaxy's Edge Media Project
Part of the fun of developing your own world (Batuu) has to be creating its history. Part of the problem of opening a theme park that takes place on an unknown world is getting people interested in that planet's history. Although Star Wars is a well-known franchise, Batuu, until present, is a relative foot note in a couple of books. Thus the need for the Galaxy's Edge Media Project or how you can get to know a planet on the edge of a galaxy far, far away.
The other publications
The first offering was a 5 edition comic book, Star Wars: Galaxy's Edge written by Ethan Sacks and illustrated by Will Sliney. The initial edition was published on April 24, 2019 and the last on August 28, 2019. All five editions will be compiled in a single book to be issued on November 5, 2019.
Star Wars Galaxy's Edge: A Crash of Fate by Zoraida Córdova was published by Disney–Lucasfilm Press on August 6, 2019.  It is a Young Adult novel.
Star Wars: Myths and Fables, is the third book.  It is written by George Mann and illustrated by Grant Griffin. The book is designed for middle grade students and is a set of nine short stories.
Next up are two "reference" books. On November 9, 2019, Star Wars: Galaxy's Edge Cookbook will be published by Insight Editions. Written by Chelsea Monroe-Cassel and Marc Sumerak, this cookbook contains imaginative ways to produce out of this world food. Star Wars Galaxy's Edge: Traveler's Guide to Batuu release date is November 26, 2019. (The day before our Galaxy's Edge FastPasses can be made). Written by Cole Horton and published by becker&mayer! Books. The book promises to be a guide recommending places to eat, sleep and shop and includes full-color illustrations and maps, original content from Lucasfilm and itineraries for in-planet and off-planet excursions.
Have you read Star Wars: Black Spire? What were your thoughts? Let us know your thoughts in the comments, or on Facebook or Twitter!
Did you like this article? Make sure to share it with your friends! Check below for easy ways to share!
Want to visit Star Wars: Galaxy's Edge? Contact The Magic for Less Travel for more information and a free, no-obligation quote.