This post may contains affiliate links for your convenience. If you make a purchase after clicking a link we may earn a small commission but it won't cost you a penny more! Read our full disclosure policy here.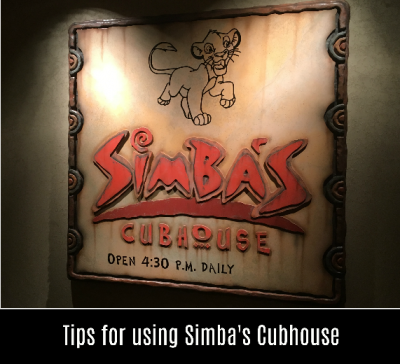 Looking forward to a dining reservation at Animal Kingdom Lodge?  Want an hour of free childcare?  Read on to find out more.  The participating restaurants include the following:
Sanaa, which is known for its awesome bread service, and its great views of animals while eating.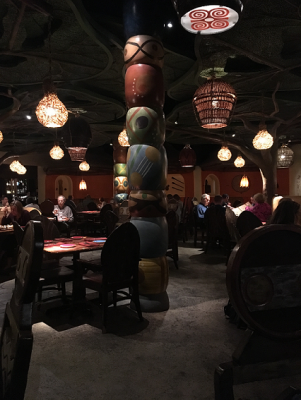 Boma, which is known for its awesome breakfast and dinner buffets full of awesome African inspired dishes, and the Walt Disney World famous dessert of Zebra Domes.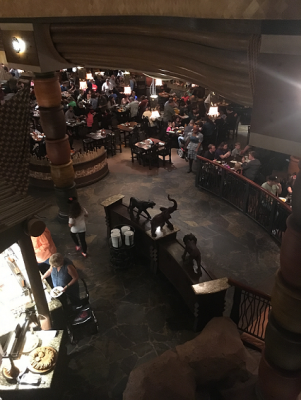 Jiko,  which is a signature restaurant (i.e. Disney Dining plan 2 dining credits), with great South African wines, awesome steak filets, and scrumptious mac and cheese.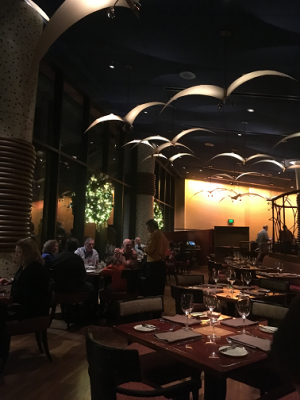 While recently staying at Animal Kingdom Lodge my family dined at all 3 restaurants and had 3 great experiences.  While planning our vacation, I noticed that Disney was advertising a free hour of childcare if you dined at one of those 3 restaurants and used the Disney childcare center, Simba's Cubhouse.
Simba's Cubhouse is located on the bottom level of the main building at Animal Kingdom Lodge, Jambo House.  My children are aged 9 and 6, and my husband and I decided they would be least interested in the Jiko meal so that's the night we planned on using the childcare.
Here are the details you need to know about Simba's Cubhouse:  You'll need to have a dining reservation at one of these restaurants as they are all very popular, so don't count on being able to eat there without one.  You can make a dining reservation on the Disney World website, on the My Disney Experience app on your phone, or by calling (407) WDW-DINE.
Once you have your dining reservation settled now onto the childcare reservation.  If you're currently at Disney World you can call (407) WDW-DINE or you can make a reservation at the concierge desk at your resort for the childcare reservation.  You do not have to be staying at Animal Kingdom Lodge to take advantage of this offer.  If you're still planning your vacation at home you'll need to call the (407) WDW-DINE number to make your childcare reservation.  You cannot make the childcare reservation on the website or app.  They had a sign saying they did accept walk-ins without reservations at Simba's Cubhouse, but I wouldn't chance it if you have a special night planned.  The Cast Member told me they had been running the free one hour special for the last 4-5 months, so hopefully they will continue- but no guarantees!
The fine print about Simba's Cubhouse:
Your kids have to be between the ages of 3-12.
Your kids have to be potty trained.
You have to have a minimum of 2 hours of childcare.  The special offer Disney is offering only gives you one hour free, so you still have to pay for at least one hour of childcare.  Disney's website states the cost is $15 per hour per child.  However, when I went in November of 2017 the price quoted to me was $25 an hour for 2 children.  Even though you can make the reservation in advance you pay when you pick up your children.  Also, they had an annual passholder discount of 15%!  So for $21 I got 2 hours of childcare for my 2 children.
They give your child dinner.  YEP, this awesome childcare center price includes dinner for your children!  It's the typical Disney kids menu, hot dogs, pizza, mac and cheese, hamburgers, etc.  You pick exactly what the children are served from a menu when you drop them off.  The $21 I paid included the cost of dinner for my children.  THIS IS THE BEST VALUE FOR YOUR MONEY AT DISNEY!  The cost of dinner alone for my children at Jiko would likely have equaled the same amount of money as having 2 hours of childcare + their dinner.
You have to have a photo ID with you to drop off and pick up your children.  Disney is very safety conscious and have you fill out info with all your emergency contacts, any allergy or medical info, etc.
You have to turn in your receipt from your meal after dining to get the free hour at the childcare center.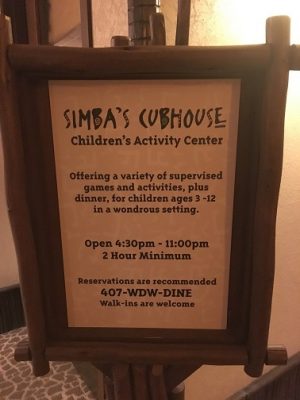 Finally and most importantly, my children loved it.  They had a great time vegging out on some Disney movies and playing some video games after a few busy park days.  There are also plenty of toys for all ages.  Sorry I didn't take any pictures of the interior.  I didn't want to be the weirdo asking to take pictures while other people's children were playing inside.  Suffice to say there were plenty of toys, it was clean, and there were appropriate activities for a variety of ages.  There were only about 4-5 children total even during the busy Thanksgiving season we utilized the service.  My children said the Cast Members were so nice to them, and one cast member even sat with them to hang out with them while they were playing video games.
Both my kids and my husband highly recommend taking advantage of this great special for a fun night for the entire family!
Has your child ever visited Simba's Cubhouse? What did they think?
Did you like this article? Make sure to share it with your friends! Check below for easy ways to share!
Incoming search terms:
https://www themouseforless com/blog_world/free-hour-childcare-simbas-cubhouse-walt-disney-world-animal-kindgom-lodge/
sim as clubhouse at animal kingdom lodge
https://www themouseforless com/blog_world/free-hour-childcare-simbas-cubhouse-walt-disney-world-animal-kindgom-lodge/#:~:text=Simbas Cubhouse is located on Animal Kingdom Lodge, Jambo House