This post may contains affiliate links for your convenience. If you make a purchase after clicking a link we may earn a small commission but it won't cost you a penny more! Read our full disclosure policy here.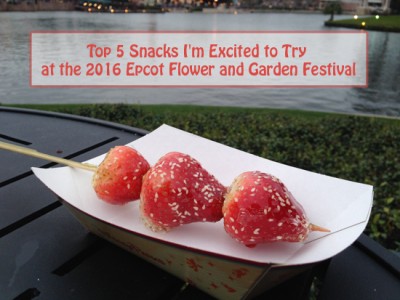 So, while you're reading this, I'm already here! I'm at the Epcot Flower and Garden Festival!
It truly is one of my favorite things Disney does. I mean how can you not love all the gorgeous topiaries, the beautify gardens, the fun concerts, the edutainment of the seminars, and yes, of course, the food.
If you want to see what the Epcot Flower and Garden Festival is like, take a look at this preview from last year's festivities.
So, of course, this if Foodie Friday, so I'm going to share with you which new food items I'm most excited to try courtesy of this year's Outdoor Kitchens. (And trust me, there are a lot of new dishes at this year's festival!) For a list of the menus, make sure to visit our menu page.
Chicken Fricassee with Green Asparagus and Peas served with Uncle Ben's Rice Pilaf – This dish from the Bauernmarkt: Farmer's Market  near Germany sounds like it could be a meal, not a small snack! But I'm telling you, it sounds incredible.
Warm Chocolate Cake with Bourbon-Salted Caramel Sauce and Spiced Pecans – The Smokehouse at the American Adventure…they know what's up. They've wowed me with the Beef Brisket Burnt Ends Hash and the Pulled Pig Slider before, but this is my number one must do! Holy cow! (Disney…seriously…can you just please change the Liberty Inn into a restaurant just serving these type items?)
Beef Teriyaki Udon – From the Hanami Booth near Japan sounds yummy. It features Thin-sliced Beef, Onions and Noodles tossed on the grill with Soy and Ginger. I've tried the Fruishi (fruit sushi) before, now let's try something more savory.
Tarte à l'Onion Alsacienne – The Fleur de Lys booth offers this treat this year. It's an Alsatian Onion Tart with Sautéed Onions, Fresh Thyme and Rosemary on a Flaky Puff Pastry Crust and it has me curious.
Seared Pork Tenderloin with Mushroom Ragoût, Spring Vegetables and Marble Potatoes – the Urban Farm Eats booth near the Imagination Walkway always serves up intriguing and unique dishes and this one sounds pretty tasty.
Honorable Mention 1: Shrimp and Stone-Ground Grits from the Florida Fresh booth. This features andouille sausage, sweet corn, tomatoes and cilantro and it was a favorite of both mine and my husband's last year.
Honorable Mention 2: Beijing-style Candied Strawberries from Lotus House near the China Pavilion. Seriously, these things are my jam. They are coated in a hard sugar coating that's mixed with sesame seeds making for the sweetest, juiciest strawberries I've ever eaten. This is a must do during the Epcot Flower and Garden Festival.
Ok…now I'm here…you have to tell me…what should I try? Leave your comment in the comments section of what you would like me to report back on and I will try to make it so!