This post may contains affiliate links for your convenience. If you make a purchase after clicking a link we may earn a small commission but it won't cost you a penny more! Read our full disclosure policy here.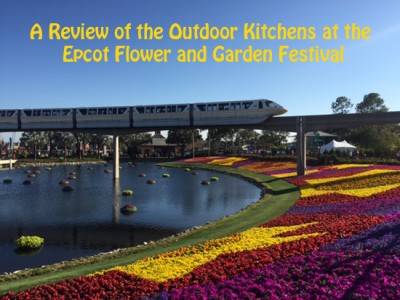 This past weekend, I was able to go around and experience the Epcot Flower and Garden Festival. As I had mentioned previously, this is one of my favorite times to be in Epcot, because I love being able to see colors I haven't seen in months!
We couldn't have enjoyed a better weekend; the weather was fantastic, the colors were bright, and the food was delicious. Yep, I said food, because the Epcot Flower and Garden Festival upped the game a few years back by adding Outdoor Kitchens for Guests to enjoy while exploring the park. These kiosks offer delicious, fresh, garden-inspired foods and beverages and there are 13 this year in all.
I had the opportunity to try a few of them this time and am here to report on all things delicious! This year, I feel like Disney added quite a few new options to the menus, however, many favorites returned, as well.
The first booth we experienced was the Primavera Kitchen, located in the Italy Pavilion. Here, we sampled the Pollo alla Parmigiana. Yep…Chicken Parmesan.  While not extremely exotic, I was impressed with the size of the chicken patty that was presented; it was quite large. I also thought that there was plenty of sauce and cheese and the chicken didn't taste like it had been frozen. This, ironically was my husband's favorite dish overall.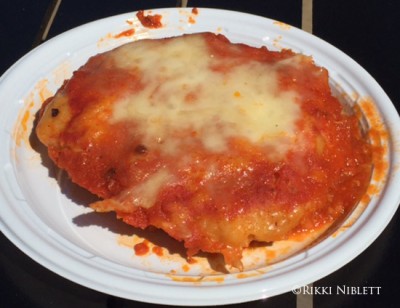 Next we headed to The Smokehouse in the American Adventure Pavilion. Here, there were a couple of delicacies that were tried. The favorite from last year, the Beef Brisket Burnt Ends Hash was good, but a bit of a disappointment for me this year. I think we just got a bad batch, because there wasn't a lot of meat on our plate and what was there was mostly fat. I also thought it was entirely too heavy on the potatoes and they were not cooked enough. I should have taken this one back and asked for a new one…that's how bad this one was. But again, I've had it previously and it was excellent. I think this was just an off plate.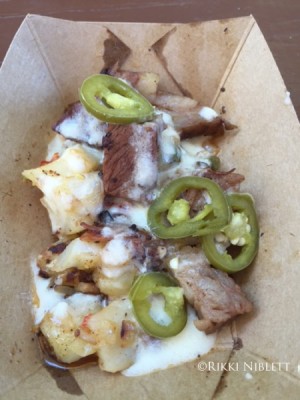 Speaking of fatty, the Smoked Pork Rib was also a bit fatty, but it was tender.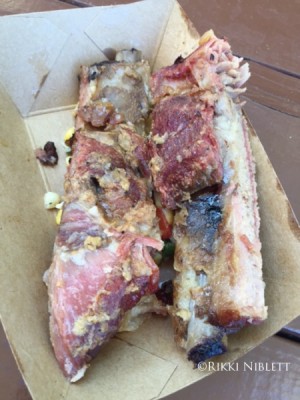 For those of you who are looking for barbecue sauce to enhance your smokehouse dishes, they did have some on a table with the napkins and other condiments. I wished I would have noticed that the first time around.
Also new this year at The Smokehouse was the Warm Chocolate Cake with Bourbon-salted Caramel Sauce and Spiced Pecans. I thought the cake was good and moist. It had a rich chocolate flavor, however, I felt that the caramel didn't make much of a difference and didn't have that buttery flavor I would expect.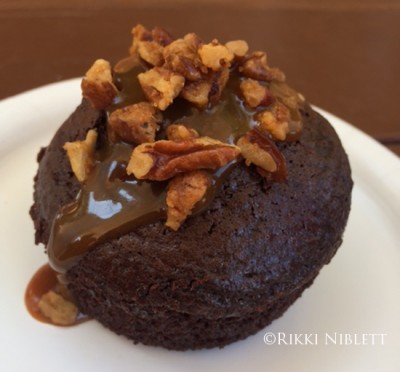 Next, I tried the Urban Farm Eats booth located on the pathway walking towards the Imagination Pavilion. This was my favorite dish, despite a few minor issues. I thought the pork was a bit tough and a small portion for the price (especially when compared with the size of the chicken Parmesan.) The pork had good flavor thought and the mushroom ragu was amazing. (And if you can get me to eat mushrooms, it's good…I ate every mushroom on the plate!) The veggies were certainly fresh too. Again, maybe a little underdone, but you could tell they were straight from the garden.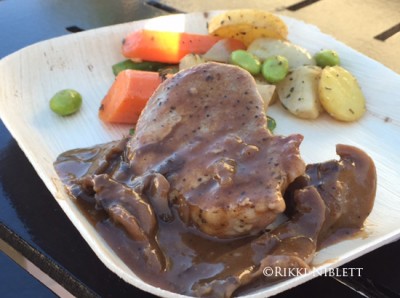 We stopped at my favorite booth, the Lotus House one in China. Here they have my all-time favorite Flower and Garden Festival dish…the Beijing-style Candied Strawberries. So, already off the bat, I love strawberries. Add a sugary candy coating to the outside that's mixed with sesame seeds and you have an incredible dessert. Because of the sugar, these are the juiciest strawberries ever.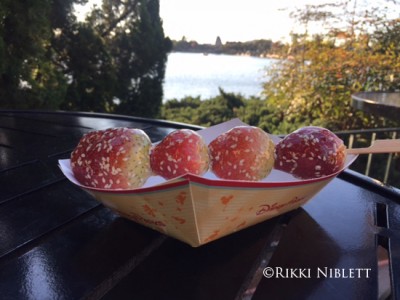 The last booth we tried this time was the Hanami booth in Japan. I was anxious to try the Beef Teriyaki Udon. This was one I was looking forward to, however, I think it ended up being one of the worst dishes I had. The meat was not great quality. It had a good flavor, thanks to the sauce, but I thought that the meat itself left a lot to be desired. There was a bit of a spice to the dish that brought some heat to it. Overall, I don't think I would get this one again.
However, redeeming itself this year was the Fruishi!  I had gotten this a few years back, but thought it was just ok.  My pieces only had two pieces of fruit in them, not three, like is advertised. This time, it was a completely different story. There was pineapple, strawberry, and melon, and it was fantastic. I enjoyed the coconut rice very much. This is a must get.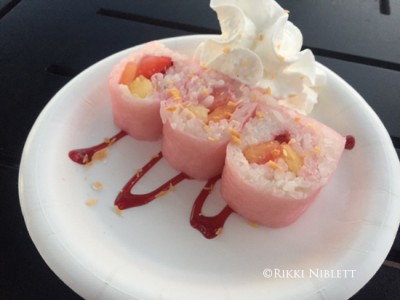 Overall, I enjoyed my experience at the Epcot Flower and Garden Festival. I thought that the dishes were unique and feel like there's still more I want to sample on my next go around, which will be at the end of the festival. Oh and you can bet that there will be a few dishes that I end up getting again too!