This post may contains affiliate links for your convenience. If you make a purchase after clicking a link we may earn a small commission but it won't cost you a penny more! Read our full disclosure policy here.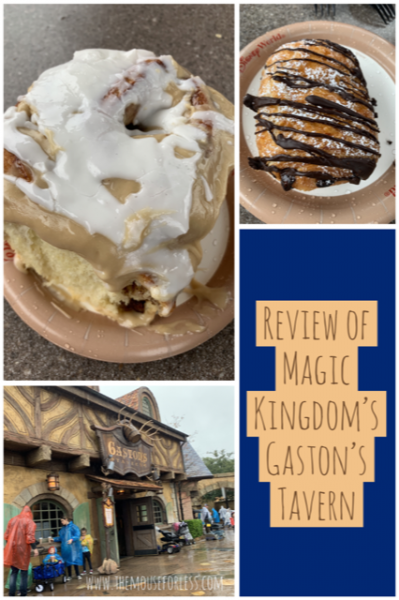 There aren't a lot of places to grab a quick breakfast anymore at the Magic Kingdom. The Main Street Bakery is a common place for Guests to stop, especially because it's the first place Guests see and they offer Starbucks. But, for those who make their way back to Fantasyland, they will find Gaston's Tavern, and trust me when I say this is a place you want to make your way to.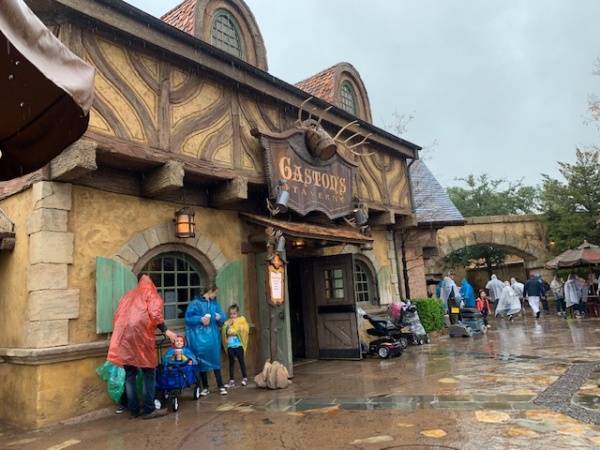 Why is that? Well, many years ago, at the Main Street Bakery, the restaurant offered a cinnamon roll. This cinnamon roll was extremely popular and something that many would make a beeline to grab on their way into the park. Well, once Starbucks came into the picture, the cinnamon roll went away, briefly. That is until Gaston's Tavern was introduced. Then a cinnamon roll was introduced there. It wasn't the exact same, but it was very similar.
I'm going to let you in on a little secret. I eat at Disney a lot, right? I mean, I have a whole post on Fridays for food reviews and such. But this…this was my very first Magic Kingdom cinnamon roll. I KNOW!!!! Crazy, right?
The cinnamon roll from Gaston's Tavern is quite large. While I did end up eating the whole thing myself, it's definitely something you might want to consider splitting. The roll has a good amount of icing and what's great about it is there is a vanilla flavored icing, as well as a maple flavored icing on top! I personally really liked the maple flavor, but I know that cinnamon roll purists aren't necessarily a fan.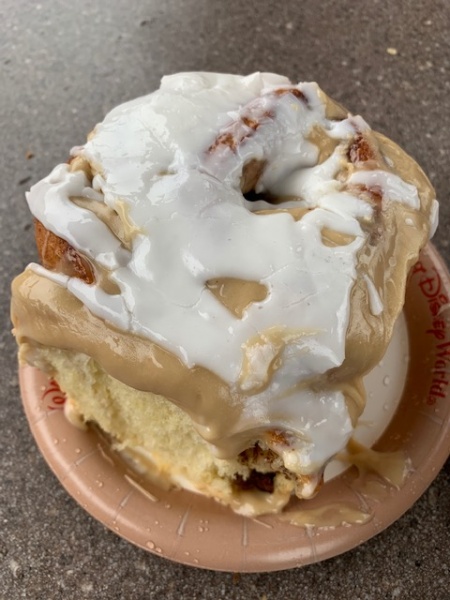 There is a lot of bread and a good cinnamon taste to this roll. If you want this to be sweeter, you may want to ask for more icing, but I found it to be plenty sweet.
I do have one little minor complaint. I wish that this was served warm. If this was served warm, it would absolutely take it over the edge.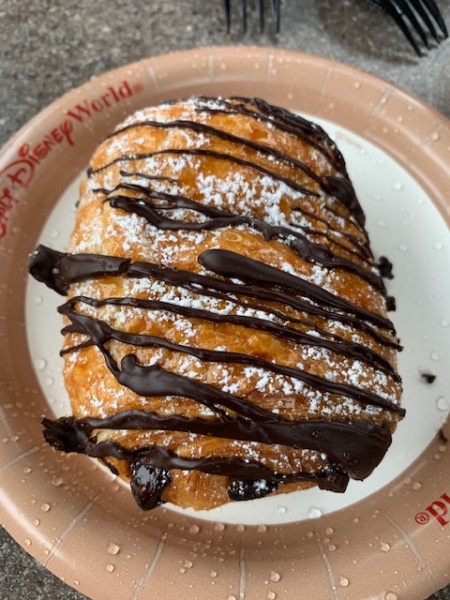 If you're maybe not looking for a cinnamon roll, Gaston's Tavern has another option. They do offer a chocolate croissant. This has a flaky crust and a nice smattering of chocolate inside. Again, I wished it would have been served warm. Overall though, if you are looking for a good breakfast item, this was just lackluster. It wasn't super impressive and didn't stand out. I would suggest getting the cinnamon roll instead of the chocolate croissant. It just seemed a little pedestrian.
So, if you're looking for a spot to grab a quick breakfast, may I suggest making a stop at Gaston's Tavern? While I do wish that there were a few other quick service places that offer breakfast at the Magic Kingdom, this is definitely a good option to consider, especially if you're looking for a sweet option.
Have you tried the breakfast items at Gaston's Tavern? What did you think of them? Let us know in the comments, or on Facebook or Twitter!
Did you like this article? Make sure to share it with your friends! Check below for easy ways to share!
Want to visit Walt Disney World? Contact The Magic for Less Travel for more information and a free, no-obligation quote.