This post may contains affiliate links for your convenience. If you make a purchase after clicking a link we may earn a small commission but it won't cost you a penny more! Read our full disclosure policy here.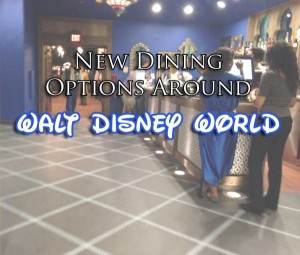 It seems like for a while, we go with no real food news and then BAM!  Disney hits us with a ton back to back to back.  So, today, I thought I'd take a look at some of the interesting new food options that can now be found all around Walt Disney World!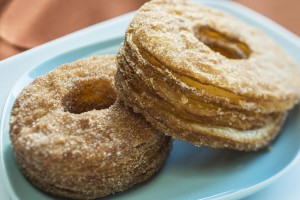 First off…we have the croissant doughnut, otherwise known in the rest of the world as the cronut.  This fried little gem is covered in cinnamon and sugar and served up warm.  It can be found in Epcot at the Refreshment Port in World Showcase.  I am sorry to say I missed out on trying this sweet treat on my trip earlier this month, but I promise you…In the name of research, I will have to try this one at some point.  😉
Full Menu:  https://www.themouseforless.com/walt-disney-world/dining/menus/refreshment-port-menu/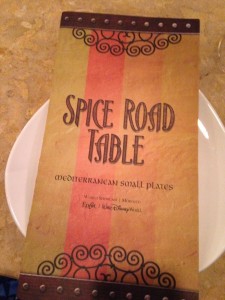 Also making it's debut at Epcot this week was Spice Road Table.  This new restaurant found in the Morocco Pavilion features tapas sized portions.  I was able to take a look around (and try a couple of dishes) on the opening night.  I won't write a full review about it because it was legitimately opening night and I would say it's a bit hasty to give a full out review on their first night.  But I will give you a few details to give you some information on what you can expect.
When you walk in, you walk straight in on a bar which is against a bright blue backdrop of a wall!  If you head to the right, you'll be seated in the indoor section (of which there are not many seats) and if you head left, you'll be seated in the outdoor, covered patio section.  Both sections will have views of the water, and yes, of Illuminations that evening.  (Which, I think the view is just ok.  There are a few trees that are situated in the way of a complete, unobstructed view.)
As far as the dishes I tried, I sampled the Cod Croquettes, the Fried Calamari, and the Spicy Shrimp.  The Cod Croquettes were my least favorite.  They were like fish flavored hush puppies.  The Spicy Shrimp had good garlic flavor and then a nice spicy kick in the end.  My favorite was the Calamari, which was light and not tough.  We also tried the Chocolate Pyramid with Almond Ice Cream.  The Chocolate Pyramid was good.  Not too heavy and had white chocolate oozing out.  The Almond Ice Cream was just ok.  It certainly wasn't something I'd order on it's own.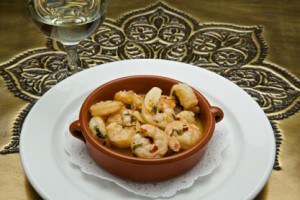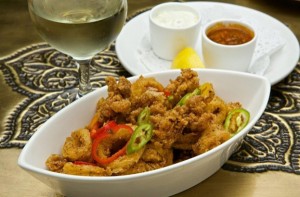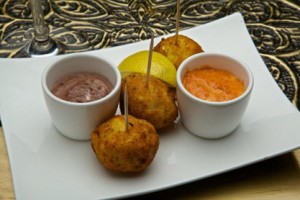 Overall, the restaurant is more of a bar with food, to me, rather than a restaurant with drinks.  I wouldn't come here expecting to have a huge meal.  I would more choose to come here for a light bite.
Full Menu:  https://www.themouseforless.com/walt-disney-world/dining/menus/spice-road-table-menu/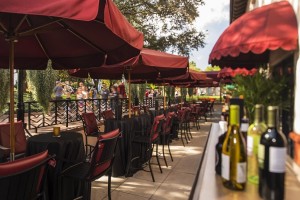 In additional news, at Disney's Hollywood Studios, if guests would like to, they can choose to dine at the Hollywood Brown Derby's new patio lounge.  This new area is much like Spice Road Table to me.  They feature small bites and serve alcohol.  Menu items here include artisan cheeses, duck confit tacos, Derby sliders, and more. Plus desserts choices of Chocolate Three Ways, a banana-white chocolate toffee tower on a cocoa-almond cookie, bananas Foster and strawberry Champagne cheesecake.
Full Menu:  https://www.themouseforless.com/walt-disney-world/dining/menus/brown-derby-lounge/
For fans of the Captain's Grille at Disney's Yacht Club, they have seen an enhanced menu.  Longtime favorites remain, but Disney has included a few new dishes to liven things up a bit.   Menu items include such as house-made potato-cheese gnocchi with toasted walnuts, julienne pears and truffle butter, or rosemary-brined pork tenderloin with braised pork belly, pears and apples. Returning favorites feature the butter-poached lobster omelet, the classic New York strip steak and snow crab legs.  Additional menu items include dishes like lemon-ricotta hotcakes with blueberry compote, and a lump crab cake with fire-roasted corn succotash and lemon emulsion.  I will certainly need to stop by here on my next trip, as there seems like there's a lot of great choices!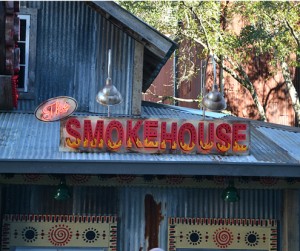 Our final new dining option can be found at Downtown Disney WestSide.  No I'm not talking about the Food Trucks (which are now officially open nightly from 5 pm – 11 pm.)  Instead, I'm talking about The Smokehouse, which can be found attached to the House of Blues complex.  The new counter service restaurant serves up pulled pork sandwiches, pulled chicken sandwiches, half-racks of ribs, a turkey leg, a brisket sandwich,  and hot dogs.  Sides include cole slaw, potato chips, and baked beans.  There is a seating area off to the side, however, it is all outdoors.  There is a stage for live (local) music seven nights a week.  The Smokehouse opens at 11:30 a.m. daily, with closing around 10 p.m.
Full Menu:  https://www.themouseforless.com/walt-disney-world/dining/menus/smokehouse-at-house-of-blues-menu/
Whew!  That's a lot of new food options for you to try on your next trip to the World!  I know that there are quite a few that I cannot wait to sample the next time I'm there!  What looks good to you?