This post may contains affiliate links for your convenience. If you make a purchase after clicking a link we may earn a small commission but it won't cost you a penny more! Read our full disclosure policy here.
Welcome back!  I hope you're hungry because today we are going to take a look at what I deem to be my favorite Counter Service restaurants in both Animal Kingdom and Disney's Hollywood Studios.  Both offer some unique options for guests that help to make the dining experience so much better.
Disney's Hollywood Studios
Best:  ABC Commissary
Ok…I'm gonna be honest.  I have a hard time finding different places to eat in DHS.  To me, the park is still figuring out the best way to introduce different options on their counter service menus, but they are certainly trying.  One of the best options for those who want to dine on something a bit different in this park is ABC Commissary.
This restaurant can be found on Commissary Lane and offers delights that have influence from worldwide flavors, like Cuban, Asian, Brazilian and a touch of American.  It really is a mismatch of everything, but it works! It has a bit more unique offerings on the menu than Studio Catering Co (which truthfully, has some great sandwich and wrap options, like a sloppy joe, chicken Caesar wrap, and a buffalo chicken sandwich.)  In addition, it is all indoors, unlike the Studios Cater Co.  Which will be heavenly on those extremely hot Florida days!
The ABC Commissary is themed around promoting some of ABC's best shows, with props and costumes on display all around the building.
Some of the options from this restaurant are the Asian Salad and a Couscous Quinoa & Arugula Salad,  which you can add chicken or salmon to either salad option, a seafood platter, a chicken bleu sandwich, and of course, an Angus cheeseburger.  For kids, they have a cheeseburger or nugget option, but they also have a turkey sandwich and something that's been popping up on many kids menus lately, the Kids Power Pack with options like strawberry yogurt, apple slices, carrot sticks, goldfish crackers, and an apple-cinnamon snack bar.
Menu: https://www.themouseforless.com/walt-disney-world/dining/menus/abc-commissary-menu/
With it's delicious options and the opportunity to eat indoors, which is not always easy to do at DHS, this is one of the best choices, landing my top spot.
Honorable Mention:
Toy Story Pizza Planet
Ok…I know what you're thinking…this is pizza.  Not the most adventurous of options.  But there is just something about dining here that just appeals to me and is why I end up dining in this location at least once every trip. (If you aren't in the market for pizza, then please see my previous mention of Studios Catering Co.)
Pizza Planet is themed after the pizza place found in Toy Story.  While it doesn't look exactly like it does in the movie, it does offer kiddos (and adults) the chance to play some video games. (For a cost of course, so bring those quarters!)
Want to dine here, my tip:  Go upstairs.  Downstairs has very little seating and the outside portion is always extremely crowded, but if you head upstairs, there are often many tables open for guests.
This counter service location can be found in the streets of America section of the park, right across from Muppet-Vision 3D.
Offerings here are typical of what you would expect.  All entrees are served with a Caesar salad, however, if you just want the pizza, you can usually get just that.  Pizza options include: cheese, pepperoni, veggie, and meat lovers.  In addition, if you were not wanting pizza, they also offer a meatball sub and an antipasto salad.  For kids, they offer a cheese pizza or a mini chicken sub.
While it may not be the most adventurous option, it is extremely cool to eat in the restaurant portrayed in the Pixar flick.
Disney's Animal Kingdom
Best: Flame Tree Barbecue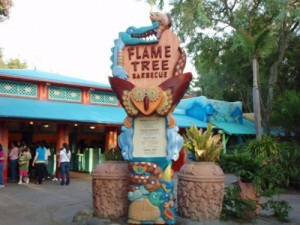 Ok…you want the truth…this is one of the best counter service restaurants in all of Walt Disney World!  Seriously…it is so delicious!  Maybe I am just a sucker for BBQ, but this stands up to the test.
Flame Tree Barbecue can be found in Discovery Island, right to the right of the Tree of Life.  (If you are looking at it straight on.)
The best part about the restaurant, are the views.  Yes, this is an all outdoor location, however, if you get a spot in the shade and stare across Discovery River, you will have an amazing view of the Forbidden Mountain, Everest.  Totally worth it!
The great thing about the food here is that they give you a LOT of it!  Two people could easily split one meal.  (Especially if you get a dessert or extra side…hello onion rings!) Best news, it is reasonably priced too!
So what is so delicious here?  First of all, the 1/2 of a chicken (yes…I said 1/2 of a chicken!).  It is rotisserie goodness.  Have a hankering for ribs?  Try the half of a slab of BBQ ribs.  Both the chicken and the ribs get sides of coleslaw and baked beans.  They also have a combo where you get both chicken and ribs, if you just can't decide. (And truthfully, who could blame you?)
In addition, there is a barbeque pork sandwich and smoked turkey breast sandwich.  In the mood for something a bit healthier?  Try the smoked chicken salad or the fruit plate.  Kids have a ton of options here, like a chicken drumstick or a chicken sandwich, to name a few.
Menu:  https://www.themouseforless.com/walt-disney-world/dining/menus/flame-tree-bbq-menu/
All I can say is yum!  (My stomach is totally making noise! I have to stop writing these around mealtimes!)
Honorable Mention:  
Yak and Yeti Local Food Cafe
Not a BBQ fan, but still want something unique?  This restaurant is for you!
Located with the Yak and Yeti Restaurant in the Asia section of the park, right near Kali River Rapids, this counter service location has what you would expect it to have – Asian delicacies.
The seating here is partially covered and the area has a feel of a local Indian marketplace.
Here they offer up honey chicken, sweet and sour chicken,  and beef lo-mein.  Of course, they have a salad option in the Mandarin chicken salad.  In the mood for a light counter service delight, try one of the sides.  They offer egg rolls and chicken fried rice.  Ironically enough, for kiddos, they don't offer any Asian dishes, only offering cheeseburgers and chicken nuggets, but I'm sure that the side of chicken fried rice would be a good option for an adventurous little one.
Menu: https://www.themouseforless.com/walt-disney-world/dining/menus/yakandyeti-local-food-cafes-menu/
Ok, who's hungry?  I know I am now!
Up next, in our final installment, will be the best Counter Service Restaurants found in the Resorts and at Downtown Disney.
Remember, I want your help!  Is there anything you want to see here?  Do you have a great topic idea that you want to see me explore!  Now is the time to do it!  I'll be visiting the World this weekend!  Please, feel free to email me at rikkibeourguest@gmail.com.