This post may contains affiliate links for your convenience. If you make a purchase after clicking a link we may earn a small commission but it won't cost you a penny more! Read our full disclosure policy here.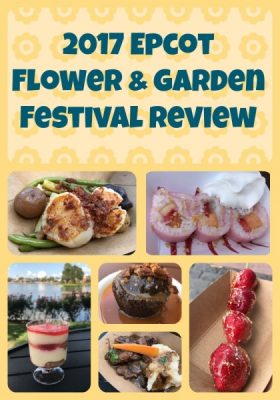 This weekend, I was able to take a much need vacation down to Walt Disney World.  Of course, one of the main functions of the trip was to enjoy the festivities of this year's Epcot Flower and Garden Festival. This annual event has quickly become a favorite of mine. I love how gorgeous the park looks, there are unique seminars that are always entertaining, and yes, there is a ton of great and fresh food available at the various food kiosks.
There are more kiosks than ever at this year's Epcot Flower and Garden Festival. 15 different options to choose from, each with its own unique flair. This year there were some definite stand outs and some returning favorites, so I thought we'd take a look at what some of the Outdoor Kitchens have to offer.
Lotus House – China Pavilion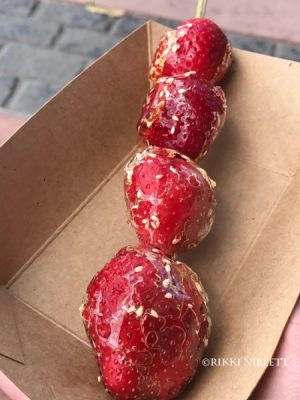 Beijing-style Candied Strawberries – These are one of my favorite things to get each and every year. These are always some of the juiciest, ripest strawberries ever. The candied coating adds a great crunch while adding a delicious sweet flavor and there is just a hint of sesame that adds a unique surprise.
Primavera Kitchen – Italy Pavilion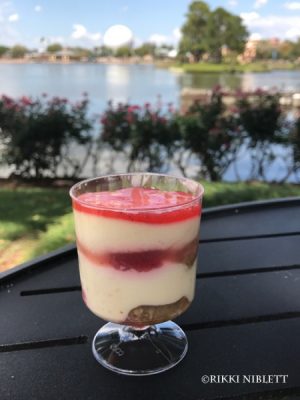 Strawberry Tiramisu – New for this year is the strawberry tiramisu. It includes ladyfingers, mascarpone cream and marinated strawberries topped with strawberry sauce. This was, hands down, my favorite dish I got this year. It was like a mix between regular tiramisu and strawberry shortcake. It was fresh and light. Perfect for a hot Florida day. I absolutely hope this returns to the festival next year.
The Smokehouse: Barbecue & Brews – American Adventure Pavilion
Pulled Pig Slider – Topped with a spicy cole slaw, this was good, but was kind of dry overall. If you have that issue, make sure to add some barbecue sauce! They have it available at a counter in both sweet and spicy flavors. I like the burnt ends hash much better, as an overall option, versus the slider.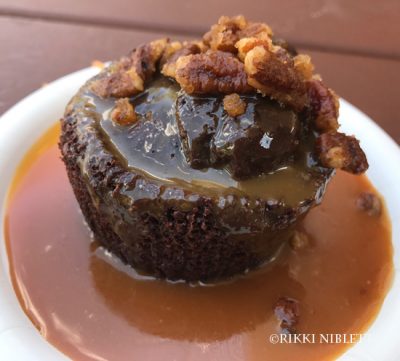 Warm Chocolate Cake with Bourbon Salted Caramel Sauce and Spiced Pecans – This cake was gooooood!  It had a good chocolate flavor and was very moist and served warm. This year, they drowned my cake in caramel sauce, which was quite yummy. (I could certainly taste the hint of bourbon this time!) The spiced pecans added a nice crunch. Overall, this was a solid dessert choice.
Hanami – Japan Pavilion
Frushi – The fruit version of sushi is my kind of sushi! It includes fresh pineapple, strawberries and melon that is then rolled with coconut rice, topped with raspberry sauce, sprinkled with toasted coconut and served with whipped cream on the side. It wasn't always a favorite of mine, but it has become one of my must gets each year at the festival. The coconut rice is the most prevalent taste, so if you don't like coconut, you may want to avoid this. It has light, fresh tastes, and with three rolls, it's perfect to share….or just enjoy by yourself! This is a great dish to introduce young ones to the concept of sushi though.
Taste of Marrakesh – Morocco Pavilion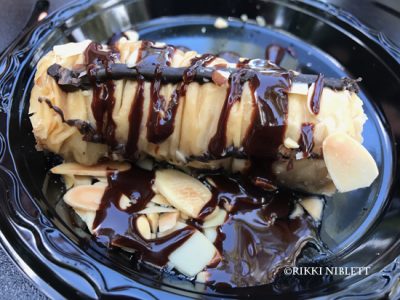 Baklava – This year's baklava is a chocolate one. While I enjoyed the chocolate addition, I found this baklava to be kind of forgettable. It has a light phyllo dough that is quite flaky and a little bit of nuts tucked inside. I think I prefer a honey version of baklava though.
Northern Bloom  – Canada
Seared Scallops with French Green Beans, Butter Potatoes, Brown Butter Vinaigrette and Apple wood Smoked Bacon – New for this year's festival is the Northern Bloom booth, which means that this scallop is new too! The scallop itself was perfectly cooked; not tough at all. The green beans and potatoes were cooked to perfection and how can you go wrong with a brown butter sauce and bacon bits? Yum!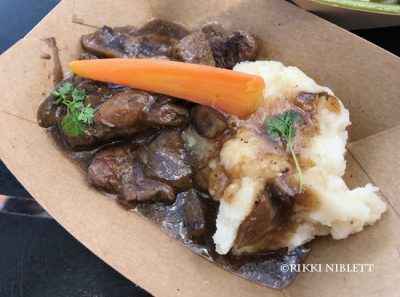 Beef Tenderloin Tips, Mushroom Bordelaise Sauce, Whipped Potatoes with Garden Vegetables – This was also quite yummy! I was a little disappointed in the quality of the beef…I had a few fatty pieces in mine. I don't normally eat mushrooms, but if they are put in this sauce, I would eat mushrooms every day. The potatoes were standard and there really wasn't much in the way of veggies besides this lone carrot.
Urban Farm Eats – Walkway Near Imagination Pavilion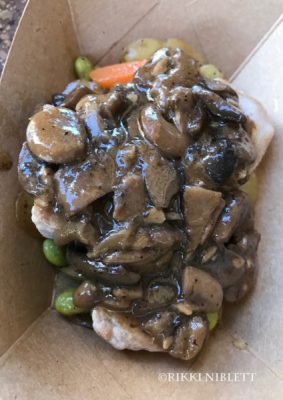 Seared Pork Tenderloin – served with a Mushroom Ragoût, Spring Vegetables and Fingerling Potatoes, I think that was my favorite savory dish for the day. Again, the mushrooms were delicious (again….I must not hate them as much as I thought because again, the sauce made them taste incredible.) I thought the pork were perfectly cooked and there was a decent amount on the plate. The vegetables and potatoes were also solid. If I could eat this for dinner tonight, I would.
Overall, it was a very successful trip to the Epcot Flower and Garden Festival this year. Splitting meals with my husband was key, as we both walked away full, but not stuffed. Like I said, each year, this festival gets better and better with the food and beverage options and there are certainly more dishes that I would have loved to have tried, if only my stomach was a bit bigger. Curious about what other dishes are on the festival's menu? Make sure to check out our Guide to all eats and beverages!
Have you been to the Epcot Flower and Garden Festival? What were your favorite dishes? Share in the comments!
Did you like this article? Make sure to share it with your friends! Check below for easy ways to share!