This post may contains affiliate links for your convenience. If you make a purchase after clicking a link we may earn a small commission but it won't cost you a penny more! Read our full disclosure policy here.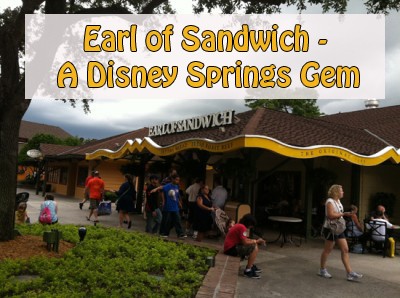 Disney Springs has really come into its own over the past few years. From about a year ago when it was a massive zone of walls, to having a name change, to now being in the final stages of construction, it really has seen a great transformation. There have been a lot of great new additional shops and restaurants added and from the look of things, quite a few more are on the horizon.
But one restaurant has remained as a beacon. It's been consistent ever since the day it opened in The Marketplace section. It is Earl of Sandwich. What makes Earl so unique? It is one of the few counter service locations in Disney Springs. (Seriously, Disney, if you are reading this, I know you probably have most of your shops and restaurants picked out to finish out Disney Springs, but if you could make sure to add a couple of extra quick service locations, that would be appreciated.) It is also one of the best values at Disney Springs.
So, what does Earl of Sandwich offer? They serve up sandwiches (of course, because the place is named after them), salads, wraps, soups, breakfast, and desserts. How do you decide?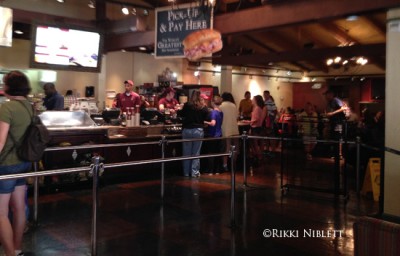 Keep in mind that Earl is exceedingly popular because it is well known how delicious it is, so you may encounter a long line when you walk in, but don't worry; you'll be up to the counter placing your order soon.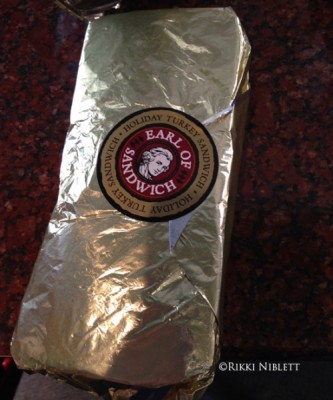 Earl of Sandwich's sandwiches are made on freshly made artisan bread and they have a lot of options to choose from. Items change periodically, but there are quite a few staples, as well.  Popular choices include The Earl's Club that features Turkey, Bacon, Swiss, Lettuce, Roma Tomato and Sandwich Sauce; The Original 1762 made with Roasted Beef, Cheddar and Horseradish Sauce; and the Italian, which features classic Italian meats such as Salami, Capicola, Ham, Mortadella, Mozzarella, Roma Tomato and Italian Seasoning and Italian Dressing. However, the most famous sandwich that people rave about is The Holiday Turkey.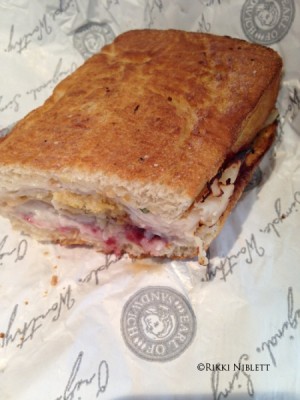 What is the Holiday Turkey sandwich? It's like Thanksgiving dinner…literally. It features Turkey, Cornbread Stuffing, Turkey Gravy, Cranberry Sauce and Mayonnaise. It is like Christmas in my mouth. The sandwich is exceptionally moist and there are good sized helpings of all the different ingredients. It is served warm and it melts in your mouth.
Of course, you cannot discount the soups. Options can change daily, but they commonly have Tomato, Chicken Tortilla, Broccoli and Cheddar, Potato Bacon, Chicken Noodle, Hearty Vegetable and Wisconsin Cheddar. As for my visit, I went with the Broccoli Cheddar.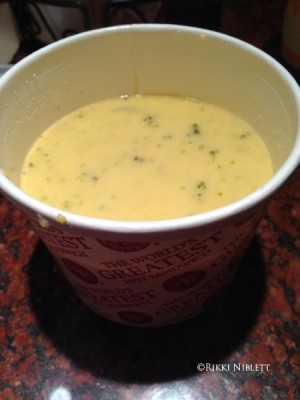 It had good sized chunks of broccoli that was prepared perfectly for the soup (you know, sort of mushy) and the soup overall was rich with cheese. It was perfect for the cold snap that Florida was having at the time.
As I mentioned, there are plenty of salad options too for those wanting something a little lighter, including a Berry, Chicken, and Almond Salad, a Greek Salad, and a Cobb Salad.
Desserts here have always tempted me, but I've never fully dove in to try one. They look incredible though, especially their brownies and cookie bites.
The best part about Earl of Sandwich is that it really is reasonably priced. I never feel like I'm breaking the bank (pricing, for the most part, ranges between $5-$7 for most items) and the quality of what I'm receiving is fantastic. I have never been disappointed with a meal from Earl of Sandwich and I don't think you will be either.
Have you tried Earl of Sandwich? What is your favorite item on the menu? Share your thoughts about the restaurant in the comments.