This post may contains affiliate links for your convenience. If you make a purchase after clicking a link we may earn a small commission but it won't cost you a penny more! Read our full disclosure policy here.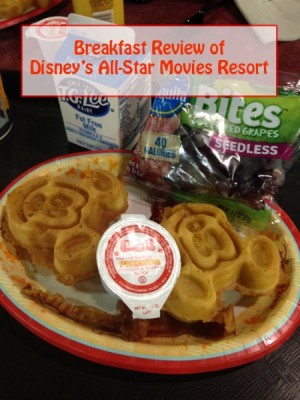 Breakfast…it's the most important meal of the day. Of course, in a place like Walt Disney World, this couldn't be more true.  If you don't have a filling meal to withstand you, how will you be able to run from Splash Mountain to Space Mountain to make it in time for your FastPass reservation?  Breakfast is the key.
And for those of you staying at one of the All-Star Resorts, you only have one choice, the food court.  Each food court at these three resorts (All-Star Movies, All-Star Music, and All-Star Sports) offer similar items, and each one offers a wide selection of choices. You have savory options and sweet options and everything in between.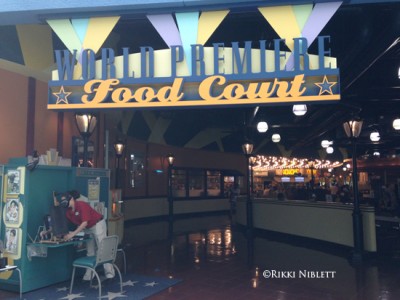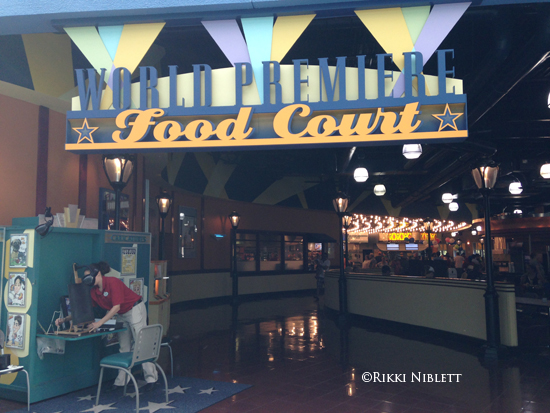 On a recent visit while staying at Disney's All-Star Movies Resort, I made my way to the World Premiere Food Court.  Do keep in mind that while at lunch and dinner, all the food windows are open, at breakfast, the kiosks are more limited.  Though trust me, there is still a wide selection of choices to choose from.
Menu offerings include omelets, pancakes, french toast, breakfast flatbreads, and the infamous Mickey waffles.  Of course, guests can also choose things like pastries, muffins, bagels, danishes, turnovers, and more.
Now, I love breakfast foods, but in the morning, I never can eat a whole lot.  I do however, need something to get me going, so usually I opt for a quick bowl of oatmeal or sometimes a muffin.  However, I recently found out the best option for those who are still looking for that breakfast meal, but not looking to completely stuff themselves.  Consider choosing a kids meal as your entree.
This works two-fold. One, it isn't as much food (because Disney portions are huge, at least for me), and two, it saves you money. I am ok with both of these options.
So, on my recent visit, I decided to try the kids Mickey Waffle with bacon and fruit.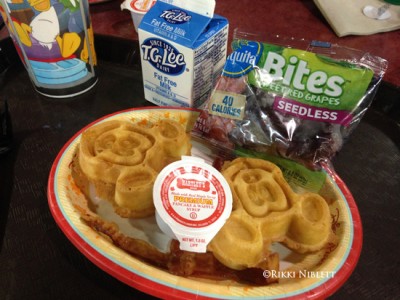 I thought the portion size was just right.  It was two Mickey waffles (the mini ones, not the big one that's served with the adult meal), a slice of bacon, and bagged grapes.  In addition, each kids meal comes with a drink and I love milk, so I chose a carton of white milk.
The Mickey waffles were perfect. They were just as sort of malty as usual and fluffy and light. Add some butter and syrup and you are good to go.  I like my bacon crispy, which mine was, but it was a little small. As far as the grapes go, there were a great thing to throw in my bag to use as a snack for later in the day.
The other great thing was that I had purchased a refillable mug, so I was able to grab a cup of coffee in addition to my milk to really wake me up.
Overall, it really was a satisfying meal.  The size made it so that I was ready to hit the parks, but it also allowed me to be able to grab a snack in the park, if I chose. I feel that if you are going to choose to order a kids meal at any portion of your vacation dining experience, breakfast is the time to do it because the selections closely mimic the adult offerings.
Breakfast can be a bit busy at any of the Value Resort food courts because most people at the resort are likely stopping in here to grab a bite (where as during lunch and dinner, people are usually more apt to be in the parks for those meals), so do pack your patience.  Know that you will likely be waiting in a lengthy line, however, it typically moves pretty fast.  (Unless you are waiting for crispy bacon, but that's a whole different story that I learned a lesson on.  Overall, if the bacon isn't to your crispy perfection liking, don't have the Cast Members make it for you, just go over to the microwaves found in the food court and make it crispy yourself….otherwise you will be waiting a very long time.)
Dining at World Premiere Food Court for breakfast though really was a great way to start my morning and I bet it will be for you too!
One last note:  While it hasn't been announced yet, and if it does get announced, it likely won't happen until around July or August, but the World Premiere is the last All-Star Food Court that is in the need of a refurbishment.  I would expect to see that refurbishment take place this Fall, since the other two food courts were refurbished the previous two years.  Again, this has not officially been announced yet, but it is a hunch that I have going forward.
What are your thoughts about having breakfast at the World Premiere Food Court at All-Star Movies or at any of the other All-Star Food Courts? Let me know in the comments.