This post may contains affiliate links for your convenience. If you make a purchase after clicking a link we may earn a small commission but it won't cost you a penny more! Read our full disclosure policy here.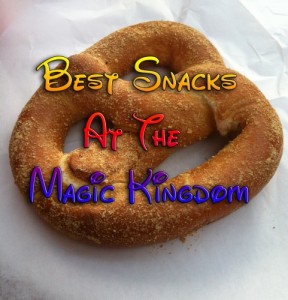 Welcome to another series of blog posts from me, this time featuring some of the best snacks that can be found around Walt Disney World.
Everyone loves a good snack when they're on vacation.  Whether you just ate and want something for "dessert", are trying to tide over a meal, want something to take home to remember the trip by, or just because…snacks are one of the best things about a Disney vacation.  (Well, minus the actual attractions.)
Each park has some favorites that can only be found inside it's gates.  (Relatively speaking anyway.  Some things can be found other places, but are more well known in specific parks.)  Today, we're starting our first stop over where it all began, at the Magic Kingdom.  It seems as though each land has some snack which is unique to it.  Which can make snacking around the Magic Kingdom a fun game, in itself.  Here is the list of what I think are the best goodies, sweet and savory, you can find inside the gates.
Corn Dog Nuggets:  These delicious gems can be found inside Casey's Corner on Main Street USA.  The quick service location is themed after the famous poem, Casey at the Bat and has a multitude of baseball memorabilia.  The restaurant is well known for the famous hot dogs and delicious toppings bar.  Of course, my pick here are those amazing mini hot dogs covered and fried in sweet cornmeal breading, creating a wonderful sweet/salty combo.  Of course, dipping these beauties in cheese sauce or mustard or ketchup is a must.
Menu:  https://www.themouseforless.com/walt-disney-world/dining/menus/caseys-corner-menu/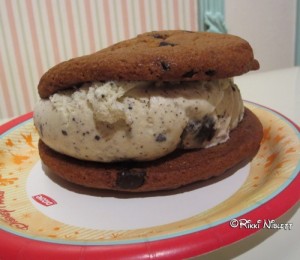 Ice Cream Sandwich: I'm a sucker for ice cream…as well as chocolate chip cookies…put the two together, like they do here, and you've got a match made in heaven.  These beauties which can be found at both the Main Street Ice cream Parlor, as well as Sleepy Hollow in Liberty Square, are actually homemade and that makes them all the more better. Take two giant freshly made cookie and slather them with a good size scoop of ice cream in the middle.  The best part…you can choose your flavor of ice cream!  Be sure to eat it quick, especially on a hot day, as it melts rapidly!  It is a perfect treat whether you want to eat it all by yourself or share with someone else.  Just make sure to split it evenly!
Main Street Ice Cream Parlor Menu:  https://www.themouseforless.com/walt-disney-world/dining/menus/plaza-main-street-ice-cream-menu/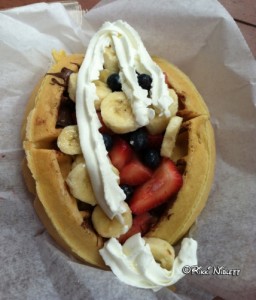 Waffle Sandwich:   Sleepy Hollow gets two nods here, as they also make the list with the relatively recent addition of Waffle Sandwiches.  These things are massive…definitely enough to share or to count as a meal too, if you are so inclined.  There are three different choices to choose from, two savory and one sweet.  First is the Sweet and Spicy Chicken, which is a fancy play on the popular chicken and waffle trend.  There is also a Prosciutto, Tomato, and Swiss option.  Both savory options are served from 11 am – 5 pm, so there is a limited window of opportunity.  The sweet option, which is actually my favorite, is served up all day and that is the Nutella and Fresh Fruit Waffle.  Oh…it's so so good.  The fruit that can be found on this option is usually strawberries, bananas, and blueberries.  It's a great option when it's hot out and you want a sort of healthy snack (it's got fruit…that means it's good for you, right?)  Of course, Sleepy Hollow has a ton of great snack options, including funnel cakes and soup.  I could really do an entire post just about this stand's goodies.  (PS: In my pic above, I asked them to add the whipped cream, which it normally doesn't come with.)
Menu:  https://www.themouseforless.com/walt-disney-world/dining/menus/sleepy-hollow-menu/
Cinnamon Roll:  It's been a staple for a very very long time at Disney.  It had been previously found at the Main Street Bakery (although with the conversion to Starbucks, we don't know if it will be returning…we shall know soon though, as the Bakery is supposed to reopen any day now.)  Guests who now want their cinnamon roll fix can find it at Gaston's Tavern in New Fantasyland.  This new quick service, which serves as an homage to Gaston from Beauty and the Beast, you can especially tell in his decorating style, is quickly becoming a fan favorite, with LeFou's Brew and pork shanks on the menu, but the cinnamon rolls are still a popular choice!  With it's large size, mixed with a gooey cinnamon center and incredibly rich icing on top, it's the perfect option for those who are wanting to share.  (Of course, why would you want to…get your own!)  It is just heaven.
Menu:  https://www.themouseforless.com/walt-disney-world/dining/menus/gastons-tavern-menu/
Dole Whip:  You can't have a best snack list without including the Dole Whip.  It goes together like chocolate and peanut butter!  The Aloha Isle stand can be found in Adventureland just over the bridge from Main Street USA and most certainly always has a line.  It's main feature is that creamy, sweet pineapply goodness known as the Dole Whip, which can be served as soft serve or in float form.  Of course, what many don't realize is that there is more than just the pineapple option, though it is the most popular.  The location also offers a vanilla or orange option.  (And if you want the other famous Adventureland fruit inspired treat, head over to Sunshine Tree Terrace where they feature the Citrus Swirl.  Make sure to say hello to the Little Orange Bird too.)
Menu:  https://www.themouseforless.com/walt-disney-world/dining/menus/aloha-isle-menu/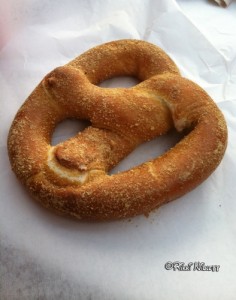 Cream Cheese Pretzel:  For my last goodie, we're going over to The Lunching Pad in Tomorrowland where guests can pick up the Cream Cheese Pretzel.  It sounds a bit bizare at first, but tastes great.  The pretzel is covered in some sweet dusting of something I can't quite put my finger on.  Then on the inside is a sweet, but not overly sweet cream cheese filling.  What's great is that this treat isn't too overly sweet, so it won't be overkill.  It is just the perfect little snack.
Menu:  https://www.themouseforless.com/walt-disney-world/dining/menus/lunching-pad-menu/
The Magic Kingdom, as you can see, has a lot of great options to choose from when that snack craving hits.  No matter what you're looking for, the park has you covered.  Next week, we'll take a look at some options found at Disney's Hollywood Studios.