This post may contains affiliate links for your convenience. If you make a purchase after clicking a link we may earn a small commission but it won't cost you a penny more! Read our full disclosure policy here.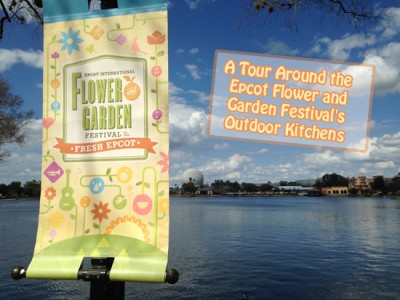 The Epcot Flower and Garden Festival has officially started and I have been toiling away at the Festival trying some of the new dishes and old favorites! Today I am here to bring you my thoughts on what I sampled and what these Outdoor Kitchens have to offer.
This year there are 11 Outdoor Kitchens to choose from. Each Kitchen's menu offers wonderful fresh delights with flavors that focus on fruits and vegetables. The kitchens are:  Botanas Botanico, Jardin de Fiestas, Lotus House, Florida Fresh, Primavera Kitchen, The Smokehouse: Barbecue & Brews, Hanami, Taste of Marrakesh, Fleur de Lys, Pineapple Promenade, and Urban Farm Eats.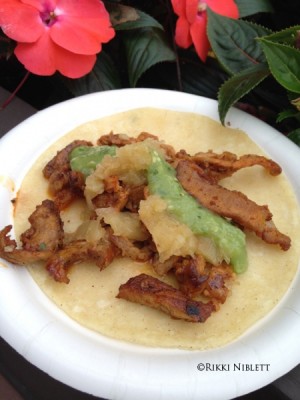 The first stop I made was the Jardin des Fiestas for the Tacos al Pastor, which are a corn tortilla filled with achiote-marinated pork, garnished with grilled diced pineapple, onions, cilantro and salsa verde. It was quite delicious, with meat that was juicy and a little spice. The tortilla part was just alright. This dish was just moderate. It wasn't the best and it wasn't the worst thing I'd tried.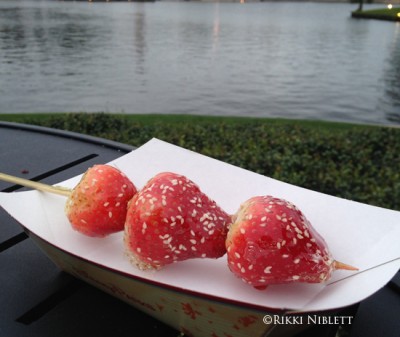 Next I made it to the Lotus House for the Beijing-Style Candied Strawberries. These are my favorite, by far of the festival.  The hard sugar coating helps to make the juiciest strawberries ever! Hands down, if you are only going to get one or two things and you like strawberries…these are a must!  I can't say enough good things about them. Run, don't walk, to the Lotus House Outdoor Kitchen!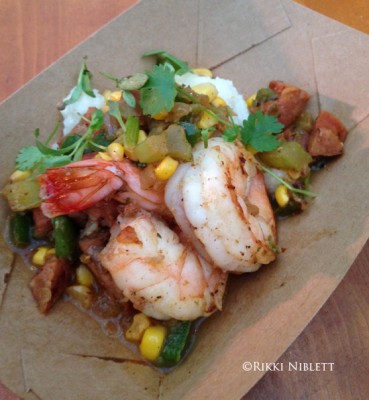 At the Florida Fresh Booth, I tried the Shrimp and Grits, with andouille sausage, sweet corn, tomatoes and cilantro. This was my favorite savory dish that I tried. The shrimp were perfectly cooked, the grits were creamy and buttery, the sausage was just spicy enough, and corn was a nice touch.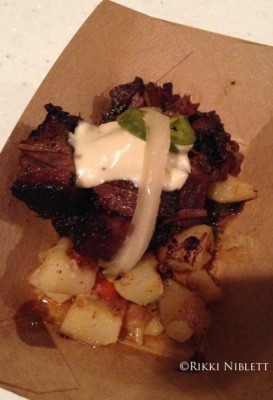 At the Smokehouse, there are quite a few offerings that are great choices. I tried the Beef Brisket Burnt Ends Hash, with white cheddar fondue and pickled jalapeños. This had a great smoked flavor with juicy meat and the cheese was a unique touch. The jalapeños added a nice spice to the dish and there were great flavored potatoes with it too.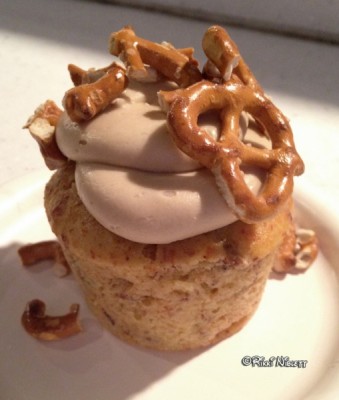 Of course, the Smokehouse is also famous for the "Piggylicous" Bacon Cupcake with maple frosting and pretzel crunch. This is one of those love it or hate it options. The cupcake itself is not super sweet. It's actually reminiscent of cornbread, but it's not made from cornbread.  There are decent sized pieces of bacon, which add a very smoky flavor.  My favorite part was actually the maple frosting. It was the right amount of sweet and the salt of the pretzel enhanced it wonderfully.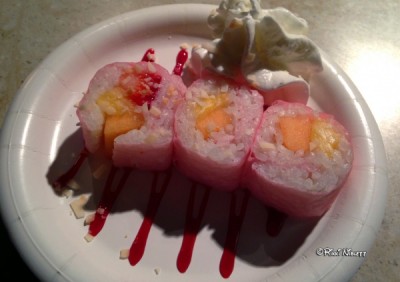 The Hanami booth was near the Japan Pavilion and I tried the Frushi.  It's made with fresh pineapple, strawberries and melon, rolled with coconut rice, topped with raspberry sauce, sprinkled with toasted coconut and served with whipped cream on the side. This one I had high hopes for, but for me, it fell flat. I can see why many like it though.  I think if I were to make it at home, I'd leave out the melon and just do strawberry and pineapple.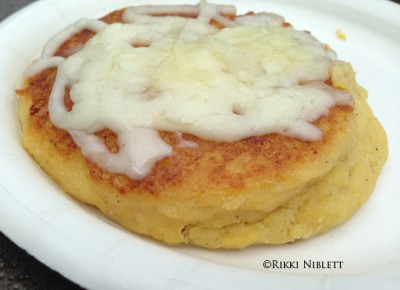 The new booth for this year's festival is the Botanas Botanico. This booth offers many South American inspired dishes. I tried the Cachapa con Queso, a Venezuelan Sweet Yellow Corn Pancake with Cheese.  I actually suggest splitting this one, or making sure you have something to drink with it. I enjoyed the first few bites, it was sort of like eating undercooked cornbread in a pancake form. But then, as time went on, the dish got very dry.  It had very good flavor, so I suggest trying it, but definitely share it.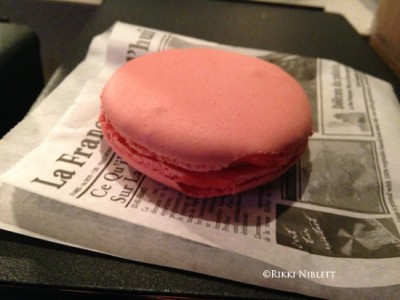 My final stop was the Fleur de Lys Kitchen. Here I tried the new Macaron Guimauve à la Fraise, which is a large Strawberry Marshmallow Macaroon. I actually found this to be a little bland. The best part was when I got to the strawberry jam, which is in the middle of the macaroon. That part had a rich strawberry taste. I was really optimistic that this one would be really good, but it was just alright.
Overall, I think there are quite options at this year's Epcot Flower and Garden Festival's Outdoor Kitchens that I think many will really enjoy. While I thought there were a few misses, most was quite delicious. I love that these are made from fresh tastes too!  The one bonus about the dishes from the Epcot Flower and Garden Festival is that they tend to be bigger, in my opinion, than the Epcot Food and Wine Festival dishes, however, I do find that these options tend to be a little pricier than options during the Food and Wine Festival. Maybe it's because there are less options overall, but the average feels like it is just a bit higher per item.
The best part about the Outdoor Kitchens though really do offer something for everyone, and that's what's most appealing!
For more information about the Outdoor Kitchen menus, make sure to check out our menu page.
What's your favorite Outdoor Kitchen dish at the Epcot Flower and Garden Festival? Let me know in the comments.
Incoming search terms: