This post may contains affiliate links for your convenience. If you make a purchase after clicking a link we may earn a small commission but it won't cost you a penny more! Read our full disclosure policy here.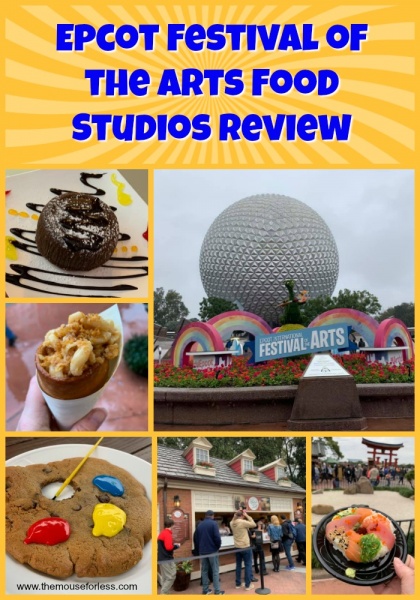 This past weekend, I got to visit the Epcot Festival of the Arts for the very first time. Visiting during this festival has been on my bucket list for the past three years and this year, I was able to make it happen.
For those who don't know, the Epcot Festival of the Arts is a celebration of all things art in all kinds of different forms. So, they can be visual arts, they can be performing arts, and yes, they can be food art. There really is an artistic skill to cooking and let me tell you, this festival proved that!
The Epcot Festival of the Arts utilizes the food booths called Food Studios for this festival, that can be found in each of the countries normally for the Epcot Food and Wine Festival, however they have different names, depending on the types of dishes that are being served.
One thing I noticed immediately is that the offerings at this festival are stepped up a bit. These feel like better cuts of meat, larger dishes, more interesting flavors, and unique options. If you can't tell by now, I think that the food served at the Epcot Festival of the Arts may very well be my favorite offerings across all the different festivals. I was so impressed with the offerings, that I actually changed my plans mid-trip and decided to visit the Epcot Festival of the Arts on both days of my short weekend trip, instead of just the one, like I had initially planned.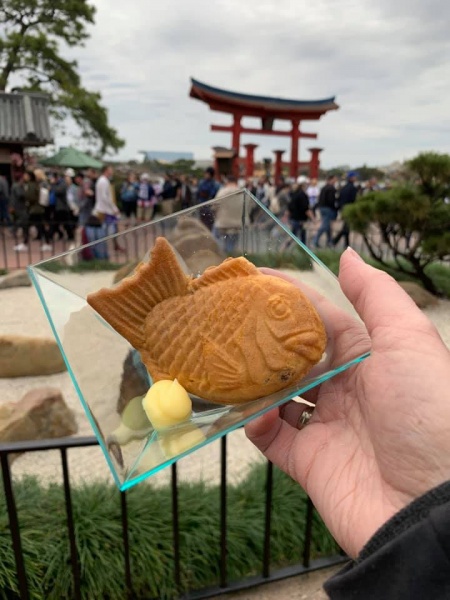 First thing I tried was at the Takumi Table. It was the Taiyaki which is a Fish-shaped Japanese Sweet Stuffed Pastry with Red Bean Paste and topped with Whipped Cream and Sesame Custard. It was a cute little dessert, however, this one is not for me. I am not a fan of red bean paste. So, it was not enjoyable.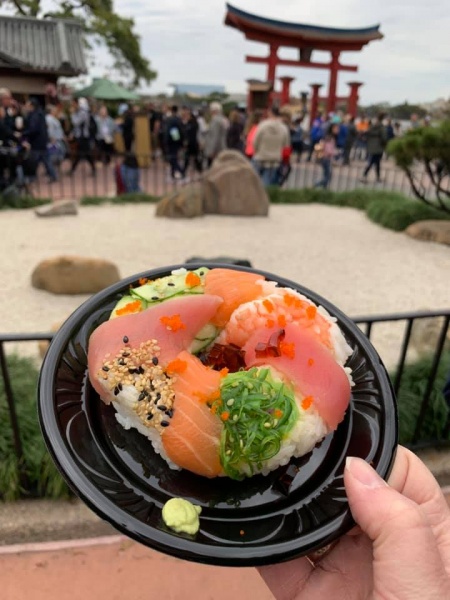 We also tried the sushi donut, which features Salmon, Tuna, Shrimp, Avocado and Masago accented with Citrus-soy Gelée and Wasabi on the side. Sushi fans rejoice at the amount of food on the plate, as well as the different flavors that are here.
One thing that really impressed me right away with this festival though is that they aren't serving food in those cardboard dishes. These are full plates, or in this case, plastic bowls. Dishes felt substantial.
Next was the Artist's Table. I think this was my favorite booth among them all!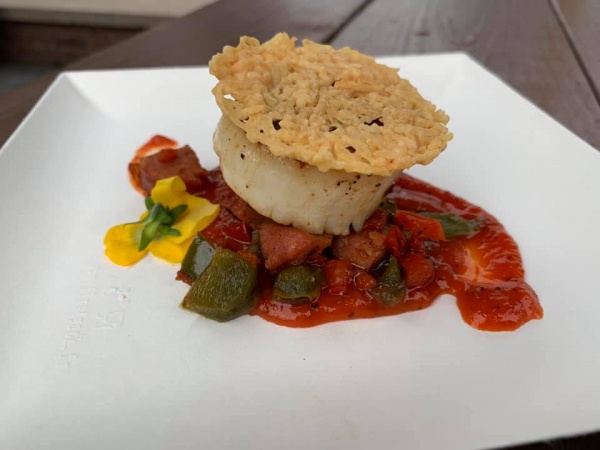 First things first, I tried the Pan-Seared Scallop with Chorizo, Roasted Red Pepper Coulis and a Parmesan Crisp. While I wish I would have gotten more scallop for my money, this was quite delicious. Matter of fact, I want to try to do something similar when cooking scallops at home. The scallop was cooked to perfection, the chorizo added a nice kick, as did the red pepper coulis. It was a very tasty and flavorful dish.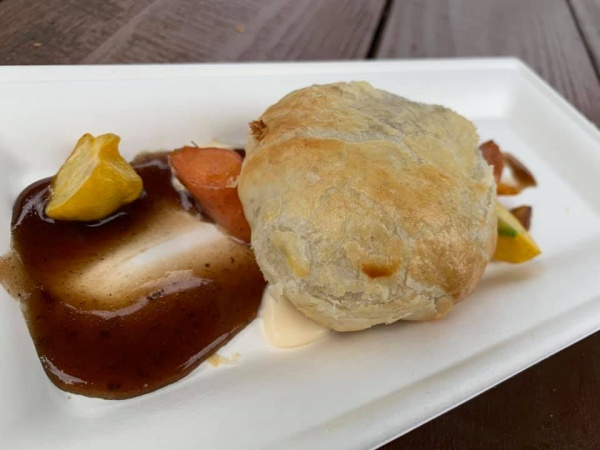 Moving on to what I arguably think was the best dish of the festival was the Beef Wellington with Mushroom Bordelaise, Fennel Cream, and Roasted Baby Vegetables. This was fantastic. The beef was cooked exceptionally well, the puff pastry was light and flaky and the sauces were very flavorful.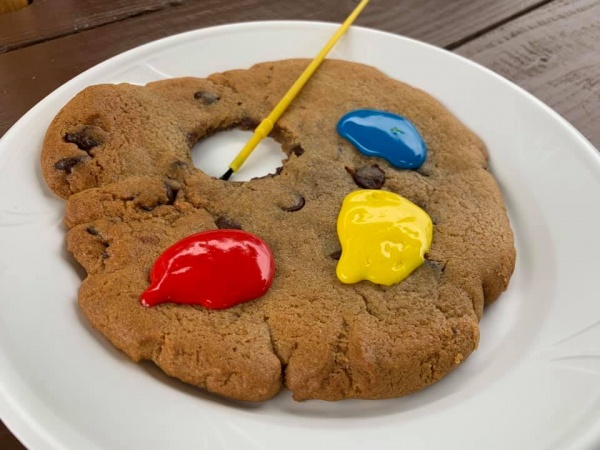 Next, I tried the Artist Palette Jumbo Chocolate Chip Cookie. This is served at many of the dishes and let me tell you, this cookie is huge. I wasn't expecting it to be nearly as large as it was. It was also really good. We smeared the icing all over the cookie and it was delicious. Plus it was soft, which is what you want in a cookie. (More on that in a future article…I'm looking at you Jack-Jack's Cookie Num Num from Disney's Hollywood Studios.)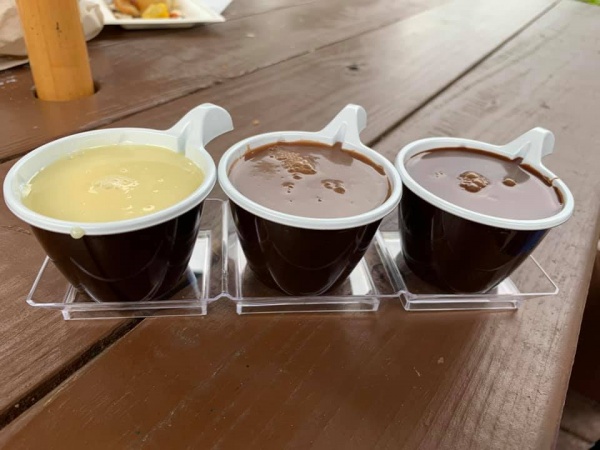 The final thing I tried at this booth was the Sipping Chocolate Flight with White, Milk, and Dark chocolate. Now, I love the Ghiradelli sipping chocolate that's available during Food and Wine….this….this is an option you want to share! Yowza! I am a chocoholic and I couldn't drink it all. It was way too much! My favorite of the three was the dark chocolate, but I split this among three of us and we still couldn't finish it all. If you do want to try, make sure you grab a bottle of water. You will need it!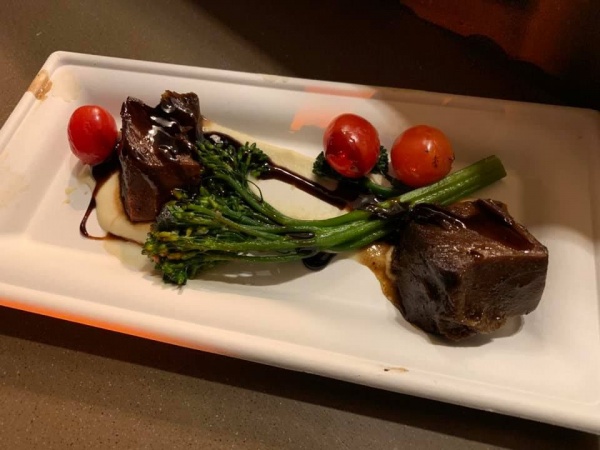 We also made a stop at the Cuisine Classique booth. Here we tried the Red Wine Braised Short Rib with Parsnip Purée, Broccolini, Baby Tomatoes and Aged Balsamic. This was exceptionally good. The braised short rib was fork tender and the balsamic added a nice kick. The tomatoes and broccolini rounded the dish out with good vegetable options.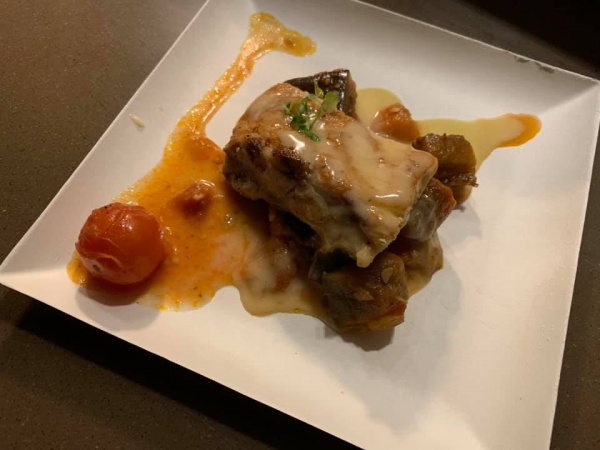 My surprise delicious option though was the Seared Corvina with braised Ratatouille and Lemon-Thyme Beurre Blanc. This wasn't a dish I wanted to try, but someone in my party did. So, I took a bite and holy cow! I wished I would have gotten one for myself. The white fish was flaky and the sauce gave it a nice flavor.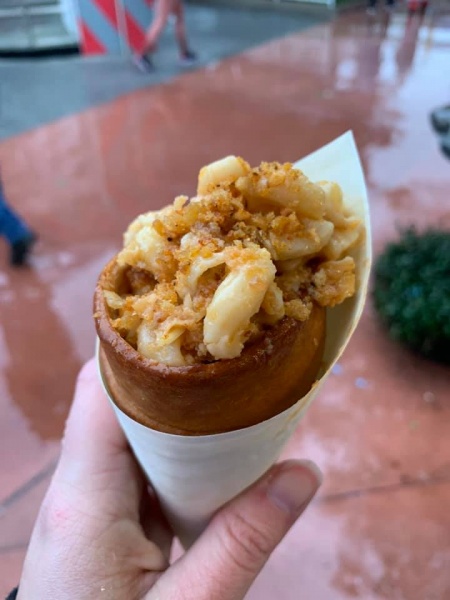 The next item we tried was the Lobster Bacon Macaroni & Cheese served in a Warm Bread Cone which can be found at Taste Track, over by Test Track. While not technically a Food Studio, this is a special offering for the festival. This was delicious. There were decent hunks of lobster, the macaroni and cheese had good flavor, and the bread cone was a unique way to serve it. I did think my bread cone was little chewy, but other than that, it was a solid dish.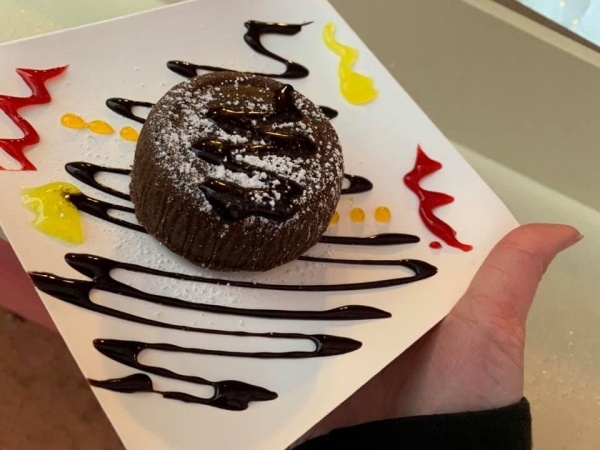 From there, I stopped at the L'Art du Cuisine Francaise for the Moelleux Aux Chocolats Valrhona which is a Molten Chocolate Cake with Pure Origin Valrhona Chocolates. If the Beef Wellington was my favorite entree, this was my favorite dessert. Impeccably plated, (I watched them create this design on the plate while I waited) this was a chocolate lover's dream and not completely overwhelming. It was exceptionally chocolatey, but thanks to the different textures, it was more palatable than the straight up drinking chocolate. I would get this again in a heartbeat.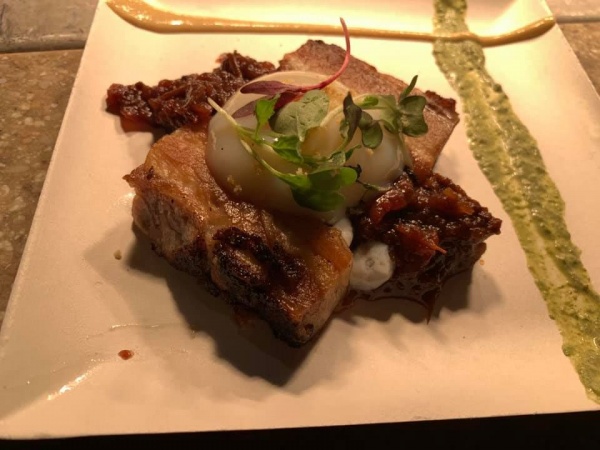 The final booth I tried was the Deconstructed Dish. This was the one I was most excited about because it's the one that I think showcases the artistry that goes behind the food the best. I got the Deconstructed BLT with Crispy Pork Belly, Tomato Jam and Soft Poached Egg, which was everything I wanted it to be. The pork belly was salty and fatty, just what you want, the poached egg added a nice moistness, and the tomato jam added some zip. This is another dish that I want to make at home.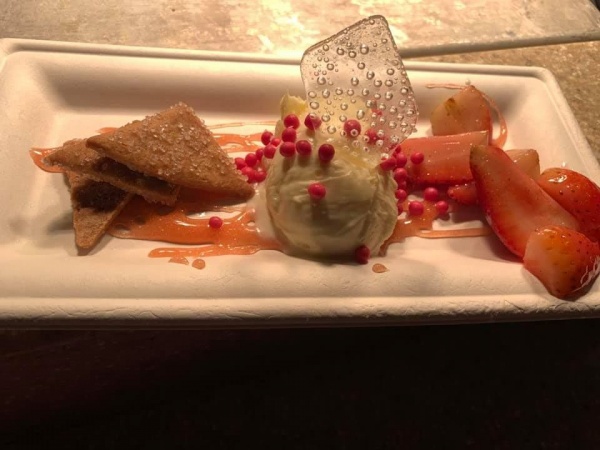 Finally, I tried the Deconstructed Strawberry Cheesecake which is Whipped, New York Style Cheesecake with Fresh Florida Strawberries and Sugar Cookies with Micro-basil. I know it's cheesecake….but this was also delicious! The cheesecake itself was nice and light with a creamy sweet flavor, the strawberries were fresh and the juice was perfect, and those sugar cookies had a great crispness and paired with the cheesecake and strawberries perfectly.
Overall, like I said before – I found that the dishes at the Epcot Festival of the Arts were leaps beyond the other festivals at Epcot. The dishes were innovative and yummy, and they were good sized portions overall. We split many of these dishes between my party and even still, we left entirely full. I'm hoping that Disney will continue to offer the high quality food options during this festival as we move forward. Because if they do, I will for sure be returning as many times as I can to this particular festival.
Have you tried the dishes at the Epcot Festival of the Arts? Which was your favorite? Let us know in the comments, or on Facebook or Twitter!