This post may contains affiliate links for your convenience. If you make a purchase after clicking a link we may earn a small commission but it won't cost you a penny more! Read our full disclosure policy here.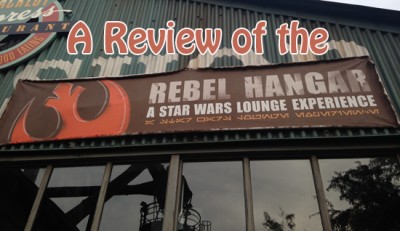 Can you believe that I'd never been to Star Wars Weekends at Disney's Hollywood Studios?  That is until just a few days ago when I attend my first ever event! Even as a non-Star Wars fanatic, I had an absolute blast! It was such a great and entertaining atmosphere. Which brings me to today's review.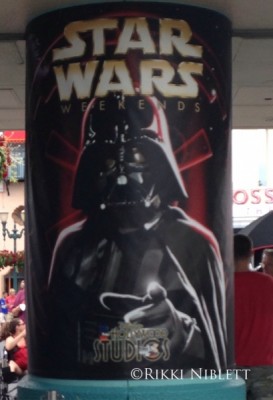 You see, just a few weeks prior to Star Wars Weekends opening date, Disney announced a brand new dining experience, called Rebel Hangar – A Star Wars Lounge Experience.  This dining establishment can be found in a closed off section of Backlot Express and the area has been transformed into a fun Star Wars haven.
The Rebel Hangar is different than the two character meals found during the Star Wars Weekends time period.  This is not an all you can eat buffet dinner or plated (all you can eat) breakfast.  Instead, this meal consists of plated small plates that guests can order.  There are 8 small bites in all, plus beverage options, and desserts. Oh and what's super fun is that the menu options are all "themed" around Star Wars, or have some sort of Star Wars tie in.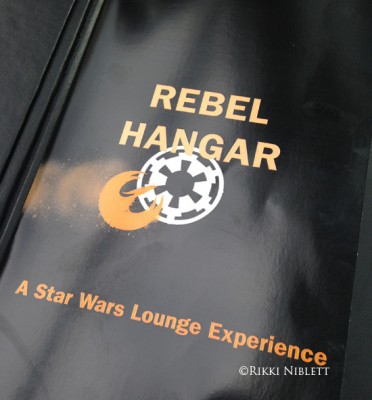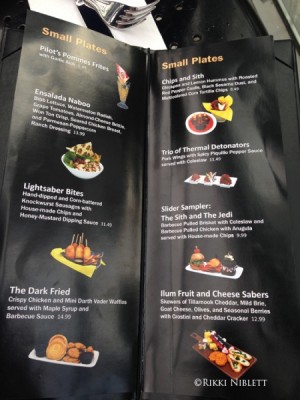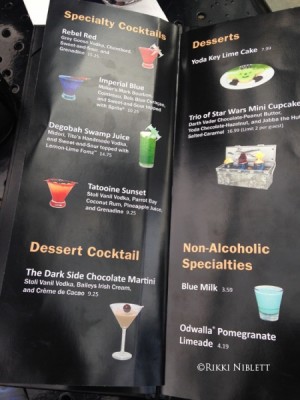 The other difference between this meal and the character meals of Jedi Mickey's Star Wars Dine at Hollywood and Vine and the Star Wars Galactic Dine-In Breakfast is that while there are characters who appear at this experience, it is not a character meal, per se.  Instead, these characters are there to help set the mood that this is a place where Rebel pilots, aliens and smugglers hang out. Sure, they will take photos with you, but that is most certainly not their purpose.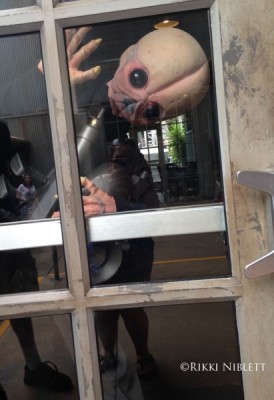 Guests are able to make reservations for this meal, however, since this trip was kind of last minute, I was unable to obtain one.  The restaurant does allow for walk-ups, if they are available.  We first tried to get a walk-up right at 4:00 p.m., when the lounge opens, but were told to come back in about an hour to an hour and a half because they were not currently accepting anyone without a reservation. So we walked around, did some attractions and returned.
This time, we got lucky and were able to obtain a walk-up.  We received our pager and only had to wait about 10 minutes.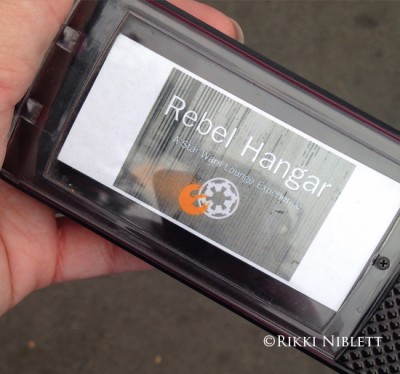 Those who do not have reservations are seated outside, which was perfectly ok with me.  At first, I thought we were going to be slighted in regards to the whole experience due to being seated outside, but I quickly found that that was not going to be the case, as one of the Cantina Band Members came over immediately and started giving his suggestions of what we should order.
It was so great to watch the characters interact with guests.  I especially enjoyed watching the Jawas trading; it was so cute to watch them react when they were satisfied that they got a good trade.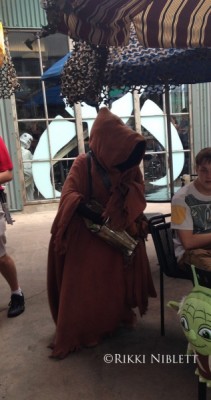 For those who are fans of Star Wars Rebels, Ezra and Sabine were on hand to mix with guests.  In addition, Greedo was there keeping an eye on things too.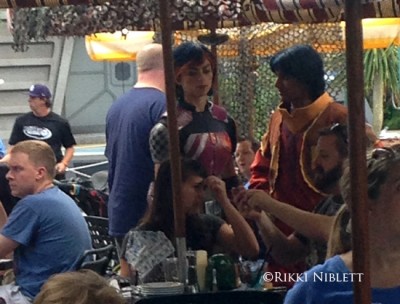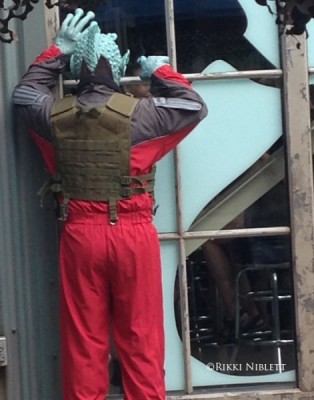 The characters don't visit every table…we only got to interact with the Cantina Band Members, but it didn't matter. It was fun watching the characters interact with everyone.  I just loved the fun and light-hearted atmosphere of the lounge.
It was also so pleasant sitting outside. Luckily, it wasn't too terribly warm out, so it was comfortable dining al fresco that particular evening.  As I mentioned, I much preferred it to the indoor area, which was nice, but I thought was rather dark when I went exploring.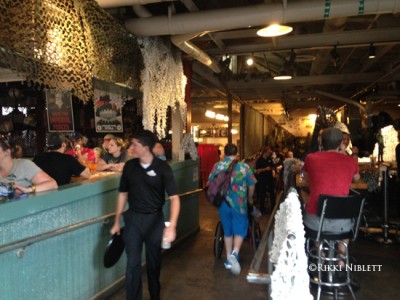 Ok, let's get to the good stuff…the food!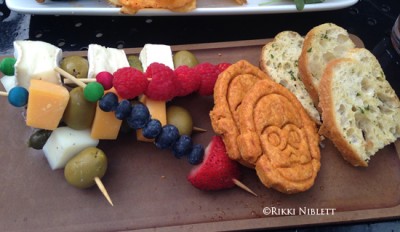 We tried a couple of different dishes.  The first was the Ilum Fruit and Cheese Sabers. These were skewers of tillamook cheddar, mild brie, goat cheese, olives, pickles. Plus additional skewers of raspberries, blueberries, and strawberries. There was also crostini and cheddar crackers shaped like C3PO.
This was exceptionally delicious.  It was a great light nosh. I particularly enjoyed the cheddar cheese, the crostini and the cheddar crackers, which were actually not crunchy and more soft, like a bread!  The fruit was extremely flavorful as well.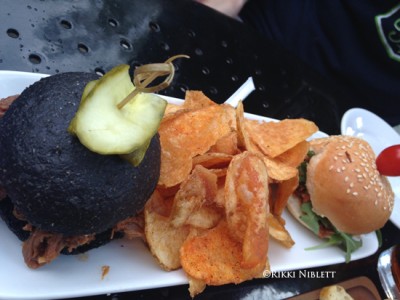 Then I tried the Slider Sampler: The Sith and the Jedi. This consisted of a barbecue pulled brisket with coleslaw and a barbecue pulled chicken with arugula served with house-made chips.
I split this with the hubby and while the chicken was good, I do wish they would have piled a little more chicken on the sandwich; it was mostly bread.  The overall clear winner of the two though was the brisket, which was moist and delicious.  There was also plenty of meat piled on top of this sandwich.  The chips were also quite good, but I'm always a fan of homemade chips!
We were both full, but contemplated dessert, so we knew we had to try it.  My husband tried the Yoda Key Lime Cake because he loves anything with the term Key Lime in it.  He proclaimed it delicious.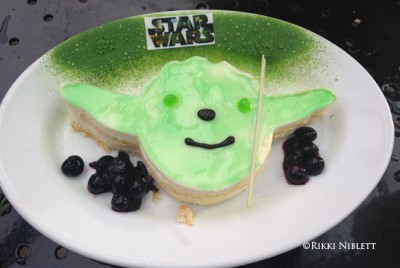 As for me, I went with the Trio of Star Wars Mini Cupcakes. Now normally, this dessert comes in a cute Han Solo in Carbonite bucket, however, not exactly being a huge Star Wars fan, the bucket was of no use to me, so I requested to see if I could get the dessert sans container.  Turns out you can and it's about half the price! ($8.99)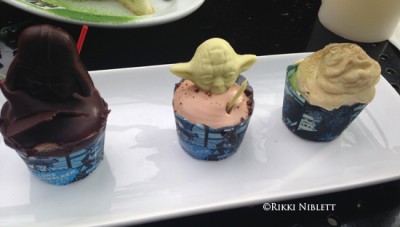 The cupcakes were delicious!  They were moist and just the right size. My favorite, hands down is the Darth Vader chocolate-peanut butter cupcake. I thought that the Yoda chocolate-hazelnut cupcake would come in second, but it actually came in third, because I very much enjoyed the Jabba the Hutt salted caramel cupcake! It was phenomenal! (And green!  I wasn't expect that!)
The only problem I have with the cupcakes…I can never get them out of these types of wrappers!  They don't just come out, you either have to smash them or eat them with a fork out of the container. I wish that there was a way you could peel the wrapper off easily. No matter.  I devoured all three.
Overall, I very much enjoyed my time at the Rebel Hangar. I do wish that there were a few more choices on the menu, 8 seems just a tad bit under represented, but I thought it was certainly a diverse menu, even if it was a bit minimal. There were lots of choices to suit lots of different tastes and cravings.
I am so glad I attempted to get a walk up at the Rebel Hangar, because looking back at the very, very busy weekend (I attended the 24 hour event for part of the day and ended up staying until 6:00 a.m.!) dining at the Rebel Hangar was a highlight.  It was so relaxing and enjoyable and I truly didn't have a care in the world.  I was just there, enjoying the experience and watching as Jawas traded, Cantina Band Members stopped by, and the theme park around me faded into oblivion. I may have actually been transported to the Rebel Hangar…I'm really not entirely sure.
If you get the chance to try this unique meal out during the next couple of weeks, (it's only available on Fridays, Saturdays, and Sundays during Star Wars Weekends) make sure that you do! You won't regret it.
Have you tried the Rebel Hangar at this year's Star Wars Weekends? If not which item appeals most to you?