This post may contains affiliate links for your convenience. If you make a purchase after clicking a link we may earn a small commission but it won't cost you a penny more! Read our full disclosure policy here.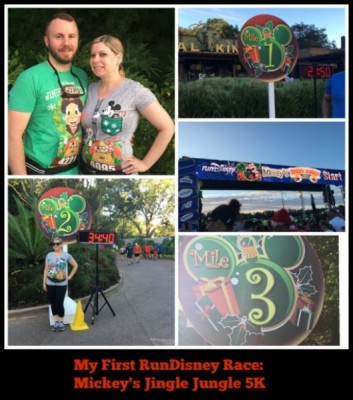 One of my goals and Disney Bucket List items for 2015 was to participate in my first RunDisney 5K. When I set that goal back in January, most of the races for 2015 were already sold out, so my options were pretty limited. Then in the summer, the Wine and Dine Half Marathon weekend dates were announced and I saw that they were offering a 5K option. Since I've never been a runner and have hated running my whole life, I though the 5K would be the best option for my fiancé and I.
When registration for the Jingle Jungle 5K opened (a week early for us, since we are annual passholders), the whole process was a giant mess. Thankfully, I had read up on the registration nightmares and had my computer screen up and ready right before noon, which is when registration always opens for any RunDisney event. The page was slow and I was barely able to make it through my registration form. When I logged out and logged back in for my fiance's registration, the page wouldn't even load anymore and a few minutes later, I saw on the RunDisney Facebook page that the event has sold out. Thankfully, this was only the early registration period and I was then able to sign my fiancé up the next week when registration opened up to the general public. Registration is no joke—be prepared right on time or you most-likely won't get into the race you want.
Now that we were registered, we had 6 months to train for this race! While I've never been a runner, and I know you can definitely walk a 5K, I knew that I wanted to make good timing, so about 3 months before the race, I started training using a 5K running app on my iPhone. This program worked out great, as I was able to train on the treadmill during my hour-long lunch breaks at my work gym. By the week of the race, I was more than ready and pumped for the race. Even though training isn't completely necessary for a 5K, I would highly recommend at least doing some training before your first race, so that you'll be prepared and know what you're getting into.
The night before the race, we drove out to the ESPN Wide World of Sports to pick up our registration kits for the race. Once there, we got our race bibs, t-shirts, and event guide. I also bought one of the Jingle Jungle 5K pins and a magnet, since that was pretty much the only merchandise they had available for the 5K. RunDisney may not think that a 5K is a big deal, but this was my first race and I was excited and had hoped for more merch.
Free 5K shirt and running bib, car magnet, pin, medal, and event guide
We woke up bright and early at 4am the morning of the race and drove out to Animal Kingdom. We had no issues parking and actually got there with plenty of time to spare before the race. If you are a first-time runner like I was, you won't have any proof of time and you will be placed in the last corral. I thought this would give us a disadvantage, but our start time was only about 10 minutes after the first corral started.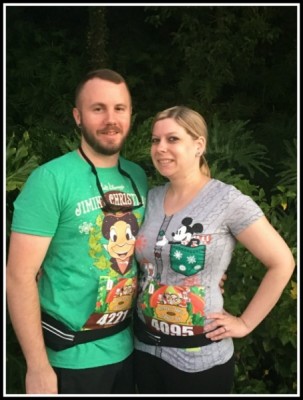 Waiting in our corral for the race to start
The race started at 7:00 a.m. and once our corral was moved up to the front of the starting line, we had Mickey and Minnie (along with DJs playing music) ready to cheer us on. On your marks, get set, GO! Within a few minutes, we were power-walking through the parking lot of Animal Kingdom. About 5 minutes into power walking, our motivation kicked in and we started jogging. While I had trained to do a combination of both walking and jogging, I ended up jogging nearly the entire time! In no time, I had approached Mile 1!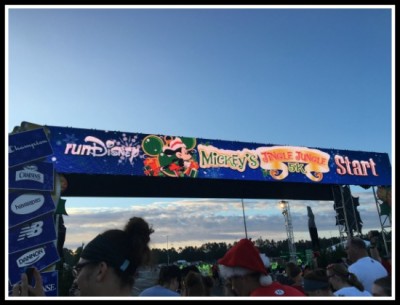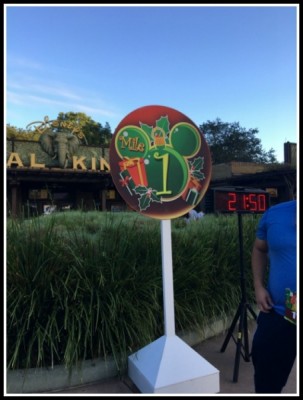 The Jingle Jungle 5K had many cute, festive character meets set up inside Animal Kingdom, but with this being my first race and being scared of being swept, I passed by all the character meets. I did manage to get this picture of Chip and Dale and in their holiday outfits between meeting guests.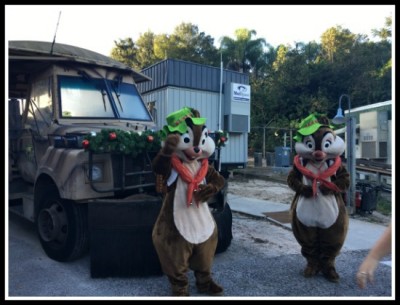 To give you a little reference, the first mile of the race was entirely in the Animal Kingdom parking lot, mile 2 was all in the park, and mile 3 was backstage and back into the parking lot of Animal Kingdom. There was plenty to look at during the race and the paths were wider than I thought. Never did I feel like I was in anyone's way or being pushed out of the way. The run was quick and smooth and I really enjoyed it.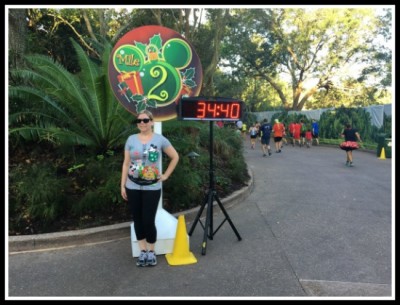 By the time I reached Mile 3, I saw the finish line ahead of me and lots of cheering people. I was so excited and this gave me extra motivation to push for that last .1 of a mile. I reached the finish line and was handed my (plastic) medal. Hooray!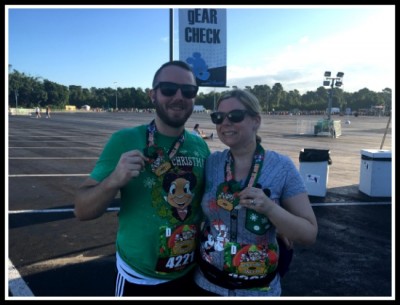 After stepping out of the way of the finish line, there were volunteers handing out bottles of water, Powerade, bananas, and post-race snack boxes. After snapping a quick post-race victory photo, we chugged down some water and of course that banana to avoid and muscle cramps! We gave ourselves a few minutes to cool down (it was REALLY hot and humid for November) and then headed back to the car. We went home to freshen up and then headed back to Epcot to celebrate our first 5K victory at the Food and Wine Festival…with medals in tow, of course.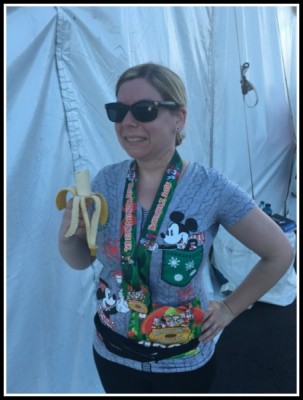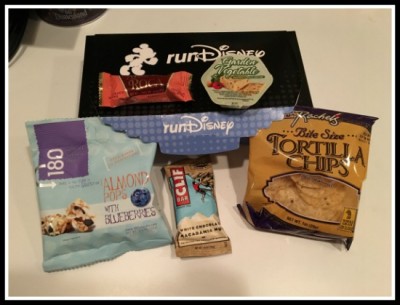 If you're contemplating running your first 5K with RunDisney, I highly recommend it. The Jingle Jungle 5K was so well organized and we had a blast. The 5K is a great place to start and wasn't difficult to complete with the proper training. I'm now starting my 10K training and am registered for the inaugural Star Wars 10K in 2016. I can't wait!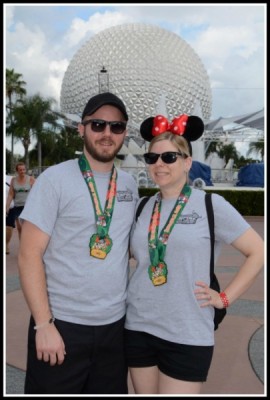 Have you ever thought of running a 5K? Which RunDisney event is your favorite?
Incoming search terms:
https://www themouseforless com/blog_world/first-rundisney-race-mickeys-jingle-jungle-5k/