This post may contains affiliate links for your convenience. If you make a purchase after clicking a link we may earn a small commission but it won't cost you a penny more! Read our full disclosure policy here.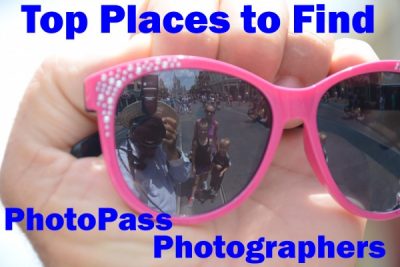 Do you love photos?  Then you absolutely need to take advantages of Disney's photographers.  Disney PhotoPass photographers are Cast Members that have been trained to take amazing photographs of your family throughout Walt Disney World.  Here are some top places to find these amazing Disney PhotoPass Photographers.
Park Icons
The first place you can find these photographers are in front of the four main parks (Magic Kingdom, Epcot, Animal Kingdom, and Hollywood Studios) icons.
Daughter in Front of Castle
In the Magic Kingdom, you can find photographers almost every few yards down main street from the train station to the castle.  This gives you a variety of different choices when it comes to getting your family's picture in front of Cinderella Castle.  You can choose to have the castle more in the distance, close up or even choose to include the famous partners statue in your picture with the castle.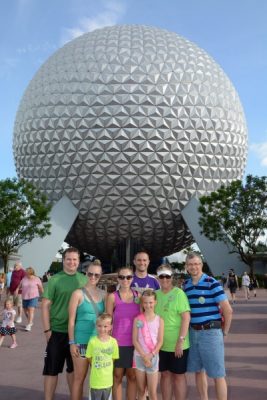 Spaceship Earth
In Epcot, photographers will greet you as soon as you walk into the main entrance allowing you to get an amazing picture of Spaceship Earth in the background.  Just like Cinderella Castle in Magic Kingdom, you will be able to choose how close to Spaceship Earth you would like to be.  My suggestion, take as many as possible!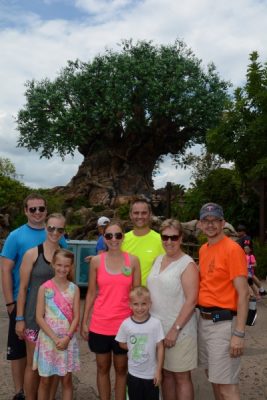 Family by Tree of Life
In Disney's Animal Kingdom, the Tree of Life will have a variety of different photographers waiting to take your picture with this amazing icon in the background.  Make sure you take time to take pictures close up to the tree as well as further away.  This will allow some different views and details to be seen in your pictures.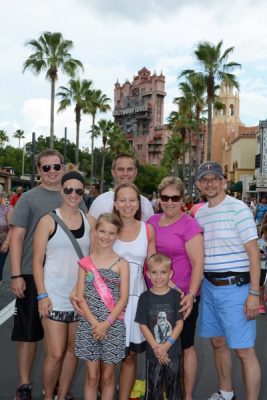 Tower of Terror
In Disney's Hollywood Studios, it seems like the icon is constantly changing.  I found a variety of photographers waiting down Sunset Blvd towards Tower of Terror.  They were taking a variety of different photos using Tower of Terror as the main focus of the pictures.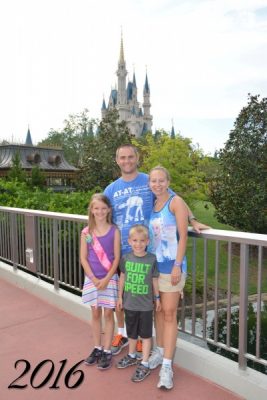 Castle View from Tomorrowland
When thinking of the park icons, you can also find Disney PhotoPass Photographers taking pictures of these icons from different views around the park.  There are often photographers taking pictures on the bridge towards Tomorrowland using the side of the castle as the background.  We have also taken pictures on the Adventureland side as well as the back of the castle giving some unique views of the castle that normally aren't seen.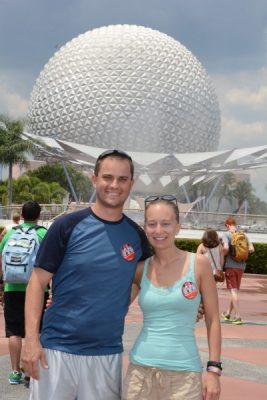 Spaceship Earth from Future World
Spaceship Earth can be seen throughout Epcot and therefore you can find photographers throughout the park taking pictures of this icon.  Often photographers can be found in Future World taking pictures of Spaceship Earth and the fountains.  In the World Showcase, you can also find photographers taking pictures of Spaceship Earth across the water.  The Tree of Life can also be seen throughout Animal Kingdom allowing for photographers to claim spots throughout Asia and Africa to take pictures from a distance.
Other Park Icons
Each of the four main parks has specific icons that the Disney PhotoPass photographers can easily be found taking pictures; however, each park has other icons that these photographers also can be found waiting for your smiling face.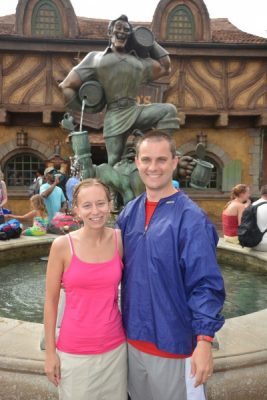 Outside Gaston's Tavern
Magic Kingdom seems to continue to add to their icons each year.  Before entering the park, make sure to take your pictures in front of the train station.  This is a another great place to grab that family photo and if you can time it right, you can even get the train in the background.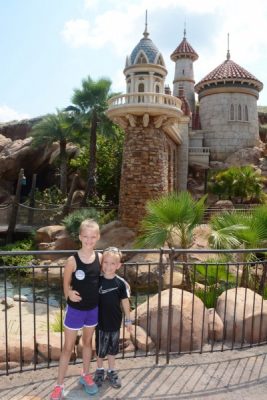 Kids Outside Eric's Castle
Another great spot to find photographers is back in Fantasyland.  Fantasyland offers numerous opportunities for amazing photos.  You can find photographers waiting for you at Rapunzel's tower, Beauty and the Beast's castle as well as outside Eric's castle and ship.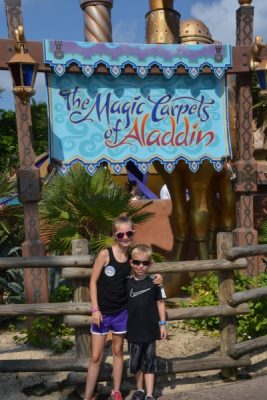 Magic Carpet Ride
 In Adventureland, you can stop by the Magic Carpets and take a picture with the flying carpets and camel, but watch out!  It spits!
Big Thunder Mountain
Big Thunder Mountain is another place that you can find photographers waiting for you after experiencing your adventure.  Other places to find photographers throughout Magic Kingdom would be the Rose Garden, the Wishing Well as well as each of the different lands.
Animal Kingdom now will have more icons than before with the opening of Pandora – The World of Avatar.  We enjoy getting our pictures with Everest in the background.  You can do this closer up to the ride, or photographers can usually be discovered on the bridge between Dinoland and Asia.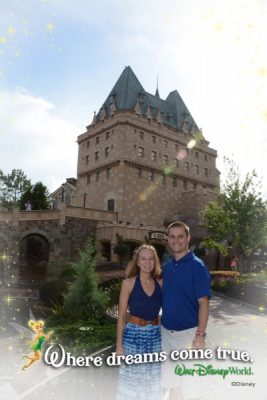 Taking Pictures Throughout World Showcase
Epcot will have, I think, the most photographers as they are easy to find throughout the countries in the World Showcase.  France, Japan, Morocco and Mexico are all countries that we typically find photographers ready to take pictures.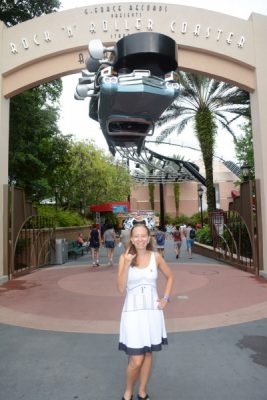 Rock n' Roller Coaster
Hollywood Studios offers some unique backgrounds as well.  Outside Rock n' Roller Coaster, you can take pictures with large guitar or even the upside down car.  Both of these shots offer some fun photo opportunities.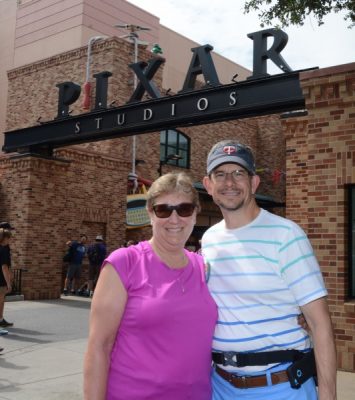 Pixar Sign in Hollywood Studios
The Chinese Theatre, the Hollywood Studio sign before entering the Animation Courtyard as well as the Pixar sign are all places that you can find PhotoPass photographers in Hollywood Studios.
Characters Meet and Greets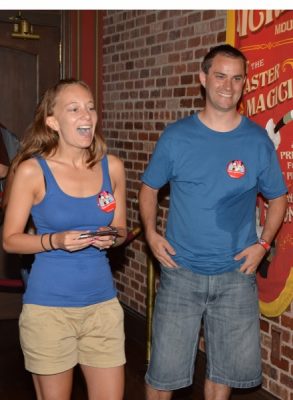 Capturing the Excitement of Meeting Mickey
Another place you can find photographers ready to take your picture is at character meet and greets.  Photographers are found with characters throughout the parks.  This is a great opportunity to capture that magical moment when your kids (or you) get to meet Mickey for the first time on Main Street.    Even though you can use your own camera in these moments, I have found the these trained photographers are able to capture all the magical moments of the character interaction not just the posed picture.  This is a great way to get the most out of these photographers.
Special Events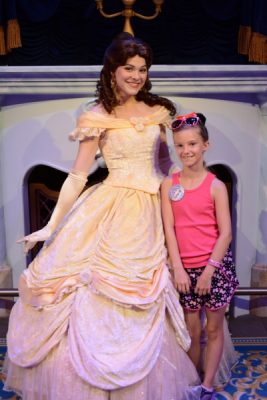 Enchanted Tales with Belle
Special events are also a great place to find photographers in Walt Disney World.  From Disney's Bibbidi Bobbidi Boutique to the Pirate League photographers are there to snap away at the magical transformation.  Disney also uses photographers at events such as Jedi Training or Enchanted Tales with Belle.  This allows you to get that magical interaction without missing out of the adventure yourself.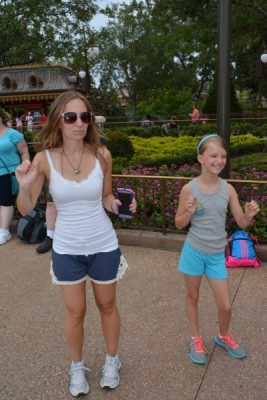 Capturing our Dance Moves in Magic Kingdom
Lastly make sure you keep your eyes open as photographers are often walking around and can capture your magical moments for you.
As someone who absolutely loves photographs and making scrapbooks of our memories, I love finding as many photographers through Walt Disney World as possible and having our magical trip captured by these trained professionals.
Looking to take full advantage of the Disney PhotoPass Photographers? Consider purchasing Memory Maker, which will let you be able to purchase and download all your photos that are taken by Disney PhotoPass Photographers during your vacation.
Where are your favorite spots to have Disney PhotoPass Photographers take your photos? Share them in the comments.
Did you like this article? Make sure to share it with your friends! Check below for easy ways to share!
Incoming search terms:
https://www themouseforless com/blog_world/find-photopass-photographers/
https://www themouseforless com/blog_world/find-photopass-photographers/#:~:text=Park Icons , and Hollywood Studios) icons &text=In the Magic Kingdom, you train station to the castle
https://www themouseforless com/blog_world/find-photopass-photographers/#:~:text=In the Magic Kingdom, you in front of Cinderella Castle
magic kingdom photographer locations
photopass locations disney world