This post may contains affiliate links for your convenience. If you make a purchase after clicking a link we may earn a small commission but it won't cost you a penny more! Read our full disclosure policy here.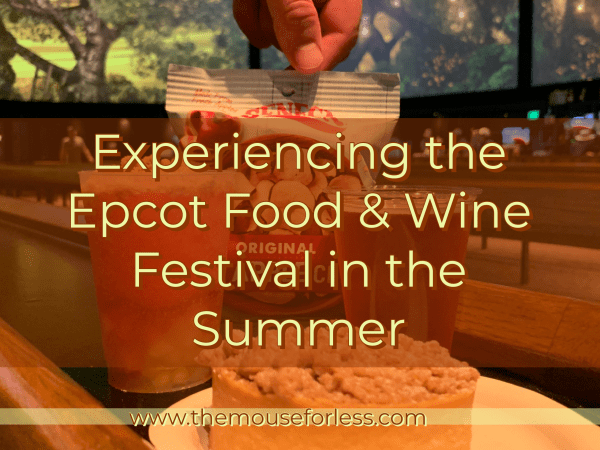 So, this year, the Walt Disney World Resort decided that it would be a great idea to kick off the EPCOT Food & Wine Festival in the middle of July. Nothing says good idea like trying to eat hot foods while traveling around in temperatures that are ridiculously warm, right? Well, on my most recent trip, we decided that we were going to do just that. We went to EPCOT to enjoy some delicious Food & Wine Festival options as our lunch, but we went into the endeavor with a smart plan.
You see, it was probably 95 degrees out the day we went to EPCOT and it was 100% in the middle of the hot part of the day….but this year, Disney got smart, so we did too! There are actually a number of booths that are available this year that are INDOORS!! So, that was our goal! We were going to dine at all the indoor booths!
Our first stop though was at Flavors from Fire, which yes, is outside, but I wanted to pick up the s'mores whoopie pie! Don't worry, it was coming with me on my journey!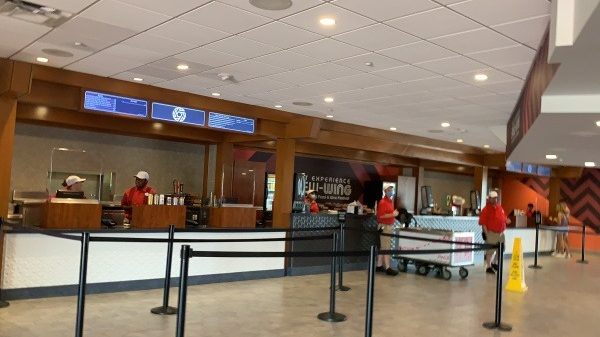 Our next stop was to head into the Brew-Wing marketplace. This can be found inside The EPCOT Experience (formerly, The Odyssey). At Brew-Wing, they serve up, you guessed it….various types of chicken wings! There are a number of choices, like Barbeque, Buffalo, and Mango-Habanero, but we got the Garlic-Parmesan option!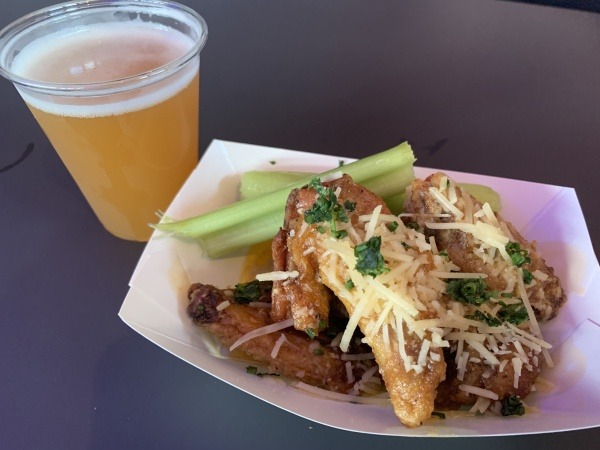 So, we dove into the wings and they were quite delicious. There were 6 and they were ok sized wings with good flavor! I enjoyed them very much actually and strongly suggest picking up a few different kinds of wings and splitting them all amongst a group.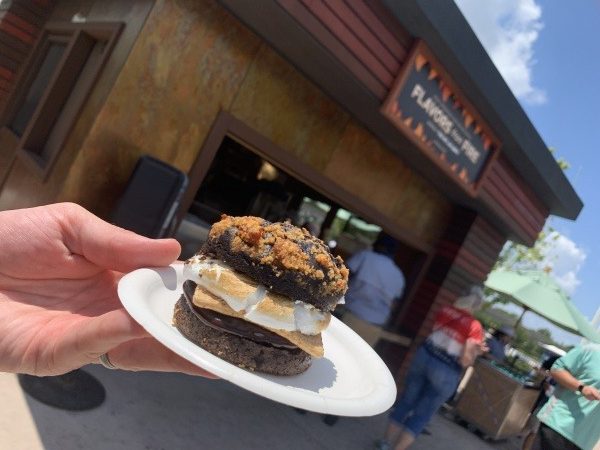 We also finally tried the S'more Whoopie Pie and let me tell you…this thing was really large! It had a good chocolate flavor that certainly overpowered a lot of the other traditional s'mores flavors. The one unique aspect though…there was certainly a smoky flavor….kind of reminded me of the smell of Rome in Spaceship Earth. I would totally get this again and probably will as the festival chugs on.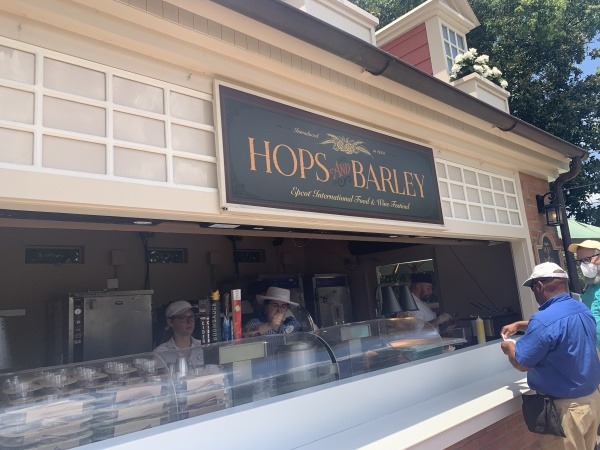 Our next stop was the Hops & Barley Booth at the American Adventure Pavilion. Here, we got the Lobster Roll and the Carrot Cake. Now, while there is no where to dine for this booth indoors, there is a spot right next door with the brand new Rotunda Bistro. What's the Rotunda Bistro? It's actually a booth and tables INSIDE The American Adventure lobby!
The lobster roll was honestly one of the best lobster rolls I've had from the festival. It had a lot of lobster meat, very little mayo, and the bread had a great buttery taste! I actually ALMOST bought a second one right there on the spot.
We also got the carrot cake, which is a favorite of mine. It's coated in delicious cream cheese icing and served warm. It's a great, solid dish.
Our final stop was the Appleseed Orchard, which can be found inside the Canada Pavilion, where Canada Far and Wide is played. (The circle-vision theater that's inside the pavilion). This is another great spot, which offers up all dishes that are made from apples.
Here, we picked up the the Apple Crumble Tart and the Apple Chips, as well as the Frozen Apple Pie.
Again, I found the portion size to be very good for the Apple Crumble Tart. And the flavors were incredible! Again, this was a total home run.
The Apple Chips….well, let's just say, I don't think I was the demographic for those. I think these are for the kiddos….something that isn't scary for them to try.
The Frozen Apple Pie was interesting. It actually had apples in the bottom….and the whole thing really did taste like apple pie. I thought it was good, but I don't know if I would get it again.
Overall, we definitely had a great time sampling dishes and there are definitely some things I would get again. And definitely take our advice….try the indoor locations when it's 95 degrees out…trust me….you'll be glad you did!
What do you want to try at this year's Epcot Food & Wine Festival? Take a look at the menus here. Let us know in the comments or on Facebook or Twitter!
Did you like this article? Make sure to share it with your friends! Check below for easy ways to share!  
Want to visit a Disney Destination? Contact The Magic for Less Travel for more information and a free, no-obligation quote.