This post may contains affiliate links for your convenience. If you make a purchase after clicking a link we may earn a small commission but it won't cost you a penny more! Read our full disclosure policy here.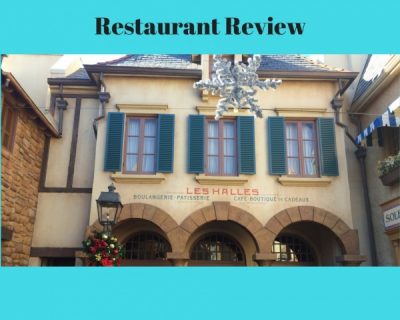 Welcome to Les Halles Boulangerie-Patisserie, in Epcot!
Ah, Les Halles Boulangerie-Patisserie. You know those little unknown spots at Walt Disney World, the ones that no one seems to know about and you stumble upon by accident?
Yeah, well, this isn't one of them.
Pretty much anyone who has ever stepped foot in Epcot will tell you that you simply must visit "the French bakery" when you're there. They rave about the sweets, the pastries, the baguettes, the eclairs. In fact, on the last day of my daughter's first trip to Walt Disney World, my husband walked to Epcot from the Beach Club Villas so that he could grab croissant sandwiches to bring with us on the plane trip home!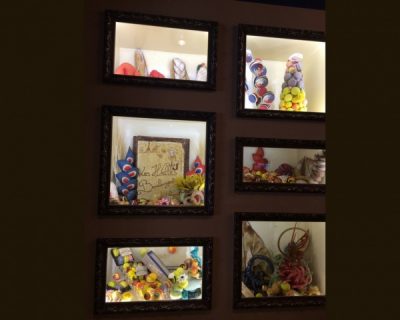 Design detail inside the restaurant
One thing is certain with my family: we do not visit Walt Disney World without a stop in Les Halles Boulangerie Patisserie. This small, sweet spot located at the back of Epcot's France pavilion has been a favorite of ours since our very first visit.
In the first week of January, my family visited here for lunch. A counter service restaurant, this bakery and café includes small seating sections both indoors and outdoors, and a gift shop.
This place is famous for its desserts and pastries, and many people come here as soon as it opens for a late breakfast. But at lunchtime, hot and cold sandwiches, quiches, soups (including an impressive French Onion), salads, and chicken dishes join the lineup. French fries (in French, Pommes Frites) and salads are options for sides. Kids' meals are also featured, including grilled cheese, tomato soup, chocolate milk, and green beans.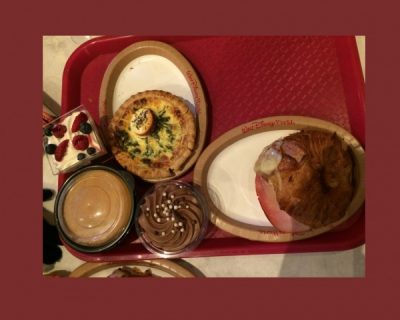 Clockwise from top left: Berry Parfait, Quiche Florentine, Croque Monsieur, Chocolate Mousse, Tomato Soup
It was cold outside, and I wanted something hot, so I ordered the Quiche Florentine, made with spinach and goat cheese. It was served piping hot, the cheese and eggs delightfully gooey, and tasted fabulous. I preferred this to the quiche I ate days earlier for lunch at Be Our Guest.
My husband ordered the Croque Monsieur, a ham and cheese sandwich on a croissant which was then toasted and served warm. He said this hit the spot on such a cold day!
For dessert, we ordered both a fruit parfait and a chocolate mousse, and split them both. The chocolate mousse was light and airy, but I found it tasted too sweet and didn't have a strong enough chocolate flavor.
The fruit parfait was made with a yogurt mousse and fresh berries. This was delicious. The mousse was tangy while still sweet, and the berries were fresh and tasty.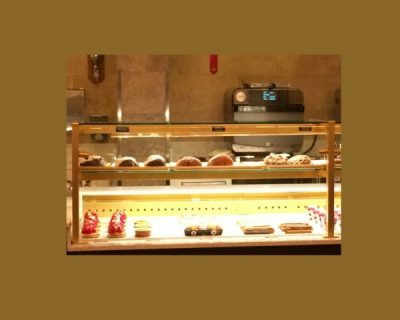 Some of the tasty treats available
The one downside to the Boulangerie Patisserie is the small seating area. We arrived here at 11:20 a.m., and even at that early lunch time, there were people holding trays staring at us as we took photos of our food and ate, waiting for us to finish.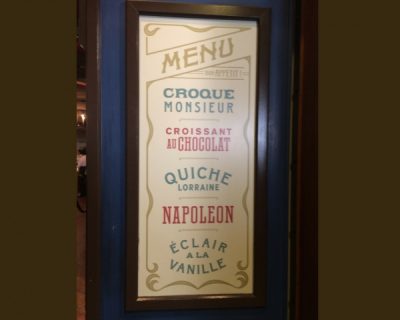 Some of the we options we ordered are on this sign!
My advice: on a clear, sunny day, buy something here that is easily portable, take it outside, and enjoy your food in the French ambiance. You'll almost feel as if you're in Paris itself.
Have you stopped at Les Halles Boulangerie Patisserie? What do you think and what's your favorite thing on the menu? Share in the comments or on Facebook or Twitter.
Did you like this article? Make sure to share it with your friends! Check below for easy ways to share!