This post may contains affiliate links for your convenience. If you make a purchase after clicking a link we may earn a small commission but it won't cost you a penny more! Read our full disclosure policy here.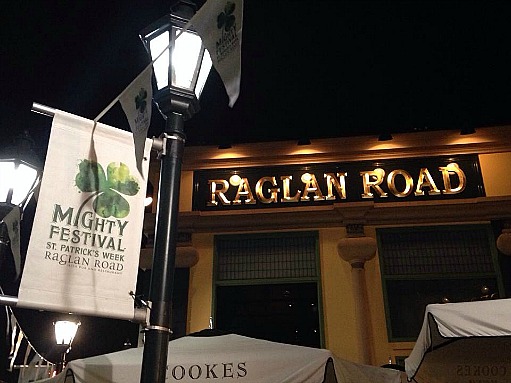 It is said that everyone is Irish on St. Patrick's Day. Having said that, why not celebrate your new found heritage at Downtown Disney's Raglan Road.
Raglan Road is a warm, relaxing restaurant that makes you feel as if you are returning to hang out with old friends, whether it is your first visit or your fifth. Not only will you have a satisfying meal, but all your other senses–eyes, ears, smell and touch will be left satisfied as well.
Upon entering this fine dining establishment, you will notice the rich mahogany wood décor, polished hardwood floors, the sounds of glasses toasting, your fellow patrons laughing and of course the sounds of fast moving step dancers. The restaurant has both indoor and outdoor seating. I have been three times and have sat in three different areas; next to the bar, in the rear of the restaurant and right next to the stage. I never felt like I was missing out on any of the entertainment, more on entertainment later. No matter where you are seated though, you will have a wonderful dining experience.
Time to get down to the "meat and potatoes" (pun intended) of dining at Raglan Road. What Irish Pub would be complete without a beer and whiskey menu? Raglan Road has a beer menu that is bound to appeal to everyone.
There are draughts (Guinness Irish Stout, Smithwicks Irish Ale, Harp Irish Lager, Guinness Blonde Larger, Magners Irish Cider), American and Irish Crafts (Sierra Nevada Pale Ale, Blue Moon Belgian Wheat Beer, Raglan Road Irish Stout, McGargles Granny Mary's Irish Red Ale), Domestic bottled beer and European Style beers. This list only names a few. If you are undecided, why not try a Beer Flight?
If you are not in the mood for beer, how about a whiskey? There are many selections (10 year old, single malts…) or perhaps a specialty drink. The choices are endless.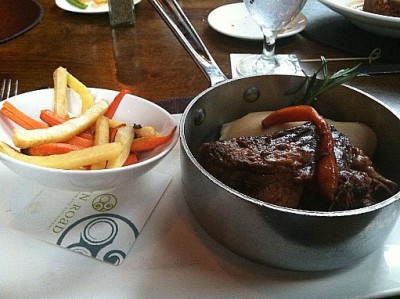 While Sunday brunch, lunch and dinner are offered, my family has only experienced dinner. The food menu at Raglan Road can be slightly overwhelming, but don't worry…you will very likely be back again. We have ordered  the breaded calamari; It's Not Bleedin' Chowder!, tender seafood in a white wine cream sauce; Keen Eye for the Shepherd's Pie, a fresh take on an old favorite; and  Braised Be Beef, moist delicious beef served with horseradish mashed potatoes.
After all this food, we still found room for dessert. Everything sounds delicious, but we have managed to narrow our choices down to Ger's Bread & Butter Pudding, served with a vanilla sauce and a raspberry sauce; Fluffy Lemon Clouds, an intense lemon curd and meringue; and Dundon's Delight, a raspberry pavlova with raspberry sauce and vanilla ice cream.
After having had an awesome selection of food and drink, not only are we ready for a nap, but we always look forward to the entertainment. We were lucky enough to be seated right next to the stage during one visit. In my opinion this was not conducive to conversation, but we got a fierce front row seat to three very talented young step dancers. My son was in awe of how quickly their feet were moving and how no one missed a step.
There was also live music by a three man band. They played a large range of tunes and accompanied the young dancers with lively Irish music.
On another occasion we were seated to the rear of the restaurant. It was a lovely more quiet area, but I feared we would not get to enjoy the dancers. I was pleasantly surprised when two young women and a fiddle player came to this area with a portable "stage" and proceeded to entertain those of us in the area. It was like getting a private show.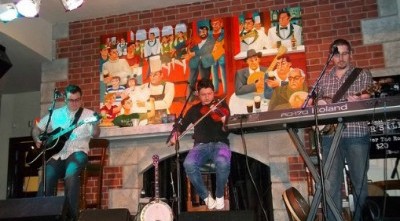 After the entertainment has finished it's always nice to take a stroll over to the gift shop, Shop for Ireland.  This is not a typical Disney souvenir/gift shop, most, if not all, of the items are Irish-centric. There are shirts celebrating Irish heritage, Guinness and Ireland. The delightful staff will even help you locate your families Coat of Arms and you can purchase the design and back story to take home. There are also food items and cookbooks. The cookbooks are those of Master Chef Kevin Dundon, a chef partner at Raglan Road. I highly suggest bringing home a jar of lemon curd. Yum-O!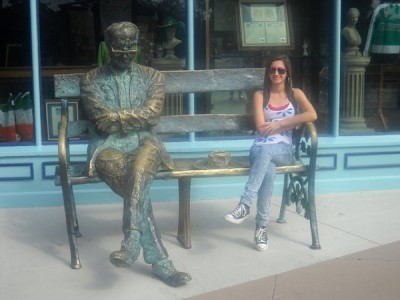 I can't say enough good things about this restaurant experience. Just a few more trip enhancing tips. If you just don't have the time for a sit down meal inside, stop outside at Cooke's of Dublin for a quick pint and some Fish and Chips, Brunch is a must do on a leisurely Sunday morning and above all bring your appetite and good attitude. You won't be disappointed and I am sure you will  be Xsstremeleee delirah.
Oh and if you are in Disney today, March 17th for St. Patrick's Day it goes without saying that this is the place to be hands down!
What's your favorite part about Raglan Road?