This post may contains affiliate links for your convenience. If you make a purchase after clicking a link we may earn a small commission but it won't cost you a penny more! Read our full disclosure policy here.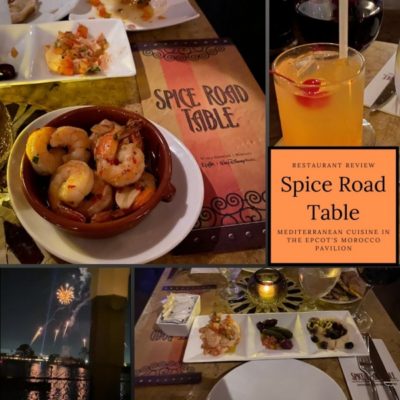 Editor's Note: This article was written prior to the parks closing due to COVID-19
Epcot's Spice Road Table was an easy choice for our late night Epcot dining. Pat and I had eaten there before and found the food sumptuous. In addition, we knew that the view of Epcot's nighttime spectacular would be amazing.
Many Disney guests are wary of trying Moroccan cuisine (at least based on the empty tables). They need not be. Morocco sits on the south shore of the Mediterranean – the same sea that borders Greece, Spain, Italy and Israel. For thousands of years that sea was the major trade route and as the years went by the flavors of the Mediterranean mingled. Thus you can find dishes common in Spain, Italy, Greece or Israel on the menu. Plus this is Disney – there is always something for the culinary shy.
Spice Road Table is understated
We found the décor of Epcot's Spice Road Table to be muted and tasteful. Geometric patterns dominate the interior. The restaurant is divided into an enclosed restaurant and a patio restaurant.
The enclosed restaurant features booths separated by intricate wooden screens and large windows open to the World Showcase Lagoon. A faux second floor displays antique Moroccan furniture. The effect is comfortable and a nice place to relax.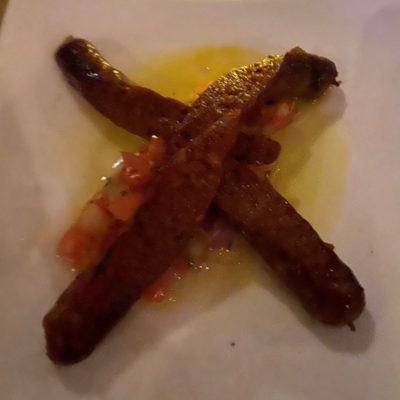 We sat on the patio; a large covered area with sweeping views of showcase lagoon. The area is filled with tile covered tables and chairs featuring elaborate designs. Lighting is by hanging lanterns. The effect is that of an ancient, seaside bistro. However, our favorite decoration were the propane space heaters. We sat by the water and it was cold and windy in January. Once the propane heaters were burning it was a lot more comfortable.
We came for the views and stayed for the food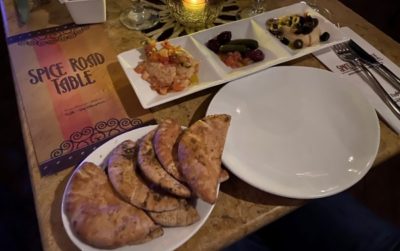 Epcot's Spice Road Table (menu) offers a variety of Mediterranean appetizers. There are the familiar (Hummus and Olives, Shrimp, Brie, Calamari) and the more exotic (harissa chicken rolls, fresh fish croquettes). We chose the familiar; (Hummus and Olives and Spicy Garlic Shrimp). Due to an "unfortunate" error the server first delivered the Moroccan Lamb Sausage instead of the shrimp. We got to keep both. All three appetizers were great.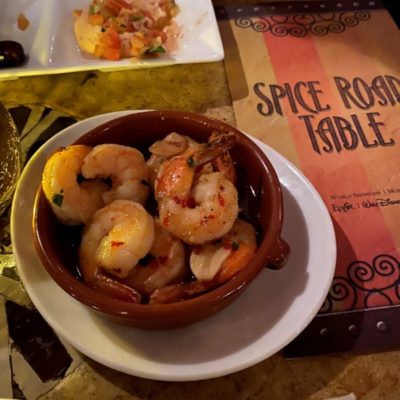 Stu, my adult son and eating companion, ordered the Coriander-crusted Rack of Lamb for dinner.  It came with basmati rice, roasted tomatoes and zucchini.   He ordered it medium rare and that's how the three lamb chops came. It wasn't a full rack of lamb, but I would have been shocked if it did. Stu was happy with the meal and said the lamb was tender and yummy.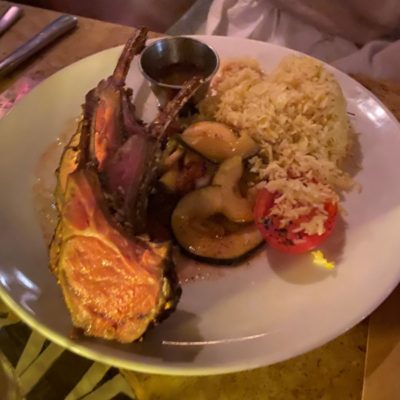 My meal, the Mixed Grill Skewers had medallions of marinated beef and chicken presented on a bed of French green beans with almonds and rosemary potatoes. The dish was both comforting and delicious. I regret not trying something more adventurous.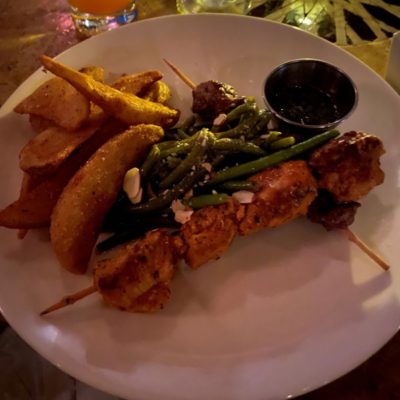 Just about the best seat in the house
With dinner came Epcot Forever. Unlike the Rose and Crown there is no extra fee for seating during the fireworks. So,that made enjoying the nighttime spectacular at Spice Road Table is that much better. There is a roof over the patio that can limit the fireworks viewing.  If you are in the first couple of table rows you can't get a better view.
Epcot Forever features jet skis towing kites. One of the jet ski stations is less than 20 feet away from Spice Road table. We were able to watch both the spectacular and the jet skiers up close changing and preparing kites. There are two jet skiers on each craft with red and green lights atop their helmets – a necessity at night. We watched one of the Jet Skiers beat the light on the helmet until it turned back on. We felt like we were watching a behind the scenes tour.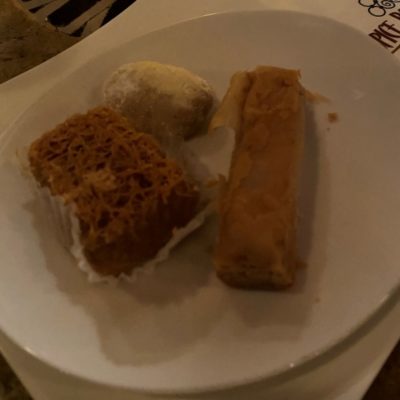 Sadly, dessert was a disappointment. Stu is extremely lactose intolerant. Disney restaurants use a green leaf to indicate vegan entries which are OK for him to eat. A vegan or lactose free dessert is not available at Spice Road Table..  All the desserts they offered have had heavy dairy elements. Maybe I'm a bad parent but I had the baklava trio while he watched. The baklava was dry and flavorless rather than rich, buttery and delicious. When everything else was so good they need to hire a pastry chef.
Have you tried Spice Road Table before? What were your thoughts? Share them in the comments or on Facebook or Twitter!
Did you like this article? Make sure to share it with your friends! Check below for easy ways to share!  
Want to visit a Disney Destination? Contact The Magic for Less Travel for more information and a free, no-obligation quote.

Incoming search terms:
Disney Epcot spice Road table roast chicken recipe
spice road table epcot firework dining review
spice road table fireworks dining package review