This post may contains affiliate links for your convenience. If you make a purchase after clicking a link we may earn a small commission but it won't cost you a penny more! Read our full disclosure policy here.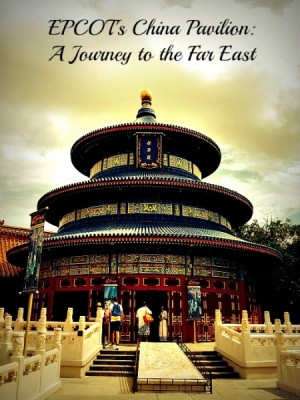 Ni hao (Nee how) Mouse for Less readers. What better way to celebrate the Chinese New Year/ Year of the Sheep than to take a stroll through one of my favorite countries in EPCOT — China? China is a beautiful pavilion with an eye to detail. It is relaxing and tranquil and gives a brief glimpse into Chinese culture and history.
You enter this country by walking through the arches modeled after the Temple of Heaven in Beijing. Once you have passed under the arches, you begin your journey by traveling on the walkway that leads you to the pavilion. It is magnificent. A treat for the eyes in the daytime, but at night when it is lit is when the magic of this land comes alive. Make a point to stop by one evening while in EPCOT, you will not disappointed.  If you look out the entrance of China, through the archway across the way you will see that Spaceship Earth is perfectly aligned to fit in the arches. A terrific photo op, day or night!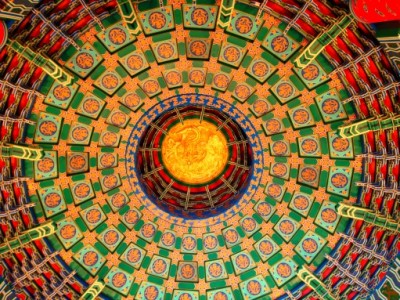 Once you enter the building, you will be greeted by delicate, thoughtful decoration and statuary. The ceiling is decorated in greens, reds and gold in a pattern that is so intricate, but yet so simple. It is no coincidence that these colors are used quite often throughout the land. Green signifies balance, calm and healing. Red signifies good luck, celebration and happiness. Gold represents completeness and wealth. I can say first hand that upon entering, I noticed everyone gently roaming as if just they were just absorbing the serene nature of the building.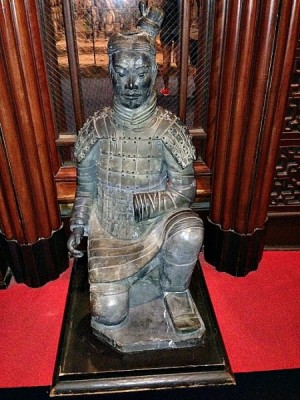 After leaving this portion of the pavilion, you enter  a replica of the Terracotta Army. These "soldiers" were sculpted to protect the Chinese Emperors after death. The original sculpts date back to 210 BC and were discovered in 1974 by local Chinese farmers. This is a very impressive display and opened up conversation between myself and my son on "How, why and where". Who says Disney can't be educational as well as fun?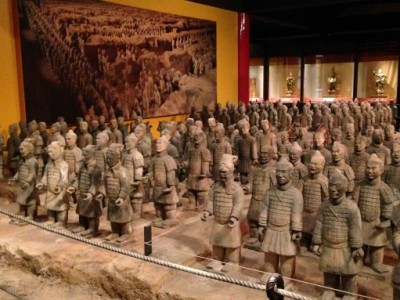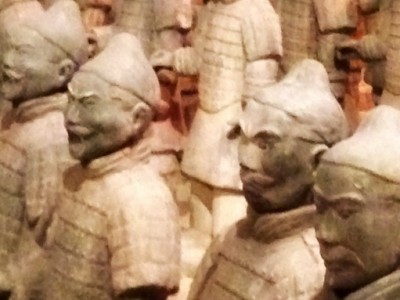 "Reflections of China" is a 360º  film shown in the Hall of Prayer for Good Harvest. This movie features footage of many areas of China including The Great Wall,  the Yangtze River and the Gobi Desert. There is no seating in this theater, but can be a welcome respite from Florida sun or rain and you might just learn something while you relax.
After all this "traveling", you must be hungry. China's contribution to Table Service in the park is Nine Dragons. Having never eaten here,  I can only tell you the menu is your basic Chinese fare. There isn't anything exotic on the menu, but it is a safe choice if you or the ones you travel with are looking for a good sit down meal in a beautiful atmosphere. Even though Advance Dining Reservations are always recommended for dining, this restaurant seems to have walk up availability often. I would like to say this might even be a good meal with children; as they would be familiar knowing what they are ordering.
Looking for a counter service meal? Consider stopping at Lotus Blossom, which features many Chinese delicacies, like egg rolls, stir-fry, orange chicken, and fried rice.
After dining on your favorite treats, walk around the grounds and admire the attention to detail with all the beautiful woodcarving, the lovely ponds with lily pads and flowers, the rich colors and landscaping.
Last, but not least, you cant leave without a souvenir or at least a walk through the shop toward the back of this beautiful land. The shop in the rear of China is quite deceiving. It appears to be a small shop, but the shop extends around the back of the pavilion. In this shop, you can find embroidered silk garments, toys, stuffed animals, almost anything with a panda motif, motivational plaques quoting Confucius, jewelry and of course Bonsai trees.
If you are still in the mood to explore and time allows, try round of Agent P. Playing the game will open up even more hidden gems in this land.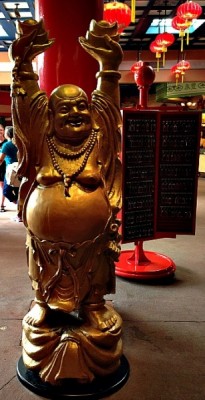 Next time your in EPCOT, stop by China. Sip some tea, meander slowly around the grounds and soak up the serene scenery. Perhaps while you are there you will run into Mulan or Mushu. If you do make sure to say "Ni hao" and wish them a good day. It is a wonderful prescription for long day at the parks.
What's your favorite part of the China Pavilion?