This post may contains affiliate links for your convenience. If you make a purchase after clicking a link we may earn a small commission but it won't cost you a penny more! Read our full disclosure policy here.
The Epcot International Food and Wine Festival, or
Food and Wine
, draws crowds of foodies from across the globe to Epcot every fall. With over 30 kiosks, the festival offers tasting-sized portions of entrees, desserts, and beverages from around the world. Where else could you dine on Korean barbecued beef and Canadian cheddar cheese soup, followed by Australian lamington for dessert?
Each year, the festival gets more and more creative, bringing new kiosks, food items, and entertainment to guests. Disney has provided more and more opportunities for everyone to enjoy the festival. Families with small children, guests with dietary restrictions, and picky eaters will all find something to love! Here, I've outlined some of my best tips for navigating the Epcot Food and Wine Festival, making a fantastic trip for everyone!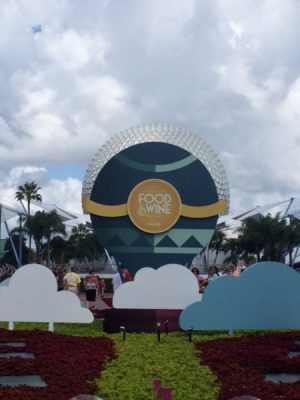 1. Grab a Festival Passport
The first thing I always do upon arriving at Food and Wine is get my hands on a Festival Passport. These little booklets are available at the Festival Center and throughout the World Showcase, and they're a wealth of knowledge. The passport provides a list of the different kiosks and the food/beverage options available at each. It also provides lists of entertainment throughout the festival, and where to purchase souvenirs.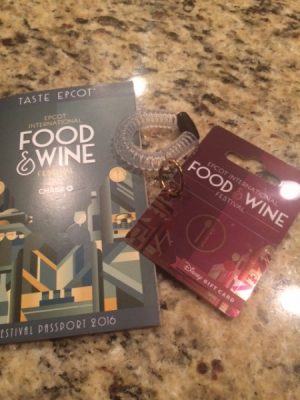 Most importantly for me, the Passport helps me to make a game plan for my trip around the festival! Kid-friendly stops, as well as allergy friendly foods are indicated in the Passport; we'll get to that in a minute! Another handy tool is the Food and Wine gift card wristlet. Preload your card with your Food and Wine "allowance" to help keep your spending within budget!
2. Take a Kid-Friendly Trip Around the World
Families with young kids rejoice! The Epcot Food and Wine Festival has incorporated some fantastic activities and food items to keep younger guests entertained. Traditionally a festival for adults and adventurous foodies, Food and Wine now offers activities and kid-friendly treats to keep the whole family engaged, regardless of food preferences. Kids can enjoy special kid-friendly foods throughout the festival. Look for the little pear icon next to menu items to find items that youngsters (and picky eaters!) may enjoy!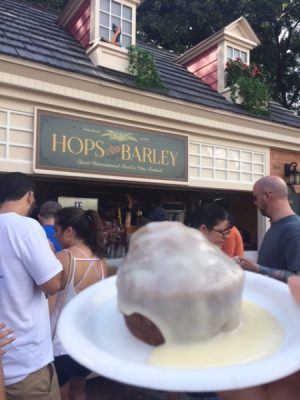 In addition to searching for the pear icon on menus, you can also search for Remy, the culinary connoisseur, throughout the park. Go on a scavenger hunt for the Remy the rat, with Remy's Ratatouille Hide & Squeak. Purchase a map from the Festival merchandise shops, and get hunting for Remy the rat statues throughout the World Showcase. Upon completion (regardless of whether or not you've found every Remy), you can collect a prize!
Finally, feel free to stop at the
Kidcot Fun Stops
throughout the World Showcase. These stops offer interactive arts and craft tables in each country through the World Showcase. Kids will get a Duffy the Bear cutout, which they will decorate at each stop along the way. Each of the 11 Kidcot kiosks teaches kids a little something about the country, keeping kids engaged while mom and dad enjoy some snacking!
3. Dine Your Way with Dietary Restrictions
The chefs at the Epcot Food and Wine Festival continue to develop and refine menus to make them appeal to more and more people. From those with dietary restrictions such as gluten intolerance or vegetarianism to picky eaters, Food and Wine will have something delicious for everyone!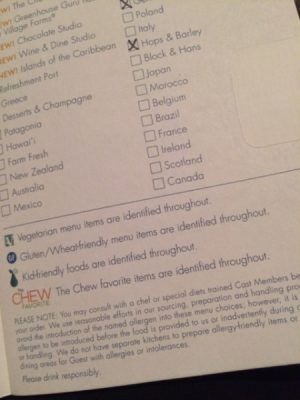 If you're avoiding gluten or wheat-based products, look on the menu for a small "GF" in a circle. Enjoy gluten-friendly treats such as peanut butter and white chocolate mousse with caramel drizzle from The Chew Collective, the liquid nitro chocolate-almond truffle with warm whiskey-caramel from Chocolate Studio, and the grilled beef skewer with chimichurri sauce from Patagonia. If you're keeping gluten to a minimum in your diet, you certainly won't have to compromise on flavor!
Vegetarian menu items are also available throughout Food and Wine. Look for the little "V" in a green square on kiosk menus to locate items that skip the meat but pack the flavor. Some of my favorite vegetarian choices include the heirloom tomato salad with goat cheese, aged balsamic vinegar, and micro basil at Greenhouse Guru and the classic Dole Whip (add a splash of rum if you're looking for something crazy!). Beer and wine are vegetarian-friendly, too!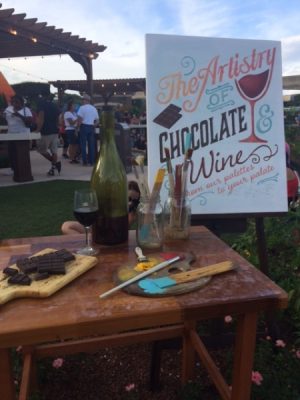 4. Snag some Freebies!
Being a big fan of freebies, I had to include some tips for getting free treats throughout the Epcot Food and Wine Festival. Before you head to the World Showcase, swing by the Festival Center for a free Ghirardelli chocolate! Snack on a square of delicious chocolate while you check out the incredible chocolate sculptures! And if you're still craving something sweet, pick up a cup of drinking chocolate!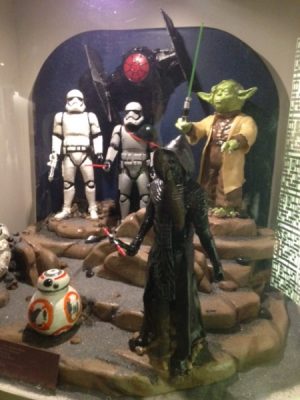 One of my very favorite spots at Food and Wine is tucked in the American Adventure pavilion. If you're a Chase Visa cardholder, head to the Chase Lounge for some free coffee, soda, and phone charging stations. It's absolutely free for cardholders, and you can return as many times as you'd like! Even better than the unlimited soda is the air conditioning! If you're looking for a little bit more free fun, annual passholders can take home a free tumbler after making 3 visits to Epcot Food and Wine Festival.
5. Take in Some Tunes
One of the best parts of the Epcot Food and Wine Festival is the free entertainment. Every weekend, a different artist comes to the festival to provide musical entertainment. Grab a seat at the
Eat to the Beat
concert series to hear musical acts like Tiffany, Hanson, and Boyz II Men. These classic acts are a blast from the past, and provide a great opportunity to sit down and finish a beer!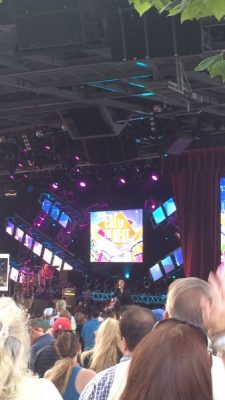 What is your favorite part of the Epcot Food and Wine Festival. Let us know in the comments section.