This post may contains affiliate links for your convenience. If you make a purchase after clicking a link we may earn a small commission but it won't cost you a penny more! Read our full disclosure policy here.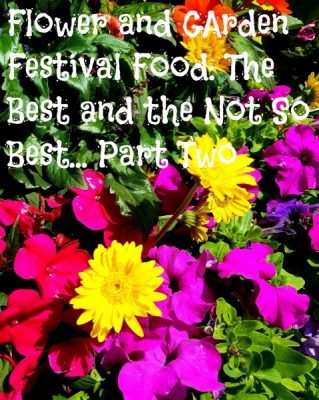 Welcome back to day two. I hope you are well rested. Although this is a sequel, you will probably still be able to follow along even if you didn't read part one. (But you should! It's fantastic.) That being said, I won't bore you with  any more frivolous banter, let's get right to the food of the Epcot Flower and Garden Festival. We'll pick up where we left off, in the Showcase Plaza..
Honey Bee-stro…Showcase Plaza
Honey Tandoori Chicken Flatbread   Sweetish(see the name) chicken was pretty tasty. Needs way more cheese, way more sour cream. Great crust. Not bad, not great.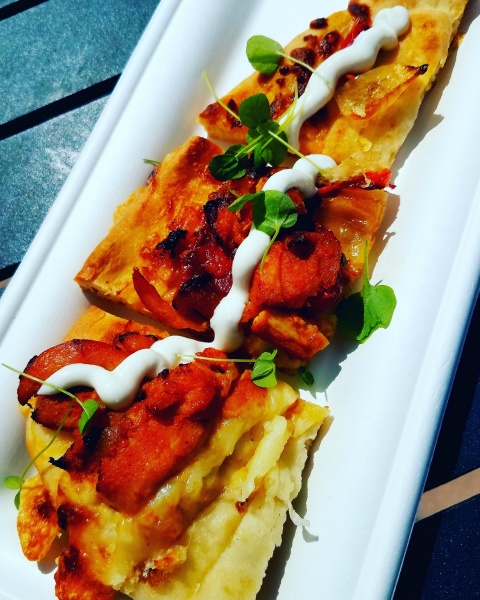 Roasted Cauliflower   More cauliflower?? Carrot puree was delicious. What little pilaf that was there was great. Asparagus was the star. Grapes were out of place. Only if you are vegan.
Honey Mascarpone Cheesecake   Creamy and yummy cheesecake. The ice cream had a slight orange flavor, very nice. Killer little meringue kisses. Nice dish, very pretty.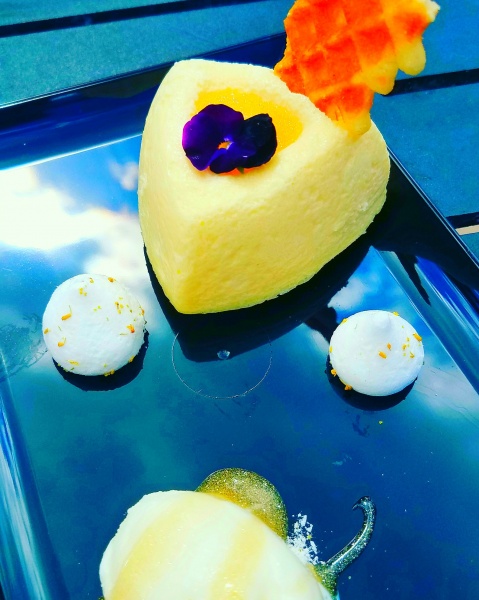 Jardin de Fiesta….Mexico
Pork Taco     Good pork. Nice and spicy apple relish. This is a tiny taco, really a poor value. Also, double tortillas would have helped. I say pass.
Chilaquiles   Traditionally made with crispy tortilla chips, this was more like  a tamale/masa base. Don't get me wrong, it was phenomenal. Spicy chorizo and fantastic crema. Excellent.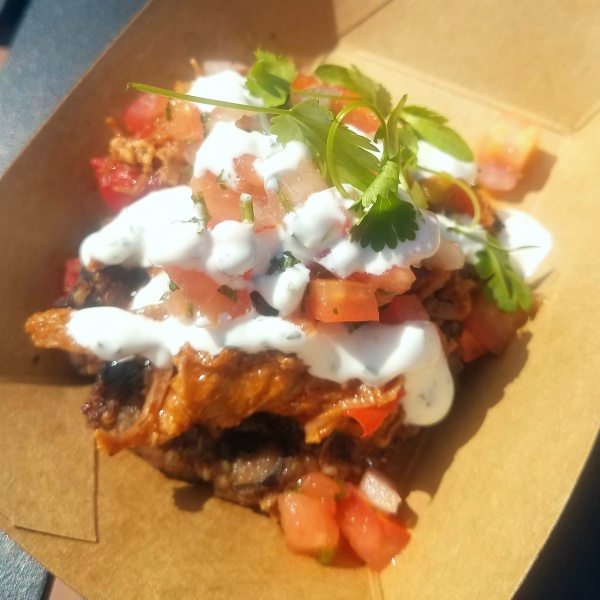 Lotus House….China
Fried Chicken Dumplings   Flash fried potsticker with a flavor bomb chicken filling. Not much to look at, but HUGE on taste. Way yes!!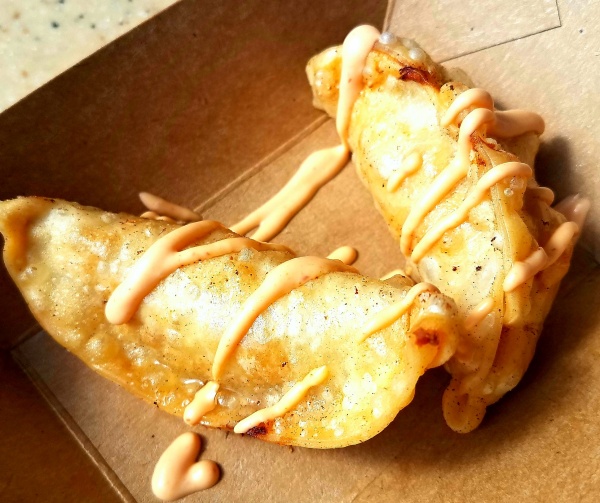 Veggie Spring Rolls   Well prepared, uber crispy. Bland filling and not much to dip in. Not bad, but I recommend you get more dumplings instead. Please.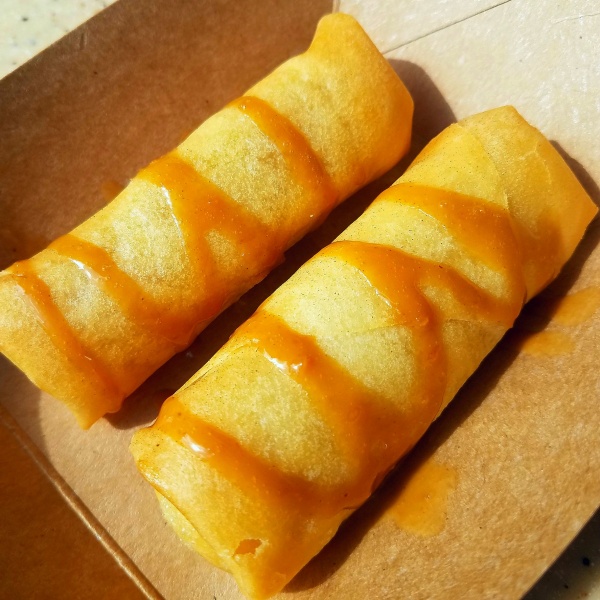 Spicy Meatballs with Crispy Tofu   Very weird dish. Good little meatballs, wrapped in tofu and deep fried. Sooo greasy, and I love grease. I hope yours is better, as for me, no way.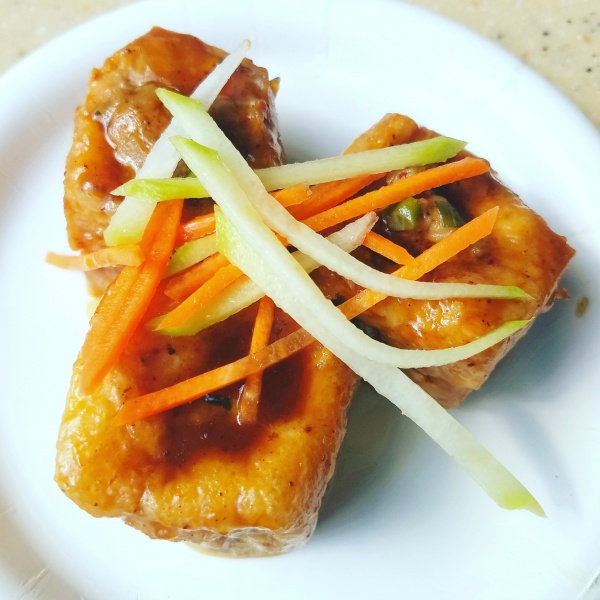 Bauernmarkt…Germany
Potato Pancake with Caramelized Ham    So simple, so good. Crispy cake, salty ham, sweet onions. Sour cream cuts it all and puts a bow on it. Really great small plate. Really great.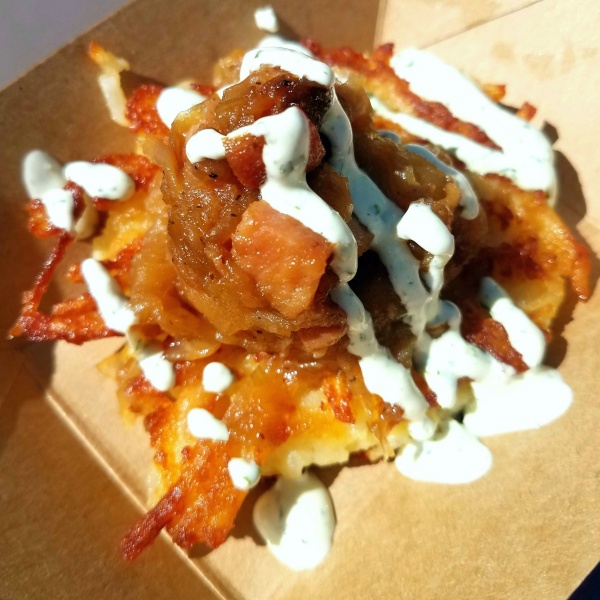 Toasted Pretzel Bread   Super cute little three biter. The bread is spot on. I thought it needed more topping, but still pretty good.
Warm Cheese Strudel   Very bland pastry. I was hoping for more. The berries were fine, but I would save dessert for the berry buckle or the honey cheesecake.
Primavera Kitchen…Italy
Fritto Misto   Only two items. I thought it needed one more. The smallish shrimp were very nice. Lightly pickled and fried zucchini sticks were the highlight. Not bad
Lobster Ravioli   Two nice sized ravioli. Good texture on the pasta. The filling was generic seafood, not very lobstery. Respectable sauce. Once again, Italy phoned it in. I expected more, but these two dishes will do, I guess.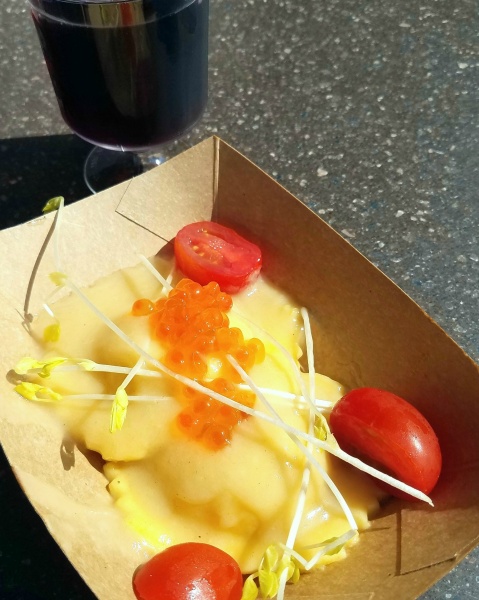 So there you have it. I hope you all will be able to make it to the festival. After all, it is three full months now! If you make it, let me know what you think of my reviews. I would love to hear about your experiences. I'm back for Easter, I hope to see you then. Wave if you see me!  Ciao.
What dishes from the Epcot Flower and Garden Festival sound most intriguing to you? Share in the comments.
Did you like this article? Make sure to share it with your friends! Check below for easy ways to share!