This post may contains affiliate links for your convenience. If you make a purchase after clicking a link we may earn a small commission but it won't cost you a penny more! Read our full disclosure policy here.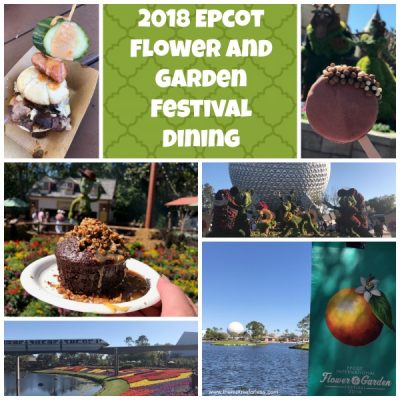 One of my favorite things to do in the spring is to visit Epcot for the Epcot Flower and Garden Festival. It's become one of my favorite events that Walt Disney World offers and it includes a myriad of activities. From viewing the beautiful topiaries and lush gardens, to taking part in unique tours, to activities for kids, to the most important, delicious food and beverage choices.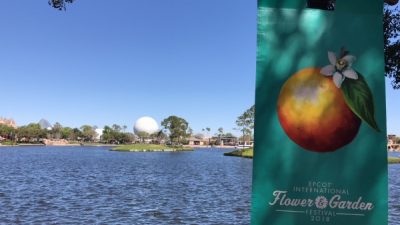 I got to visit during the first weekend and took in a few of the treats that are being offered. The best part about all of them is that I actually recommend all of them! They were all quite yummy and I don't think you'll regret trying any of them.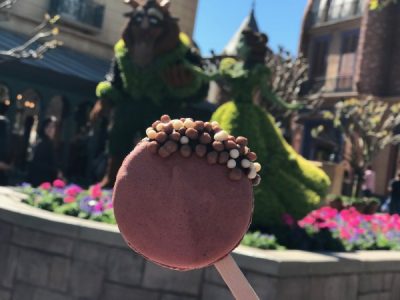 First I started out with the new Macaron au Chocolat en Sucette from the Fleur de Lys booth at the France Pavilion. This is really a large Chocolate Macaron Lollipop. This is a chocolate lover's dream! It's fantastic, decently sized and has a nice crunchy shell and creamy inside.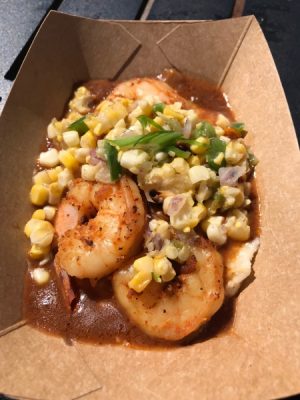 The next booth I stopped at was the Florida Fresh booth. I tried the Spicy Blackened Shrimp and Stone-ground Cheddar Cheese Grits with Brown Gravy and Local Sweet Corn Relish. Again, this was quite good. The shrimp had their tails on, which I was a little disappointed with. However, that was my only disappointment. The shrimp certainly had some kick to it and the accompaniments were a great mix to it.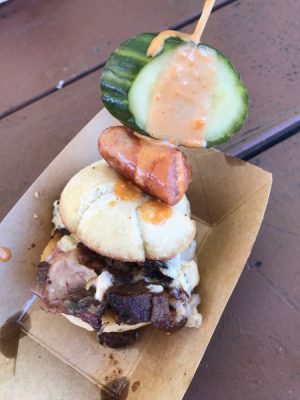 The final booth I stopped at was The Smokehouse. This booth is hands down, my favorite booth at the Epcot Flower and Garden Festival. Every single thing on the menu is a winner, but this time I got the new Beef Brisket Burnt Ends and Smoked Pork Belly Slider with Garlic Sausage, Chorizo, Cheddar Fondue and House-made Pickle. Holy wow! This was fantastic. It was a decent size portion with a ton of meat. I loved that the bread had been grilled too. The cheddar fondue was fantastic. I could totally go for one of these right now.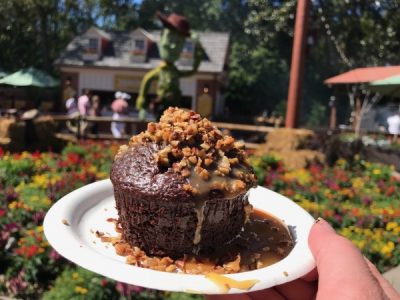 Finally, I went with my favorite dessert at this festival and that's the Warm Chocolate Cake with Bourbon-Salted Caramel Sauce and Spiced Pecans. This is an incredibly moist, chocolatey delight. The caramel adds a nice buttery flavor and the pecans are quite a nice crunch.
This won't be my only stop at this year's Epcot Flower and Garden Festival. I'll also be there the last weekend, which is a nice bookend, don't you think?
Have you visited the Epcot Flower and Garden Festival yet? What is your favorite dish? Share in the comments.
Did you like this article? Make sure to share it with your friends! Check below for easy ways to share!