This post may contains affiliate links for your convenience. If you make a purchase after clicking a link we may earn a small commission but it won't cost you a penny more! Read our full disclosure policy here.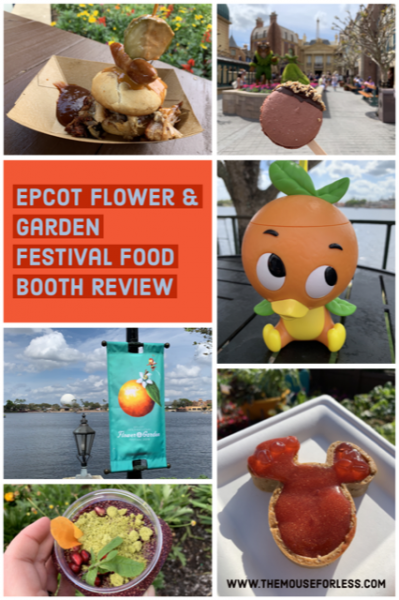 This past weekend was the opening weekend for the Epcot Flower and Garden Festival and I cannot stress enough how much I love this festival. I am pretty sure that this is my favorite festival that happens at Epcot. Maybe it's because at this point in the year, I'm just looking to see some color, maybe it's because spring is my favorite season, but I love the feel of the park thanks to all the gorgeous flowers and plants, the exhibits, and yes, the food.
So, of course, it is Foodie Friday and I took a tour around to try some of the great options that you can get this year at the festival.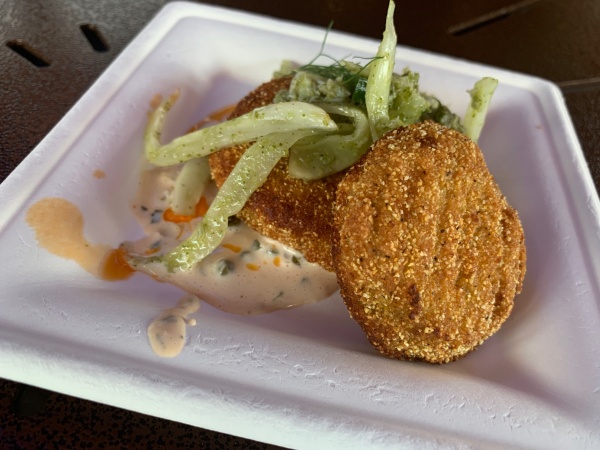 Let's start with the Arbor. This booth is located in The Odyssey pavilion (along with some great shopping….this is one of the places to grab your Epcot Flower and Garden merchandise). I tried the Fried Green Tomatoes with Blue Crab-fennel Salad, Remoulade and Smoked Paprika Oil. This was exceptionally good. There were two tomatoes that had a nice, crispy crunch and the remoulade was great.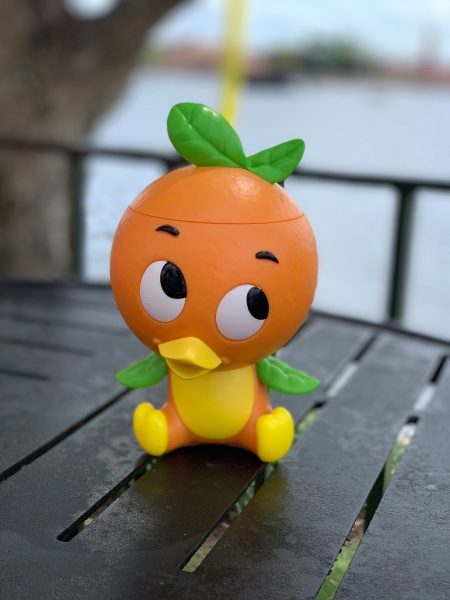 The next booth we stopped at is, hands down, the most popular booth at the festival, for two reasons. The Citrus Blossom features dishes with subtleties of lemon, orange and lime and here they have the Orange Cream Slushy in a Souvenir Orange Bird Sipper Cup. The sipper is absolutely the thing people have lost their minds over. So much so that they've already sold out of them! (Never fear, I've heard there will be more and rumors indicate that they are expected to arrive sometime in April.)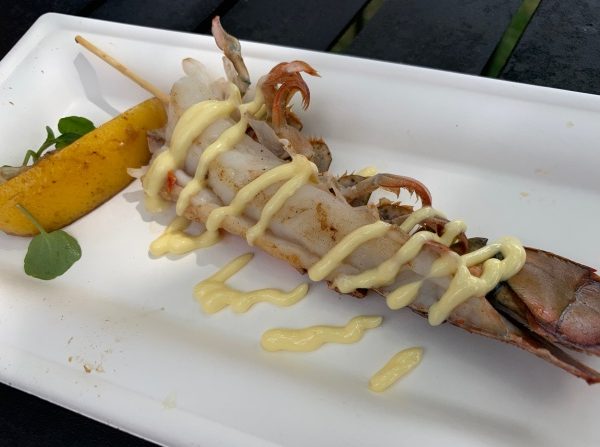 The other reason The Citrus Blossom is popular though is that this booth has one of the best items to get on the Disney Dining Plan. They offer a Lobster Tail with Meyer Lemon Emulsion and Grilled Lemon. This was delicious. Cooked to perfection and with a nice drizzle, I liked this very much.
Moving on, we tried the Northern Bloom booth. We got the Beef Tenderloin Tips, Mushroom Bordelaise Sauce, Whipped Potatoes with Garden Vegetables. This tasted like a good pot roast. I would absolutely make this dish at home; it was like getting good comfort food.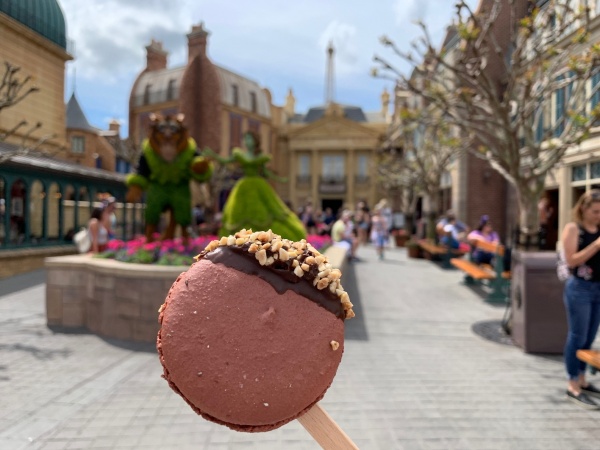 Next, I decided to stop at the Fleur de Lys booth in France for the Macaron au Chocolat en Sucette: Large Chocolate Macaron Lollipop. I was very surprised by the size of this macaron! It was decently large and very chocolaty! I was also surprised to see that it featured peanuts as a garnish, especially given that many have peanut allergies. I suspect that you can probably get one without peanuts, if you ask.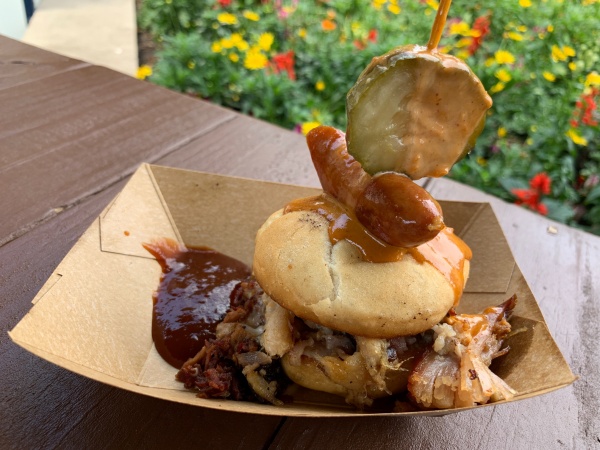 We then moved on to my favorite booth, The Smokehouse, found in The American Adventure Pavilion. Now, I behaved myself and didn't get one of the festival favorites, the chocolate cake, but trust me when I say it is delicious. Instead I got the Beef Brisket Burnt Ends and Smoked Pork Belly Slider with Garlic Sausage, Chorizo, Cheddar Fondue and House-made Pickle. This was quite large and I found the meat to be spotty. I thought some of it was rather dry and other pieces were fine.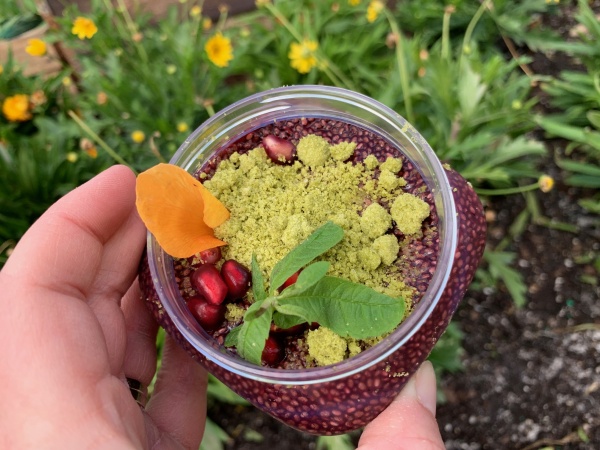 At this point, the fullness was setting in. But after walking around a bit, I persevered and tried the new booth, Trowel & Trellis. This booth is sponsored by Impossible Foods, which means that everything here is vegan. First we tried the Chocolate Pudding Terrarium with Avocado Cream, Matcha Crumb, Pomegranate and Baby Herbs. Now….while this dish is visibly appealing, the taste was not good. Nothing here went well together and even though I split this, I actually stopped eating it, that's how much I didn't enjoy this.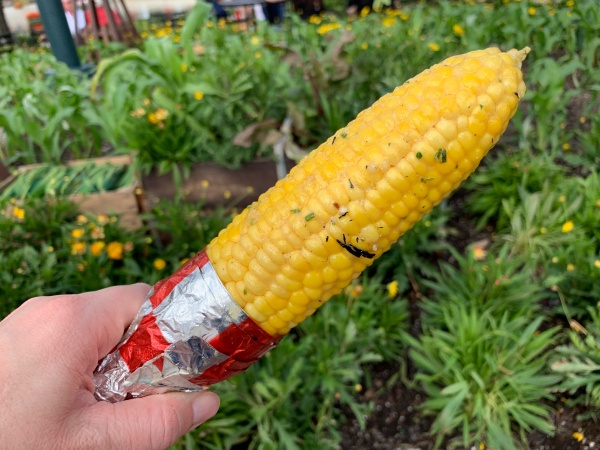 However, there was a dish that I did enjoy at this booth and it's something so simple, but gosh darn it, it was delicious. This was the Grilled Street Corn on the Cob with Savory Garlic Spread. Oh my goodness. I know it was just corn, but I actually could have gone back and bought another one. The corn was sweet, the garlic spread was so yummy and yes, they actually were grilling these on a grill found at this booth.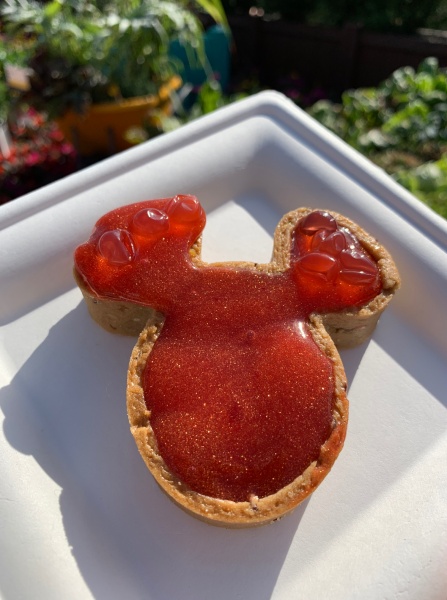 The final booth we stopped at was the Flavor Full Kitchen. Here, I got the kid friendly, Mickey Tart Peanut Butter Mousse with Strawberry Jam and Boba Pearls. This was adorable and tasted delicious. The peanut butter mousse was smooth, the strawberry jam gave a nice sweetness and the shell wasn't quite pie crust, but it wasn't graham cracker either. I think it's a great little treat for those looking for something simple and delicious.
So, that covers the Epcot Flower and Garden Festival booths that I stopped at, but I'm sure there will be more coverage that surrounds this year's Epcot Flower and Garden Festival, so make sure to stay tuned to the blog. Want to check out the menus? We have them on The Mouse For Less.
Have you visited the Epcot Flower and Garden Festival yet? What were your favorite things? Are you going this year? What are you looking forward to trying? Share your tips in the comments below or on Facebook or Twitter!
Did you like this article? Make sure to share it with your friends! Check below for easy ways to share!
Want to visit the Epcot Flower and Garden Festival? Contact The Magic for Less Travel for more information and a free, no-obligation quote.