This post may contains affiliate links for your convenience. If you make a purchase after clicking a link we may earn a small commission but it won't cost you a penny more! Read our full disclosure policy here.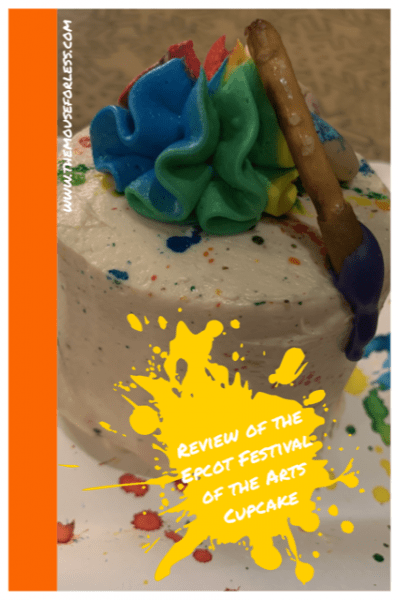 I have to tell you all about a fantastic cupcake that unfortunately is only available through the end of the Epcot Festival of the Arts, which officially ends this weekend. So, I bet you're asking, Rikki, why are you sharing it now? Well, I JUST experienced this delicious treat and on the off-chance you are visiting the park this weekend, you're going to want to pick up at least one….maybe more. If you aren't going this weekend, well, my hope is that they will be bringing this awesome snack back next year, as it was a repeat from last year's festival. A girl can hope, right?
So, what it is? It's the Epcot Festival of the Arts Cupcake that can be picked up in the bakery section of Sunshine Seasons. Now, it doesn't really look like a cupcake. Instead, this gorgeousness really looks like a mini cake and that's kind of what it is.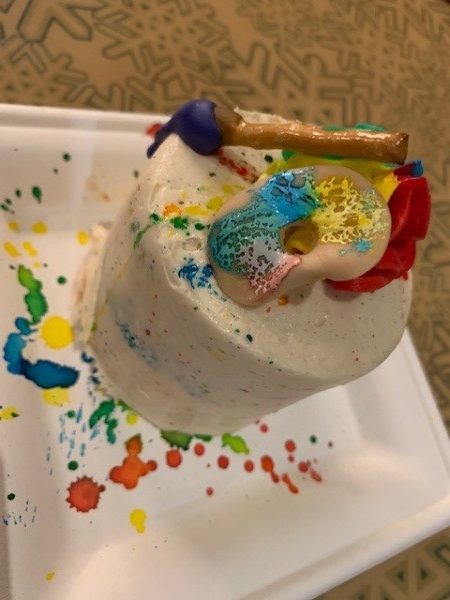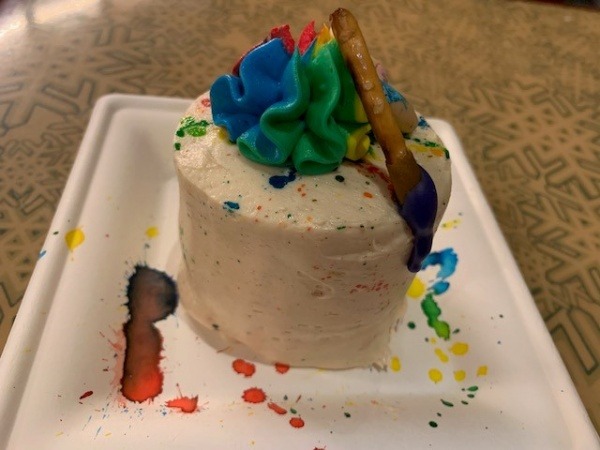 On the outside is a canvas of creamy peanut butter flavored frosting that has been decorated with "paint splatters." There's also an awesome hunk of colorful icing, a pretzel that looks like a paintbrush, and an edible "painter's palate".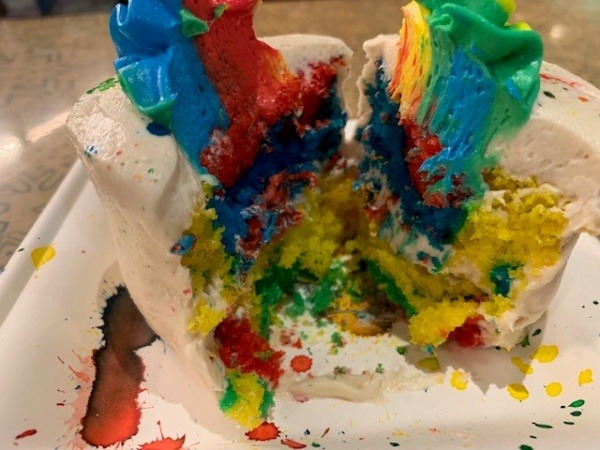 The inside is just as much of a surprise! There, you will find a vanilla flavored cake that has tye-dyed icing in the middle!
This is one of the most moist cupcakes I've ever gotten at Disney and I think that's in large portion to the amount of icing. You not only have the layer in the middle, but I really think the outer layer of icing is also keeping the cake portion from getting dried out.
This was one rich cupcake and while it can be shared, it's definitely hard to do with how yummy it is!
Honestly, I'm really hoping Disney makes sure to bring this cupcake back next year, once again for the 2021 Epcot Festival of the Arts.
Have you tried this Epcot Festival of the Arts cupcake? Let us know your thoughts in the comments or on Facebook or Twitter!
Did you like this article? Make sure to share it with your friends! Check below for easy ways to share!
Want to visit the Walt Disney World Resort? Contact The Magic for Less Travel for more information and a free, no-obligation quote.