This post may contains affiliate links for your convenience. If you make a purchase after clicking a link we may earn a small commission but it won't cost you a penny more! Read our full disclosure policy here.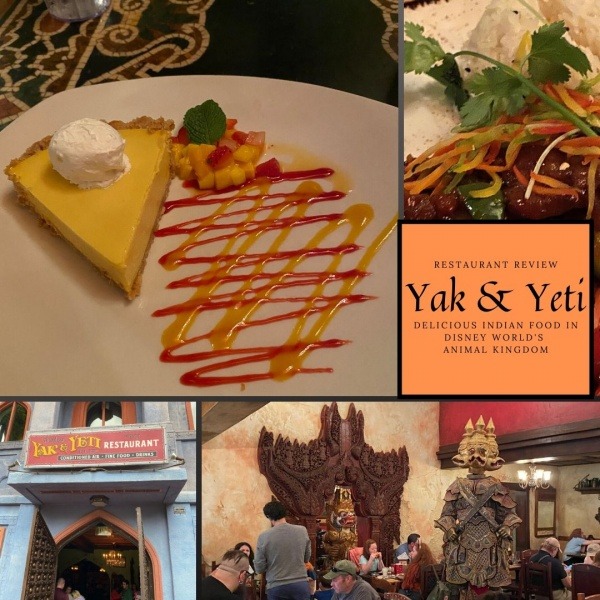 Editor's Note: This article was written prior to COVID-19
Disney's Yak and Yeti is a welcome break near Expedition Everest that provides great Asian and Indian food.Tucked away near Expedition Everest in Animal Kingdom is Disney's Yak and Yeti; a fantastic Indian American restaurant. We tried it for the first time on a recent trip and are determined to eat there again.
Yak & Yeti is owned by Landry Inc – one of the larger restaurant chain owners in the US. They own Rainforest Café restaurants as well as steak and seafood restaurants McCormick and Schmidt and Mortons. However, this is no chain restaurant.
The Mysteries of Orient Arrive in an Animal Kingdom Restaurant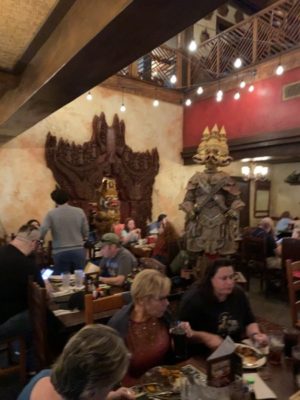 The décor of Disney's Yak and Yeti is traditional, "Restaurant" Indian. Mottled stucco tan walls provide an illusion of age with cracks and rough patches. Wooden beams, large "antiqued" gold plated Asian statuary and fine wooden work complete the décor.   The result is an exotic, somewhat familiar locale giving the feel that you are in a restaurant outpost in the Himalayans. I think the Imagineers nailed their goal.
No Mysteries about Disney's Yak and Yeti's Food; It's Real Good
I was eating with my son, Stu who is far more knowledgeable about Indian cuisine. In fact, he is far more knowledgeable about the cuisine of any restaurant who delivers to his Boston area apartment.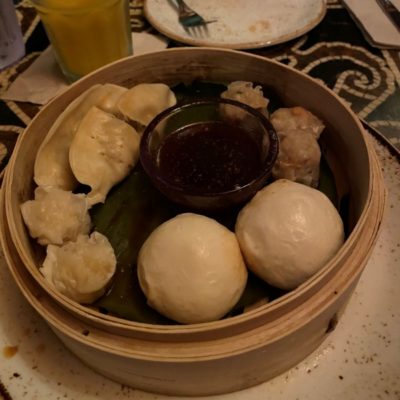 We chose as our appetizer the Dim Sum Basket for two. This is a great, traditional Chinese appetizer featuring a selection of small bites. This came with pork pot stickers, cha su bao (a Vietnamese pork filled, steamed bun), chicken siu mai (dumplings) and shrimp siu mai (also dumplings). This was a great basket to share. The only issue we had was that there were three of each of the dumplings.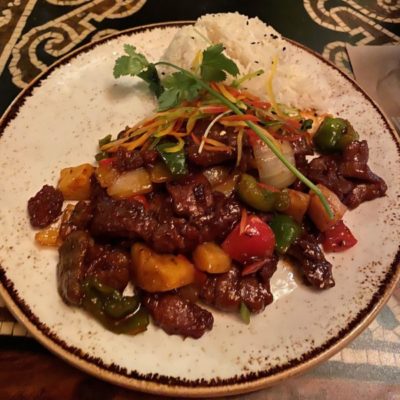 When the meals came Stu first ordered the Korean beef bowl. Unfortunately, they server let him know that the beef was marinated in whey (a milk product and he is lactose intolerant). He changed his order to coconut shrimp. Kudos to the server for pointing out the issue. Stu thoroughly enjoyed the Coconut Shrimp. It came with a plum barbecue sauce and jasmine rice. Not bad for your second choice.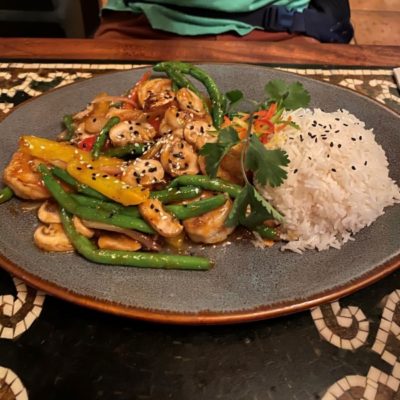 If anyone follows our restaurant reviews (God bless you if you do) you may notice a trend; I never pick the same food as my eating partner. I can't explain it except to say that I like a variety of foods on the table. I ordered the stir-fried Korean Beef. It came with Jasmine rice, beef, peppers, onion, pineapple and Korean BBQ sauce. I'd go to a park to just to eat this dish.
The Mango Tango – Praise for Disney's Menu Choices
When desert came Stu and I were of a single mind; Mango. Fortunately a quirk in the menu each allowed us to have different but very similar mango dishes. Lactose intolerant, Stu had Mango Sorbet with raspberry sauce. I had the Mango pie with cookie crust, whipped cream and raspberry sauce. They were two very similar but delicious desserts.
As a husband and father to two individuals who are lactose intolerant I would like to recognize Landrys and the chef at Walt Disney World for their support of people with these issues. I can't tell you how many times we have been in restaurants where there are no dairy free desserts. It hurts when a restaurant says 'So sad, too bad, no dessert for you." I probable take it more personally than Pat or Stu.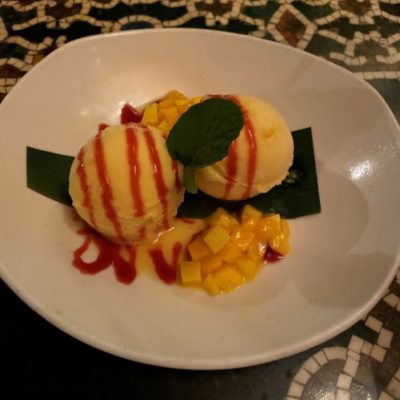 The feeling of disappointment grew after a trip to Scotland. In Europe there isn't an issue with this – there is always a vegan (dairy free) dessert available. This is true is most of the sit down restaurants in Walt Disney World as well. In Disney World vegan dishes are identified with a little green leaf. This makes ordering much easier. The notable exception was Spice Road Table. So, kudos to Disney.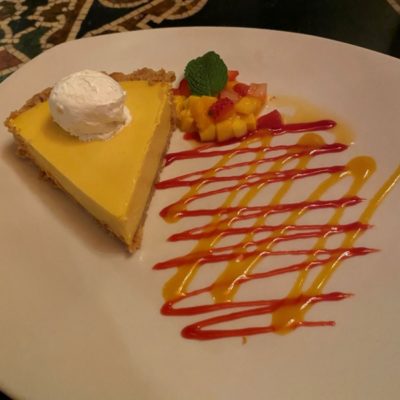 One other note about Yak and Yeti's menu. Disney's Yak and Yeti's menu is more extensive than most Disney run restaurants. In addition, Yak and Yeti offers a 'specials' menu not found on Disney or other Disney menu sites. Many Disney restaurants offer only six or seven entrée choices. Yak and Yeti offers twenty one before counting the specials menu.
 Have you tried Yak & Yeti? What were your thoughts? Share in the comments or on Facebook or Twitter!
Did you like this article? Make sure to share it with your friends! Check below for easy ways to share!  
Want to visit a Disney Destination? Contact The Magic for Less Travel for more information and a free, no-obligation quote.

Incoming search terms:
https://www themouseforless com/blog_world/disneys-yak-and-yeti-a-restaurant-worth-a-vist-to-the-animal-kingdom/
https://www themouseforless com/blog_world/disneys-yak-and-yeti-a-restaurant-worth-a-vist-to-the-animal-kingdom/#:~:text=Yak & Yeti is owned by chain owners in the US
https://www themouseforless com/blog_world/disneys-yak-and-yeti-a-restaurant-worth-a-vist-to-the-animal-kingdom/#:~:text=Yak & Yeti is owned by this is no chain restaurant
yak and yeti dim sum basket